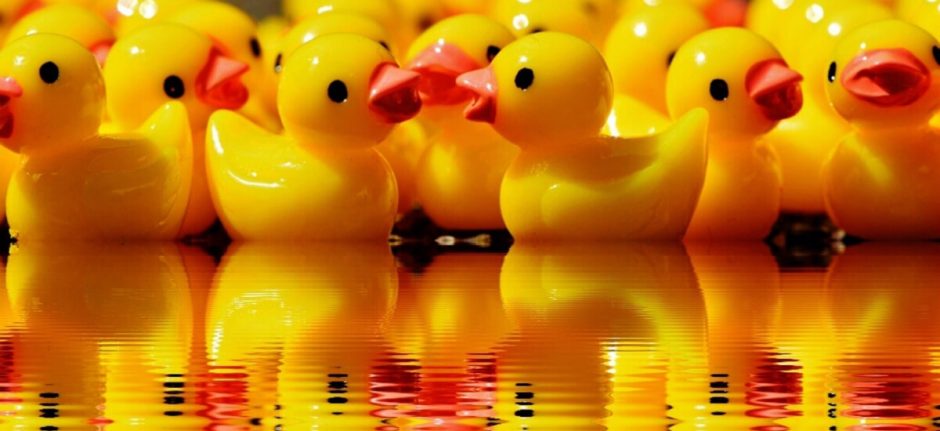 3 Billion Social Shares and What Brands Can Learn from Them
In the five or so minutes it'll take to read this, nearly 16 million Facebook posts will be liked, 2.1 million Tweets will be posted, and 1.4 million Snaps will be chatted.
Needless to say, there's quite a bit of content out there. Publishers, brands, and everyday users are constantly adding to the growing sea of content—exponentially so with each passing year.
After analyzing 2.6 billion social shares in 2014, content marketing agency Fractl decided to reboot our study for 2016 to see how social media and the publishers relying on social shares for engagement have evolved in two years. For our 2016 study, we analyzed 1 million of the most shared articles—and their 3 billion social shares. The findings from the most shared articles on social media in 2016 reveal not only interesting trends about the networks themselves, but some key insights for brands wanting to increase the social traction and engagement of their content.
How much the social networks have changed in 24 months
While most social media marketers have been aware of the trends, these numbers really spell out the overarching supremacy of one network in the social media world.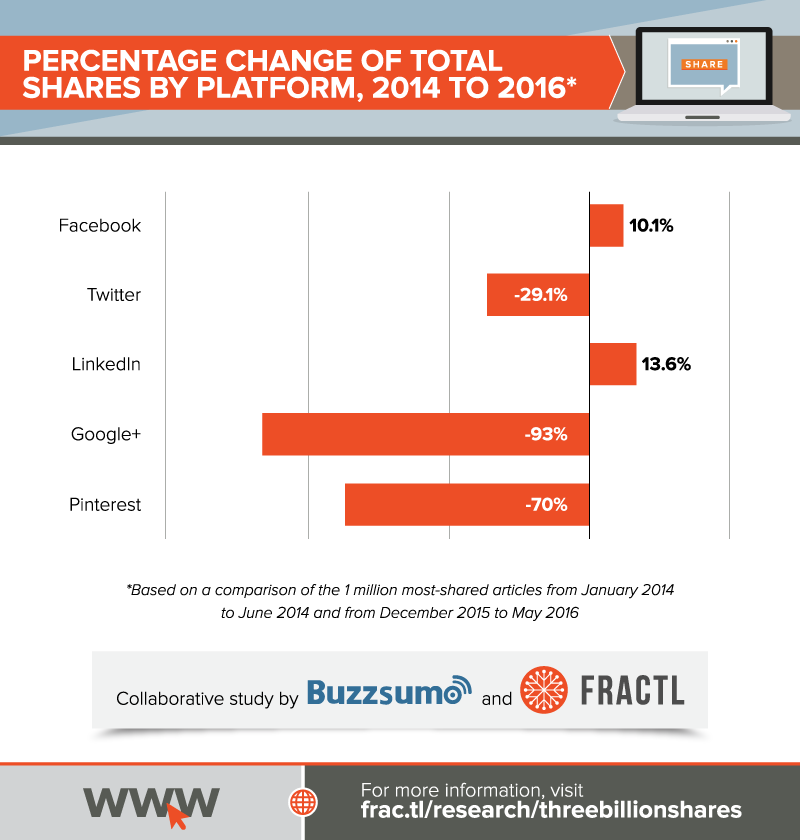 Facebook's footprint is increasing at the expense of the other networks, with nine out of 10 social shares taking place through the network in 2016, compared to eight out of 10 in 2014.
Meanwhile, Twitter saw a 29 percent decrease in social shares, while Google+ experienced a 93 percent drop. This means that out of every 1,000 shares across platforms in 2016, only three are via Google's social network.
Pinterest isn't doing much better. The network saw a 70 percent decrease in shares from 2014 to 2016. Although, that's still three times as much sharing activity as Google+ has this year.
Though it only sees 2.5 percent of total social shares, LinkedIn had the greatest percentage change in its favor with a 13.6 percent increase from 2014 (which not-so-coincidently coincides with the debut of LinkedIn Pulse, the network's on-site publishing platform).
While these numbers clearly illustrate several drastic changes across the networks, the shift in dominance among publishers on social networks is what really stood out—and there's more at work than the ever-changing algorithms.
The rise of the underdog: how niche publishers are winning the internet
As evident by the increase in total social shares and the diversity of top publishers, traditional news organizations and niche vertical sites are learning how to create share-worthy and even viral content. As the space becomes increasingly crowded, however, viral publishers are seeing their share count drop as smaller publications with a targeted readership gain more attention on the networks.
Just 24 months ago, BuzzFeed, the self-proclaimed "media company for the social age," dominated the networks as the most shared publisher on the internet. Today, its successor wouldn't be your first, second, or even 10th guess. Goal.com, a niche sports site that publishes original content focused on soccer news, surpassed BuzzFeed to hold the title as top publisher by total shares across all social platforms. Surprised? We were too. After double- and triple-checking our data, we discovered the numbers weren't lying.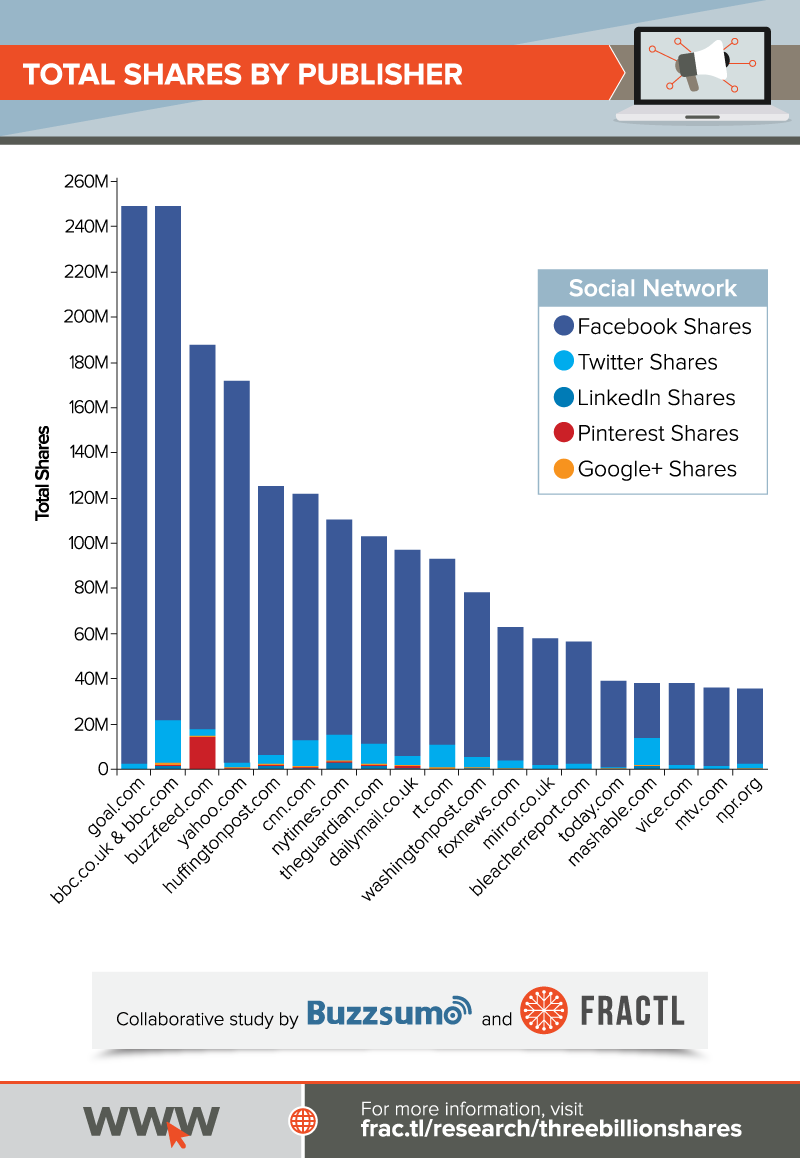 Back in 2014…
BuzzFeed ranked No. 1 for total shares with over 400 million total shares.
Goal.com didn't even rank in the top 100.
Now, in 2016…
BuzzFeed had 26,745 articles make it to the top 1 million most shared, with 169 million total shares.
Goal.com had 73,359 articles make it to the top 1 million most shared, with 246 million total shares.
As time goes on, networks are becoming overcrowded with content, splitting the attention and engagement of the everyday user. Goal.com's ability to target a very engaged niche audience plays a major role in its growing dominance, but several other factors also come into play.
3 takeaways brands can learn from the most-shared publishers
After our initial surprise had worn off, we sought to explain in depth what could potentially account for a niche sports site's surprising rise to the top and narrowed it down to three key components. Knowing the organic reach publishers and brands once saw on social media is now on the rapid decline (thanks to content flooding a more strictly regulated space), we also realized these principles could be readily applied to brands hoping to gain more social traction.
1. Timing and consistency
While most of us have heard that the time of day or day of the week a post is scheduled can impact its potential reach and engagement, there's another broader implication to this point. After analyzing some of the publication's most shared articles, we realized Goal.com consistently took advantage of the vertical's biggest events to rake in the social shares. The site published content about a multitude of prestigious soccer tournaments and championships that led up to the 2016 Summer Olympics.
The takeaway
Similarly, brands can capitalize on seasonal trends and timely events in their verticals. Beyond timing, consistency in publishing content and posting on social media is also key to establishing a loyal readership and social following.
2. Position
Goal.com didn't randomly appear in January 2016 but rather spent years steadily growing authority in its vertical. The publisher's niche content, offered on- and off-site, has also added to its SEO prominence. Since the start of 2014, the domain saw a significant and overall consistent increase in organic traffic, meaning it gained more visibility and an authoritative reputation among its target audience, prompting more social sharing.
The takeaway
Growing and nurturing your brand through other strategies, like owned properties and earned media, will ultimately help your social media efforts. Focus on growing your brand's position to become more widely recognizable, reputable, and authoritative to your target audience across all channels.
3. Broad reach in a narrow niche
While BuzzFeed's content appeals to a broad variety of interests, Goal.com is still able to reach a massive audience even with its very specific niche by "speaking" to soccer fans around the world. Goal.com has 38 editions to cater to over 64 million international readers, while the millennial media giant has only branched out to a dozen different regions and languages.
The takeaway
Since less than 16 percent of Facebook users reside in the U.S. and Canada, publishers and brands not limited by geographic boundaries need to appeal to a global audience when applicable. While this may not readily apply to local businesses, the broader lesson about recognizing and reaching as many segments of your target audience as possible will help you avoid missing opportunities, especially in a niche vertical.
Large publishers have always had the upper hand when it comes to reach and engagement—given their established audiences—whereas brands, agencies, and even smaller publishers traditionally have had to build (or buy) an audience. Social networks make this much more attainable and affordable for the latter group, but only if they master the art of social media marketing.
In addition to understanding the average user and distributing relevant content, brands ultimately need to think like a publisher if they hope to see similar social engagement. Luckily, with a plethora of resources available to help brands create, distribute, and manage content, anyone has the potential to create a viral hit.
Put your knowledge of social shares to work by using Hootsuite to manage your brand's social media presence. Try it free today.