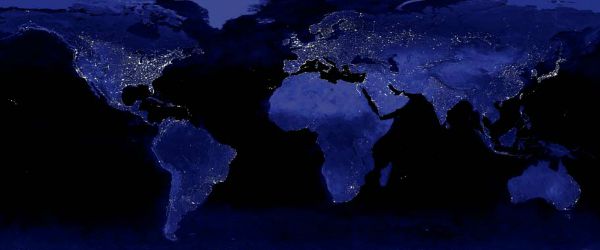 11 Stats that Show How 3 Billion More People are About to Join Social Media
Google is trying to connect the developing world with an armada of giant balloons circling the stratosphere. Elon Musk plans to deliver global internet via hundreds satellites. Closer to the ground, Facebook's Internet.org project already provides a free low-data web service to 9 million mobile devices from Kenya to Colombia, and it's only in its first year.
These are some of the blockbuster initiatives, but the challenge of breaking down the world's connectivity barriers is driving a wave of investment from innovators big and small. One way or another, three billion people in the world who don't have internet access are about to get it. And when they do, they're going to be joining social media.
With the social media approaching a tipping point in the developing world, we're putting together a panel for SXSW 2016 to discuss what happens next. If you want to hear from some of the industry's brightest luminaries on the subject  in Austin next year, we need your vote!
Or maybe you're not convinced that the next 3 billion people are about to join social media? We've got 11 stats that prove it.
Social Media Growth in the Developing World
1: 2/3 of people in developing countries lack internet access
As the developed world inches closer universal internet access (now 82% penetration), there remains a significant digital divide between data haves and have-nots. According to the International Telecommunications Union, two thirds of the population of the world's developing countries still don't have access to the internet
2: There are 7 million cell phone subscriptions worldwide
The biggest opportunity to close the gap is mobile. By the end of 2015, according to the ITU, there will be more than 7 million cell phone subscriptions worldwide—97% penetration globally. As users gain access to data through existing subscriptions, millions in the developing world will join social media as either mobile-first or mobile-only users.
3: Mobile data coverage grew from 58% to 95% between 2001 and 2015
Having access to a cell phone network now means having access to mobile internet, almost everywhere. Between 2001 and 2015, the percentage of the global population that has access to a mobile data network grew from 58% to 95% (ITU). At this point, cost is a bigger barrier to getting connected for most people than technology.
4: 1GB of data per month of data costs less than 5% of the average income in 111 countries
Given that affordability remains a key barrier, an increasingly important metric to watch is the number of markets in which an internet connection, either fixed or mobile, isn't prohibitively expensive relative to incomes. Currently, 1GB of data costs less than 5% of gross national income per capita in 111 countries (ITU). In countries with rapidly growing economies, like Nigeria, the income side of that equation is accelerating adoption.  
5: 65% of Nigerians think Facebook is the Internet
In a recent poll conducted by mobile surveying company Geopoll and World Wide Worx, 65 percent of Nigerians agreed with the statement "Facebook is the internet. " While the poll's methodology leaves room for doubt in the results, it stands as evidence that getting online for the first time in the social era for most users also means adopting social media to some degree.  Internet.org's response was that "a key guideline for developer participation in Internet.org is to encourage the exploration of the entire internet."
6: 700,000 Nigerians used social media to ensure a free and fair election
Nigeria's historic April election marked the first time an opposition candidate in that country had democratically unseated an incumbent head of state. One of the world's fastest-growing internet markets, Nigeria now has 75 million users, 700,000 of whom took to social media to report results from locally developed voter-monitoring applications, Revoda and Nigeria Elections, helping to ensure the real results stood.  
My polling unit for the doubters #Nigeriadecides pic.twitter.com/qMeOexGOym

— The Unknown Genie (@grandespinale) March 29, 2015
7: Internet.org is available to more than a billion people in 17 countries through more than a dozen providers
Facebook's Internet.org project marked its one-year anniversary on July 27th, with some significant milestones achieved in that short time. One billion is a lot of people to reach after a single year, but it's worth noting that Facebook's partnership with Reliance Communications to offer Internet.org in India accounts for a significant share of that number. With the social giant behind it and no new physical infrastructure to build, Internet.org is scaling at lightening speed, making it the initiative currently having the most dramatic effect on connectivity in the developing world.
8: 50% of Internet.org's new users start paying for data within the first month
While Internet.org offers free access to basic internet services, half of the users who get connected for the first time via the project sign up for mobile data service within their first 30 days online. Internet.org claims its new users are realizing the benefits of being online and deciding to spring for the full monty.  
9: Internet usage in India is growing at 37% YoY
With 232 million internet users in 2014, India is already the third largest market in the world, but its growth has reached an inflection point. In her 2015 Internet Trends Report, Kleiner Perkins analyst Mary Meeker compares 2014 to 2008 in China, at the bottom of a long, steep growth curve.
10: India is Twitter's fastest-growing market
India is now Twitter's top user growth market, reinforcing the fact that getting online in 2015 means getting on social media. Also, as evidence of the convergence of messaging and social, India is also now What's App's top market by MAUs.
11: In 2015, advertisers will spend $23.7 billion on social media
Up 33% from 2014, the $23.7 billion that will be spent this year to reach consumers on social media, according to eMarketer, will give the major networks all the revenue they need to fund innovative new-market expansion efforts like Internet.org. Or maybe just the cash to buy emerging platforms in target markets.
The Panel
Connectivity drives commerce, culture, and civic participation—and the social web is the most powerful tool for fostering connectivity we've ever seen. Maybe the next Snapchat will be founded in Delhi; maybe the next Kanye West will hail from Lagos; we don't know what's going to happen next, but we know the best three people to ask.
Ebele Okobi
Ebele Okobi is Facebook's Head of Public Policy, Africa. Before Facebook, Ebele was the founding Global Head and Senior Legal Director for Human Rights at Yahoo, leading global efforts to address the legal and policy issues related to privacy, free expression and access.
Kurt Wagner
Working as the social media beat reporter with Re/code, Kurt covers news and trends around companies like Facebook, Twitter, LinkedIn, and Snapchat. He has extensive experience within the news industry, including television, newspaper, and magazine reporting. He formerly covered tech and social media at Mashable and Fortune.
Kurtis Hemerl
Kurtis Heimerl is currently a postdoctoral researcher at the University of California, Berkeley. He has a Ph.D. in Computer Science from the University of California, Berkeley, for his work on rural communications with community-owned-and-operated cellular networks. He is a cofounder of Endaga, where he currently sits an advisor. Endaga is focused on making the easiest to operate cellular networks on Earth and empowering rural communities to provide their own telecommunications.