Happy Community Manager Appreciation Day!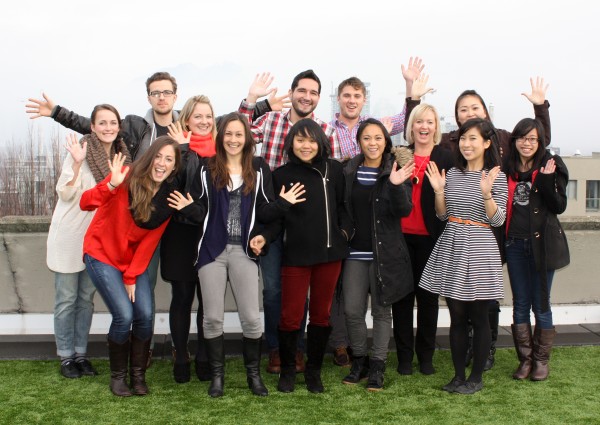 Of all the things we are most proud of at HootSuite, brand experience has always ranked high on that list. Since day one, HootSuite's Community Managers have strived to connect with each and every one of our users – from the first handful to the now 8 million+. Across time zones, languages and every size and type of user – from individual, to SMB, to Enterprise – this group of hustlers takes pride in the art of connecting.
Community Managers are the heart of the customer experience.
In hour 15 of 24 hours of Google+ hangouts today, all in celebration of #CMAD, HootSuite's VP of Community Jeanette Gibson noted that "Community Managers are the heart of the customer experience because they are interacting everyday. They are driving business impact."
Chances are if you have interacted with HootSuite, whether it be as the recipient of a HootKit, a thank you note, a thoughtful tweet or a Facebook comment, it was one of our Community Managers on the other end. But being the champion of a community takes a community, and HootSuite's Community Managers are supported by an amazing group of coordinators, writers, event planners, designers, localization experts and translators.
Meet the Social Experts
Today, we invite you to celebrate with us; as we salute the Community Managers in our life. We tip our hats to each and every Community Manager out there. To you all, happy Community Manager Appreciation day!
Don't forget to join HootSuite's Community Managers all day for #CMAD live hangouts.
Connor Meakin
Community Manager, North America
Connor spearheads the bulk of HootSuite's community presence in North America, from event planning, to HootUps, Ambassadors and more. If a community manager award was ever presented to the wearer of the most hats, Connor would take the crown.
He shares his Community Management thought leadership on HootSuite blog and frequently speaks, attends and hosts local community events.
Reach out to Connor on Twitter, Google+, LinkedIn and take a bite of his personal blog.
Stephanie Wiriahardja
Community Manager, Global Ambassador Program Lead
When it comes to creating brand experience, Stephanie lives and breathes both social media and HootSuite. Her passion to connect individuals, engage with strangers and tirelessly support HootSuite's millions of users has contributed to the development of HootSuite's Brand Ambassador program.
Stephanie is a seasoned public speaker, social media influencer and expert on developing and nurturing brand experience.
Connect with Stephanie on Twitter, Google+, LinkedIn and follow her professional blog.
Thiago Leite
Community Manager, LatAm and Localization
When it comes to localizing a product or brand, Thiago is at the forefront of both experience and expertise. He successfully facilitated HootSuite's 15 current language translations, while working tirelessly to release new languages every year.
Not only that, born and raised in Santos, Brasil, Thiago leads HootSuite's Latin America community building efforts.
Connect with Thiago on Twitter, Google+ and LinkedIn.
Lotta Ygartua
Community Manager, APAC
As the APAC regional lead, Lotta builds communities across one of the world's most culturally diverse regions. With numerous languages, time zones and all levels of economic development to accommodate, Lotta has her finger on the pulse of social media trends in APAC — no matter what hour of the day.
Find Lotta always active on the @HootSuite_Asia or @HootClub accounts or connect with her on Twitter and LinkedIn.
Ileana Rossello
Community Manager, EMEA
Based in Italy, Ileana stays up late and wakes up early in her mission to connect HootSuite HQ with our busy, ever growing communities in Europe. She constantly amazes us with more Ambassadors, HootUps and events than we can even keep track of. Ileana is the definition of a super communicator, speaking multiple languages and helping localize HootSuite's product across our second biggest market.
Connect with Ileana on Twitter and LinkedIn.
Join HootSuite For #CMAD
Tonight, HootSuite is hosting the first ever #CMHootUp in partnership with Community Manager Appreciation Day. We're bringing together Vancouver-based community builders, social practitioners and entrepreneurs at HootSuite HQ.
Not in the Vancouver area? Don't worry, we've partnered with the wonderful folks at mycmgr.com again, and we're giving  you 24 hours straight of insightful panels from 12am-12am, Jan 27. Find out more here.