Wondering how to get a job in social media? The road to success in this industry isn't quite as cut-and-dry as more traditional careers (so your cousin's a doctor! Who cares!) — and getting your start in the field can be overwhelming.
For real-world advice, we talked to the social media experts at Hootsuite: Trish Riswick, Social Engagement Specialist, and Brayden Cohen, Team Lead in Social Marketing and Employee Advocacy.
They've shared their best tips for landing a job in social media, from skills to practice to courses to take to resume tips (and even some red flags to watch out for when you're poring through job postings).
Here's everything you need to know about kickstarting a career in social media marketing.
How to get a job in social media in 2023
Bonus: Our free social media manager career toolkit includes resume, cover letter, and portfolio templates, along with a complete guide to social media job descriptions and frequently asked interview questions. You got this!
Of course, if you want to learn how to become a social media manager, we highly recommend watching this video first:
What is a job "in social media?"
First things first: What does "working in social media" really mean?
The job of a social media specialist or manager looks different depending on the size and type of the company they work for.
Small businesses often have a single person handling all of their social accounts — or even all their marketing efforts, even the ones happening outside of social platforms.
Larger companies may have a team of people dedicated to managing social channels with more specialized roles, like social media strategist, community manager, or social engagement specialist.
Here are the main types of roles in social media:
Social media management (includes social media strategy and performance tracking)
Content creation
Community management
Social media advertising
In smaller companies, these roles may all be bundled into one position. That means when applying to a small team, you'll likely want to present yourself as a social media generalist, with broad skills across all of these areas. When applying for a role on a larger social team, you'll want to highlight your specific expertise in one key area.
Daily tasks also vary from company to company—and even from day to day. "In this job, you're not restricted to anything," says Trish. "Social media changes every single day, and you need to be able to adapt to that."
Here are some common responsibilities that might be expected of you as a social media manager:
Creative copywriting
Graphic design
Social ad setup and optimization
Performance tracking and data analysis
Community engagement
Customer support
Public relations
End-to-end planning of social campaigns
Communicating with company stakeholders
So, as you can see, a job in social media can involve wearing many hats.
Corporate: Do you have enough bandwidth for this?
Me: My internet speed is working fine thanks

— Hootsuite 🦉 (@hootsuite) August 4, 2022
How to get a job in social media: 6 tips from real-world experts
Building your own social media accounts is an effective way to prove to a potential employer that you know your stuff — and the best part is, you can make your personal content about whatever you want.
"Create your own social account about something you're passionate about and invest time in it," suggests Brayden.
If you're starting from scratch, Hootsuite has advice on growing followers and increasing engagement on Facebook, Instagram, TikTok, and other social media channels. Nothing beats practical knowledge, even if it's not "work" experience.
If you're in college (or even high school), you can also take on the social media marketing manager position for a group there— "Join a club at school and lead their marketing efforts," says Brayden.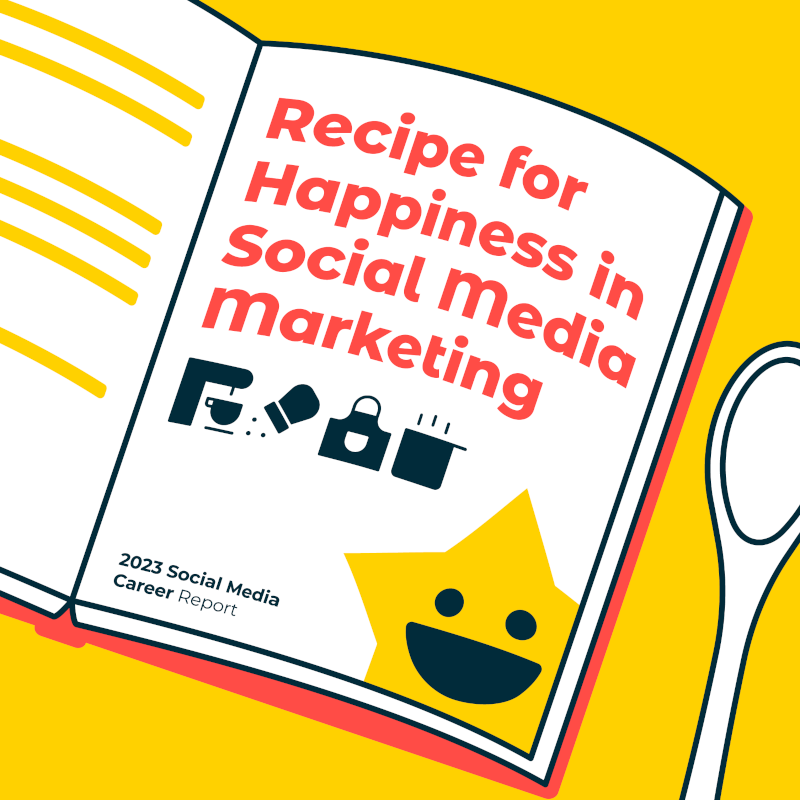 Are you paid enough?
Download our Social Media Career Report for stats on social media manager salaries, benefits, job satisfaction, mental health, and more.
Get the report
There aren't any hard and fast rules when it comes to qualifications for working in social media (more on that later), but completing a social media certification is an asset.
"There are so many resources out there—webinars you can complete, Hootsuite Academy courses you can sign up for—that are recognized by people in the marketing industry," says Trish.
"By educating yourself using free resources, you're showing potential employers that you have taken the steps you needed to take in order to proactively build your knowledge base." – Trish Riswick, Social Engagement Specialist at Hootsuite
Hootsuite Academy has everything you need to get schooled. Courses include:
… and more—plus custom course options so you can set a curriculum that's best suited to your needs.
Many social networks also have their own training and certification programs to help social media professionals learn the best ways to use each network's specific tools—and highlight that proficiency to potential employers on your resume. You can learn from:
Find more industry courses in our post on certifications that will make you a better social media marketer.
The best way to find a job in social media? Using social media, of course. LinkedIn, the "smart one" in the social platform family (Instagram's the hot one, Facebook's the mom friend, you get it), is one of the best places to nail a new gig.
"I found my job at Hootsuite on LinkedIn," shares Trish. "The best part of it is you can see other people who work at the company, connect with them and ask them questions."
Brayden advises connecting with marketers in industries you'd like to work in and arranging informal informational interviews.
LinkedIn has some built-in job search tricks too. "Create a search and save notification function on LinkedIn for targeted keywords of jobs you're interested in," suggests Brayden.
That said, LinkedIn isn't the only option. You can join social media community groups on Facebook or follow social marketers on Instagram for leads on positions.
The marketing industry is always growing and changing—type "social media manager" into a job search engine and you'll get lots of hits (a quick Indeed search just yielded 109 jobs just in Vancouver, BC — and that's only one of many online job boards out there).
So how can you tell a good job opportunity from a bad job opportunity? Here are some red (and green) flags from our experts.
Red flag: You can't tell what the company does. It's important that you're managing social media for a company that you actually care about, and if you can't even tell what the company does from the job description, that's a bad sign. "I have seen so many job listings that don't actually tell you what the company is or what they do, and that means you have to do all that extra research. Applying for a job shouldn't be a scavenger hunt," says Trish.
Green flag: There's a healthy work-life balance. "Burnout is real in the social media space," says Brayden. Work-life balance is something you can discuss with a potential employer, or even a LinkedIn connection working at the same company. You can also get a feel for the company culture by taking a look at their social media posts.
Red flag: The job description is too long. "A really lengthy job description can mean that the employer doesn't necessarily know what they are looking for or have realistic expectations," says Trish. "Having five or six specific points shows that the employer knows what their goals are."
Green flag: There are opportunities for growth. Ask about this in a job interview (you know, at the very end when the boss asks "Any questions" and you suddenly forget your own name).
Red flag: There's no social marketing budget. To set you up for success, your company should provide you the resources you need—and one of those resources is money to boost ads and pay for subscriptions to invaluable social marketing tools.
Green flag: You have the support you need. Even if you're taking on the job of a solo social media manager, you don't want to feel like you're completely on your own. "If you're going to be a one-person team, make sure that you have the tools and mentorship you need to succeed," says Brayden.
5. Don't be afraid to take a step back
Working in social media is different from working in any other industry — and that means that you might not be "climbing the ladder" in a traditional way. "We get into this headspace where we always want to be chasing for more money or a better title," explains Trish, "but sometimes there's value in taking a step back and trying a role you weren't expecting."
Especially if you're pivoting to social media management from another type of work, you'll likely find yourself at an entry-level job — but you don't have to stay in it forever. "Sometimes taking a step back can open a door that didn't exist before, and I would definitely encourage people not to be afraid of that," says Trish. "A lot of the time, it's not really a step back but more of a realignment."
words of wisdom 🙏 https://t.co/Y5KwjXvSOP

— Hootsuite 🦉 (@hootsuite) July 20, 2022
6. Make your resume stand out
Your resume is the very first impression that you make on a potential employer, and there's a lot of competition out there—here are some tips to stand out from the crowd.
Bonus: Our free social media manager career toolkit includes resume, cover letter, and portfolio templates, along with a complete guide to social media job descriptions and frequently asked interview questions. You got this!
Showcase your creativity and personality
"Your resume shouldn't just be on a blank page with writing on it — let's see some creativity!" says Trish. Social media management is a job that requires originality, so you should be displaying that skill in your resume. Show, don't tell.
Brayden recomments showcasing your personality through the design, colors, or copy you use on your resume. "Make your resume social-first with its layout," he says.
Modify your resume for every job that you apply to
Hey, no one said this would be easy. When applying to work in social media (or any industry, really), you should cater your resume to match the job description. "Always include the skills that the listing is asking for," advises Trish.
Read the job posting carefully and make sure your resume addresses all of the points required. You may even want to mirror the language from the ad to make it easy to match your experience to the requirements — especially in case the first sort is done by software.
Show your industry experience
You don't necessarily need paid experience in order to put your best foot forward on your resume. Any concrete practical knowledge is worth highlighting, says Brayden— "even if it's running social for your personal account, or school projects you did that aligned with social media."
Quantify your results
Many organizations are focused on proving the ROI of social, so showcase experience that demonstrates that your social marketing strategies yield results. Including numbers from real-world wins goes a long way.
For example, you could highlight the growth of social channels during your time managing them, the success of campaigns you ran, and so on.
What qualifications do you need to work in social media?
This is tricky to answer, because really, it depends on the person and the company.
"We've seen stories of people on TikTok who have become very successful social media managers with just high school education," notes Trish.
With a natural marketing instinct and some luck, you can make it with very few formal qualifications. But that's not to be expected—here are the social media qualifications that most hiring managers are looking for:
A college or university degree. A post-secondary education in the arts is an asset, especially in something writing-related. "You need creative copywriting skills," says Trish. "Being able to create content that isn't generic is much harder than a lot of people think."
A certification in social media. Good news: social media certification is a lot cheaper (and takes a lot less time) than a college degree. Hootsuite offers social media courses through Hootsuite Academy and free online social marketing training on Youtube. Completing these kinds of courses gives you a concrete achievement to list on your resume, and to refer to during a job interview.
When it comes to working in social media, skills are just as important as qualifications. Here are the most important social media skills you need, according to the experts.
Be adaptable. "This space changes at lightning speed! I'm not kidding you, there's something new to stay on top of every day," says Brayden. "You need to be comfortable with change and ready to hop on a new trend, change in the algorithm, or update your content strategy like it's no big deal." Trish agrees: "Social media changes every single day, and you need to be able to adapt to that."
Be creative. "Creative copywriting is the bulk of what we do," says Trish. "There's a lot of noise on social," Brayden adds. "You don't need to reinvent the wheel, but you need to have creative ideas that serve a purpose for your brand and get your audience engaged."
Be versatile. "Social media managers don't just do social media. They need to have a digital marketing generalist mindset because of what the role encompasses," says Brayden. "It's not just about creating videos or graphics," says Trish.
Manage social media like a pro with Hootsuite. Easily schedule posts, collect real-time data, and engage with your community across multiple social media platforms. Try it free today.
Are you paid enough?
Download our Social Media Career Report for stats on social media manager salaries, benefits, job satisfaction, mental health, and more.
Get the report