How to Use Social Media to Engage With Customers and Build Your Brand
You hear it all the time: 'Engage customers!' Sounds like pretty solid advice, right? But how, exactly, do you do that? Every business is different and so there's no step-by-step manual to follow. But, there are a few things you can do that, when combined with intuition and common sense, can really help you gain traction and start conversation in the social sphere. After all, engagement helps your brand and is a crucial step towards a sale. These tips will help you get started. Your business acumen will take you the rest of the way.
What does your audience want? Listen to what they're saying to find out.
Read all the comments on your Facebook page. Set up a keyword/hashtag monitoring stream in Hootsuite and watch what people are saying about you, your industry, and your competitors. This will give you incredible insight into what your demographic is thinking and feeling, thus creating opportunities to engage them.
Ask questions to start conversations
But make sure they're good questions. Real questions. Thoughtful questions. Questions you actually want answers to. What defines a good question depends on your type of business. But as a general rule, keep them open-ended, positive, relevant to your business, and most importantly, appealing. So, less "What's your favourite Happy Scoops flavour?" and more "What should Happy Scoops' next flavor be?"
Answer questions to start conversations, too
Your audience will ask you questions through social channels. You should always address them, even if you don't have the actual answers. It shows both the person asking and the rest of your audience that you're paying attention. You can also answer tweeted questions about your industry, even if they aren't specifically for you.
Criticism: Not necessarily a bad thing
In a perfect world, everything said about your business and brand would be positive. You'd be showered with rose petals while meandering past line-ups of people who can't wait to exchange their hard-earned dollars for your product or service. But that's not the case. Customers will criticize and complain. Every comment and complaint represents a great opportunity, though–an opportunity to fix the problem, and do it publically. Or, at the very least, show empathy.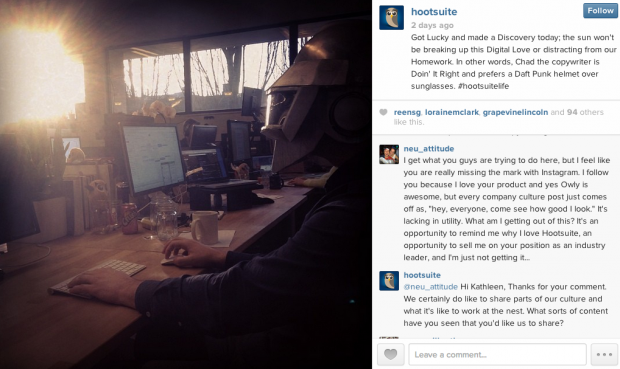 Be easy to find and follow so that people can, well, find and follow you
Make sure your Twitter, Facebook, and other social profile icons are visible on all of your digital communications and websites. Not in a so-large-that's-all-you-see way, but big enough to catch the eye while scrolling down the page. This makes it extremely easy for a customer to 'like' or follow you, and reach out to you for any reason.
Promoting others' content creates community
In addition to promoting your own content, feel free to share other people's. Whether it's a tweet, a blog post, or even something a competitor did, sharing stuff from other people is what creates a community. And, it makes members of that community far more likely to share your content, too.

People like talking to real people, so talk like a real person
For the average consumer, it's often easy to forget that there's an actual human being behind every Facebook and Twitter profile. Use every interaction as an opportunity to change that perception by using their name, your initials, and employing a tone that doesn't resemble a 80s-era corporate memo.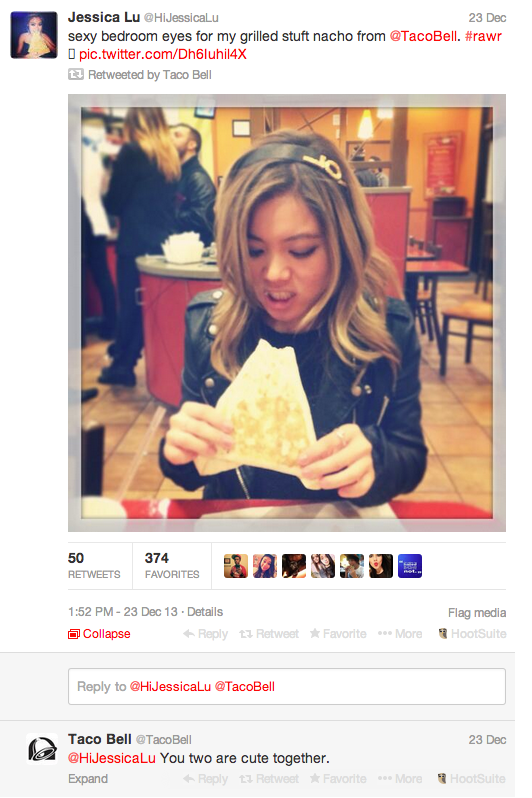 Knowing what not to do is just as important as knowing what to do
Sometimes efforts to engage fall short. Other times, they're downright patronizing. Condescending Brand Page's presence on Facebook is a great example of some of the more obtuse social media efforts by businesses big and small alike. (Some posts may contain language considered not safe for work. Your discretion is advised.)
Engaging customers through social media can be intimidating to businesses. But it's the first step in creating sales, loyal customers, and brand ambassadors–people who come back to you time and time again, and even promote your business for you in earnest. It tells consumers that you care, that you're listening, and that you want to be involved. Social media engagement should be a pillar of your business strategy. These will provide you with the basic know-how to get started.
Learn how to connect with customers like never before at Connect via Hootsuite, our virtual conference. Register for free to learn how to use social media at every stage of the buyer's journey—from engagement and brand awareness, to driving leads and closing sales.
Connect via Hootsuite takes place October 5, 2016 at 8:30 a.m. PT/11:30 a.m. ET/4:30 p.m. BST