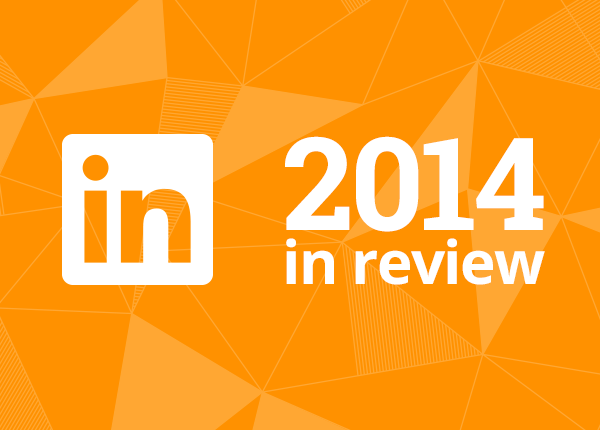 LinkedIn 2014 — A Year in Review
LinkedIn might not have had the loudest year among social networks, but loud has never been the best way to describe it. Effective, steady, and solid might make for better descriptors.
In 2014, LinkedIn continued its growth from business social network into global publishing powerhouse. Have a look at some of the highlights:
The Product
LinkedIn continued its push to turn the social network into a content platform in 2014, first by opening up the LinkedIn publishing platform. The platform, which had been created a year earlier for the LinkedIn Influencer Program, can now be used by anyone. Users flocked to the platform as a new professional blogging tool, and some have managed to earn tens, even hundreds of thousands of views in the short time since.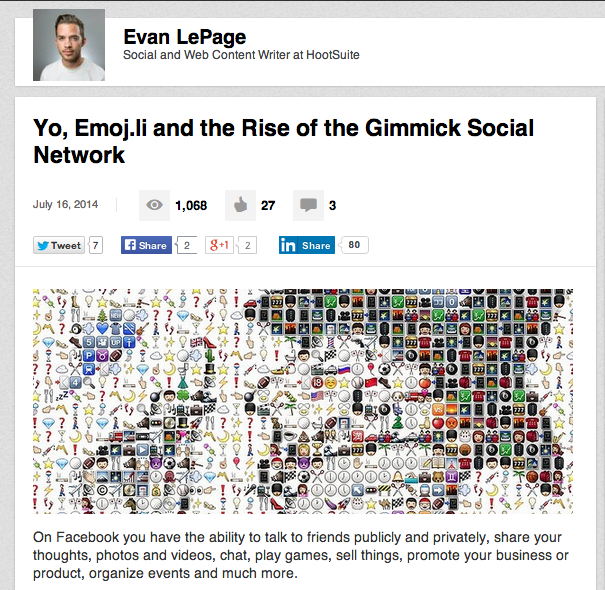 Later in the year, LinkedIn redesigned their blogging platform. The new experience was cleaner and more intuitive, making it easy to add images and share your posts. They also redesigned the LinkedIn Pulse reading experience, adding continuous scrolling between curated stories, among other things. They claim increased sharing, more views on each post, and more people writing as a result.
With another of its new features, LinkedIn set out to answer the age-old question, "can you really get a job with a philosophy degree?" The feature, called the Field of Study Explorer, helps high school students decide on their university, program and focus by allowing them to explore various fields of study, see what schools put out the most grads in those fields, and where those grads end up. So if you did want to see what a B.A. in philosophy could get you, you could use the Field of Study Explorer to search the nearly 400,000 philosophy grads with a LinkedIn profile. Doing so shows that that IBM employs an impressive 600 graduates of philosophy, and Microsoft and Google each employ over 450, and shares what positions at these companies philosophy grads hold. Useful.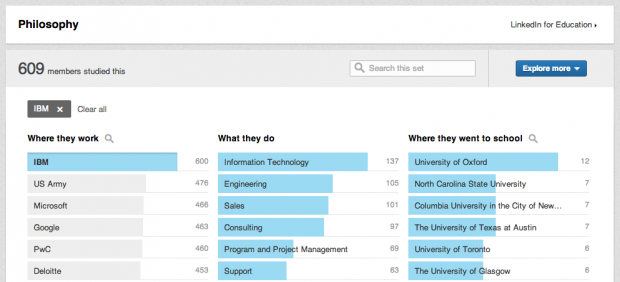 Other noteworthy product updates by LinkedIn:
Company News
A quick four months into 2014, LinkedIn hit a major milestone: 300 million users. A lot of this growth came outside the U.S., as international users accounted for two-thirds of their membership. That trend is sure to continue with the launch of both Simplified Chinese and Traditional Chinese language versions of LinkedIn this past year.
Two acquisitions this year will also likely help the social network continue its growth. In February they acquired Bright, a company that should help them better match employers with prospective job hunters. Then, in July, LinkedIn acquired Newsle, a company that uses algorithms to find blogs and articles that mentions you or anyone you care about and then notify you almost instantly.
Like other social networks in 2014, LinkedIn also continued to push transparency. Inspired by Google, they released a diversity report and admitted that, as a company, they have some work to do to. They also continue to release twice-yearly transparency reports regarding government requests for member data.
Hootsuite and LinkedIn
Hootsuite and LinkedIn's partnership stayed the course in 2014, as tens of thousands of users continued using their dashboard to post updates, stay informed about their industries and hunt for jobs.
We added a handy update to our mobile apps' LinkedIn functionality in response to user feedback. Our apps now automatically include the image thumbnail and article summary alongside any link you publish to LinkedIn, so they appear just like a link shared on the native social network.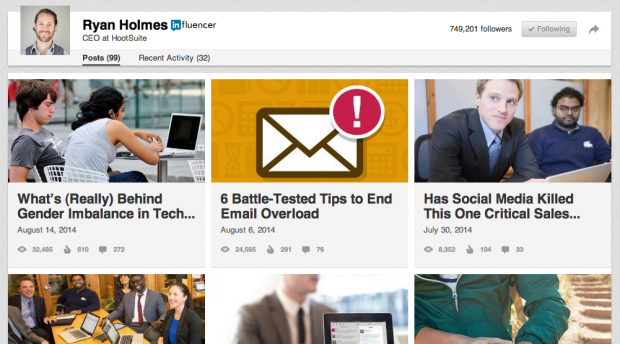 Hootsuite CEO Ryan Holmes also continued his surge within the LinkedIn Influencer Program, amassing over a million followers and placing him in the top 15, only a few spots behind U.S. President Barack Obama. And, to our delight, Hootsuite was named one of the top 10 LinkedIn Company Pages of 2014.
LinkedIn Resources
We're always releasing new resources to help social media users make the most of their LinkedIn experience. Here are some of our most popular LinkedIn resources from 2014.
LinkedIn Publishing
How to Use the LinkedIn Publishing Platform
What James Caan Learned From his First Million LinkedIn Followers
5 Influencers You Should Follow on LinkedIn (Besides Ryan Holmes)
LinkedIn for Business
How to Get More B2B Leads with LinkedIn
An Interview With Dan Swift – How to Use LinkedIn for Financial Services
Why LinkedIn is no Longer Optional for Small Businesses
Get the Most Out of LinkedIn Groups
Better LinkedIn Profiles
How to Stand Out on LinkedIn (Webinar)
Lessons From Barbie's LinkedIn Profile