AutoSchedule for Mobile: Do More "On the Go" With Your Smartphone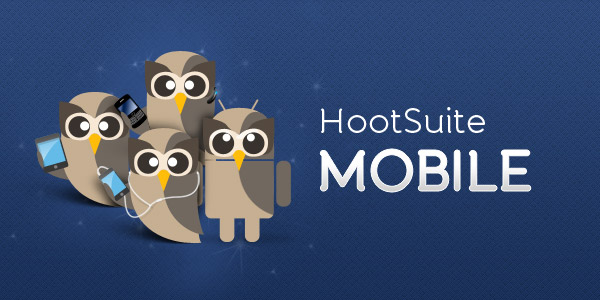 These days, the job of social media manager cannot be confined to a single desk. In these days of real-time marketing, savvy social media champions need to take advantage of the computing power in their pocket.
To that end, we've added even more mobile features, with new updates to the HootSuite for Android and HootSuite for iPhone/iPad apps. First released for Hootlet and then the web dashboard, HootSuite users can now use AutoSchedule to post social messages from their mobile phones. Whether you're sharing a webpage, a helpful article, or your own witty musings, AutoSchedule makes sharing easy by automating the posting times.
That's not all. We've rolled out more goodies to help make your HootSuite mobile experience that much better – including localization into Traditional and Simplified Chinese.
Put the power of the dashboard in your pocket:
Since August 2010, 3.75 million users have downloaded HootSuite mobile apps. Have you?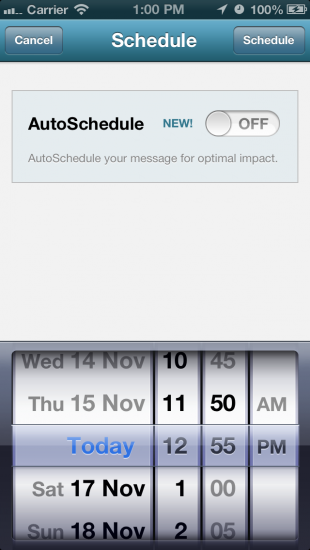 Simplify Your Sharing
Available for both iPhone, iPad and Android, AutoSchedule gives you the option to manually schedule, AutoSchedule or send now. Maximize the reach of your posts without swamping your followers with consecutive posts.
Here's how to use AutoSchedule from the dashboard:
Step 1: After composing your message in the Compose Box, access the Schedule icon.
Step 2: Toggle the AutoSchedule switch to On and then click the Schedule button.
Rest assured, like regular scheduled messages, AutoSchedule messages can be viewed and rescheduled at any time. These messages will appear in your "Pending Tweets" stream and can be deleted the same way as regularly scheduled messages. [clear]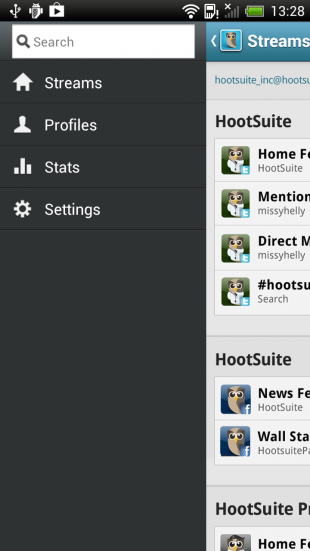 Half Owl, Half Machine: HootSuite for Android
We've updated the HootSuite for Android interface to match core Android app designs – the new Action Bar  and Drawer make navigation easier and more intuitive. Find the Action Bar located at the top of the app and access the Drawer by tapping the HootSuite icon.
Push Notifications have also been added, ensuring you won't miss any Mentions or Direct Messages.
Recently Added to HootSuite for Android
AutoSchedule: Automates the scheduling process for Tweet and social messages.
Action Bar and Drawer: Updated interface for easier navigation.
Push Notifications: Receive alerts for mentions, direct messages and more. [clear]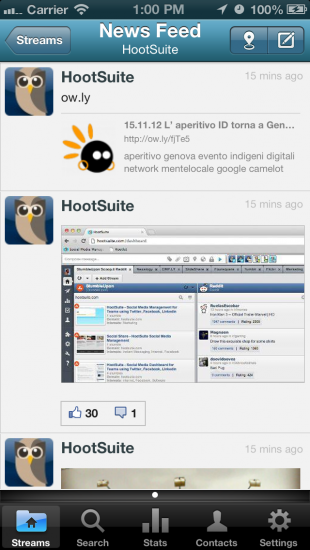 An Owl a Day: HootSuite for iPhone/iPad
With the arrival of the iPhone 5, we've updated HootSuite for iPhone's interface and improved performance. What this means is a faster and smoother experience for you.
Push Notifications, which were Beta released in February 2012, are now available to all iOS users.
Recently Added to HootSuite for iPhone/iPad
AutoSchedule: Automates the scheduling process for Tweet and social messages.
New layout optimized for iPhone 5.
Performance upgrades: Faster scrolling between streams and improved memory usage.
Push Notifications: Out of beta and available to all. [clear]
Find out for certain whether an owl in the hand is better than… Well, an owl on on your desktop. Get HootSuite mobile today: