Olympics Social Media Stats from Week 1: The #SochiSocial Infographic
Your Guide to Social Stats on the Sochi 2014 Olympics
Throughout the Games, we'll be tracking social conversations around the 2014 Sochi Olympics in this daily infographic to show what's buzzing on social. Powerful stats from uberVU via HootSuite will be updated each day to give you an overview of who owns the mindshare of Olympic voice on social. This volume focuses on the cultural topics dominating Olympics discussions on social media.
Read on for a deeper dive into these stats.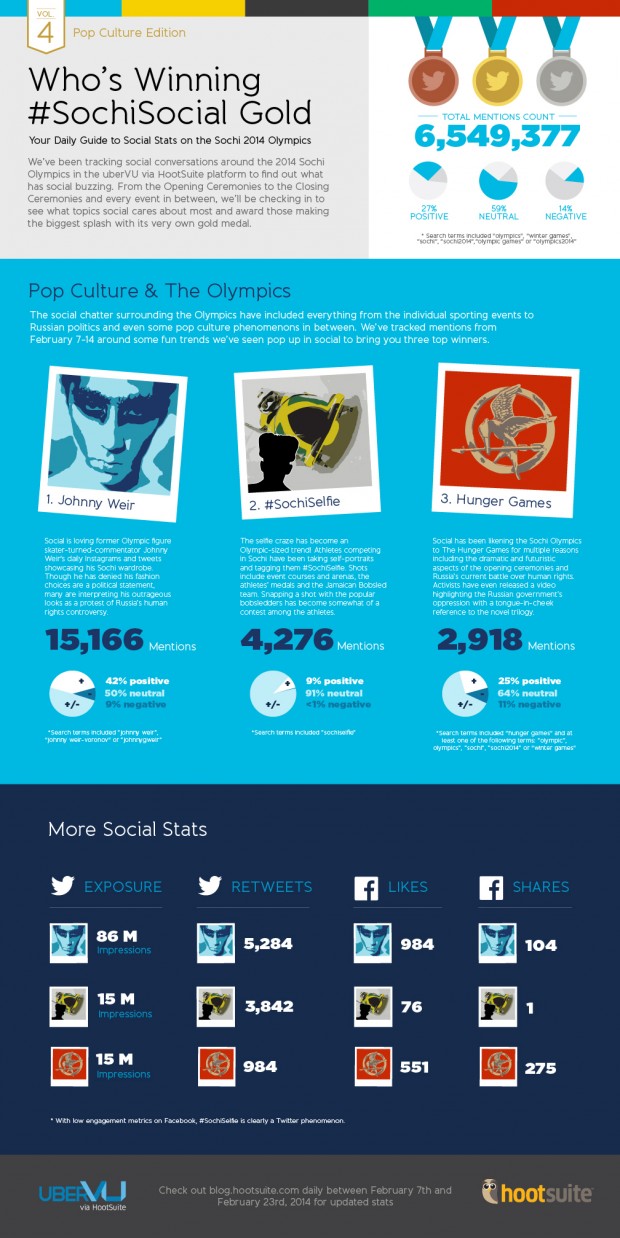 Week 1 Roundup: Pop Culture & the Olympics
We've heard a lot of social media chatter about the sporting events in Sochi and the political undertones of the Olympics, but pop culture has also found its way into many of those discussions. During the first week of the Games, we've tracked the social mentions around some of the fun cultural trends making an impact in Sochi and online. Here are three that have ruled the #SochiSocial podium:
1. Johnny Weir
Social media users are loving former Olympic figure skater-turned-commentator Johnny Weir's daily Instagrams and Tweets showcasing his Sochi wardrobe. Though Weir, who is openly gay, has denied his fashion choices are a political statement, many have interpreted his clothing choices as a symbolic act of protest. Whether or not that is the case, Weir is ruling social media with over 15,000 mentions, many of which mention the key terms "outfits," "fashion," and "fabulous." Most of those have also been positive or neutral, at 42% and 50% respectively, while only 9% of mentions were considered negative.
2. #SochiSelfie
What would a social media trend be without an associated selfie hashtag? Enter #SochiSelfie. Athletes competing in Sochi have been taking self-portraits and tagging them #SochiSelfie, spawning an Olympic-sized trend. Shots include event courses and arenas, the athletes' medals and the Jamaican Bobsled team. Snapping a shot with the popular bobsledders has become somewhat of a contest among the athletes. Overall the trend was not a controversial one, with 91% of the approximately 4,200 social mentions being neutral in sentiment.
Omg Jamaican bobsled pilot Winston @Jambobsled #SochiSelfie #Sochi2014 #myislandisbetterthanyourisland pic.twitter.com/Iwx6w2GD7b

— Heath Spence (@aussiebobsleigh) February 11, 2014
3. Hunger Games
Many in the social media community have likened the Sochi Olympics to another timely cultural trend: The Hunger Games. This comparison has surfaced for a few reasons, including the dramatic and futuristic aspects of the opening ceremonies and Russia's current battle over human rights. Activists have even released a video entitled "Olympic Hunger Games: Sochi" highlighting the Russian government's oppression with a tongue-in-cheek reference to the novel trilogy.
Olympics Rule the Social Media World
Whatever the topic of discussion, the first week of the Olympics proved that social media users cannot stop talking about the event. Sochi-related keywords earned an incredible 5,826,796 social media mentions between February 7th and 14th. These included "olympics", "winter games", "sochi", "sochi2014", "olympic games" and "olympics2014."
Did we miss an Olympic cultural trend? Let us know in the comments.
For Volume 1 of the infographic, on the start of the Games, click here.
For Volume 2 of the infographic, on Opening Ceremonies, click here.
For Volume 3 of the infographic, on Olympic sponsors, click here.