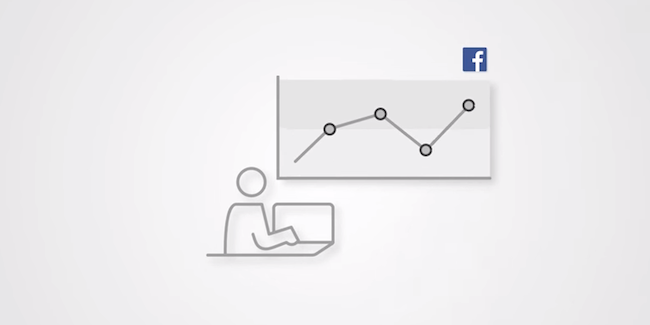 One Stat for Every Social Network That Will Convince Your Boss It's Important
No matter how many people in the world use social media, no matter how many business success stories emerge, no matter how many new technologies emerge to fill specific business gaps, some bosses still have yet to be convinced of the value of social media. But one thing bosses the world over love, no matter how enlightened they may be about the value of an effective social strategy, is data. If you've got a skeptical leader in your organization (or, for that matter, if you are one) you need numbers.
This post is for the boss who will only be convinced of social media's importance when it's tied to broader business objectives—and preferably some dollar signs. We've identified key social media statistics for every major social network that specifically address their concrete return on investment for businesses. These are the stats, and the stories behind them, that will tie social media to broader business goals and convince your boss to hop on board. Take a look.
Facebook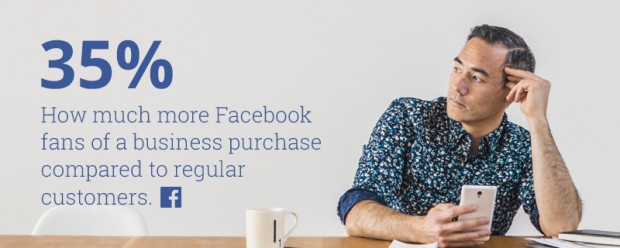 A business' Facebook fans purchase 35 percent more than a typical customer.
People often equate social media success with sexy brands, like Nike or Redbull. But this stat comes from a four-year study of a major grocery store, and there's very little that's sexy about groceries. Still, this business managed to attract a Facebook following and channel that social media relationship into sales.
This stat is a powerful example of the importance of having a Facebook page, but that's not where it ends. Not only do Facebook fans buy more, engaged Facebook fans buy much, much more. The same study found that fans who engaged with the grocer's Facebook page at least 10 times bought 95 percent more than typical customers, which represented an increase of over $1,000.
An engaging Facebook page can absolutely drive customers to your store, and drive increased purchasing once they arrive. More than 75 percent of the grocer's profits during the study came from the 25 percent of customers who were Facebook fans. Over 75 percent? Your boss will have a hard time ignoring that number.
Twitter

54 percent of Twitter users have taken action after seeing a brand mentioned in a Tweet.  
This stat, from a survey of 12,000 Twitter users, initially seems a little sketchy. What does taking action mean? If it meant buying something, wouldn't they have said that.
While 'taking action' in this case doesn't mean purchasing, it is tied to key online goals for any business. For 23 percent of those Twitter users, after being exposed to a brand mention they visited the brand's website. Another 20 percent searched for the brand online, while 19 percent said they would consider trying the brand after seeing them mentioned in a Tweet.
There are two important points to take from this data. The first is that all of these brand mentions were earned mentions. This means that the brands didn't buy advertising or otherwise pay to get the exposure which lead to these actions. When half of the people exposed to every mention your brand gets on Twitter then take action, you're getting easy and clear returns on your social media investment.
"Okay, so how do we get those brand mentions then?" When your boss asks that question, you can share the stat that 53 percent of people on Twitter recommend products in their Tweets. So, for our second point, most brands are getting mentioned on Twitter already. An engaging social media brand will earn additional mentions by growing their following and creating valuable, shareable content. A strong Twitter presence, coupled with the natural tendency of users to tweet about brands, means a lot of brand mentions, and all of the actions that follow.
LinkedIn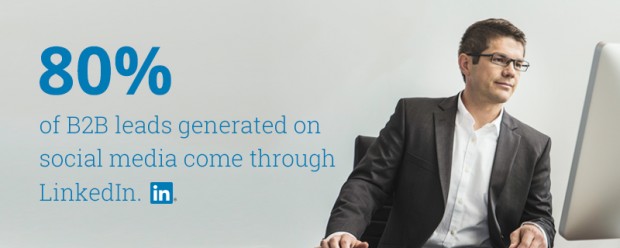 Over 80 percent of B2B leads generated on social media come through LinkedIn.
If there was a social network that your boss probably didn't need much convincing about, it would be LinkedIn. The power of LinkedIn for professionals has long been documented. It started as a hiring tool but quickly turned into a networking and sales asset.
The stat above illustrates that LinkedIn is a very powerful sales tool, especially when it comes to B2B sales. The second closest social network, Twitter, only generated about 13 percent of B2B social media leads. Older data from HubSpot found that LinkedIn is 277 percent more effective for lead generation than Facebook or Twitter.
What about the cost of those leads? The Newscred blog used LinkedIn Sponsored Updates to generate names, the first step in their lead generation process. They found the cost per name using LinkedIn was 20 percent less than native advertising and 75 percent less than Google Adwords. This names were also more qualified, earning them $17.60 in revenue for every one dollar spent on Sponsored Updates—more than three times their Google Adwords return.
Once those leads are generated, 77 percent of B2B marketers say they have acquired a client through LinkedIn. In other words, LinkedIn is an essential lead-generation tool if you work in a B2B business. It should come as no surprise then that LinkedIn is used by 91 percent of B2B marketers.
If you're an individual salesperson, LinkedIn has all kinds of data illustrating how powerful the social network can be for your day-to-day work. You are 70% more likely to get an appointment if you cite a common LinkedIn Group, for example. Also, salespeople focused on new business who exceed quota make 39% more engagements on LinkedIn each month (likes, comments, reshares).
Snapchat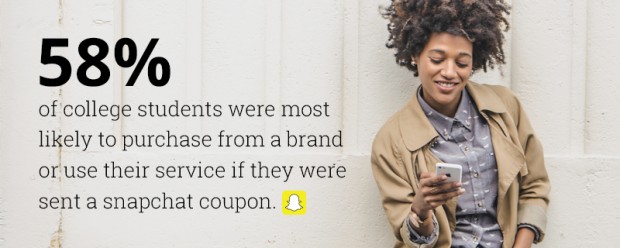 58 percent of college students were most likely to purchase from a brand or use their service if they were sent a snapchat coupon
Yes, that's not a typo. The word really is "most," as in more likely to buy with a Snapchat coupon than any other incentive. This stat comes from Marketing company Sumpto, which polled 1,600 social media-savvy college students. Of these student, 77 percent of whom use Snapchat daily, 67 percent also want to receive discounts and coupons from brands on Snapchats. They want a reason to buy from you.
The problem is getting these students on Snapchat to follow your brand, right? Well actually, 45 percent of students would open a snap from a brand they didn't know, compared to 73 percent for a brand they did know. Those are pretty good odds. These odds improve if you can connect with your existing social media audience on other networks. About 69 percent of students would add a brand they follow on another social network as a Snapchat friend.
If your business markets to college students and young people, this should be more than enough to sell your boss on Snapchat.
Instagram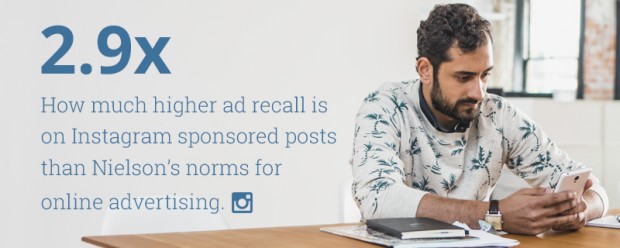 Across more than 475 global campaigns, ad recall from sponsored posts on Instagram was 2.9x higher than Nielsen's norms for online advertising.
Instagram isn't just the realm of selfies and sunsets. This statistic, measured with Nielsen Brand Effect, showed just how much of an impact Instagram photos—even when branded as advertising—can make on your followers.
It comes as no surprise when you realize just how significant Instagram has become to regular people and brands alike. Among American teens, Instagram is considered the single most important social network. Forrester has also named Instagram the "king of social engagement," citing the fact that top brands' Instagram posts generated a per-follower engagement rate of 4.21 percent. That means Instagram delivered these brands 58 times more engagement per follower than Facebook, and 120 times more engagement per follower than Twitter.
That Instagram engagement can then lead to purchasing has also been confirmed by Shopify. Over one percent of visitors that landed on a shopify site through Instagram went on to purchase something (more than Twitter, Pinterest and LinkedIn), and the average order value was $65, the highest average among social networks.
Pinterest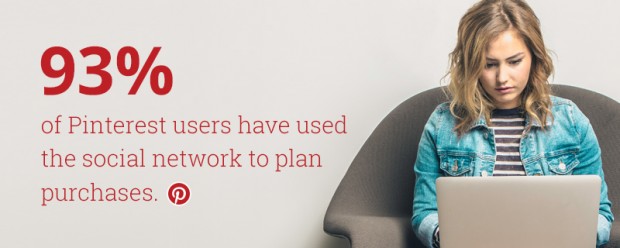 96 percent of Pinterest users have used the social network to research and gather product information while 93 percent have used it to plan for purchases.
Pinterest has long been recognized as a retailer's paradise as, right from the get-go, the social network became a place to share things you dreamed of buying. Well this data, from a survey of Pinterest users by Millward Brown Digital, goes a long way in proving that Pinterest isn't just a place to post dreams, but a place where purchasing decisions are actually made.
The same survey determined that 87 percent of users found Pinterest engagement helped them decide what to purchase, another example of the power of social proof on social media. So Pinterest helps people gather research on products, decide what to purchase and plan their purchases.
That should be enough for any brand, but if it isn't, let's move on to actual purchasing. Pinterest trails only Facebook when it comes to the volume of website referrals it drives. I was also able to find another stat, from influential content marketer Jeff Bullas, that 88 percent of Pinterest users have purchased a product they pinned. I couldn't find a reliable source of research to back that up (which is why I didn't highlight it above), but considering the above data, that 88 percent figure doesn't seem too farfetched.
Google+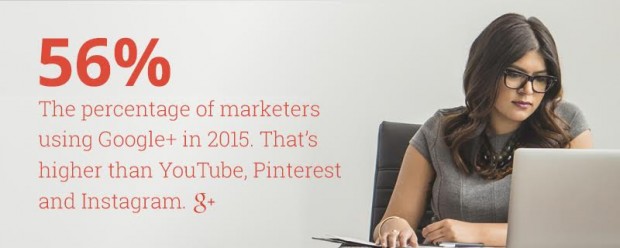 Google+ usage among marketers increased by 2 percent in 2015, to 56 percent. That's higher than YouTube, Pinterest and Instagram.
How long have we been singing the death call of Google+? Every time Google announces a new feature or product, we hear the bells ringing and talk about how nobody uses it anyways. This is an easy out for a boss who isn't sure about the social network in the first place.
Except people do use it, and those people are very much the types of users that can benefit your brand online.
This stat, from Social Media Examiner's 2015 Social Media Marketing Industry Report, shows marketers increasingly using Google+. This upward trend is likely to continue, as 78 percent of marketers plan on keeping their Google+ activities the same, or increasing them over the next year.
As for those using Google+, the network is more popular among B2B marketers, 61 percent of whom use it for business. It's also prevalent among experienced marketers, where Google+ trails only Facebook and LinkedIn among those with three or more years of social media experience.
So, what does this all mean? It means that more and more marketers are finding value on this underdog social network, especially within B2B businesses. They're rejecting the popular opinion about the social network because they've seen how passionate and connected its users are. In fact, Google+ is second only to YouTube for the quality of its referral traffic, with users spending more time on site and visiting more pages than Twitter or Facebook referrals. This reflects our own experience on Google+, where we found incredibly passionate brand advocates openly conversing with brands.
I admit, this doesn't have the dollar sign or ROI power of some of the other statistics on this list, but 56 percent of marketers might still be enough to shift your boss' opinion of Google+.