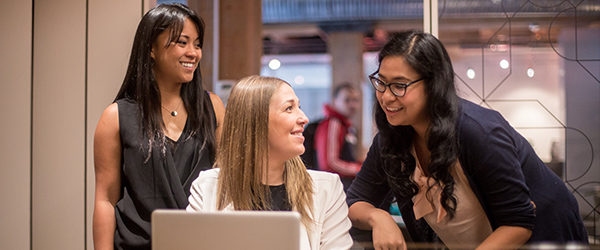 How Successful Teams Collaborate Using Social Media
Your business is unique. Whether your team is big or small, a successful collaboration process will not only save you time, but keep your current customers happy and help you reach more potential customers. With over 500 million Tweets sent per day, and over 40% of customers expecting businesses to respond on social media within a hour, it is essential for businesses to efficiently manage their time and social media presence.
To help you build a social media collaboration process that's as distinct as your business, Hootsuite has created a set of features especially designed to empower your team. Join our live panel as we chat with three successful team leaders and discover how successful-but-different teams collaborate using social media and Hootsuite.
Meet our Panelists
      Melissa Feeney                          Sarah Lang                           Jaime Stein

Panel Details
When: November 13, 2014
Time: 8:00 a.m. PST
Where: Google Hangout
Join the conversation. During the panel, tweet using the hashtag #Social60 or comment on the Google Hangout event page. We hope to see you there!