Social Media Management with HootSuite Team Collaboration – The perfect tool for groups and teams
Now, HootSuite Plays Even Better with Others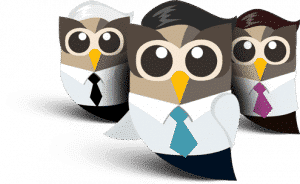 Since the very first iteration, HootSuite was built for groups to manage multiple social network accounts. We've continued to listen to agencies, organizations, consultants, and businesses of all sizes, and now HootSuite presents "Owners and Teams" — a new context n the social media dashboard designed to help teams collaborate with efficiency and ease.
All About the Team
These Team Collaboration tools are specifically designed for collective message publishing and conversation monitoring by groups. This will allow enterprises and agencies to coordinate their efforts with colleagues and clients without sacrificing control over valuable account info or compromising the timeliness of messaging.
Business and organizations can now assemble specific Teams to manage accounts, topics or projects. Plus, anyone can add their own social networking accounts without an administrator, adding even more flexibility.
Users can also save keystrokes with the highly-requested "Reply to All" option, and can spread messages auto-magically with streamlined adding of RSS feeds to any social network.
Own your Team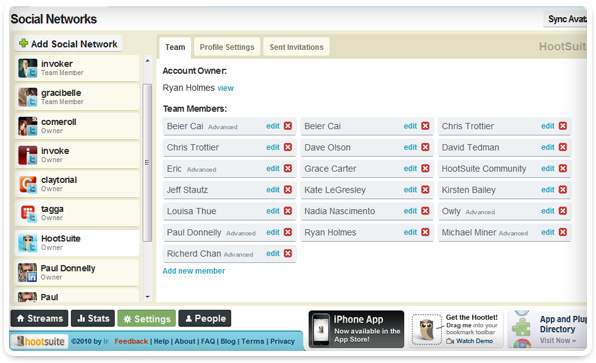 Each social network account now has an Owner who "holds the keys" to that account. Owners can then invite Team Members to publish to different social network accounts.
Anyone can invite Team Members to their HootSuite account – it's easy: Just enter their email address, add a message if needed, and select the social network you want to grant them access to.
Advanced Team Members can manage Basic Team Members' permissions, plus modify the details of assigned social networks, while only Owners have the ability to delete accounts.
Changing with the times is easy — Owners can migrate Ownership to another Team Member on an account when roles or personnel changes. You can also revoke someone's access quickly and easily at any time.
Team Members can add additional accounts to their HootSuite accounts — great for managing work and personal social networks side by side, or for handling external projects.
You'll choose an Owner for each social network account when you first log in. Work with your colleagues to decide who will be the "owner" for your networks (Don't worry, you can transfer ownership at any time).
RSS to Twitter for All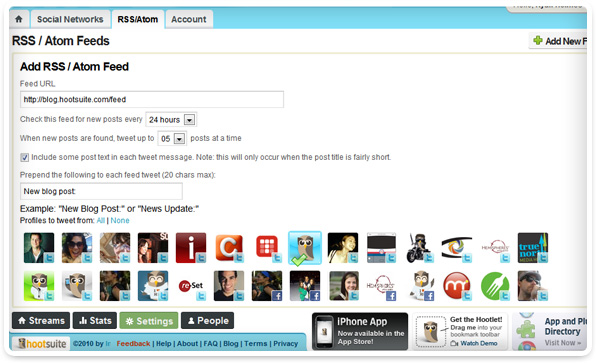 News feed integration was added to HootSuite a few releases back, but previously only Admins could add RSS/Atom feeds to publish to social networks. Now Team Members can also schedule RSS-powered updates to any assigned social network(s) — Simply add a valid feed address, set the update interval, choose how many posts you'd like us to grab at a time, and choose which social networks you'd like the feed to post to. You can find your RSS settings under Settings > RSS/Atom to feed your social networks. More RSS How-tos on Help Desk.
Reply All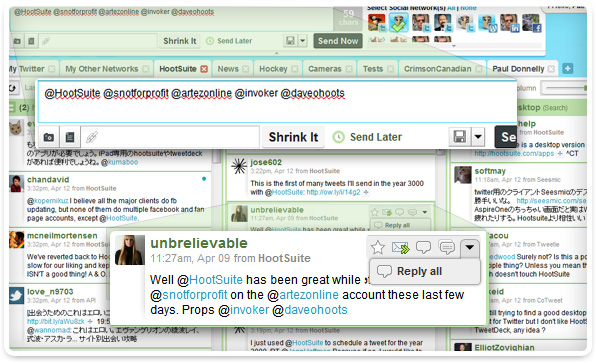 Sometimes you want to Re-Tweet a message, sometimes you want to Reply to the sender — no problem. But what if you want to reply to all of the recipients of a message? Now you can. Just click the "Reply All" option in the top corner of each update. This was one of the most popular requested features from the Feedback channel — take a look and see what you want to vote up next.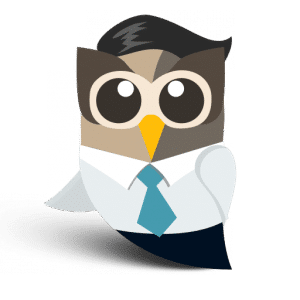 On the RoadMap
This new Team Management framework will bring great benefits to agencies and consultancy which handle multiple clients. It's also a boon for teams with distributed contributors, including clubs, governments, NGOs, and business of all sizes who use HootSuite as a customer service and monitoring tool. As such, our team is hard at work on a new Assignments component — coming soon! — which will allow Team Members to annotate any posts in their columns and assign them to other Team Members for follow-up.
Owners will have an accountability trail, and Team Members will have a dashboard for managing all their assignments. This release is about a month away, but we do have a new mobile release in between to keep you busy.
Learn More
Webinar — HootSuite is hosting a series of about Team Collaboration — Keep an eye on HootSuite Webinars for details
Video — Shows all the new Team Collaboration features ~ with Owls — Roll it!
Help Desk — Find How-Tos and FAQs including tutorial videos for many HootSuite tasks
Feedback — We monitor this user-powered channel, so vote up your desired features
Notes
Video features music by The Numbskulz from Pe Ell, WA.
Company logos, descriptions, bios, media contact info etc. at the HootSuite Media Kit.
Press Release via PRWeb – HootSuite Adds Social Network Team Collaboration Tools