HootSuite in 2011 ~ A Year End Recap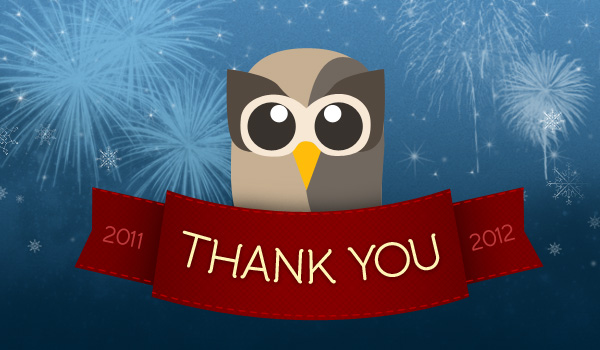 With the HootSuite team constantly focusing on what's next, it's easy to lose sight of how far we've come. Looking in the rear view, 2011 was a watershed year for us as the HootSuite community soared from just over 1 million sign-ups at the end of 2010, to more than 2.7 million by mid-December – nearly tripling our userbase in one year.
Guided by your feedback and ideas, we're proud to see how much of our road map we've covered in the past year with numerous iterations and integrations and we're grateful to enjoy your continued support on this journey. From championship finals and tsunamis to revolutions and state of the unions – we've helped people connect, engage, manage, and broadcast what's important to them. Sometimes triumphant, sometimes tragic, and at times trivial – our beloved dashboard has been a medium to help spread information, joy, hope, and… a remarkable amount of cat videos. So get cozy as we share our favorite memories and milestones from 2011…. with a special holiday greeting at the end.
January – #Winning
To start 2011, HootSuite CEO Ryan Holmes brought home the 2011 Mashable Award for Best Social Media Management Tool to share with the team. Plus, the HootSuite Affiliate Program spread its wings for the first time allowing HootFans around the world to earn commissions through their referrals.
February – Egyptian Revolution
The world got smaller for us as HootSuite saw a huge spike in sign-ups and activity from Egypt after the Egyptian Government began blocking social networking/media sites during the uprising and subsequent revolution. HootSuite was used as a workaround to organize assistance and resistance, contact outside media, and monitor the status of loved ones. Our hearts went out to the affected people on the ground as we watched the updates until the government eventually blocked all Internet access. But our unique perspective was shared in National Geographic for posterity. February also saw US President Barack Obama tweeting from HootSuite as he simultaneously presented his State of the Union address. As well, we rolled out Facebook Page Management and HootSuite for Blackberry saw the addition of new LinkedIn, Foursquare, Facebook, and Twitter features.
March – SXSWi, Social Analytics, and Secure Profiles
In response to user requests and feedback, HootSuite created a powerful Social Analytics tool allowing users to track and measure using over 30 report modules. Check out the introduction video featuring music from The Salteens. Our owls took SXSWi by storm – appearing on the front cover of the LA Times gathering enough attention to be named a top five influential brand at the event by the O'Reilly Radar. HootSuite also helped bring awareness for the Japan relief efforts during a Big in Japan panel and cathartic Japan tech meetup.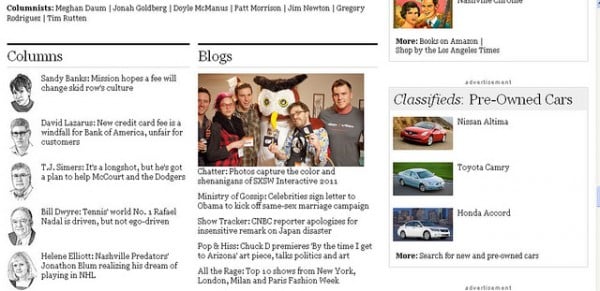 Following notorious mistweets by @ChryslerAutos, @redcross and @marcjacobsintl – HootSuite rolled out the Secure Profiles feature to prevent errant tweets and rogue interns from derailing social efforts. After a limited release in January, the HootSuite Affiliate Program was opened to all HootSuite users.
April – Happy Owls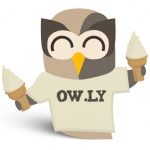 April started off with a laugh as HootSuite followed up last year's 3-D dashboard with Happy Owls – a fictional, action-packed, in-dash game for April Fool's Day. We acquired TwitterBar, now known as HootBar, providing an even more convenient way to tweet from the Firefox browser. Application-wide SSL protection and the Liechtensteinian-hosted owl.li and ht.li were added as url shortener options. The HootSuite Translation Project also completed a localized Spanish version of the web dashboard along with a Spanish social media infographic
May – HootUp with HootSuite
The month of May saw the launch of HootUps – casual, fan-created events to share swag, tips and tactics starting in Victoria, Canada and Tokyo. On May 6th, Ryan Holmes attended the IIMA Fusion 2011 Conference. The HootSuite team collaborated with Social Media Coach, Nichole Kelly, for a 5-part white paper series on measuring social media for ROI.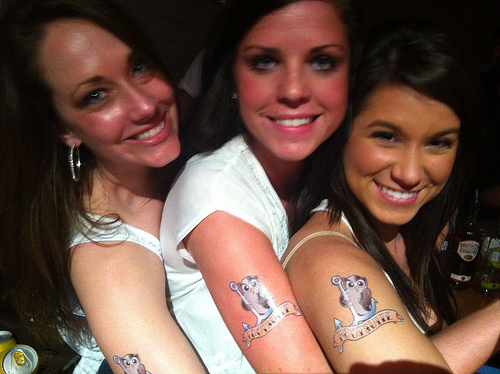 June – Still Big in Japan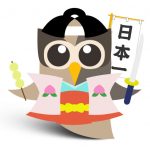 The start of summer began with the addition of new publishing tools including a comprehensive calendar view, limited profiles, and a handy profile picker. BlackBerry users were treated to Facebook Search and Event streams as well as Twitter List management. HootSuite also celebrated the 1-year anniversary of HootSuite Japan with a cherry blossom themed wallpaper, an Owly Design Contest (winning design displayed on the left) to go along with the fully localized Japanese versions of the web and mobile dashboards.

July – A Milli a Milli
On July 5, just seven months after reaching our first million, HootSuite grew to two million users and released another infographic to share the success. We also embarked on an island retreat. A big thank you to the folks at Galiano Island's Bodega Ridge for their warm hospitality. In honor of the owling meme that swept the Interwebs, we held an owling contest resulting in a parliament of HootFans in their best owl poses. We kept the motor running through the summer with an affiliate program refresh, and the beta launch of HootSuite for Keitai – Japanese feature phones. To cap a busy month, HootSuite also published a real estate industry sheet to coincide with CEO Ryan Holmes' appearance at Real Estate Connect in San Francisco, while community builder Dave Olson shared stories with newspaper editors in New Orleans.
August – Summer Refreshment
The dog days of summer were coming to a close as we brought new Facebook integrations including new processes for posting to Pages and Profiles and more ways to monitor Facebook walls, news, events, and comments along with scheduling and assignment capabilities right from the dashboard. This time, the release video featured an ultra-danceable track by Hey Ocean!. August 9th was a major milestone for HootSuite University as the social media certification program relaunched with new features, videos, webinars, and #HSUchat – a weekly Twitter conversation covering compelling social media topics with certified pros.
September – More Everything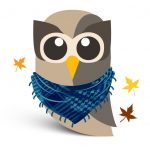 September saw the addition of more owls, tools, and financing. HootSuite closed $3 million in debt bridge financing, and acquired TwapperKeeper – a social storage and reporting tool – and What the Trend – a web service which shares user-defined explanations of trending topics on Twitter. On top of that, HootSuite HQ welcomed three executive owls to the team – Steve Johnson CRO, Darren Suomi VP of Sales, and Greg Gunn VP of Business Development. Kicking off with Greg's appearance at Salesforce's annual Dreamforce Conference, the start of autumn saw HootSuite owls spreading their sage social media wisdom at events around the world.
October – Get Linked
It was a Happy Owlloween as HootSuite themed pictures and tweets came through – including jack-owl-lanterns and costumes. The dashboard was enhanced with deeper LinkedIn functionality after becoming a charter member of the LinkedIn Certified Developer Program and mobile users were treated to updated support for iOS 5. The autumn acquisitions continued as GeoToko – a location based marketing and analytics platform – also came under HootSuite's wing.
November – App-y Thoughts
The releases kept coming as HootSuite joined a select few as an official launch partner for the Google+ Pages trial – launching Google+ integration for the dash – and fulfilling a popular request. The HootSuite App Directory took a huge leap forward going live with new networks – YouTube, Flickr, Tumblr, and Get Satisfaction. Oh, we also celebrated our third birthday!
December – Bright Nights
December showed no signs of slowing down for HootSuite as we released three more networks for the App Directory: Constant Contact, Summify and Formulists. Making it two years in a row, HootSuite was honored at the Digi Awards as a Top Digital Company after last year's award for Digital Media Technology of the Year. Plus, HootSuite's Top Trending Twitter Topics Infographic made a splash by summarizing the most popular Twitter trends of 2011. Many glorious memories were made during the HootSuite winter retreat as the team was treated to a great time soaking in hot springs. Many thanks to the crew at Harrison Hot Springs Resort and Spa.
Festive Wishes
2011 has been a whirlwind of progress and we wouldn't be where we are today without the continued support of our (almost) 3 million beloved owls. Special thanks to each of you for contributing to our collective social media revolution. Finally, from everyone at HootSuite HQ, we wish you and yours a happy holiday and a healthy and prosperous new year. We are honored to build tools for you and truly look forward to hoot'ing along with you for years to come.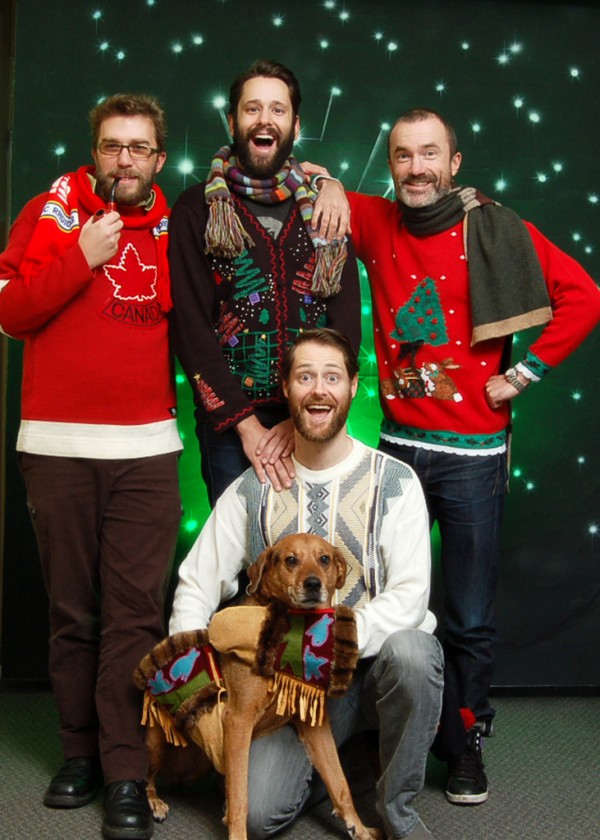 (Top Row) Dave, VP Community; Greg, VP Biz Dev;  Simon, CTO  (Lower Row) Ryan, CEO;  Mika, dog