4 Major Social Media Trends from One of Europe's Largest Digital Marketing Conferences
For the seventh year running, the annual international Digital Marketing Exposition and Conference dmexco became the hub of the digital business world for two days. On September 16 and 17, all the major players from the marketing and media world joined key technology providers in Cologne, Germany under the slogan "Building Bridges."
More than 880 companies from the global "digiconomy" (shorthand for the modern digital economy oft heard at the conference) exhibited to more than 43,000 visitors across four halls. From Amazon, eBay, Facebook, Google and Instagram to Microsoft, Twitter and Yahoo!, the titans of tech were in attendance. The dmexco Conference hosted more than 500 international speakers for an exciting program around the trends and developments of the digital economy. Standout presentations included Amy Cole's insights into upcoming advertising opportunities on Instagram, and a very entertaining lecture by David Shing (AOL), which highlighted that innovation is driven by the creative input of people, and that we should use technology and information as tools to enable this creativity.
Fourteen Hootsuite employees travelled from Hamburg and London for one of Europe's largest trade fairs in order to deepen the contact with customers, partners, and prospects. Discussions this year focused on strategic topics such as content marketing and localization, team collaboration, mobile networking, social selling, social HR, and the importance of social media for the customer journey. The Hootsuite booth was a hive of digital buzz as we discussed how our social relationship platform helps tackle these issues, and aimed to realize this year's dmexco motto of building bridges.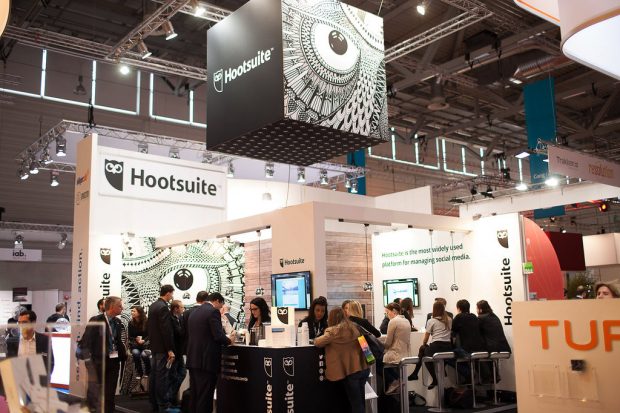 What have we learned from dmexco 2015?
There are four clear social media developments that were the talk of dmexco, however the overriding message from the various presentations and discussions was that digitization is unstoppable and will only continue to gather momentum. Linked to this is how speed ​​is a key factor for any company's success: brands must be able to cater to their customers, and to answer their questions at any time and on any channel; this is vital for long-term brand loyalty.
We also had a fantastic conversation on the main trends of dmexco 2015 with renowned social media expert, Martin Meyer-Gossner, founder and owner of the management consultancy The Strategy Web, who was the dmexco moderator in the first hour. We believe these to be the four main developments across social media right now.
1. Mobile to connect brands with consumers
We all know that accessing the Internet via our smartphones is the norm. However, as the Internet of Things continues developing, and as wearables become commonplace in everyday life, mobile devices will become firmly established as the primary gateway to customers. Indeed, the marketing industry is responding with a steady growth of advertising spending. Experts now believe that successful companies can no longer do without a mobile strategy in a few years (or even earlier). For the BVDW, the organizer of dmexco, mobile is the "most important link between the brand and consumers."
The participants of the Mobile Summit during the trade fair agreed that targeted customer contact through mobile channels harbours huge opportunities for businesses. But the obstacles are not without substance—mobile data is now only rarely used creatively or with genuine insights and the app market is still largely untapped for many advertisers. Meyer-Gossner states: "Social media channels such as Facebook, LinkedIn, Twitter or Instagram are frequently used as channels for mobile content, yet this content is the same on both the desktop and mobile devices. Mobile, therefore, isn't being utilised as well as it could or should be."
Dan Rosen of Telefónica also spoke about data in relation to mobile content. Use mobile data analytics to understand your audience and to make sure you are talking with the right audience (in the right way). The fundamental point he made in terms of using this mobile data is that brands need to forget their obsession with clickthroughs to instead focus on whether there is commercial intent. In other words, use the data to better understand how consumers are being motivated to actually make a purchasing decision. Knowing triggers for commercial intent will put the focus on quality (sales) and not just quantity (vanity volume metrics).
2. Personalised and relevant content
The meaning of the "right content" became clear throughout dmexco. Obviously, digital networking has not only changed the world around us but also our own sense of entitlement. We expect all of our current needs to be fulfilled immediately and for solutions to be accessible and usable "on demand." The intelligent use of such real-time data available through mobile interactions provides a huge opportunity for brands to successfully engage with customers in a personalised manner.
A lot of the buzz at the show, therefore, hinged around tailor-made content. Jung von Matt board member, Thomas Strerath, summed this up perfectly: "Content must be totally entertaining or offer added value. If it doesn't, then it's just bloody boring advertising." Storytelling as a form of marketing has always been the most successful way to "sell" a brand, whether that is done implicitly or explicitly. There were various presenters that kept referring to storytelling throughout dmexco and they all provided unique insights that highlighted storytelling as an excellent opportunity to put the customer at the heart of the communications, as opposed to merely selling the brand itself.
For example, Stephanie Naegeli, Digital Innovation Manager and Founder of Nestlé's Silicon Valley Innovation Outpost shared with delegates at dmexco what she believes to be "the right storytelling." Their success hinges around how the international food company knows how to generate "authentic content" that is not only engaging but is relevant enough for the intended target audience to identify with. Fundamental to this is how they do not integrate the product into the content (i.e. be explicit) unless it adds to the value of the story being told. In other words, they do not force their products onto the audience. For example, Nestlé has achieved more than 23 million views on YouTube with the first of a series of videos for its international "Dear Kitten" campaign. The subtle integration of the product itself within the story being told is almost like a classic product placement in a movie cinema—it is in the background and not made the centrepiece of the story. A simple but very effective strategy.
3. Ubiquitous customer touchpoints
The first two trends lead into this point seamlessly—the contact between company and customer is becoming more intense and more varied. Today's customers expect simple content and offers that are interesting and relevant to them. It is all about immediacy, convenience, and relevancy.
Joelle Frijters of Improve Digital commented in the Performance Debate: "You can only make these relevant when one is in communication with the customer." A real challenge in the variety of devices and contact opportunities! The redeeming dmexco magic word for this dilemma called "omni," the unified customer approach across all channels and devices.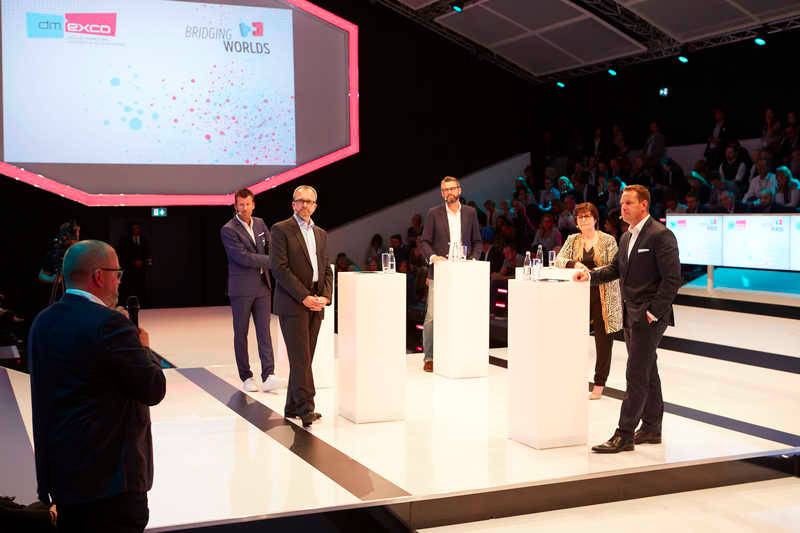 "The networked clients leave their data where they walk and stand, but they are also aware of this. In return for the disclosure of personal information they expect their contact with a company or brand to therefore be unique and tailored to their individual needs and preferences—whether in search queries on the company's website, in apps or social media channels, in the shop around the corner, or through customer service," explains Meyer-Gossner. However, a comprehensive omni-channel approach requires strategic rethinking in the company; the customer must be made truly in the centre of all activities. For social media, that is the crucial step from a pure communications channel into an integrated social selling tool.
4. The vital importance of the digital customer journey
Quite simply, if there is no journey then there is no customer. This message came through loud and clear at dmexco: the digiconomy is all about determining for the customer where, when, and how a product or a brand is of interest and benefit to them. Blake Cahill from Philipps simplified this situation through a powerful statement: Mobile Growth + Personalisation + Omni-Channel = interlinked touchpoints (customer journey).
The major challenge for companies in the networked world is to make these journeys meaningful and entertaining for the customer. Meyer-Gossner had this to say on the matter, "Companies need to open themselves up to customers and learn to listen to them. The technologies and data to understand the needs of our customers are there, but we must also use intelligence to gather the right insights. Social media can therefore contribute significantly to ensuring that customer involvement is part of an overarching strategy. Social media allows companies to accompany the customers along their customer journey, adding value to their experience by being in dialogue with them, learning from them and adapting to their unique needs, to therefore optimise their experiences of their brand."
Our learnings from dmexco
For me, "Bridging Worlds," this year's dmexco motto, perfectly sums up the main trends of the digital economy, because no matter what industry you look at or how big a company is, the successful ones are those which succeed in bridging the gap between a creative brand identity, current digital strategies, and the necessary technologies.
However, what we heard from nearly all of the speakers, roundtable panellists and presenters at dmexco is that speed is of the essence. Whether this is responding quickly to mentions, complaints or enquiries, analysing and acting upon real-time data instinctively, creating content that is quick to digest, understand, and act upon, or rapidly reacting, adapting, and evolving to customer trends, new technologies and regional developments, speed is vital for brands. Dee Salmon from Medialink states, "We are operating at the speed of the feed!"