New products, features, platforms, and announcements—social networks are changing and innovating all the time. As any social media manager knows, it can be hard to keep up.
That's why we started compiling a monthly social media news roundup in October 2015. In it, we capture all the updates—big and small—happening on all the major networks each month.
Over the past few months, we've wondered how best to present this information so that it's most useful to you. And so, we're pleased to present the always up-to-date guide to social media news in 2016.
This guide, which we will update regularly, includes all the updates from all the major social media networks, helpfully sorted by platform and by month. Check back regularly to ensure that you don't miss a thing!
Twitter News
January 2016
Conversational ads
Twitter introduced conversational ads on January 5. The new ads, intended to drive consumer engagement, allow companies to include call to action buttons and customizable hashtags. When a user clicks on the CTA button, conversation ads will open their Tweet composer, pre-populated with a brand message, accompanied by the hashtag buttons. The user can edit the Tweet to their liking, then share with their followers. After that, the user will receive a message from the brand thanking them for engaging with the Tweet. The Tweet that appears in the user's timeline will include the original message that they interacted with. Revenue product manager Andrew Bragdon explained: "Each shared Tweet is powerful because it drives earned media for the brand at no extra cost, resulting in higher ROI." The announcement blog post adds that, "conversational ads are currently available in beta for select advertisers in all markets" and that U.S. advertisers can track the impact of ads on their TrueVoice using Brand Hub.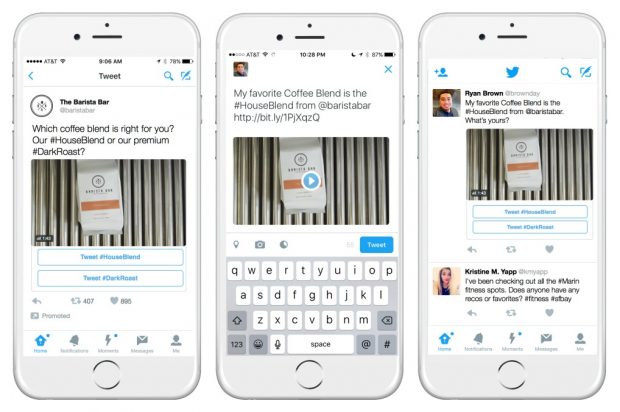 Twitter considers moving 'Beyond 140'
The social media platform that built a name for itself around the premise of short updates featuring 140 characters (or less) is considering a character count change. A big one. Tech blog re/code reports—citing "multiple sources familiar with the company's plans"— that Twitter is considering a 10,000 character limit, supposedly to be launched toward the end of Q1. It's the same character count the company implemented for direct messages in August 2015. According to re/code, people inside the company are referring to the project as "Beyond 140." The rumored change may seek to maintain the existing timeline experience by displaying the first 140 characters of Tweets with an option to view the rest. Twitter may also implement a limit on users tagged per Tweet, re/code speculated, due to spam concerns.
— Jack (@jack) January 5, 2016
Celeb apps
In early January, Twitter launched three new app features geared towards celebrity users—Twitter Camera, Twitter Q&A, and Twitter Challenger—according to Mashable. Twitter Camera is a "custom photo experience" that allows stars to create GIFs and videos to share directly to Twitter. Twitter Challenger is a reinvention of Twitter Mirror, which encouraged celebs to snap backstage selfies. It gives fans the chance to challenge their favorite stars to do certain tasks. At the 2015 Teen Choice Awards, famous attendees were challenged to do the Whip/Nae Nae. Twitter Q&A gives stars the ability to answer questions from fans under special hashtags. It's described as a "mini press junket." Jinen Kamdar, the global director of product at Twitter, told TechCrunch: "We encourage partners to basically post really great native, rich, unique content. They know that if they do that they will likely get featured in Moments, what we're doing is [offering] a tool to make that easier." The features—which have been "quietly available for months" according to Mashable—are currently only available to a select few celebrity Twitter users.  
Twitter Flight School open to all marketers
On January 11, Twitter opened up Flight School, their free online education program, to advertisers around the world. Twitter first launched Flight School in 2014 for agencies. Since then nearly 15,000 people have completed the coursework. Now, they've released a version for non-agency marketers. When students sign up, they're asked to choose a "flight path" specific to their job. Clodagh O'Brien, Flight School program manager, explained in the announcement blog post: "Executives can learn how to use Twitter to build their personal brands and inspire thought leadership, while mid-level marketers can brush up on day-to-day Twitter content planning and budget allocation." Courses within Flight School include: Twitter 101, How to create and manage objective-based campaigns, How to integrate Twitter into a TV campaign, and How to drive website traffic and conversions. Sign up at www.twitterflightschool.com.
February 2016
First View video ads
On February 9, Twitter introduced First View, which revenue product manager Deepak Rao described in the announcement blog post as, "an engaging and highly visible way to share your brand story with compelling video creative across Twitter's massive audience." Twitter's new First View feature gives advertisers the opportunity to purchase the top slot. Rao explained: "First View helps marketers achieve significant audience reach with exclusive ownership of Twitter's most valuable advertising real estate for a 24-hour period. When users first visit the Twitter app or log in to twitter.com, the top ad slot in the timelines will be a Promoted Video from that brand." First View is currently being rolled out gradually to "managed clients" in the U.S. Twitter says it has plans to expand the feature globally in the coming months.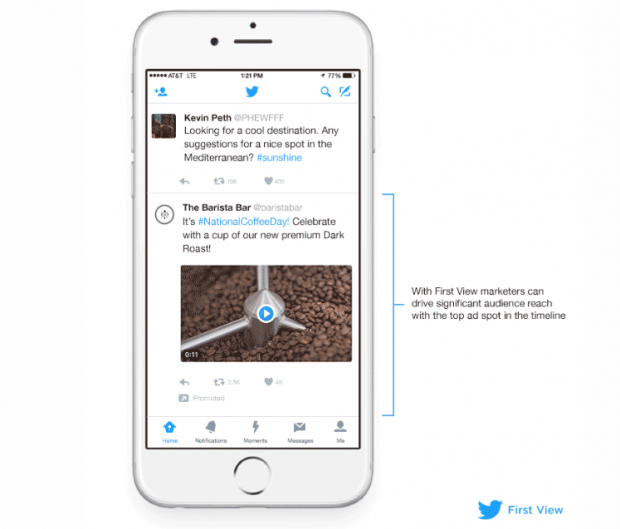 Improved Timeline
On February 10, Twitter launched what it refers to as improved timeline—essentially their addition of algorithms to the Twitter newsfeed. This change (available for iOS, Android, and web) allows users to see Tweets "they're most likely to care about from the accounts they follow" at the top of their feed. The rest of their timeline will appear in reverse chronological order as usual. Eric Farkas, product marketing manager, explained that the change ensures "the best content shines through." Promoted Tweets and Promoted Accounts will not be affected. Farkas added: "Throughout our tests, we also saw an increase in engagement for brands' organic Tweets and an increase in engagement for Tweets about live events."
The updated timeline shows people the Tweets they're most likely to care about. Here's how it workshttps://t.co/MNVoEVnmBY

— Twitter Advertising (@TwitterAds) February 10, 2016
GIF search
After reports early in February that Twitter was testing a GIF button on mobile, they launched GIF search on February 17. Available for both mobile and web, the new feature can be used in Tweets and Direct Messages. Twitter is rolling it out to users worldwide on iOS, Android, and Twitter.com "over the coming weeks." Users can search by keyword or browse categories of different reaction, such as Happy Dance, Mic Drop, or YOLO. The GIFs themselves are provided by Twitter's partners GIPHY and Riffsy.
The GIFs are coming! Get ready to search and send GIFs in Tweets and Direct Messages: https://t.co/uk75stt1zN pic.twitter.com/1dDD1B4CW2

— Twitter (@twitter) February 17, 2016
Customer feedback and customer service DMs
On February 18, Twitter launched two new customer service tools. Hootsuite is thrilled to be an integration partner for the platform's Customer Feedback feature, which allows businesses to collect their audience's feedback after service interactions through standard Customer Satisfaction (CSAT) and Net Promoter Score (NPS) questions. This will provide the business with more structured feedback  The other new feature, Tweets to Direct Messages, provides a simple way to start a Direct Message. Businesses can now add a deep link to their Tweets that will automatically display a call to action button allowing the customer to send the business a Direct Message.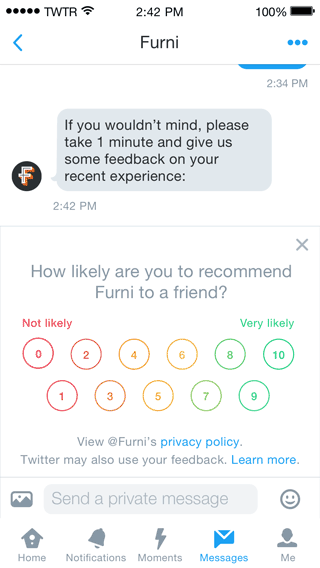 Improved Embedded Timeline
On February 25, Twitter announced that they're going to update embedded timeline "to better showcase the stories you tell with Tweets." Jacob Harding, senior software engineer, explained: "The new timeline features a clean, modern design which showcases expanded photos, videos, GIFs, and more. It's fully responsive, and it includes support for several new media types, including polls." New embedded timelines will not include the "hide media" option, thus reducing the number of clicks users need to view content. Mollie Vandor, senior product manager, explains in an announcement blog post that this will "put sharing front and center on every Tweet, so that it's easier than ever for people to engage with your content." The update will occur on March 3.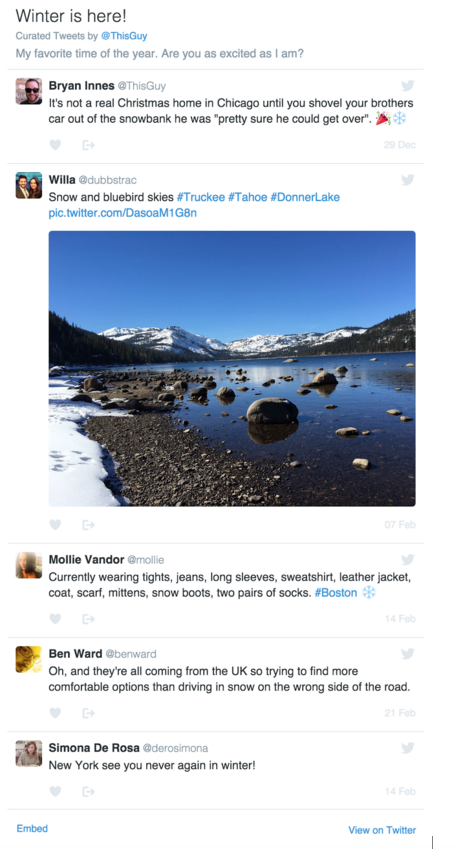 March 2016
Explore links within Moments
On March 9, Twitter announced that it was making it easier to explore links within Moments. Andrew Fitzgerald, Moments curation team lead, explained in a blog post: "You can tap a link to a news article, blog, recipe, and more—directly from a Moment." He added: "People can now dive deeper into publisher content found in Moments, and publishers can continue telling their stories on their own websites, all while also accessing Twitter's global audience. This expands possibilities for storytelling on Twitter, while providing more context for people."

Windows 10
As of March 16, Twitter made itself available on Windows 10 mobile. They added features to make content discovery—as well as public and private sharing—easier. On Windows 10 desktop and tablets, Twitter has also added "one of the most requested features": dark theme. This is available in "Settings" under "Personalization."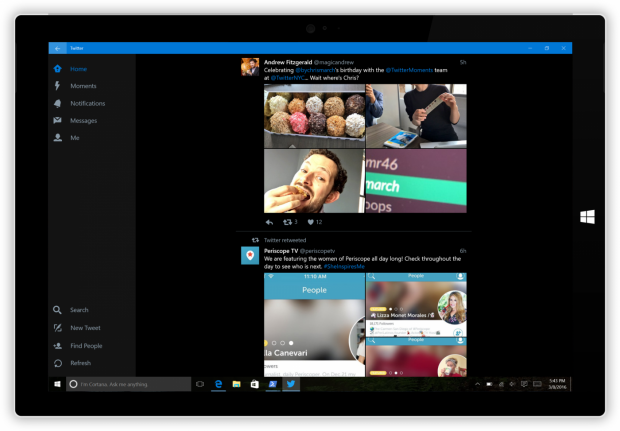 Seamless log in
On March 17, Twitter introduced a more seamless login experience. Now users that are logged into twitter.com or analytics.twitter.com no longer need to log into TweetDeck separately. In the future, Twitter will no longer support the standalone Windows app for TweetDeck. Users will still be able to visit TweetDeck on the web. The change will be rolled out "in the coming weeks."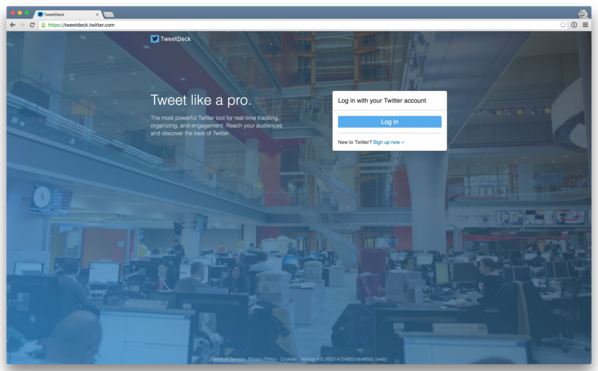 10th anniversary
Twitter celebrated its 10th anniversary on March 21. The micro-blogging platform observed the occasion by sharing a Tweet featuring memorable moments, adding heart and bird emoji to the hashtag #LoveTwitter, sending thank you emails to all users, and doing a roundup of 10 ways that Twitter changed marketing.
Starting in ?? on 3/21 and moving across the ?, we thank you for 10 incredible years.

Love, Twitter#LoveTwitterhttps://t.co/pH4WWdgK6q

— Twitter (@twitter) March 20, 2016
Accessible images
On March 29, Twitter announced they'd be offering the ability to add descriptions to images in Tweets. Now people using Twitter's iOS or Android apps can add alt text whenever they upload an image along with a Tweet. Users can enable the feature by using the compose image descriptions option in the Twitter app's accessibility settings.
Once the feature is enabled, when the user adds an image to a Tweet, each thumbnail in the composer will have an add description button. Simply tap to add alt text. These descriptions can be up to 420 characters. People who are visually impaired will have access to the the alt text descriptions through assistive technology, such as screen readers and braille displays.
Todd Kloots, staff engineer, explained: "We're excited to empower our customers and publishers to make images on Twitter accessible to the widest possible audience, so everyone can be included in the conversation and experience the biggest moments together."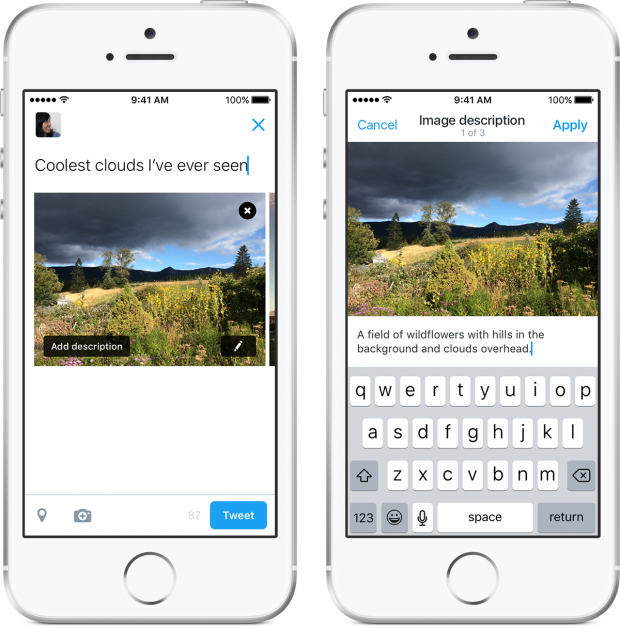 Facebook News
January 2016
Messenger Bots
This month, Facebook gave some developers access to an unannounced Chat SDK that allows them to build "bots" in Messenger, reported TechCrunch. The Chat SDK access gives them the opportunity to create interactive experiences for shopping, booking travel, and other experiences. TechCrunch explains: "The Chat SDK allows developers to create bots that users can send text messages to directly and that automatically respond with information, images, location services, product prices, Buy buttons, and more. The Chat SDK can also tap into Messenger built-in payments system to let users make purchases via bots."
Uber on Messenger
As we shared earlier this year at F8 (our developer conference) we're building ways for you to interact with the businesses and services you care about right from Messenger. We believe that by doing so, we can provide more convenience and utility for both people and businesses.With group chats, Messenger is the best place to make plans with friends and family — 700 million of you do this worldwide. But why stop there? Plans are only as good as the follow-through. So I'm very excited to announce the launch of our transportation platform — to get you where you need to go faster, with your friends. This new capability will enable you to request a ride, receive updates on your driver's status, and notify your friends without ever leaving Messenger and your conversations.I'm also thrilled to launch this new experience with Uber. And to celebrate this moment together, you will get a free ride (up to $20 value) for a limited time. All you have to do is link your existing Uber account or setup a new one within Messenger and request a ride.To get started as of this afternoon, make sure you have the latest version of Messenger. Then, from within a conversation, tap the more menu (…) and choose Transportation. You can also search directly for Uber from the Inbox and tap the car icon in the composer to request a ride.As always, please try this new experience, enjoy your free ride, and let us know how we can make it even better for you!

Posted by David Marcus on Wednesday, 16 December 2015
Lead Ads
On January 19, Facebook added two new features to lead ads, which initially launched in October 2015. The new features give businesses the opportunity to let people know more about what they're signing up for. According to the announcement blog post: "A context card is an added (and optional) tile that pops up after someone clicks on a lead ad but before they get to the form, giving businesses a place to offer more details on the information people are signing up for." Additionally, lead ads can now utilize carousel format which showcases three to five images and headlines before people click to the lead form. Lead ads are also now available on desktop as well as mobile.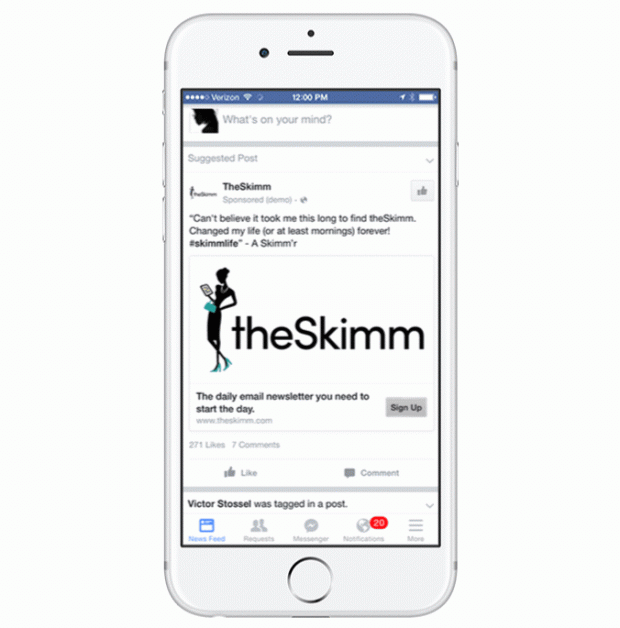 Sports Stadium
On January 20, Facebook launched Sports Stadium, "a dedicated place to experience sports in real-time with your friends and the world." Sports Stadium is intended to bring all the content on Facebook related to the game—such as posts from friends and comments on plays, posts and commentary from experts (teams, leagues, and journalists), live scores, stats, play-by-play, and game info—into one place. Steve Kafka, product manager, explained in the announcement blog post: "It's a second-screen experience that we hope makes watching the broadcast even better." Sports Stadium is currently available for American football games. It will "support other sports around the world like basketball, soccer, and more soon." It's available now on iPhone in the U.S. and "will expand to other platforms in the coming weeks."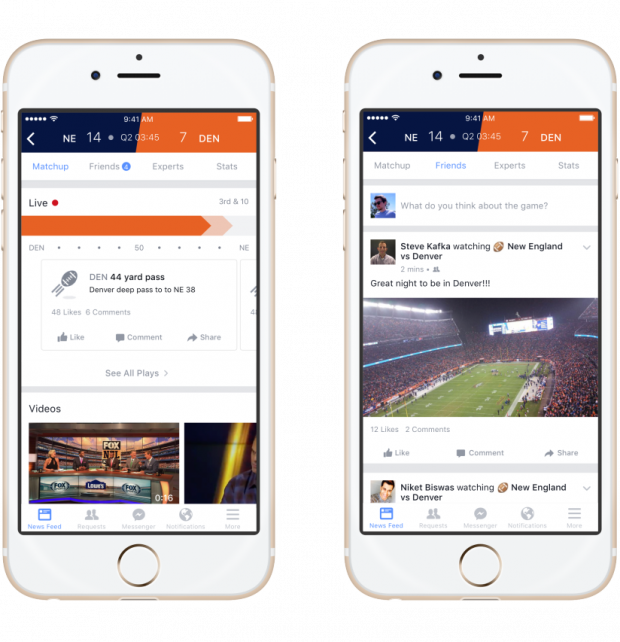 Reactions
After initially announcing Reactions in October 2015, Facebook has indicated the feature will roll out to U.S. users "in the next few weeks," reports Bloomberg Business. Reactions adds five new emoji responses to Facebook's ubiquitous like button: Love, Haha, Wow, Angry, and Sad. A sixth button meant to indicate Yay was also planned, but was rejected because "it was not universally understood," according to a Facebook spokesperson. According to Bloomberg, Facebook's chief product officer Chris Cox explained the feature to a crowd of reporters in Japan: "You can love something, you can be sad about something, you can laugh out loud at something. We know on phones people don't like to use keyboards, and we also know that the like button does not always let you say what you want." The feature has been tested in Spain, Ireland, Chile, the Philippines, Portugal, and Colombia.

February 2016
Auto video caption tool
On February 10, Facebook introduced automated captions for video ads. A Facebook for Business post explained: "Our research found that when feed-based mobile video ads play loudly when people aren't expecting it, 80 percent react negatively, both toward the platform and the advertiser… Internal tests show that captioned video ads increase video view time by an average of 12 percent." To add captions previously, advertisers had to embed captions or upload their own caption files. The post explains: "Our new automated captioning tool generates captions for video ads and delivers them to the advertiser within the ad creation tool to review, edit, and save to their video ad." The feature will initially be available for U.S. English captions and will roll out globally to Ads Manager and Power Editor in "the coming weeks." The video below has captions, simply click the gear icon and check the box labelled "Captions" to turn them on.
All our chicken is raised without the use of antibiotics, even the chicken in our new Chicken Buddy Burger!

Posted by A&W Canada on Monday, 11 January 2016
Instant Articles for all publishers April 12
On February 17, Facebook announced plans to open up Instant Articles to all publishers—of any size, anywhere in the world—as of April 12. The program initially launched in May 2015 with fewer than a dozen publishing partners, according to the Wall Street Journal. It's currently open to a few hundred publishers. Josh Roberts, product manager, explained: "We built Instant Articles to solve a specific problem—slow loading times on the mobile web created a problematic experience for people reading news on their phones."
New website for non-profits
On February 18, Facebook launched a new website for nonprofits and NGOs. The site is designed to help nonprofits use Facebook more effectively to raise awareness, activate supporters, and raise funds. It includes information and tools, including best practices and success stories. The announcement post explained: "We are inspired by how many people use Facebook to improve the lives of others and help their communities, and we are committed to helping people do more good through Facebook. The site is currently available in English. Facebook added: "We will keep working to provide tools and information for the global community on Facebook and provide updates as more resources become available."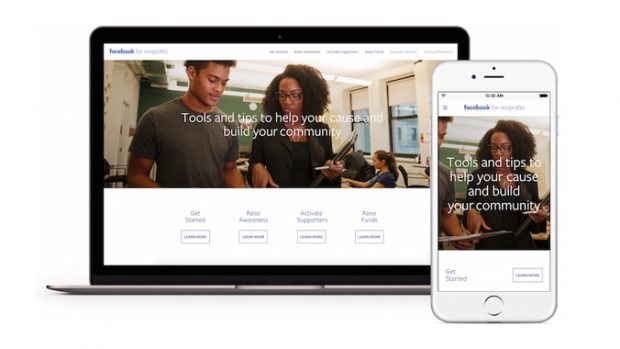 Reactions available globally
After a lot of waiting, Facebook finally rolled out Reactions globally on February 24. Now, in addition to a newly updated version of the classic Like button, users can choose to react to posts on Facebook with "Love," "Haha," "Wow," "Sad," and "Angry." Each Reaction, represented by an animated emoji, can be accessed by mousing over the Like button on a post. Sammi Krug, product manager, explained: "We… looked at how people are already commenting on posts and the top stickers and emoticons as signals for the types of reaction people are already using to determine which reactions to offer." Facebook's initial tests of the feature originally included "Yay" and "Confused" options, but they weren't deemed universal enough to make the final cut. Now posts display the top three Reactions alongside a counter that indicates the total number of different Reactions the post has received. Clicking on that breaks down individual reactions by user. This part of the feature also displays which of a user's friends have reacted to the post. Product design director Geoff Teehan gave an in-depth look at the process of narrowing down the options and creating the new feature in a post on Medium.
Canvas full-screen mobile ads
On February 25, Facebook introduced Canvas, a full-screen mobile ad experience. The announcement blog post from Facebook for Business explained that Canvas is, "a new post-click, full-screen, immersive mobile ad experience on Facebook that loads nearly instantaneously." It was created to solve the issue of slow load times for links viewed on mobile devices. The post further explained that: "Canvases open from Facebook ads in News Feed to reveal a full-screen experience where advertisers can use a mix of video, still images, text, and call-to-action buttons to build beautiful and effective brand and product experiences on mobile." Canvas supports carousel images, tilt-to-view panoramic images, and the ability to zoom in to view image details. It works on Android and iOS and is available to advertisers with access to Power Editor.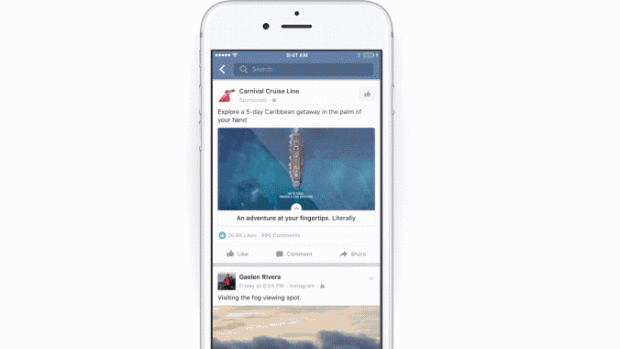 March 2016
Messenger Android Materials redesign
On March 7, Facebook began rolling out a redesigned Messenger app for Android, TechCrunch reported. The updated app has been given a Material Design-style makeover, including a bright blue navigation bar at the top of the screen, with buttons to access chat, groups, settings, and more. In place of a bottom blue bar, the Messenger app for Android now features a floating action button at the bottom-right of the screen. When selected, this button accesses common actions such as search, adding contacts, making a call, writing a message, etc.
If you're using Messenger on Android, you've been wanting a brand new material design for a bit. Any major redesign of…

Posted by David Marcus on Monday, 7 March 2016
WordPress Instant Articles plugin
Less than a month after announcing it'd be opening up Instant Articles to all publishers, Facebook introduced a new WordPress plugin for Instant Articles. In an announcement blog post Chris Ackermann, partner engineering, explained that the plugin "simplifies the process of generating and publishing Instant Articles from WordPress. Since WordPress powers 25 percent of sites online, the plugin will make Instant Articles more accessible for many publishers. The plugin includes a built-in suite of interactive tools like expanding images, native autoplay video, as well as social and interactive graphic embeds. It's open source. WordPress published an FAQ about the plugin.
Live Video notifications
In mid-March, Engadget reported that Facebook would soon roll out a feature that allows users to turn off notifications for Live Video, which launched earlier this year. Users currently receive notifications whenever a brand they follow or a friend starts a live broadcast. Facebook told Engadget: "We know people want more control over the live notifications they receive, so we're working on improving this experience. We are starting to roll out a new setting that lets people turn off all live notifications through their Notifications settings, that will be available to all people soon."
Testing Topics
In mid-March, Facebook began testing a feature that allows users to assign a "topic" to posts they upload, similar to hashtags, Marketing Land reported. So far, the ability choose a topic only applies when users edit an existing post, not when they create a new one. A Facebook spokeswoman confirmed the test to Marketing Land: "People have told us they'd like more options on Facebook to see and have conversations about specific topics they're interested in. So we're testing giving people the option to choose a topic tag for the type of post you're sharing." This feature maintains post privacy settings, according to Marketing Land.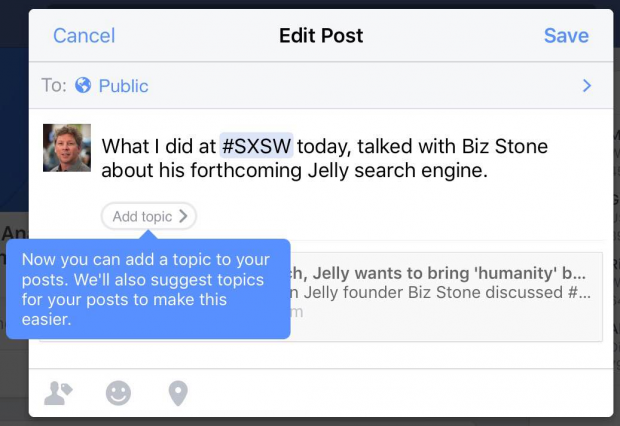 Support for video ads in Instant Articles
On March 31, Facebook introduced video ads to Instant Articles. Engadget explained: "It's a move to show that the format can be as flexible and, more importantly, as monetizable as the rest of the web." Engadget added: "Video ads are, therefore, a move on Facebook's part both to bring publishers on side and also to increase its own advertising business. It could prove to be a valuable revenue stream." Support for animated ads and 'click to play' video is available immediately. Autoplay video ads will be available in the coming weeks.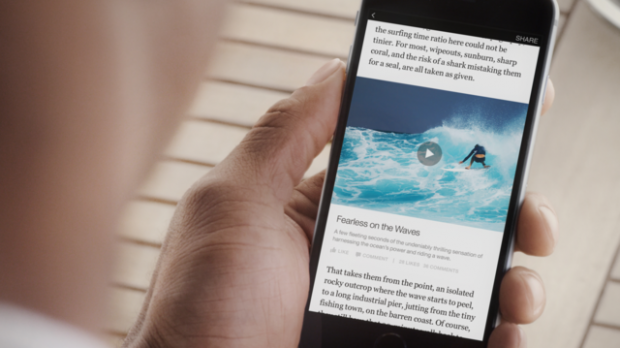 Instagram News
January 2016
Spotlight Compilations
On January 6, TechCrunch reported that Instagram has started running everyday spotlight compilations. These "vertical slideshows of the best videos related to a theme, like 'Dynamic Duos—Odd Couple Animal Videos' or 'Ramped Up—Rad Skateboarding Videos.'" appear in the Spotlight section atop the Explore tab. The feature had previously been reserved for holidays, with Instagram making them for Halloween, Thanksgiving, the winter holidays, and New Year's. Due to their popularity, Instagram's community team began to create them for non-holiday themes. Gabe Madway, Instagram's communications manager, told TechCrunch that Spotlight is "where you go to discover things you don't follow but might end up following. Things you never expected to see. Every piece of content there has attribution. That is something we hope will spread the word about the talented people who use the platform."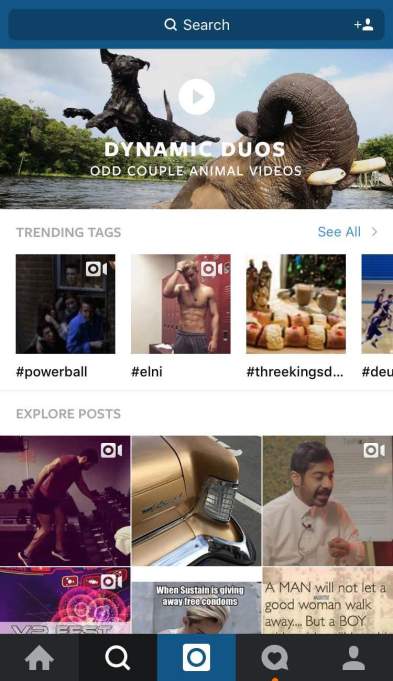 February 2016
Support for multiple accounts
After several months of rumors and reports, Instagram finally confirmed on February 8 that it has added support for multiple accounts. Users can now quickly and easily switch between multiple accounts without the cumbersome process of logging in and out. Find out how to add and manage multiple Instagram accounts in our blog post.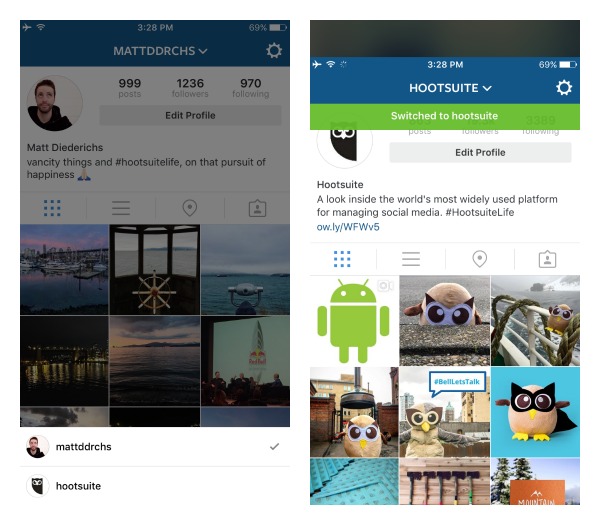 60 second video ads
At the beginning of February, Instagram extended video ads to 60 seconds, reported TechCrunch. Previously video ads were capped at 30 seconds, though both ad lengths are longer than the 15 second maximum time allowed to users. TechCrunch wrote: "Essentially, Instagram wants to be able to absorb the shift in ad spend from television to digital. To do that, it can't force advertisers into proprietary formats and lengths." Advertisers involved in the initial test of the new ad length included T-Mobile USA—which used the format to share an extended version of its Super Bowl ad featuring Drake—and Warner Bros., which shared a 60-second trailer for the film How to Be Single, reported AdWeek.
Video views
Mid-month, Instagram announced that they'd be rolling out video views on the platform. The announcement blog post explained: "As a widely expected industry metric for video, we believe video views are the best measure of viewer intent… Adding view counts is the first of many ways you'll see video on Instagram get better this year." Views will appear under video posts. Users must then tap on views to see likes. In the help centre for video views, Instagram explains that view counts do not include loops and that "a view is counted when a video is watched for three seconds or more." Views will only be counted from inside the app and will not counted on embedded posts. Views will appear on videos uploaded after November 19, 2015.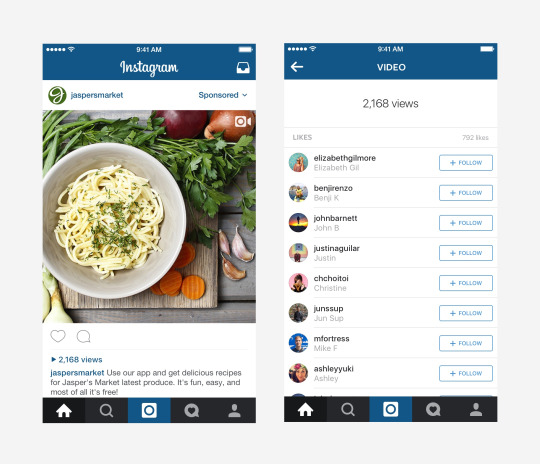 Two factor identification
On February 17, Instagram introduced two-factor identification, reported WIRED. The two-factor system is opt-in. Once users give Instagram their phone number, whenever they enter their username and password, they'll be texted a string of additional digits which need to be punched into Instagram. Wired explains: "So if a hacker has your password and username, but not your phone, they can't crack into your account." Instagram will generate the two-factor codes through its own system, rather than using a service such as Google Authenticator. WIRED added: "An Instagram spokesperson confirmed to WIRED that the photo-sharing service is releasing the feature in a slow, staged rollout, so you may not see the option for your account just yet. Details about the full release and whether the feature will first be available for iOS or Android aren't available at this time."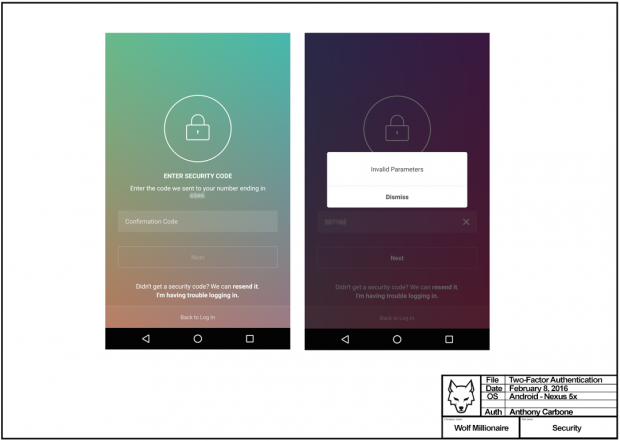 March 2016
Displays post date
Earlier this month Instagram began displaying the date when a photo or video was uploaded, Mashable reported. Previously, Instagram had informed users about upload dates using the much less precise measure of how many weeks ago a post was uploaded.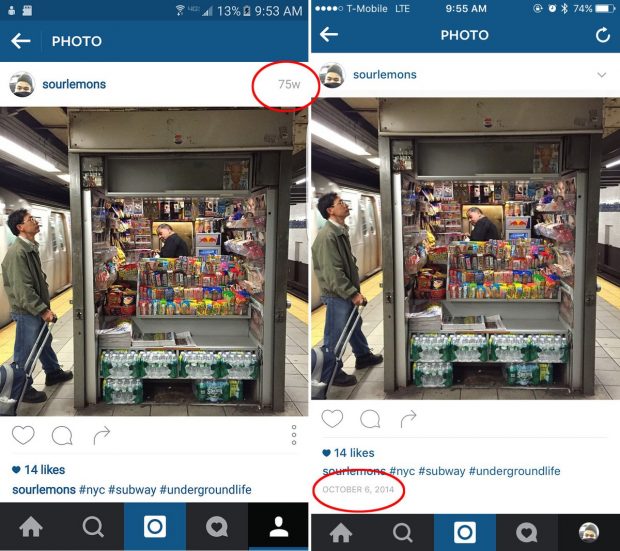 Comments
On March 4, Instagram made a small change to their code reducing the number of comments sent to users. The change optimized performance and improved the user experience, reported VentureBeat. Now Instagram shows users three comments in-stream by default. Previously the app would send up to 20 comments to users, a feature that was intended to make the "View all comments" screen load faster. But the engineering team determined that the trade off didn't make sense.
Clark Gredoña and Linji Yang explained the update in a blog post: "Media are viewed more commonly than their comments, and we should optimize for the common case." Since the change was made, user profile scrolls have gone up 2.7 percent.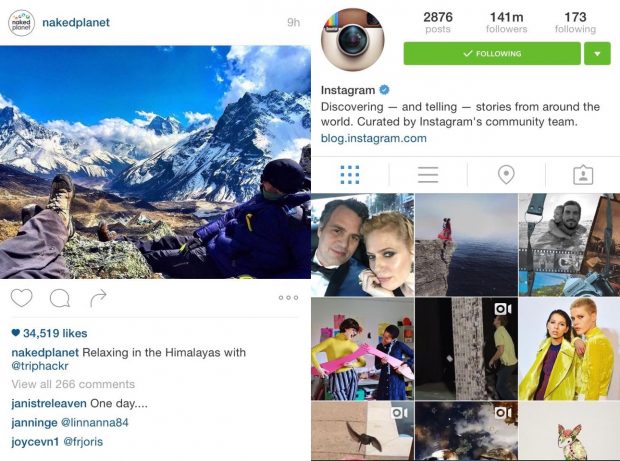 Algorithmic timeline
On March 15, Instagram announced that they'd be introducing an algorithm-based timeline. The photo-sharing platform estimates that people miss on average 70 percent of their feeds.
"As Instagram has grown, it's become harder to keep up with all the photos and videos people share," the announcement post explained. "This means you often don't see the posts you might care about the most. To improve your experience, your feed will soon be ordered to show the moments we believe you will care about the most."
Instagram says their algorithm will be based on the likelihood users will be interested in the content, their relationship with the person posting, and the timeliness of the post. The post added: "As we begin, we're focusing on optimizing the order—all the posts will still be there, just in a different order." Instagram's algorithm-based timeline will roll out "in the coming months." The Instagram for Business blog post added: "We'll let you know when this change is rolled out to our global community." In predictable fashion, many social media users are in a panic over the change.
How would you feel about Instagram switching to an algorithmic feed?

— Mashable Tech (@mashabletech) March 15, 2016
60 second videos
On March 29, Instagram announced that they'd be rolling out the ability to post 60 second videos. Just last month, the photo-sharing platform made waves when it announced that it'd be increasing video run time for ads to 60 seconds. In their announcement blog post, Instagram explained: "In the last six months, the time people spent watching video increased by more than 40 percent. And longer videos mean more diverse stories from the accounts you love." This update began rolling out on March 29. Instagram said it would be "available for everyone in the coming months." Instagram for Business also shared tips on how businesses can use video on their blog.
Multi-clip video
In the same blog post where they announced 60 second video, Instagram quietly let people know that they'd be bringing back the ability for iOS users to make videos out of multiple clips from camera roll. Instagram explains how to use the feature in Help Center. Multi-clip video became available the same week as it was announced as part of Instagram for iOS version 7.19.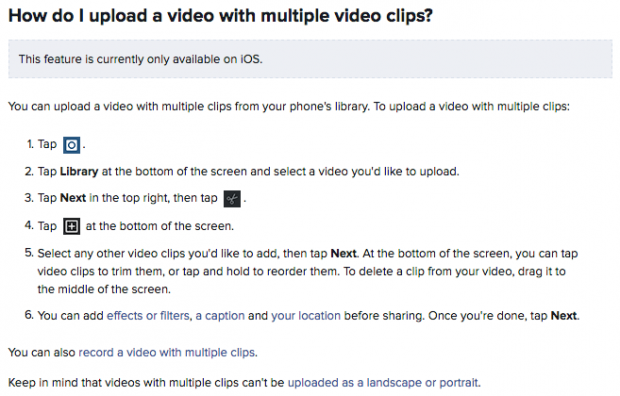 Pinterest
March 2016
Ads Manager open to SMBs
On March 8, Pinterest opened the Pinterest Ads Manager to small and medium businesses in the U.S. Tim Kendall explained in a Pinterest blog post: "The Pinterest Ads Manager is a simple, do-it-yourself ads tool designed for small and mid-sized businesses. It includes a bulk editor, so businesses can manage more campaigns at once, and advanced measurement, so you can accurately track the impact of your Promoted Pins." Pinterest also rolled out new targeting options: interests, keywords, and customer database. They also enhanced conversion tracking so users can "track and optimize performance against revenue goals."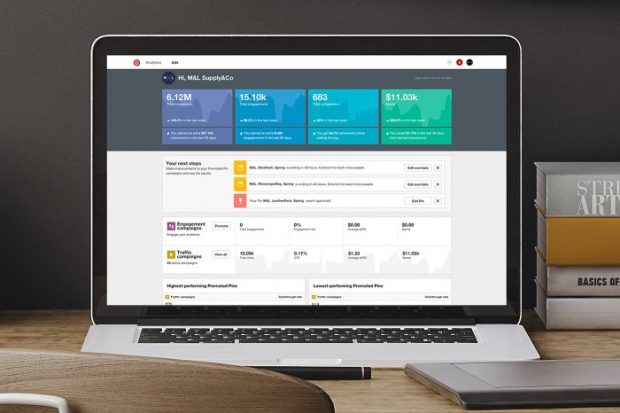 How-To Pins
On March 29, Pinterest introduced how-to Pins. The new rich Pin format includes information about what a Pin might be like to try, including materials needed and steps. Jason Costa, product manager, explained: "You'll see a snapshot of the steps right below the Pin image. You can also click or tap on any of the steps to get the full instructions and a list of supplies—without ever leaving Pinterest."
The new Pins have been launched with partners such as Brit & Co., Style Me Pretty, Greatist, Food.com, The Home Depot, and eHow. A Pinterest for Business blog post gives tips on how businesses can take advantage of how-to trends. How-to Pins rolled out on Android and web in the last week of March. Pinterest says they'll bring them to iOS "in the future."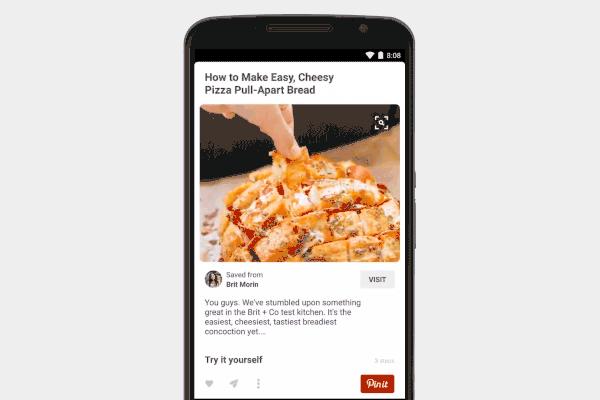 Hootsuite
February 2016
New UI streams
On February 3, we updated our user interface with new streams. The design makes it easier to like, share, reply, and comment on posts in-stream. As we explained in our announcement blog post: "We've standardized Hootsuite Streams and the messages within to improve your experience. Now, each message looks and feels similar to how it would on Facebook.com, for example. We've also added new message features to help you better engage with your audience." Simply log into the Hootsuite Dashboard and click the blue "Try the new Streams" button to get started.

Retweet handle selection
Also this month, Hootsuite added the ability to choose in stream which of your Twitter handles you'd like to Retweet a message from. To choose a handle when Retweeting, simple click the Retweet button in Hootsuite streams, click "Retweet from…" and select the desired handle.
You can now RT from any handle within Twitter streams! To do this, select the "Retweet from…" option. pic.twitter.com/tYZjSgc4OO

— Hootsuite Helpers (@Hootsuite_Help) February 29, 2016
March 2016
ZeroFOX partnership
On March 17, Hootsuite partnered with ZeroFOX, a social media security company, to protect companies from threats on social media. With ZeroFOX for Hootsuite, users can protect accounts from brand impersonations, customer scams, fraud and malicious links; monitor accounts, hashtags, and brand assets as well as issue takedowns for malicious profiles and content; and automatically identify and remediate risks in a Hootsuite stream. Kevin Zellmer, vice president of business development at Hootsuite, explained: "Businesses can face real risks on social media, and they need solutions to help detect, respond, and resolve threats quickly and effectively. Today, we're teaming up with ZeroFOX to give our customers seamless access to a best-in-breed social media security solution and help them proactively address threats."
BIG NEWS: We have partnered up with @Hootsuite! Learn more here: https://t.co/hU0PHOG0p6 #SocialMediaSecurity pic.twitter.com/bNHDp3Kjxv

— ZeroFOX (@ZeroFOX) March 17, 2016
@Mentions
On March 22, Hootsuite launched < @mentions. Now, when a user types '@' into the Hootsuite Compose message box it automatically performs a live search for Twitter and Instagram profiles and Facebook Pages. Simply select one from the drop-down list to tag that profile or Page in a message. This feature makes it easier for users to tag one another (and get the right handle) without going through the trouble of copying and pasting.

Sales Prodigy acquisition
On March 29, Hootsuite acquired Sales Prodigy, a mobile app built to help sales organizations tap into social selling opportunities. Matt Switzer, vice president of corporate development at Hootsuite, explained in a press release: "Many organizations have invested in social marketing and social support, but there's a big gap in the market for social selling solutions, and we want to address it. Companies like Palms Hotel and Marketo already use Hootsuite as part of their lead generation efforts. With the addition of Sales Prodigy, we're bolstering our platform to better align with our customers' needs for social selling." Sales Prodigy was previously part of the Hootsuite App Directory.
Hootsuite acquires @sales_prodigy to revolutionize social selling: https://t.co/jfldqYS6GP pic.twitter.com/2HaU9QG5ql

— Hootsuite (@hootsuite) March 29, 2016
YouTube News
January 2016
Super Bowl
On January 20, YouTube announced that it's opening up its Real-time ads beta to more brands. The announcement blog post explained: "With Real-time ads, brands will be able to instantly run an ad across YouTube, hundreds of thousands of apps, and over 2 million sites in our Google Display Network with a message that ties directly to the big moment people just experience live." The Real-time ads feature was discussed in YouTube's post about the Super Bowl, alongside their AdBlitz website. Real-time ads will roll out more broadly later this year.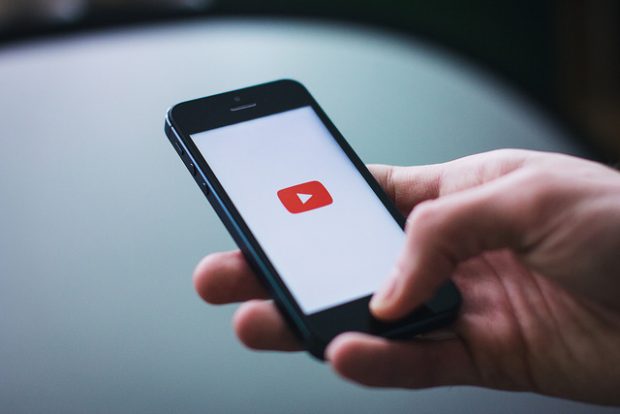 Snapchat News
January 2016
Closed Lens Store
On January 8, Snapchat shuttered its Lens Store. Initially launched in November 2015, Snapchat's Lens Store allowed users to purchase lenses for reuse. The change does not mean that Snapchat is doing away with lenses, however. The messaging app will still offer users a rotating selection of 10 free lenses per day (up from seven previously, reported TechCrunch), including sponsored lenses. Users who purchased lenses from the Lens Store will continue to be able to use them. According to Mashable, the company will eventually offer lenses once available in the Lens Store to users for free, though the most popular ones won't be there anytime soon.
Working on API
Snapchat is working on an application programming interface (API), reports Digiday. This would "let partners start buying ads with more precision and frequency," according to Digiday. They also report that Snapchat has reached out to ad tech companies and agencies to ask them what they would need from API software. The article notes that "since Snapchat is just now starting to plan an API, it could still be months or even close to a year before one fully launches." Digiday explains that opening an API is a critical step because it allows for more types of ads, such as ones with calls to actions, along with better targeting.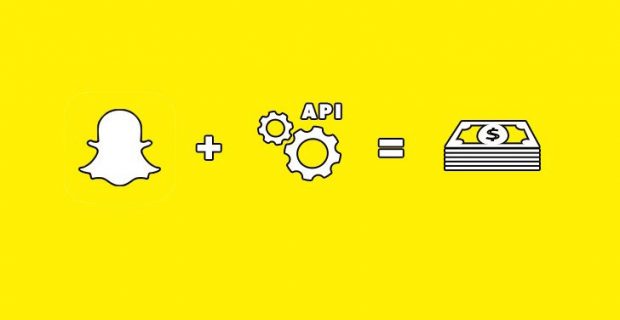 Leak: video calling and stickers
Snapchat may be overhauling some of its text and video chat features, reported Mashable. Several tech publications are sharing leaked images of the new features taken by developers from Snapprefs. The features were hidden within the code in the Snapchat APK (Android application), reported TechCrunch. The potential new features include more advanced video calling, audio only calling, and stickers.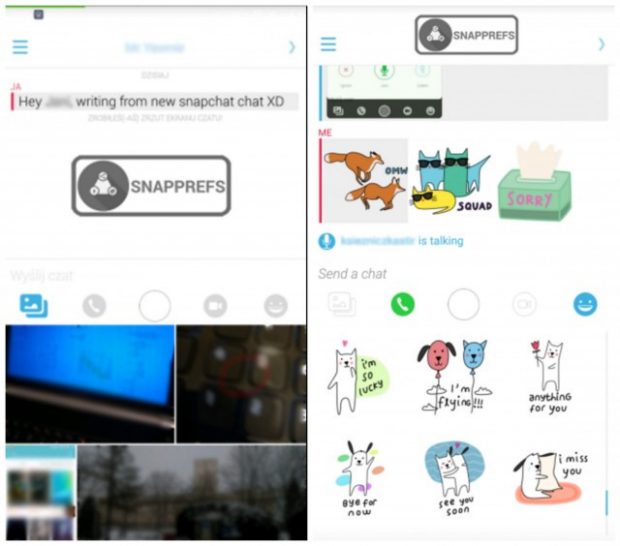 February 2016
On-Demand Geofilters
On February 22, Snapchat introduced On-Demand Geofilters. The new feature allows anyone—whether it's an individual or a small business—make their own custom Snapchat filter. Pricing starts at $5 and is dependent on the size of the area selected for the Geofilter (between 20,000 and 5,000,000 square feet) and length of time chosen (between one hour and 30 days). For small businesses, On-Demand Geofilters open up a whole new world of affordable Snapchat advertising and marketing. We set one up to test out the new feature, read our blog post to find out how.
March 2016
Chat 2.0
On March 29, Snapchat introduced Chat 2.0. The ephemeral messaging platform's newly updated chat now features audio and video calls, audio and video notes (video notes are maximum 10 seconds and loop like GIFs), the option to send multiple photos at a time, the ability to send photos during an audio or video call, drawing, and over 200 stickers. In their announcement blog post, Snapchat explained: "What we love most about the new Chat is how easily you can transition between all these ways of communicating—just like you do in person." TechCrunch goes into more detail about all of the new Chat options. On the same day, Snapchat also rolled out Auto-Advance Stories. After a user finishes watching a Story, the next one will play automatically. Users can swipe to skip ahead or pull down to exit.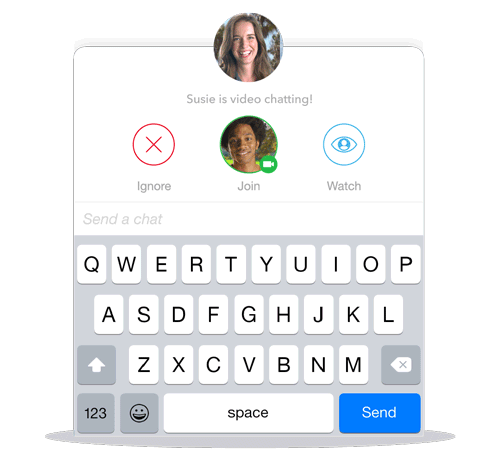 Tumblr News
January 2016
GIF button added on iOS
On January 14, Tumblr added a GIF button to its iOS app. Now Tumblr users on iPhones will be able to tap the GIF button to search for a GIF to add to their post. In their announcement post, Tumblr explained: "This button turns your feelings into GIFs, then inserts those GIFs into your posts. Web and Android users have had it for a little while, and now the triumvirate is complete."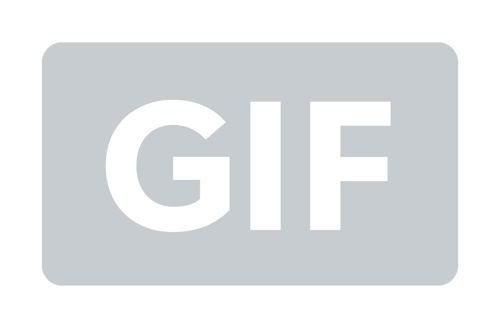 March 2016
Replies
On March 28, Tumblr brought back Replies. The feature now lets users reply to a post multiple times, reply to their own posts, see all of a post's replies in one place, and decide who can and can't reply to their posts. Tumblr explained in their announcement blog post: "All that adds up to being able to talk about a post, right inside of a post, even as it travels from Tumblr to Tumblr. So, starting with posts created today, you'll see a new notes view to help you follow that conversation." Tumblr offers more details on Replies and notes in their help docs.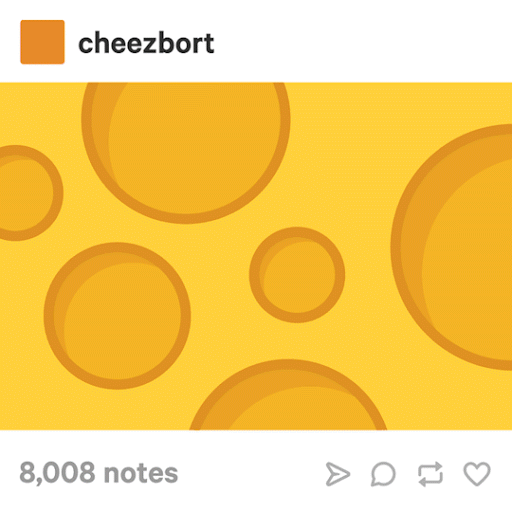 Periscope News
January 2016
Live broadcast on Twitter
On January 12, Periscope launched live broadcast on Twitter. In the announcement blog post, Periscope explained: "Whenever a broadcast is shared on Twitter, you tap the link to open the Periscope app. Today we're replacing those links with the broadcast itself, autoplaying right within the Tweet." The video will also go full-screen and display Periscope comments and hearts. Users do not need the Periscope app or a Periscope account to view content. Periscope added: "For everyone on Twitter, there's now a richer experience in your home timeline, search results, and on anyone's profile who's share a Periscope." In Twitter's announcement blog post, Periscope CEO and co-founder Kayvon Beykpour added that this would make it easier for Twitter users to see both live broadcasts and replays, directly in Tweets.
Periscope broadcasts now come alive within Twitter https://t.co/R346R1lgZb

— Periscope (@periscopeco) January 12, 2016
Periscope directly from GoPro
On January 26, Periscope announced a new GoPro integration that will give users the ability to broadcast from a GoPro HERO 4 camera directly to Periscope for iPhone. They explained in the announcement blog post: "We've seen people put their phones in some precarious situations—they've been taped to drones, tied to balloons, and submerged underwater. Creativity always finds a way, but we wanted to make it a little bit easier." Users will be able to switch between their GoPro and iPhone cameras. There's also a news button that will lock phone screens so that buttons won't be pressed while they sit in users' pockets. Tony Bates, president of GoPro, said in the post: "GoPro enables people to capture and share their experiences in the most immersive way possible, and the integration with Periscope provides GoPro users with a great, real-time platform to share their content." According to The Verge, "The GoPro will still save any video recorded during the broadcast to the camera's SD card."
.@zbigy makes it look so easy #GoLIVE #GoPro https://t.co/0ccYnosAaK

— Periscope (@periscopeco) January 27, 2016
March 2016
1st anniversary
On March 26, Periscope celebrated its first anniversary. The livestreaming app marked the occasion by releasing some stats; over 200 million broadcasts have been created on Periscope and over 110 years of live video are watched every day on iOS and Android (not including time spent watching broadcasts within Twitter, on the web, or replays). In a blog post, Periscope wrote: "For everyone who joined us along the way, we hope this reaffirms that you are a part of something bigger. Thank you for making Periscope a vibrant global community—it means everything to us."

Vine News
January 2016
Trends on Vine
This month Vine celebrated its third year of operation with the announcement of Trends on Vine. Jason Mante, head of UX, wrote: "More than ever, Vine is the place where trends begin and blow up. This new site makes it easy for you to discover and dig into the stories behind some of our most notable trends—many of which extend beyond our phones, influence culture, and reach millions of people around the world." On the Trends on Vine page, the concept is explained further: "What you see here is just the beginning of us collecting the stories behind influential Vine trends."
February 2016
View posts on a profile by popularity
On February 9, Vine introduced the option to view an account's Vines based on popularity. Users can now sort a user's Vines by Newest, Oldest, or Popular by visiting an account page and tapping the icon next to Posts. Vine also released the ability to edit Vine captions for a brief period after posting. Caption editing is available on Android. To edit a caption, tap the "…" menu. Vine also added 3D Touch on iOS, allowing users to press and hold the app icon to make a Vine or open explore directly from the device's screen.
Introducing new ways to sort and watch an account's Vines. Also, edit your caption shortly after you post and more pic.twitter.com/5JLeJL4GNr

— Vine (@vine) February 9, 2016
Keep up with all the latest social news by using Hootsuite to keep track of all the accounts you follow. Sign up for free today!