Halo! ~ HootSuite Localized Indonesian

The Owls are busy preparing a special present for Indonesia to continue the 67th Independence Day and the Eid ul-Fitr celebrations. After sending our Community Celebratoire on a 2 month #OwlMission, she is now back with tons of feedback and ideas, new friends, cute mementos, as well as gigabytes of pictures and videos.
As the Owls have suspected, Indonesians love to Tweet, in fact, it's known as the "Twitter Nation." We can easily see why because daily Indonesian signups continually put them in the top three!
To celebrate, we have some news to deliver. Ready?
Fully Localized Web and Apps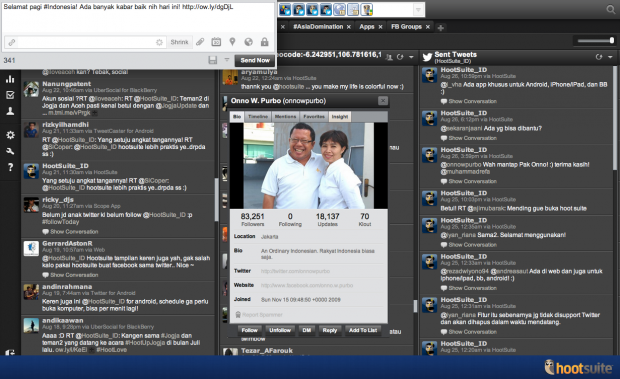 It all started with a tweet from an Indonesian user requesting the dashboard to be translated to Bahasa Indonesia. With the help of some old pals @irfanmk, @ariskids, @mrlette and @lifehacks to kick-start the Indonesian translation project and @aldomichael, @mirpaka, @taufanPR and @adamsgucianos17, we brought it to the finish line in record time. Their efforts don't go unnoticed, as a number of Indonesians are patiently waiting for this release…  we couldn't be any more proud to announce it today, and so does our Indonesian community as Abang Edwin SA, one of the nation's most-influencing Social Media & Online Community Consultant, puts it:
"Dirilisnya HootSuite versi Bahasa Indonesia membuat semakin banyak teman-teman di Indonesia yang bisa mendapatkan manfaat dari Social Media tool ini. Ini juga membuktikan bahwa bagi HootSuite, Indonesia adalah pasar yang penting. Dan saya pribadi sangat bangga akan hal ini."
With considerably low internet penetration, but a healthy appetite for keeping connected, Indonesians are masters at staying informed and maximizing their time. Luckily, HootSuite is mobile with fully-translated apps for Android, iPhone / iPad and BlackBerry. This means the owl can keep you company while on-the-go.
Lady Owl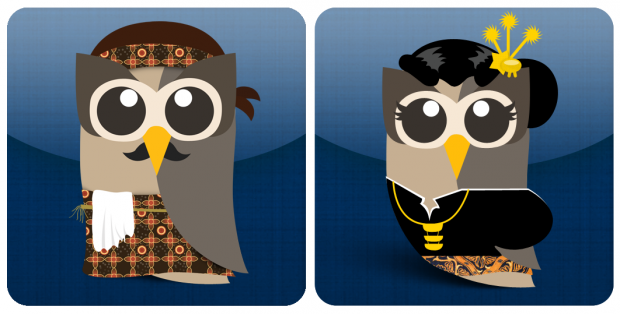 Last October we created an Indonesian Owl, but we felt that he yearned for a companion. We invited our Indonesian community to pin with us on our collaborative "Indonesian Lady Owly" Pinterest board. The winning design went to our dear friend Keysa who continuously surprises us with her cute owl designs.
Be the Owl!
We've got a lot of knowledge and new insights about Indonesia, but we still want to know how else we can spread our #HootLove across all 17,508 islands. Join us as an Indonesian Envoy and take part in this exciting mission.
#FunFact: We held 17 HootUps in Indonesia over June and July, topping the HootUp record anywhere else in the world… help us plan the next one!
More Fun ~ G+ Hangout!
To celebrate this exciting release, we're also partnering with @TwitalkID and hosting a Google+ Hangout on Thursday August 30 at 9 pm WIB (GMT +7) with a very special guest, our VP of Community! The first 10 to tweet @HootSuite_ID with the hashtag #HootIndo will receive a special invite. We'll also be live broadcasting the hangout on our YouTube channel. Ask all your burning questions related to the Community team, HootUps and HootSuite's plans for Indonesia.
The action didn't end when our Community Celebratoire returned from Indonesia; we continue to converse, engage and listen closely to our beloved Indonesian fans through @HootSuite_ID and curate Twitter lists of our friends and friendly brands. Curious hoo else is using HootSuite? Stay tuned for a post next week!
Stay up to date with @HootSuite_ID: Get the latest news, share your thoughts, learn handy HootTips and even contribute your favorite owl photos!