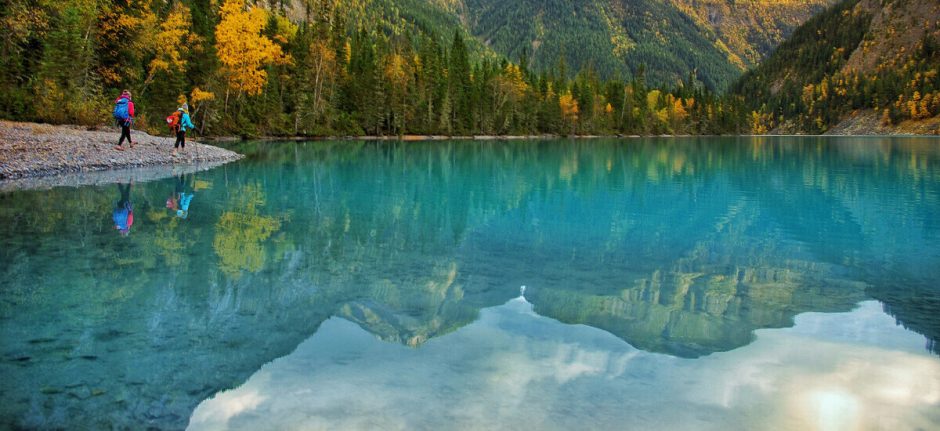 How One Man Escaped to the Woods and Gained 116,000 Instagram Followers
A few short years ago, Dax Justin was living an ordinary life.
He lived in the city and worked for corporate clients and startups. He arrived in the office early and worked into the night. When looking for adventure, he might go longboarding or head to Banff to snowboard.
But at the end of 2013, everything changed. One day, he woke up and felt a need to escape into nature. He found some outdoor gear in his house (his jacket and pants still had the tags attached), packed his SUV, and drove towards the mountains.
He ended up at Bragg Creek, in Alberta, Canada, parked in a random spot, and walked in the woods. Out of nowhere, nature looked different to him and he began taking pictures with his camera phone. He made a decision that day to take a different path.
Today, he lives beyond the ordinary. He quit his office job and built a freelance business, exploring the outdoors and sharing his work with his 116,000 Instagram followers.
In 2013, he had just started to take photographs. A few years later, his photography has been featured in national and international publications including Matador Network, Travel Channel, Canadian Geographic, and the CBC.
He has worked for and collaborated with Ford Canada, Travel Channel, KEEN Canada, Southwest Alberta, Mark's, Destination British Columbia, The Weather Network, Canadian Badlands Tourism, and REVO Sunglasses.
I asked him to share some of the lessons he's learned while following his passion and finding a global audience on Instagram.
Facing your fears in life and business   
Lots of people want to follow their dreams, start a business, or perhaps fly off a cliff like you did below. But fear holds us back. How do you decide to take the leap?
I think people don't realize that we all have self-imposed mental blocks.
These mental blocks come from things we've been taught—for example, perhaps your parents had conservative careers and taught you to avoid risk. My parents are very traditional and I love them to death, but my path is a more audacious one.
Or perhaps a past experience colors your view. Maybe you tried to freelance for a while and couldn't find clients. As a result, you gave up on the idea of owning your own business.
Forging through the creative struggles as an artist is a real thing. I've often tried to working nine to five. But deep down I always knew it wasn't for me. I'm the most creative at the strike of midnight. It's always been that way, so why was I trying to fit into something not best suited for me?
Now when an idea or adventurous opportunity arises that scares me, my main ritual is to tell myself to "shut up and just do it."
You need to shut down all those external influences, the past experiences, or things you've been taught. Instead, immerse yourself in the task at hand and challenge yourself.
Your heart can beat your mind; always do it with heart. Only see what is before you and what you need to do in that moment. I've never regretted taking risks.
Let's say someone out there wants to start a new business or Instagram account. But once they do a little research, they see their idea or angle isn't original. How do you differentiate your content?
I think that's another self-limiting belief that we put on ourselves. It's another excuse to give up. I am guilty of this like most other artists and I have taught myself to overcome it.
We say, "everyone and their dog is a photographer now, how am I going to stand out?"
It's good to think of what you are going to add to the conversation. But at the end of the day, the path you are following is yours. Create what you'd like to see.
If you create work that is true to your interests and passions, then people will naturally gravitate towards your work. Your work will be sincere and honest.
Also, if you really want to stand out on Instagram, I think you need to get outdoors. Instagram is saturated with the typical product shots or picturesque view everyone has already seen. Go further than your competitor. Show people things they've never seen before.
You've built a business around your passion and talents. For people out there reading this in their office and dreaming about starting a business, any words of advice to help them take the plunge?
Challenge yourself.
For ten years, I woke up and went to a nine-to-five career. And before I was ready to leave, I needed to decide that I was good enough, that I could find my own path and live my life the way I wanted. I waited a long time before gaining the courage to think about alternative ways to live.
That being said, it wasn't entirely me deciding to take that path. My passion for the outdoors and photography found me because I was ready for it. I always felt something was missing from my life and it was nature.
Starting from zero

Let's say that sailing became your new passion. You create a new Instagram account and need to build it from zero to 100,000 followers. Based on what you now know, what are the top three actions that you see as the most important for building an audience?
Here's how I would build a new Instagram account from scratch.
First, I'd research. I'd find the top individuals in the sailing world. I'd follow them and research their strategy. What are they doing to build their audience? What content seems to work well for them?
Next, I'd plan a few sailing trips. While sailing I would start capturing moments in the voyages. Instagram is a visual platform. So I would focus on taking good photos, rooted in a specific moment or emotion I felt while sailing.
Finally, I'd research the best hashtags to use on posts. I'd do this by looking through the top sailing Instagram accounts. Then, I'd figure out what value I could offer the community by using these hashtags.
Beyond posting good content, what are some tips for growing that initial Instagram audience?
You can post nice pictures. But, more important is that you make an emotional connection. One of the ways that I do this is by creating descriptive captions. My photos are part of a larger story, a story that I tell on my blog, Twitter, and other channels.
Don't just post stuff: take your audience to a place and make them feel that moment.
When I share a photo, I also want to tell people about an experience. I talk about how I was vulnerable. Or what that photo meant to me. If you only post photos and don't have a story behind them, it's hard to gain traction.
Instagram is an important channel to me. But honestly if Instagram was shut down tomorrow, I'd still have a business. I don't let the numbers drive my purpose. I'm an explorer and photographer, not an "Instagrammer."
Going from amateur to pro
You didn't start as a professional photographer. On your blog, you describe an intense period in 2013 where you shared 120 photos in 19 weeks. What's the No. 1 thing you learned about taking a good photo that resonates with Instagram users?
I knew I needed to learn what worked on Instagram and what made a good photograph. The first thing I did was look for the best photographers on Instagram. Some were professional landscape photographers. Others were renegade explorers, like I became.
After many years of study, I think that the No. 1 thing that resonates on Instagram is this: a solid composition of a view that people would never normally see.
For example, I paraglided above Panorama Mountain in British Columbia—an incredible view that was widely shared on Instagram and across my other social media channels.
What tactics do brands and businesses often forget to use on Instagram?
Brands forget that social media is real life. You'll gain an edge on all the other accounts out there by taking all the goodwill and rapport you've built with people online and turning into something offline. When you cultivate action, your brand will become more "human" to your audience and customers.
Linking up with fellow explorers and adventure-hungry people has made me feel like I am part of an everlasting, growing community. If I didn't go out and meet those people through Instameets, I would have missed out on the whole point of social media: making your relationships count.
You've explored a lot of beautiful places. What's one place everyone needs to experience in their lifetime?
The place on the top of my list at the moment would be hiking the Berg Lake Trail in British Columbia, Canada. The hike is the most scenic (and longest) hike I have ever been on. It was also the most rewarding as you see stunning views like the Berg Glacier, Kinney Lake, and Mount Robson.
Follow Dax Justin's work
Dax Justin has helped global brands with their Instagram content and creative strategy. You can contact him through his website and follow his adventures on Instagram.
Grow your Instagram following by using Hootsuite to schedule posts, monitor mentions, and more. Try it free today!