7 Pro Tips to Up Your Game on Instagram Stories
As Hootsuite's social media coordinator by day and a professional DJ by night, Christine Colling uses Instagram Stories—a lot. That's why we asked for her advice when it comes to using the Story feature to boost engagement and build an audience. Here are her seven pro tips.

Bonus: Download a free checklist that reveals the exact steps a lifestyle photographer used to grow from 0 to 600,000 followers on Instagram with no budget and no expensive gear.
1. Add UTMs to your links to track success
Since Instagram's analytics can't track link clicks, Colling's number one Instagram Stories tip is to use UTM parameters—short text codes added to a URL that allow you to track website visitor data and traffic sources.
"Tracking URL clicks are important for revealing what content is resonating with your audience," Colling says. "What your audience likes and what keeps them engaged can show you gaps in your social media strategy and where you need to shift as needed."
Verified accounts can add a 'Swipe Up' feature to their Stories that allow a user to get more information by following a link to another page—usually a landing page or another piece of content.
For more on this, check out our post on how to use UTM parameters to measure social media success.
Bonus tip: Not everyone is verified on Instagram. If you don't have the 'Swipe Up' feature, add a link in your bio and use include a call to action in your Instagram Story to encourage your audience to follow that link. And then use UTM parameters to keep track of clicks on that link.
2. Use polls to increase engagement and gather feedback
Polls are a smart way to engage people on social media because participation is easy. Plus, it doubles as a learning opportunity for your business.
With a poll, you can survey your audience for real-time results and see what people think of your content. The better you know your audience and what they like, the better you can serve them.
You can also use polls to crowdsource ideas from your followers—like suggestions for new blog content or your next social video.
Another way to use polls is to simply keep the online conversation flowing.
"I like to have fun with polls by posting random questions on current events or popular culture references," Colling says.
3. Stick to your brand colors
Like your Instagram profile page, your Stories should clearly reflect your brand's distinct look and theme, Colling suggests.
Consistency makes it easy for your viewers to recognize who the content is coming from as soon as it shows up in their feed.
Access the full color wheel when editing your Instagram Stories to perfectly match your brand colors.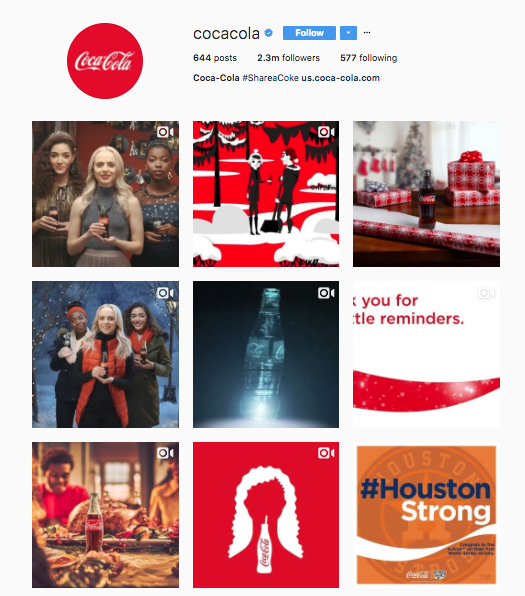 How to do it:
Tap the Aa icon in the upper right-hand corner of the screen.
Tap and hold any of the default color options and swipe the color slider to select custom colors.
4. Use location and hashtag stickers for discoverability
Using location and hashtag stickers in your Instagram Stories is a great way to gain new followers and fans. These stickers help you show up in more searches, making it easier for potential followers to find you. And when a user adds your business' location sticker to their Story, their followers can better find you and learn more about your brand by clicking on that sticker.
Bonus: Download a free checklist that reveals the exact steps a lifestyle photographer used to grow from 0 to 600,000 followers on Instagram with no budget and no expensive gear.
Get the free checklist right now!
As a bonus, your Story may be featured in the sticker's "larger story," which is a curated collection of Instagram Stories tagged with a particular location or hashtag sticker.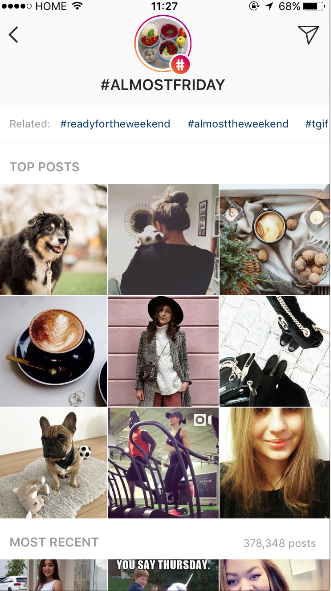 5. Include a clear call to action
For a call to action (CTA) to be effective, it must be clear, actionable, and easy for the user to follow. Keep CTAs in your Instagram Stories short and simple, but also attention-grabbing.
Make your CTAs pop by writing them out in big, bold font. Colling suggests adding an arrow pointing to the CTA to draw extra attention to it. You might also want to try adding a shadow to your CTA text to make it really stand out.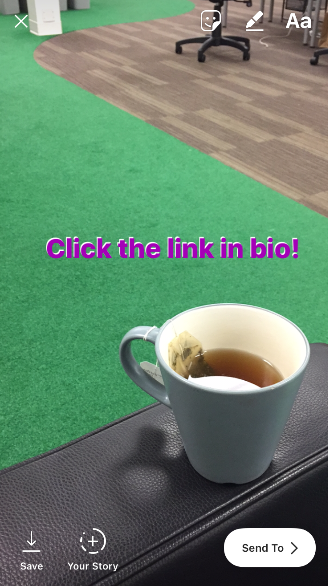 How to do it:
Tap the Aa icon and type out your message.
Next, tap the Aa icon again and type out the same message using a different color.
Move the top layer of text so that it's slightly off-center from the bottom text (the original message).
6. Shoot vertically (portrait mode)
This might seem like a no-brainer, but according to Colling, she's been asked several times about what's the best way to film Instagram Stories.
"Shoot vertically," Colling advises. "It's how people are watching your Stories. It makes it easier for people to consume your content without flipping their phones sideways."
7. Plan your content in advance
You can now upload Instagram stories that are older than 24 hours, allowing you to better plan ahead of time and publish a more polished finished product.
Colling uses this feature to prepare for live events. Before the event, she recommends filming an intro, explaining who the speakers are and the topics they'll be discussing. That way, once the event starts, she can begin engaging with people and capturing real-time footage to add to the Story.
Save time managing your Instagram presence using Hootsuite. From a single dashboard you can easily schedule and publish posts, engage your audience, measure performance, and run all your other social media profiles. Try it free today.