Instagram evolves so quickly, we're practically dizzy watching the changes. In 2023 alone, features shifted and warped at a staggering speed as Insta tried to keep pace with the ever-changing expectations of its users (or capitalize on an opportunity).
Chasing platform updates from Meta—Instagram's parent company—is a fool's errand. If Instagram is part of your social media marketing or advertising strategy, ground your plans in hard data, not think pieces. These numbers prove exactly where Instagram is at this moment in time, which hopefully will also give you a hint as to where the social behemoth is going from here.
Read on to find compelling Instagram statistics that paint a picture of the platform's strengths (and weaknesses). Dig in to find the truth beneath all the headlines so your team can create a game plan to make the most of the 'gram.
General Instagram statistics
It's still just a fraction of Facebook's monthly active users, but an impressive amount nonetheless.
Instagram and WhatsApp both have 2,000,000,0000 active users as of October 2023. The most-used platform? Facebook, with more than 3 billion monthly active users.
In a survey of active social media users across the globe aged 16 to 64, Instagram was ranked number two as the preferred social media platform, claiming 15,7% of the vote. Whats App is the most liked media platform, with 16.6% of users reporting it's their favorite.
According to SimilarWeb, as of November 2023, Instagram is the fourth most-visited website globally.
5. Only 0.1% of Instagram users are only on Instagram
That means 99.9% of Instagrammers also are active on at least one other social media platform, according to a 2023 GWI report. The most common overlap is with Facebook (81.4% of Instagram users also have accounts here), while the least common overlap is Line (only 10.9% of Instagram's user base is found here).
And psstt — if you're active on multiple platforms, you really should use a tool like Hootsuite to track the performance of all your social channels in one place.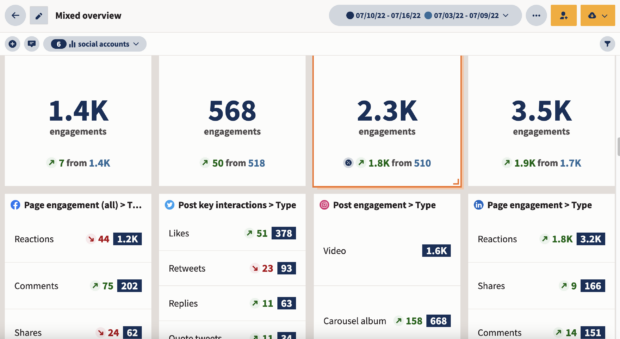 Start your free Hootsuite trial now
… but depending on your industry, that may vary. In education, for instance, the average Instagram engagement rate is 3.44%.
[Not sure where you stand? Try our engagement rate calculator here.]
…with 648 million followers. Cristiano Ronaldo comes in a close second (595M), followed by Lionel Messi (477M), Selena Gomez (435M) and Kylie Jenner (397M).
More than 2 billion posts have been tagged with #love. More than 1.6 billion posts are tagged #instagood.
Instagram user statistics
If you're trying to reach Gen X or Boomers, you might be better off spending your time and money on a platform with an older demographic. (Only 2.6% of Instagram's audience is over 65 years old.)
Despite all the TikTok hype, Gen Zers and millennials still overwhelmingly prefer Instagram. We Are Social reports that 44.4% of female internet users in this age group rank Instagram as their favorite social app; 40.7% of male internet users agree.
11. Just 8% of Instagram users are teenagers
Only 8% of Instagram users worldwide are between 13 and 17 years old. It's a great platform for reaching Millennials and Gen Z still, but the next generation of social media users seems to prefer other outlets.

Source: Statista
10% of teen Instagram users are visiting Instagram "almost constantly," but 50% of this demographic uses the app or site at least once a day.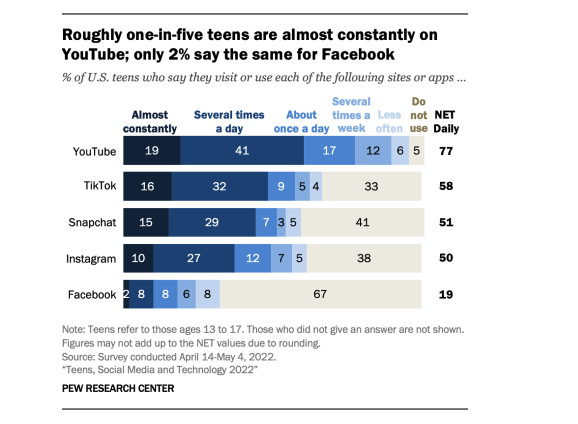 Source: Pew Research
Experts predict this demographic will account for nearly 40% of Instagram accounts by 2025. This is primarily thanks to India, which has been a huge growth market for Instagram ever since TikTok was banned in 2020.
With an ad reach of more than 223 million, India is an absolutely massive market for Instagram. The United States has the second-largest Instagram advertising audience, with over 143 million users.
15. 48.2% of Instagram users are female
51.8% are male. (Though this survey did not consider users who identify as non-binary, so these numbers aren't exact.)
Instagram usage stats
16. Instagram users spend an average of 12 hours a month on the app
That's a jump of a couple of hours from the previous year. But while Instagram has passionate fans (see our previous stats), social media users spend far more time using other apps — a little over 23 hours on YouTube a month.
17. 66,000 photos are shared on Instagram every minute
We can't confirm how many of those are good photos, but that's a staggering amount of content regardless.
And 64% use Instagram to seek out funny or entertaining content. Almost half of Instagram users use the app to keep up with the news.
Instagram Story stats
That's because half a billion people watch Instagram Stories daily. Not too shabby.
Instagram Reels stats
20. 53.7% of U.S. marketers will use Instagram Reels for influencer marketing this year
This makes it an even more popular platform for influencer marketing than TikTok and YouTube. While Reels still falls behind traditional Instagram Posts, its growth rate is more intense: we wouldn't be surprised to see Instagram Reels surpass main-feed posts in the next few years.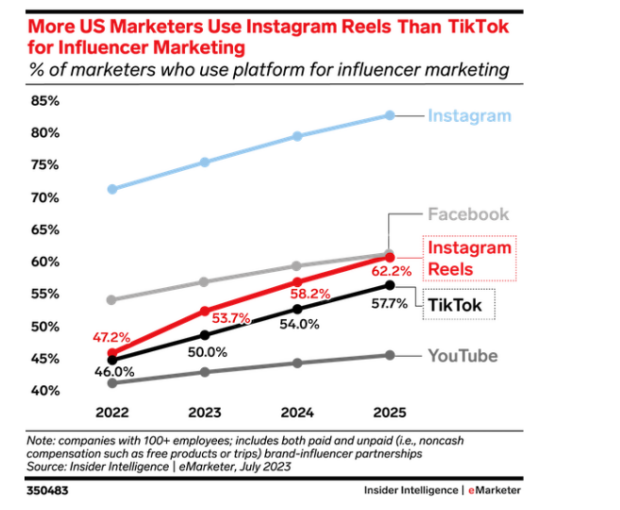 Source: Insider Intelligence
According to Meta, Instagram Reels are the most popular format to share in DMs. With shares taking the lead as the most important engagement metric, that means engaging Reels are one of the best ways to connect with your audience and provide real value.
According to a study from September 2023, while influencer engagement remains higher on TikTok than Instagram Reels, Reels isn't far behind. Plus, Instagram Reels engagement for influencers of all sizes far outstrips average engagement rates for most business accounts.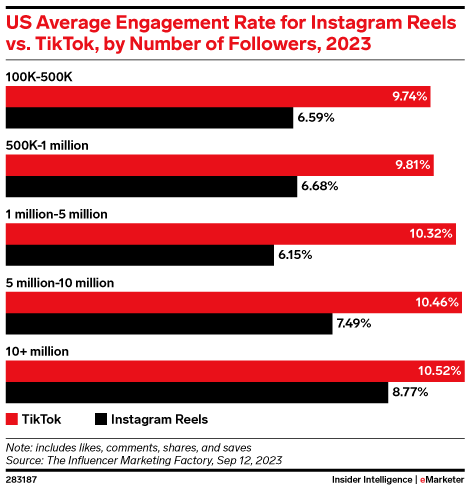 Source: Insider Intelligence
Instagram Threads statistics
23. Threads reached 1 million users faster than any other app in history
In its first five days, Threads earned over 100 million sign-ups. This broke the previous record set by ChatGPT. Instagram itself took two and a half months to reach that number of users.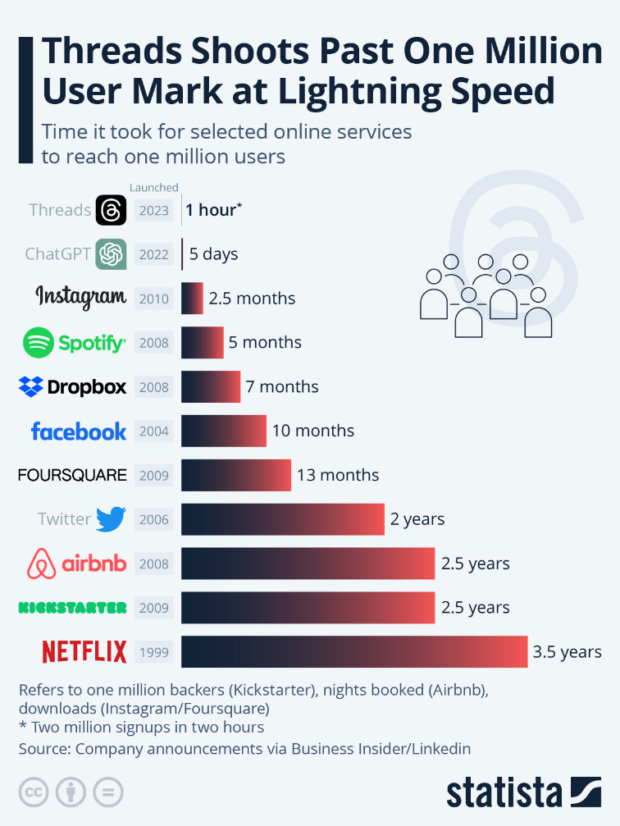 Source: Statista
A pretty impressive number, even with some attrition after its blockbuster launch in the summer.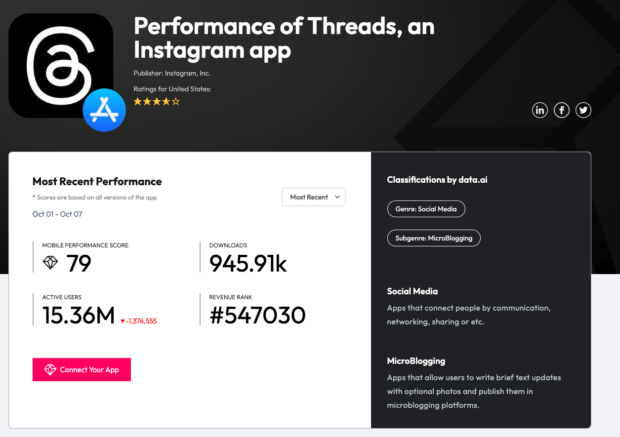 Source: Insider Intelligence
More than 54 million users downloaded the Instagram Threads app in July 2023 — that was 33.5% of all Threads users at that time.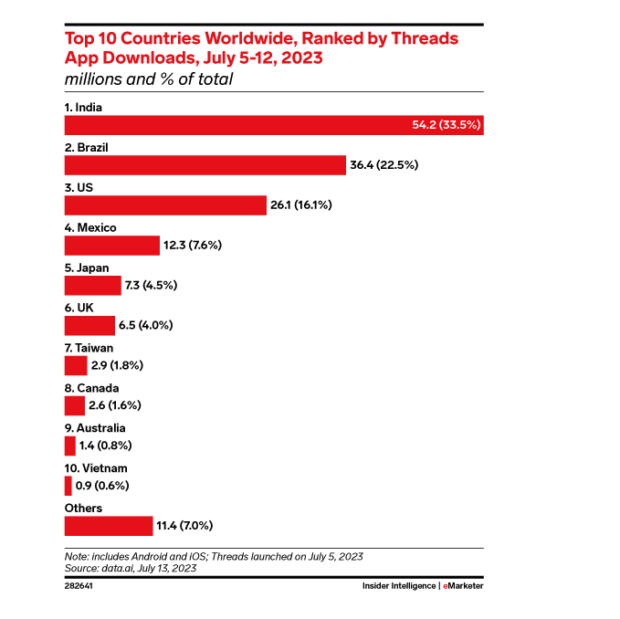 Source: Insider Intelligence
Instagram statistics for business
Whether that's actually making the purchase or collecting info for a future purchase, people use Instagram as a tool for research and easy shopping.
27. The average Instagram Business account posts 1.55 posts on main feed per day
A good reminder that consistency is the name of the game: keep those posts coming so your audience doesn't forget about you. 41.7% of business account main feed posts are photos.
That's the most common type of post, but videos make up 38.2% of main feed posts for business accounts, while 20% of business posts are carousel posts. (But if you're a business and you read the next stat in this list, you'll probably realize that 20% is not enough…)
28. Instagram carousel posts have the highest engagement rate for business accounts
The average engagement rate for a business Instagram account is 0.65% overall, but carousels, in particular, enjoy a 0.76% engagement rate.
29. 62.4% of social users use Insta to follow or research brands or products
Social media is a powerful consumer tool for research, and 82.5% of social media users say they use social platforms for collecting information about brands and products. More than 60% prefer to use Instagram for this research phase of the consumer cycle… better level up those social selling skills, right?
30. 20.9% of social media users follow influencers or experts on social
Okay, this stat isn't Instagram-specific, but the lesson absolutely applies to the 'Gram.
Thanks to its diverse content formats and great creator tools, Instagram remains a popular choice for U.S. marketers. So even if you're not sure if Instagram makes sense for brand, the truth is, your competitors are almost certainly on there anyway. (eMarketer predicts that Instagram Reels will be used by 62.2% of marketers in 2025, which would put it neck-in-neck with Facebook.)
According to Meta, businesses that use Instagram's direct messaging to connect with local customers have a 70% conversion rate.
And if you use a tool like Hootsuite Inbox, you can manage all of your social media messages in one place (just putting that out there).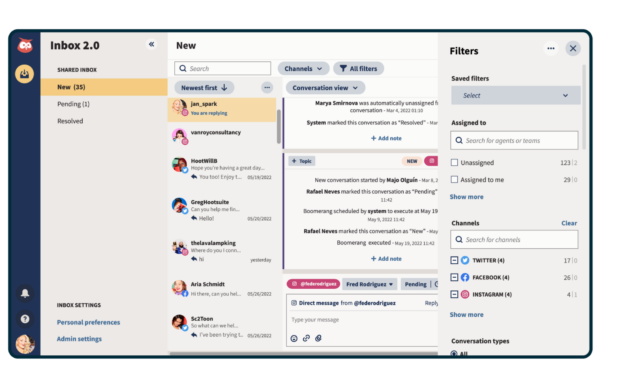 Try Inbox for yourself! Book a free Hootsuite demo today
Instagram businesses that tag their products in posts enjoy more sales on average than their non-tagging peers. (Learn more about setting up your Instagram Shop here!)
According to Meta, Instagram offers a unique opportunity to connect customers and companies through value-driven content and personal customer service.
Instagram ad statistics
eMarketer predicts that the final tally for ad revenue in 2023 will be even higher, at $50.58 billion, with more growth around the bend. Overall, Instagram's ad revenue is growing faster than Facebook's — perhaps a trend to watch if your social ad strategy involves advertising with Meta.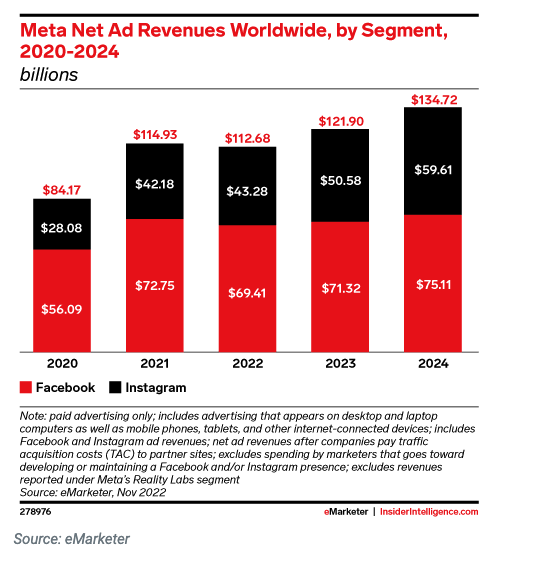 Source: Insider Intelligence
Ready to turn these Instagram statistics into action? Start building your Instagram presence using Hootsuite. Schedule and publish posts directly to Instagram, engage your audience, measure performance, and run all your other social media profiles — all from one simple dashboard. Try it free today.
Grow on Instagram
Easily create, analyze, and schedule Instagram posts, Stories, and Reels with Hootsuite. Save time and get results.
Free 30-Day Trial