#HootSuite helps #SocMed Managers and Acquires #WhatTheTrend ~ News Roundup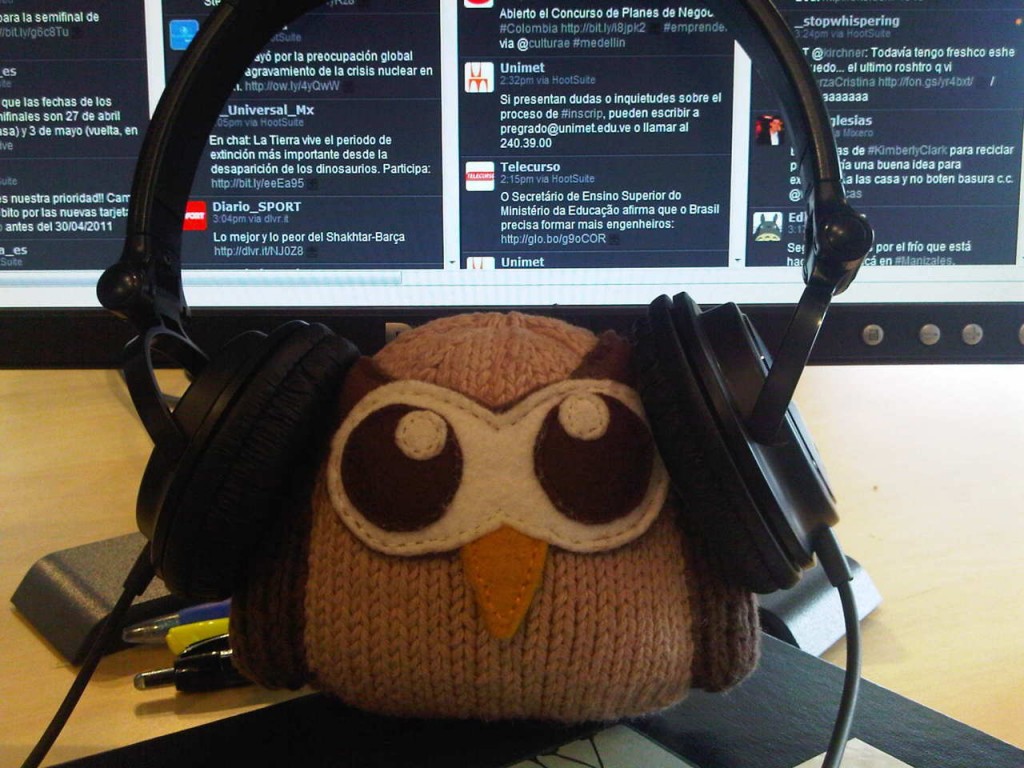 Social media monitoring is a vital process for community and social media managers. With Twitter sending out 2200 Tweets a second, it's easy to become inundated with the amount of information flying around. Without the right tools, monitoring can be a tiring and arduous process. Thankfully, HootSuite is here to help!
There are list streams, search and keyword streams, and even a streaming presentation view to help you make the most of your time spent monitoring. Don't take our word for it though. Today's News Roundup includes articles highlighting HootSuite's monitoring capabilities. Plus, we take a look at what role our beloved Dashboard plays in the lives of a few social media managers. If that wasn't enough, we've also included a collection of articles covering our acquisition of What the Trend. Better pull up a chair for this firehose of good news.
What the Trend?!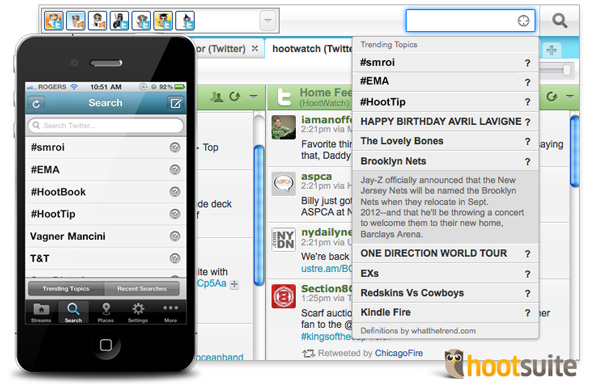 As announced in September, HootSuite acquired What the Trend, a tool that provides crowd-sourced definitions for why topics and phrases are trending.
Want to know what the latest trending topics mean? Simply, open the HootSuite search box and click the "?" beside the trending topic to list definitions.
With HootSuite's latest acquisition, you can look forward to further integration of the tool. Check out our recap of what people have been saying about the new addition:
The Next Web – HootSuite Acquires What the Trend to Protect You from Social Media Faux Pas
We here at TNW have been big fans (and users) of social media dashboard HootSuite for quite some time. The Canadian startup has done huge things over the past year, including raising $3 million in funding and acquisitions of the Twapper Keeper and TwitterBar tools. So it shouldn't come as a surprise that the company is introducing another acquisition today, of context provider What the Trend.

What the Trend has been a staple of the Twittersphere for quite some time, giving insight into what is causing trending topics to trend around the world. What's been interesting is the human curation aspect of What the Trend, which deciphers into plain English the often-times cryptic trending topics via a process of investigation and crowdsourcing.

It should be another great addition to an already-powerful product. HootSuite has been an SaaS success story since coming out of the gate and is now well over 2 million users worldwide.

The WtT integration looks great, too. But selecting your search box, you'll be able to find not only trending topics, but also have the ability to click a question mark on both the web-based and mobile version in order to find out why something is trending. Why is it important? In a world where social media can make or break a reputation, it's crucial to know what's causing something to trend before hopping into a discussion.
Scribbal – HootSuite Acquires Twitter Trending Topic Dictionary, What The Trend
HootSuite has acquired the Web service "What the Trend" which identifies trending topics on Twitter and explains why they're trending with crowd-sourced definitions. The company plans to use this tool in their social media management dashboard.

[…]

Trending topics are one of Twitter's most important aspects as they highlight breaking news and social trends faster than some of the most reliable news sources. It's no surprise that HootSuite wanted to highlight this feature. "Adding What the Trend to HootSuite will help brands understand behavior and identify opportunities, plus will help users connect with compelling topics they care about," said Ryan Homes, HootSuite CEO.

What the Trend's key services are already integrated into both HootSuite's Web and mobile platforms, but in the next few weeks, What the Trend will be integrated into HootSuite even further. What the Trend co-founder and lead developer, Paul Colton, will join HootSuite as a consultant during the transitional period.

MediaBistro / AllTwitter – More Shrinkage In Twitter Eco-System As HootSuite Acquires What The Trend
HootSuite, the company behind the popular social media dashboard of the same name, has acquired What The Trend, a web-based service that provides user-defined explanations of the top Trending Topics on Twitter.
Locomu – HootSuite Acquired What the Trend
What The Trend, a site keeping you updated with all the latest Twitter trends and topic has just been acquired by the name behind one of the most popular Twitter dashboards, HootSuite.

[…]

Twitter trending topics are taken seriously by people across the globe and on special occasions when some sports events, sudden happenings, natural calamity, international politics, etc make their place in the news, hashtags play a vital role in taking the news to people.

Starting from product releases, brand awareness campaigns, to journalistic breaking news, everything hits the Twitter shore by boarding the #hashtag ship. Twitter trends are quite helpful in making news a viral and prove helpful in the viral marketing campaigns.

With the addition of What The Trend to HootSuite, it will now be able to help in understanding the brand behavior and get to utilize the opportunities especially made for them. The acquisition is indeed a great step taken by HootSuite.
Social Steak – Hootsuite Acquires 'What The Trend', Defines Twitter Trending Topics
The social media communications dashboard Hootsuite has acquired "What the Trend", a website which shares user-defined crowd-sourced explanations and definitions of trending topics on Twitter.

This comes after recent funding announcement and acquisitions of Twapper Keeper, TwitterBar and Swift App.

What The Trend services are already included in Hootsuite's web and mobile apps and Hootsuite will now work to more closely intergrate the services.
TechVibes – HootSuite Acquires What the Trend
Vancouver's HootSuite announced this morning that they have acquired What the Trend (WTT) – a web service which shares user-defined explanations of trending topics on Twitter.
Social Media Stars
From team collaboration to scheduling to streams – HootSuite is a tool that caters to the needs of Social Media Managers. See how Baratunde Thurston, Director of Digital for the Onion, and Nathaniel Perez, Head of Social Experience for SapientNitro, are using HootSuite and new media to nurture and grow their online communities.
Lifehacker (Australia) – The Onion's Digital Guru Explains How To Use Tech (And Why Chaos Is Great)
In terms of our social media account management, HootSuite is what we have settled on for multiple profile management. It allows one admin profile and delegated privileges on an account basis to members of the team. That's been really useful so we all see the same thing and can assign responses to one another in rare cases."
The Next Web – Interview with SapientNitro: Identifying Real-Time Opportunities in Social Media
NP: With a solid listening strategy in place, sometimes all you need is…  HootSuite to engage with consumers in real-time. The challenge is really to understand how to identify opportunities to engage and have a plan in place to manage conversation. Sometimes, this even requires some advanced technology, to help you sift through data and find actionable trends. Additionally, different brands will have very different conversations, in very different places.

[…]

NP: We pick HootSuite for most day-to-day needs. HootSuite is a social media management work horse…, it is built to be extremely efficient at listening and engaging."
Ears to the Web
When it comes to monitoring, HootSuite practices what we preach. In addition to company and executive mentions, our owls keep a close eye on what's happening in social media and constantly monitor for what our users seek.
Check out these articles to see how people are using HootSuite to achieve their social media monitoring goals.
Mashable – HOW TO: Manage Social Media Accounts for Multiple Clients
Being responsible for dozens of social media accounts with hundreds of thousands of followers can appear overwhelming, especially when you attempt to engage with every wall post, comment and retweet. A social media management tool like HootSuite can help ensure that your team doesn't miss a single chance for fan engagement. For example, if a Facebook wall post or a tweet needs a response, managers can assign a particular team member to answer that content. Once the team member engages with that post, a "replied" notification appears in the HootSuite interface."
Media Bistro – Five 'Must Have' iPad Apps for PR
Even PR people with traditional titles are now doing at least some social media community management.  It takes a lot of time and there's a lot of pressure to get it right, and not miss anything mentioned about a brand on Twitter.  Luckily, Hootsuite's iPad app has every conceivable feature so there's no need to be chained to your desk.  Hootsuite has a ridiculous set of features so you can delegate to team members, scheduled posting, monitoring, translation, and 30 custom modules for when you need to spit out a report to your CMO."
CNN – Help For Social Media Mayhem
No wonder then that a growing number of small businesses like The Pop Shop are turning to social media tracking technologies such as those offered by… HootSuite.

These modern-day eavesdropping tools scour the conversations taking place on social networks for relevant comments — and damning criticism, enabling companies to respond in real-time to online opinions. In fact, according to a Forrester survey, of the 301 customer intelligence professionals canvassed, 78 percent responded that they actively monitor what customers are saying online."
Business Insider – Drinking From The Waterfall: How To Effectively Monitor Social Media
It can be overwhelming; it seems sometimes as if all the Tweets, posts and Facebook and LinkedIn status updates will wash you away. You must abridge the flow in order to siphon relevant information and keep on top of your monitoring efforts. There are a number of free tools that will help you do this, but you must understand how they work together to optimize their faculties. Planning your approach should consist of three stages: Choosing the right tools, using these tools to siphon the right information, and determining a method for absorbing the content and making sense of it.

[…]

HootSuite: This is a popular tool that allows you to monitor multiple accounts including Twitter, Facebook, LinkedIn, Foursquare, WordPressand MySpace. Hootsuite allows you to track click-throughs, time updates, monitor mentions and assign tasks among team members. It also acts as a management tool, allowing you to update multiple accounts at once, and has recently expanded into measurement with Hootsuite analytics. This is the tool I mainly use to manage my accounts because of its intuitive interface and extensibility."
The Globe and Mail – Tools to Help Handle Social Media
For now, tools such as Hootsuite remain the best option for businesses trying to minimize the amount of social media work they have to do without turning their various feeds into automated, robotic bullhorns.
MSNBC – Your Customers Are Talking. Are You Listening?
View all the social media activity concerning your company via a web-based dashboard like HootSuite or an email tool like NutshellMail."
Jessica Aspen Writes – Hootsuite, A Defense Against the Onslaught of Social Media
When you input your Twitter URL Hootsuite channels all your feeds onto one page. I have my main feed, my CRW list, my mentions, and my re-tweets all visible on the page and I can scroll across to any of them. This way I can see all the happenings on Twitter and nothing is lost in the Twitter stream of hundreds of tweets a day. Important tweets stay there for me to see and I no longer miss important announcements."
Poynter – 7 Steps For Building an Effective Community Managment Plan
Listening may be the most important part of community management. Plan to keep a finger on the pulse, using Google Alerts or Twitter monitoring tools such as HootSuite… Gathering community input for future product development is one of Jeremiah Owyang's "Four Tenets of the Community Manager." Whether the product is content or a good or service, social media is a great place to get insight into how a company is doing."
CentrevillePatch – Using Twitter to Follow Live Events and Favorite Topics
If you use a Twitter application such as… Hootsuite instead of Twitter.com, you can keep some searches as saved columns where topics you wish to keep up-to-date on can be collected. This could be the #Nats or #DWTS (Dancing with the Stars). Being a geek, one of the topics I like to follow is the recently developed substance graphene (carbon atoms that can be formed in a sheet just one atom thick). When someone tweets a news story about new uses or developments, it appears in my column."
Community Cultivators
Courtney Boyd Myers of the Next Web tracked down 18 influential social media managers and picked their brains on branding, marketing, tools and social media practices. Indeed, we were pleased to see HootSuite mentioned as the tool of choice for community engagement.
The Next Web – Meet the 18 People Behind Your Favorite Social Media Accounts
Thrillist: David Pessah
CBM: What tools do you use on a daily basis?

DP: Hootsuite, 100%. The rest I use through the browser, for example, I keep everything inside of Google Docs."
Flavorpill: Russ Marshalek
CBM: What's your daily routine like?

RM: Regardless of how much I'd like to have everything standardized, it really depends. Essentially my life is plotted out by my Hootsuite dashboard. I'm interacting with our readers and followers most of the day and it's a lot of communication in Gmail."
TOMS: Caitlin Coble
CBM: What tools do you prefer to use in social media?

CC: I use Hootsuite to keep track of what's happening on Twitter."
NASA: Stephanie Schierholz
CBM: What tools do you use to manage all of your accounts?

SS: 15 people, including public affairs officers have access to the Twitter and Facebook page so it varies for each office… And at various times we use a mix of others including Hootsuite… Twitter.com and Facebook.com."
ELLE: Kristina Soriano
CBM: Describe your daily routine and what tools you use.

KS: I come in and make the first updates to the site, and throughout the day I'll get some stories from inbook up, spend some time editing ELLEgirl.com, update our Twitter and Facebook, help syndicate our content, and make sure our homepage is always fresh, among other special projects and generally assisting the other editors with anything they need. There's usually so much going on, so scheduling a tweet or two in advance is always helpful. For that, I use Hootsuite."
Robot Rock
On the topic of listening, HootSuite featured Dan Mangan's "Robots" in the HootSuite for Android release video. While promoting his latest album "Oh Fortune," Dan played a secret show hosted by the Peak 100.5 (video above). Keep an eye out for the HootSuite Dashboard as well, which makes a brief appearance at the 00:10 mark as announcer Cory Ashworth tweets the show's details over Twitter. "Robots" starts at the 02:34 mark.
Watch Owly and Android make friends in the HootSuite for Android release video below.
Hoot Away
Want to learn how you can better monitor your online community? Visit the HootSuite library for helpful white papers, info sheets, case studies, and more. There's also great User Created Tutorials to peruse at our Help Desk.
Also, stay updated with the latest news from HootSuite by following @HootWatch and @HootSuite.
(Header image c/o @fmaldifassi)