New User Requested Feature: New Follower Stream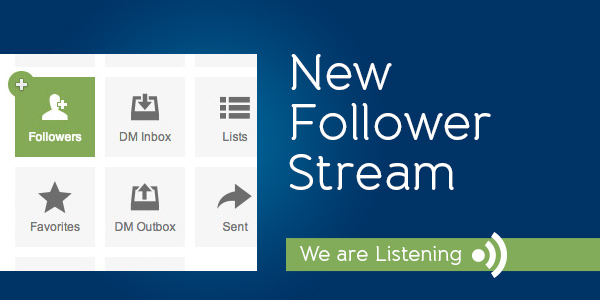 In just two days the teams of the HootSuite Hackathon built new features for the HootSuite dashboard. One group, Team Crowd-Pleaser, took it upon themselves to build the three most-requested dashboard features according to the HootSuite User Feedback Forum. So far we've rolled out ReTweet Visibility and Relationships. We've seen a healthy adoption rate since their release last week. Which makes sense, considering you asked for them.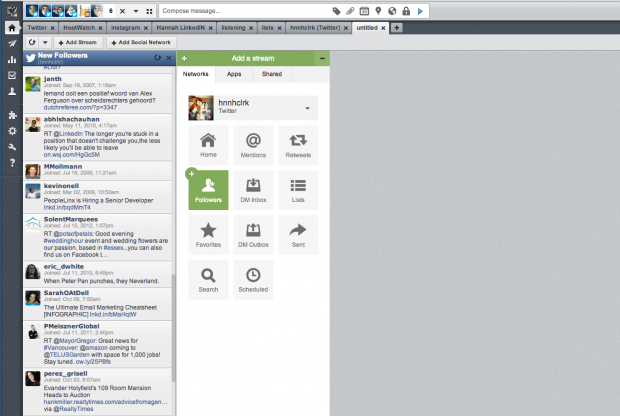 Team Crowd Source's final project sees a new addition to our Stream Wizard. Aimed at helping our users stay on top of their relationships, the New Follower Stream allows you to see when you gain followers.
The New Followers stream is more than just an ego boost. Being able to view your new followers also allows you to see correlations between published content and spikes in follower gains as it happens. It also gives you a chance to offer more personalized thank-yous to new subscribers. The New Follower stream makes it easy to keep in touch with your growing social community. Start getting in touch: click the button below to set up your own.
We'll be releasing hack features over the next few weeks and we want you to tell us what you think. To let us know what you think, tweet us with the hashtag #hoothackfeature. Got an idea for us? Write in or vote in our User Feedback Forum. We'd love your feedback.