Facebook made several algorithm updates, Twitter introduced #Stickers, and Instagram launched Stories—August was far from lazy on social media!
We've rounded up all the social media news worth knowing from all the major social networks for the month of August.
Twitter
Instant Unlock Card
On August 4, Twitter introduced a new ad product called Instant Unlock Card, which can be used in conjunction with conversational ads. Conversational ads, which were originally released back in January, contain images or videos that include call-to-action buttons with customizable hashtags. With new Instant Unlock Card, brands can incentivize users to Tweet by offering exclusive content, such as a film trailer or Q&A. Twitter has also added advanced analytics so that brands can keep track of conversational ad units. Instant Unlock Cards are available to all managed accounts in all markets.
Now Available! Engage w/ customers using Conversational Ads & the new Instant Unlock Card. https://t.co/NoRREule5Z pic.twitter.com/aFlMvgtbh8

— Twitter Marketing (@TwitterMktg) August 4, 2016
Moments opened up to more creators
On August 9, Twitter opened up Moments to more creators. Initially introduced in October 2015, Moments were originally created by Twitter's curation team and a select group of publishing partners. Now, Moments is open to a "broader group of creators," including influencers, partners, and brands. Twitter also teased that "in the coming months," it will add the ability for anyone to create Moments.
Step into the heels of our Editor in Chief @heymichellelee for a day! ???????? https://t.co/g1zEgagtIM

— Allure (@Allure_magazine) August 9, 2016
Promoted Stickers
On August 15, Twitter introduced Promoted #Stickers, an expansion of its stickers feature, initially added in June 2016. Twitter #Stickers allow users to add accessories, emoji, and props to the photos they Tweet. #Stickers are searchable in what Twitter calls a "visual spin on the hashtag." Promoted #Stickers give brands the opportunity to create a set of four or eight stickers that will be available through the #Stickers library. Pepsi is the exclusive launch partner of Promoted #Stickers. The cola brand has shared nearly 50 custom stickers across 10 markets as part of their PepsiMoji campaign. Promoted #Stickers are available globally to select marketers with a managed account.
Introducing Promoted #Stickers A fun way to express your brand and engage with consumers! https://t.co/wIIDHAC0KK pic.twitter.com/usc4HRwrPU

— Twitter Marketing (@TwitterMktg) August 15, 2016
Notifications settings and quality filter
On August 18, Twitter added a quality filter and new notifications settings. Users now have the ability to limit notifications to only people they follow on Twitter rather than receive notifications from everyone. When turned on, the new quality filter is intended to improve the quality of Tweets users see. It does this by using a variety of signals, such as account origin and behavior.
Twitter explained in an announcement blog post: "Turning it on filters lower-quality content, like duplicate Tweets or content that appears to be automated, from your notifications and other parts of your Twitter experience. It does not filter content from people you follow or accounts you've recently interacted with." Both new features are optional and are turned off by default. Additionally, Twitter moved the ability to manage notifications settings to the notifications tab.
Two simple settings to give you better control over your Twitter experience. https://t.co/pEJuMUhCYs pic.twitter.com/jmFd0rDoV6

— Twitter Support (@TwitterSupport) August 18, 2016
Night mode for iOS
On August 22, Twitter rolled out night mode to iOS. Night mode swaps out Twitter's traditional white background and dark text for a dark blue background with light text. The feature is intended to lessen the strain on users' eyes when using the app in the dark.
To enable night mode on iOS, go to the Me tab and tap the gear icon. Then tap Turn on night mode. Night mode was added to Android in July.
Rolling out today – we're bringing night mode to iOS! ???? https://t.co/XxNZHQdth9 pic.twitter.com/WLwKi4H0Oe

— Twitter (@Twitter) August 22, 2016
Use emoji in name and bio
In August, Twitter's support handled Tweeted that users can use the full range of emoji in their name and bio. It's unclear when this feature became available, but many users have stated that emoji were not previously supported in Twitter names.
ICYMI: You can now use the full range of emoji to spice up your name and bio on your Twitter profile! ???? ????

— Twitter Support (@TwitterSupport) August 22, 2016
Monetization for creators
On August 30, Twitter announced the expansion of creator revenue programs, which will "provide creators of all sizes with the ability to monetize content in multiple ways and generate revenue at scale." The expansion includes two programs:
Amplify Publisher Program—which gives U.S. creators the ability to monetize their videos using pre-roll ads
Niche—which gives creators the opportunity to grow, understand, and monetize their social presence across networks
Additionally, Twitter also announced product updates for creators to make publishing and monetization easier. Creators can use Media Studio (on desktop) and the Twitter Engage app (on mobile) to upload, manage, and publish media more efficiently. Media Studio replaces video.twitter.com and includes several upgrades:
Unified media library (videos, GIFs, and images)
New Tweet scheduling and planning capabilities
Team management and multi-account support
Improvements in stability and upload performance
Twitter has also added an "Earnings" section to Twitter Engage to give creators the ability to easily track earnings for Twitter and Niche programs.
We're expanding our revenue programs to empower creators to earn money in multiple ways! ???? https://t.co/ebnJxNaZqA pic.twitter.com/OGlI9tbeMa

— Twitter Video (@TwitterVideo) August 30, 2016
Facebook
Algorithm update to reduce clickbait
On August 4, Facebook made an update to reduce clickbait. Facebook defines clickbait as headlines that withhold information required to understand what the article is about, or exaggerate the article to create misleading expectations.
The change uses a system that identifies phrases commonly used in clickbait headlines that aren't used in other headlines, similar to how a spam filter functions. The system will identify posts that are clickbait and which web domains and Pages they come from. The News Feed FYI post explained: "Links posted from or shared from Pages or domains that consistently post clickbait headlines will appear lower in News Feed."
Facebook also noted that over time, the system will recognize if a Page stops posting clickbait.
Updates to ad blocking
On August 9, Facebook announced they'd begin showing ads on Facebook for desktop to people who use ad blocking software. Instead, the company has endeavored to address "the underlying reasons people have turned to ad blocking software" by introducing additional controls in ad preferences. It's now easier for users to indicate they'd like to stop seeing ads about a certain interest, such as travel or cats. Users also have the option to stop seeing ads from businesses or organizations who have added them to their customers lists.
Algorithm update to prioritize informative stories
On August 11, Facebook added a new signal to the News Feed ranking algorithm designed to show users more stories that they'd find personally informative. Facebook explained: "Generally we've found people find stories informative if they are related to the their interests, if they engage people in broader discussions, and if they contain news about the world around them."
What's deemed informative is different for each individual user—while it could be recipes for one, it might be current events for another. This signal is combined with how relevant the story might be to the user personally, taking into account factors like their relationship with the person or publisher who posted it or what the user has chosen to click, comment on, or share.
Updated Messenger Platform Policies
On August 15, Facebook announced several updates to Messenger Platform policies. The new policies include time-based criteria for businesses to respond to messages as well as standards for subscriptions in Messenger. The policy updates will result in a faster review process for app submissions: five days or less. For more information, visit the Messenger Blog.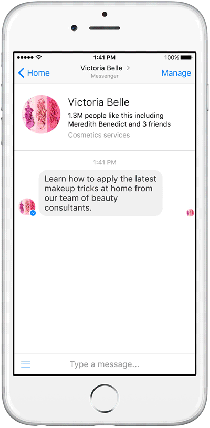 Integration with gaming development platform Unity
On August 18, Facebook announced that game development platform Unity Technologies will integrate support for the Facebook platform. Facebook explained: "Unity and Facebook are joining forces to build new functionality into Unity that streamlines the process for exporting and publishing games onto Facebook. This will allow Unity developers to quickly deliver their games to the more than 650 million players who enjoy playing Facebook-connected games every month."
A select group of developers will receive immediate access to a closed-alpha build of the new export functionality in Unity version 5.4.
Slideshow ads update
On August 23, Facebook announced new features for slideshow ads. Originally launched in October 2015, slideshow is a tool for "lightweight video" ads created from photos. They've since become quite popular as an easy-to-use and dynamic ad format. With the new features, advertisers can now:
Add text and music
Create slideshows from mobile
Use assets from Facebook's stock image library
Easily turn videos into slideshows using a tool that auto-selects 10 still images from uploaded videos
The new tools for slideshow ads are available globally.
Trending topics now algorithmic
On August 26, Facebook made an update to its Trending feature in order to make the process more algorithmic. Previously the process required descriptions to be summarized by hand.
This change also affects how Trending topics appear. Now, rather than a description next to the topic, users will see numbers that reflect how many people are posting or sharing posts about the topic. Hovering over a topic will reveal a popular news article about it, including an excerpt. While the process is now more automated, humans will still be involved in order to ensure topics are high-quality (for example, tied to a current news event in the real world).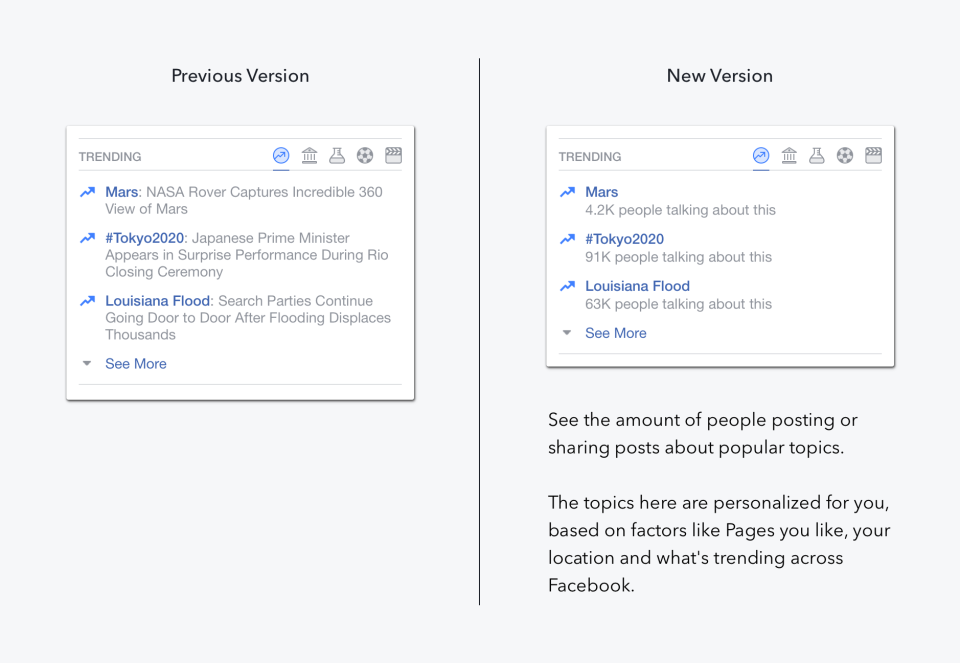 Offers now available on mobile
On August 30, Facebook announced that Facebook Offers are now available on mobile. Advertisers can choose from two types of offers—online and in-store—which can be shared two ways: in an Offers ad or in a Page post. Offers ads appear in users' News Feeds in the Facebook mobile app and website. Advertisers can also post Offers directly on their Page using the Offer Page Composer. Additionally, Facebook has streamlined the process for claiming and redeeming offers. Online Offer ads are available now and the in-store ad flow will roll out in the coming weeks.
While Facebook currently supports the use of one offer code or barcode for every claimed Offer, the platform says it's working on functionality that would allow for unique offer codes. Facebook explained: "With unique offer codes, Facebook Offers will allow advertisers to seamlessly provide unique offer codes to each individual, preventing the Offer from being distributed to people on a larger scale."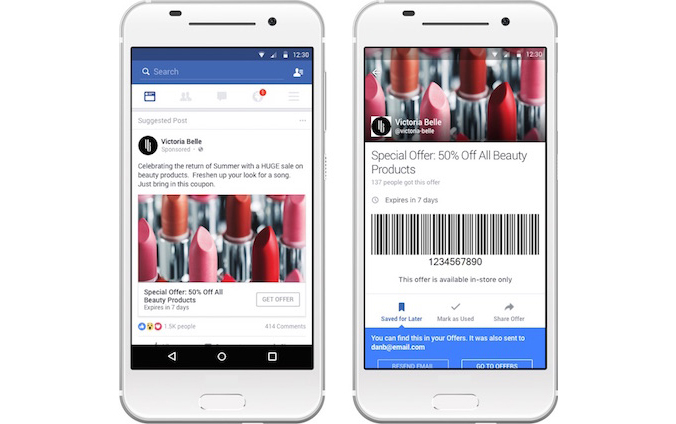 Faster mobile site loading using prefetching
On August 31, Facebook introduced prefetching, which pre-loads mobile content in the Facebook in-app browser before a link is tapped. According to Facebook, the update can shorten mobile site load time by 29 percent—approximately 8.5 seconds. It's intended to decrease the risk of site abandonment by mobile users.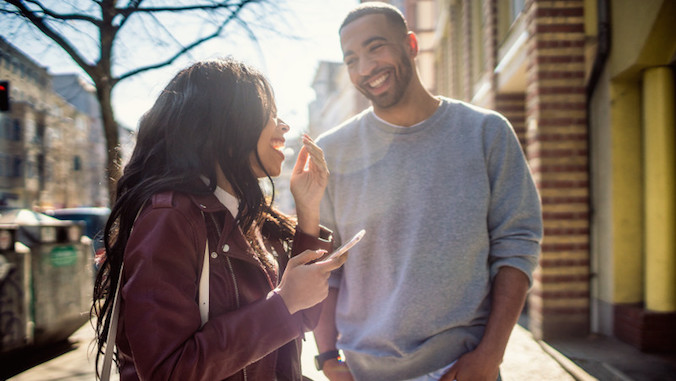 Instagram
Instagram Stories
On August 2, Instagram launched Instagram Stories, a new Snapchat-like feature that "lets you share all the moments of your day, not just the ones you want to keep on your profile." Stories are separate from users' profile feeds and are intended for real-time posting. Users can share both photos and video which they can embellish using tools like text, drawing, and emoji. All content added to a user's Story appears in slideshow format. Instagram explained in the announcement blog post: "Instagram has always been a place to share the moments you want to remember. Now you can share your highlights and everything in between, too."
Comment filtering
On August 15, Digiday reported that Instagram has begun to give some accounts with high volume comment threads the ability to filter their comment streams or even turn off comments entirely. Instagram already allowed accounts with a high volume of comments use a basic profanity filter and block words or phrases commonly marked as offensive.
The new feature takes that a step further by giving accounts the opportunity to block terms that affect their specific account, whether they're an issue in the wider Instagram community or not. It's not currently clear whether this feature will be made more widely available.
Event Channels on Explore
On August 17, Instagram introduced event channels on Explore. Instagram explained in the announcement blog post: "This channel collects the best videos from concerts, sporting events, and more so you can feel like you're in the front row. Like the rest of Explore, this new channel is personalized for you and highlights events you might like."
Event channels are currently available in the U.S. Instagram intends to roll it out worldwide soon.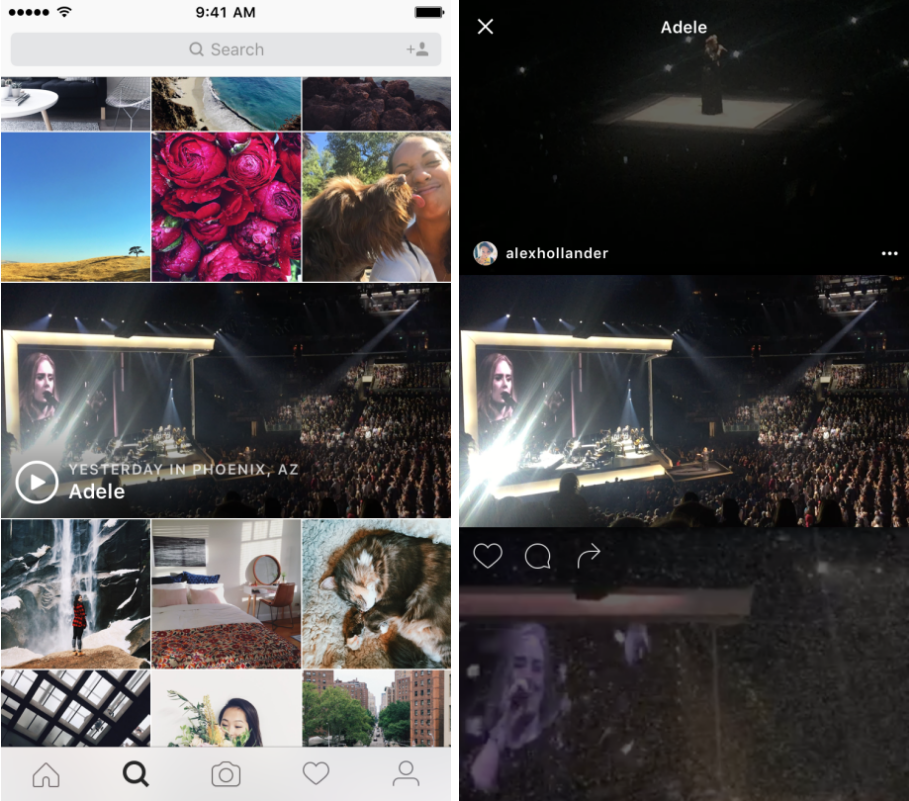 1 billion Android app installs
On August 22, Mashable reported that Instagram had passed 1 billion Android app installs. According to Mashable, "This makes the photo sharing app the fourth Facebook-owned app to reach the milestone, after Facebook itself, WhatsApp, and Messenger."
Pinterest
Native video player coming soon
On August 3, Pinterest announced that a native video player is coming soon to the platform. Additionally, Pinterest is also working on personalized recommendations to help users find videos to suit their tastes. Pinterest explained in an announcement blog post: "In the last year alone, we've seen a 60 percent increase in videos on Pinterest… it's more important than ever that the video experience be as seamless as possible."
Pinterest's video improvements will hit the platform "over the next few months."
Announcing: Ideas come to life with video on Pinterest: https://t.co/94IPUiKU0T pic.twitter.com/f4szaF3zof

— Pinterest (@Pinterest) August 5, 2016
CPM buying in ad auction
On August 11, Pinterest introduced a new way to buy CPM. The platform now offers the ability to bid on a CPM basis and Pinterest will optimize how it delivers advertisers' ads to reach more people. Advertisers can also specify the maximum number of times someone sees their campaign. CPM buying is available to all businesses in the U.S., U.K., and Canada through Ads Manager and most Marketing Developer Partners.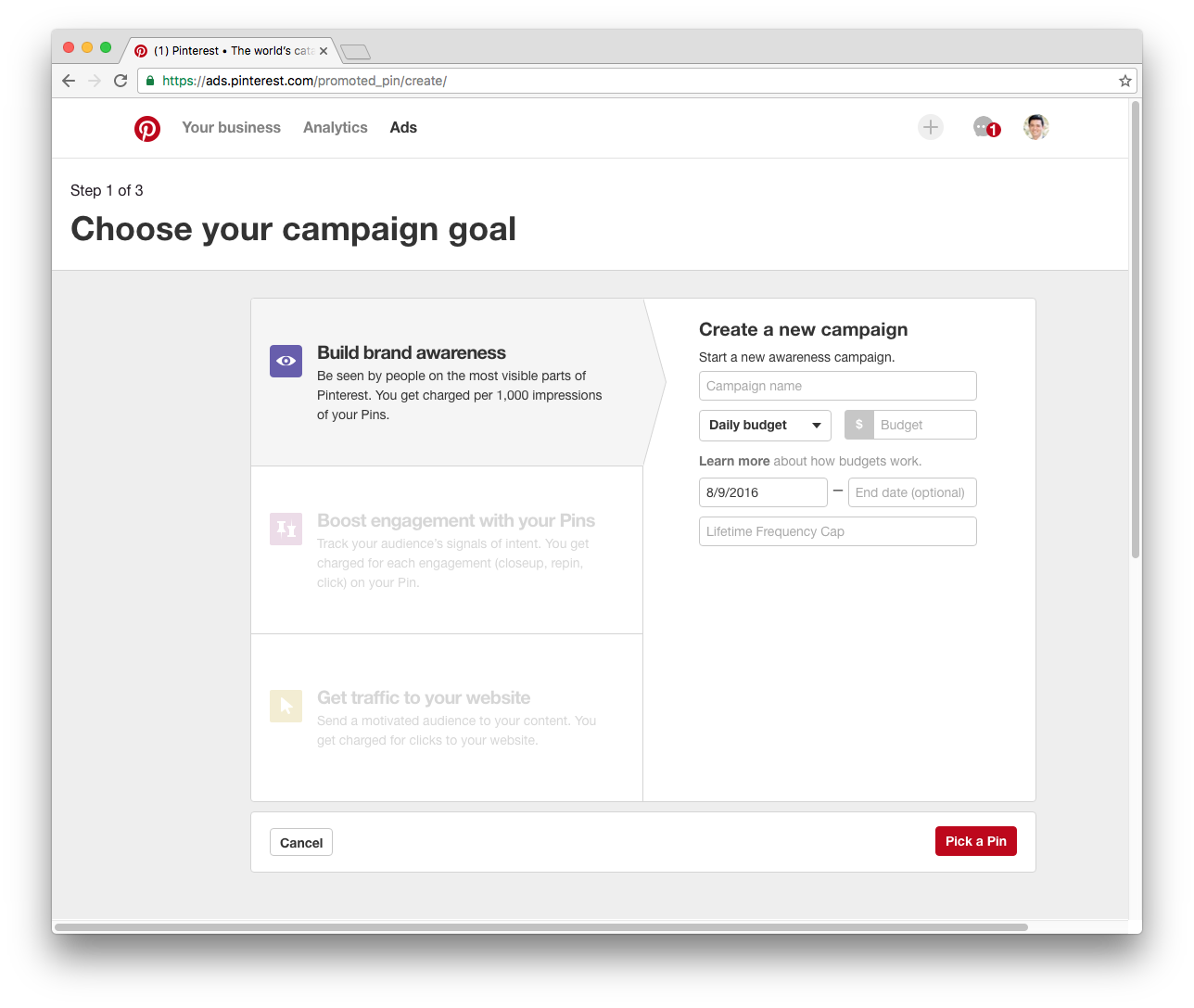 New features
On August 18, Pinterest introduced several new features based on user feedback:
The ability to send Pins and board invites to anyone, whether you follow one another or not
Improved search to make it easier for users to find people they know
The ability to send Pins, boards, and profiles across apps, including Facebook Messenger, WhatsApp, and text message
The ability to turn off "Picked for you" suggested Pins so that they don't appear in home feed
New features based on your feedback: Send Pins and boards to friends across apps, and more https://t.co/MJ7JBqKFi4 pic.twitter.com/MZMEgybf4W

— Pinterest (@Pinterest) August 18, 2016
New targeting updates
On August 31, Pinterest added new ad targeting options. Advertisers can now target users based on engagement on the platform. Pinterest explained: "With engagement retargeting, you can use Pinterest to effectively target people who have shown interest in your brand by interacting with your Pins in a variety of ways."
Pinterest has also expanded the data advertisers can use to retarget people who have visited their website using the new Pinterest tag. The tag identifies nine events—such as signups, add-to-carts, and purchases—allowing for effective targeting. The new targeting features are available in Ads Manager and will be rolling out across all Marketing Developer Partners soon. Pinterest plans to update visitor retargeting to support new events in the coming weeks.
Pinterest has also renamed lookalike audiences to "actalike audiences" because "the audiences you target on Pinterest don't just look similar, they act similar too."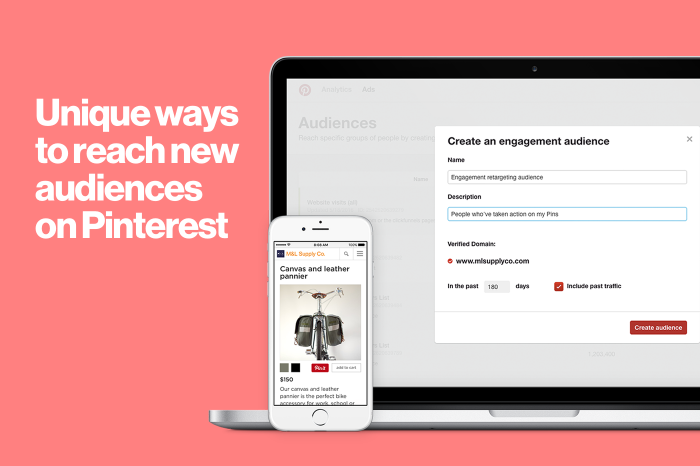 YouTube
YouTube Kids works with YouTube Red
On August 2, YouTube announced that YouTube Kids now works with YouTube Red. Features include:
Ad-free videos
Offline videos
Uninterrupted music while using other apps
This functionality is available in the U.S., Australia, and New Zealand.
LinkedIn
Videos from influencers
On August 2, Linkedin introduced 30-second videos from LinkedIn Influencers. Videos posted by influencers will appear directly in the feeds of their followers, where they can comment and discuss.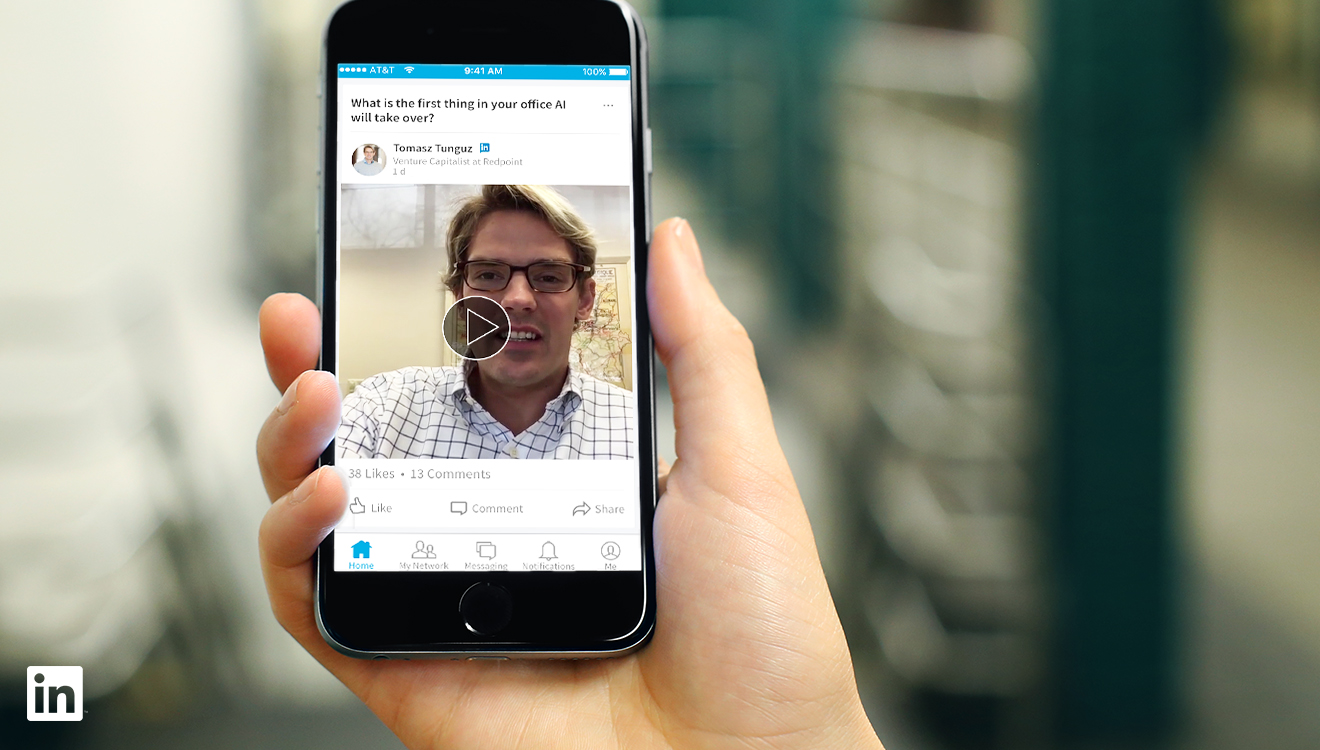 Android app testing tool
On August 4, TechCrunch reported that LinkedIn is open-sourcing an Android app testing tool called Test Butler. LinkedIn created Test Butler while developing its latest Android App, after discovering numerous issues that crashed the test emulator that had nothing to do with the code. Drew Hannay, a LinkedIn engineer who helped create Test Butler, told TechCrunch: "This is something that everyone running Android tests can benefit from."
ProFinder expands nationwide
On August 24, LinkedIn expanded ProFinder to streamline the process of hiring freelancers. LinkedIn described the service as "a marketplace that connects consumers and small businesses looking for professional services… with top quality freelance professionals best suited for the job."
Now in its pilot stage, the platform has more than 50,000 freelancers spanning 140 service areas. Interested users can submit project requests, which LinkedIn will share with a group of qualified professionals, beginning with those in the user's network or extended network. Project requests will be met with up to five detailed proposals. ProFinder is currently available in the U.S.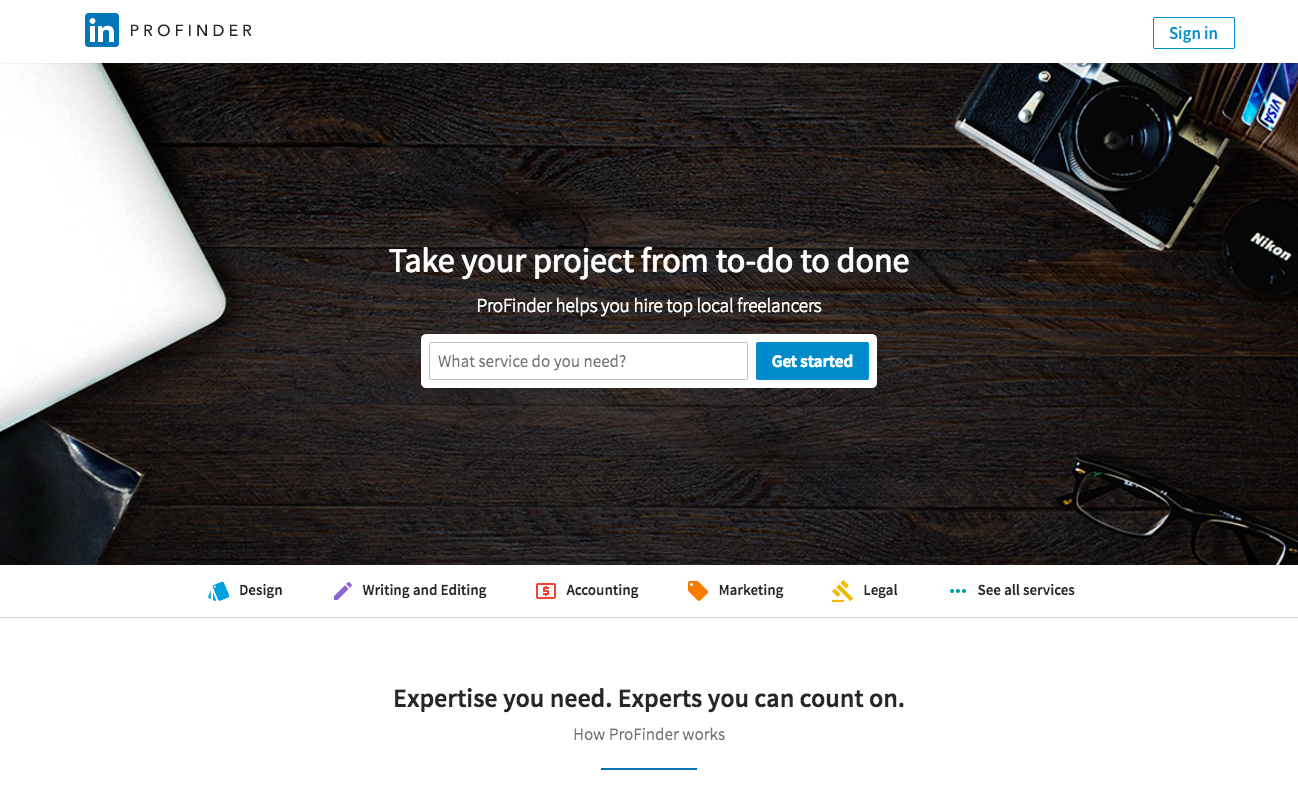 Content search
On August 25, LinkedIn introduced a content search feature on its mobile app. Users can search for topics and find relevant articles published on the platform, either by third-parties or by members in their feed. The new functionality includes the ability for users to search their own feed.
Additionally, LinkedIn has added support for hashtags, which are now tappable and lead to search results. Content search is available on LinkedIn iOS and Android apps for English-speaking users but the company plans to roll it out to all members on all platforms in the coming months.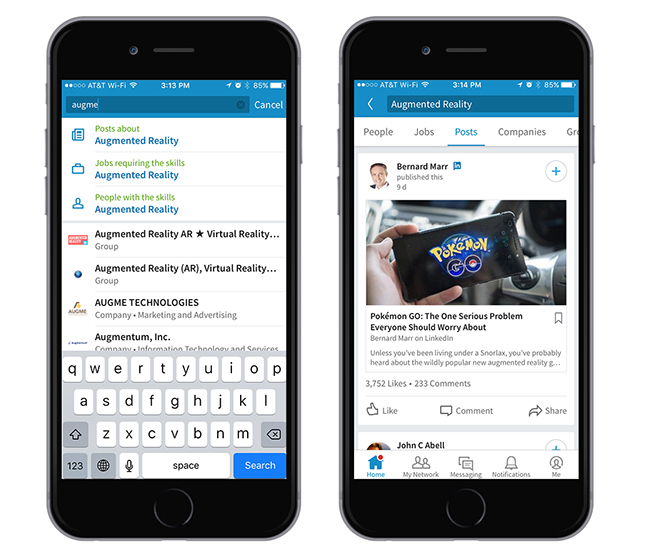 Snapchat
Support for Low Power Mode
On August 25, Snapchat made a small update to address battery drain. When a user's device is in Low Power Mode, Snapchat will automatically reduce its battery usage.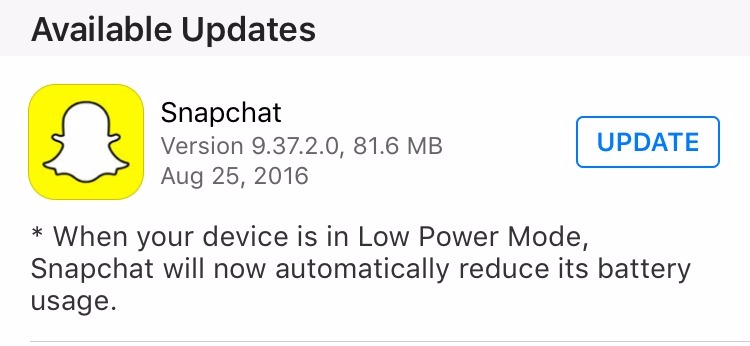 Keep up with all the latest social news by using Hootsuite to keep track of all the accounts you follow. Sign up for free today!