It was a big month for Facebook. With their F8 conference on April 12 and 13, the social platform had tons of big announcements to share.
While Facebook talked Messenger, chatbots, and Live Video, Twitter introduced a new Message button on Tweets, YouTube launched 360-degree live streaming, and Pinterest rolled out a spiffy new app.
It's a lot to keep track of.
That's why we've put together a roundup of all the updates—big and small—from all the major networks. Stay on the cutting edge of social by staying up-to-date with the latest and greatest in social news.
Twitter
Message button
On April 5, Twitter introduced a new Message button on Tweets. The new button makes is easy for users to share a Tweet via Direct Message. Somas Thyagaraja, Twitter product manager, explained: "We've seen the number of messages sent grow over 60 percent in 2015. And the number of Tweets shared privately has grown even faster, at 200 percent in just the second half of last year… So now—in just a few taps—you can share unique Twitter content from your timeline right into your private conversation."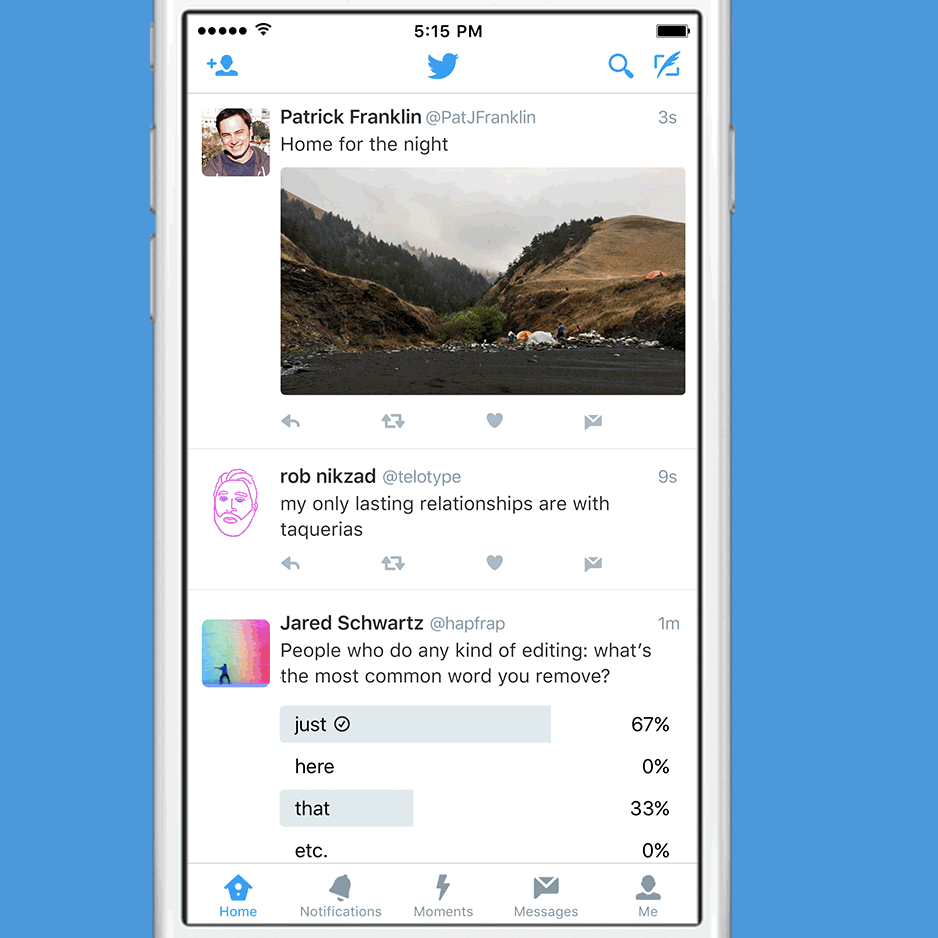 Ads editor and ad groups
On April 18, Twitter announced ad groups, new level to the network's campaign structure. Andrea Hoffman, product marketing manager, wrote in an announcement blog post that ad groups give "advertisers further control over how to spend their budgets and message different audiences." She explained: "one campaign can have many ad groups, and ana ad group can have many targeting criteria and creatives." Ad groups are available to all advertisers globally through the Ads editor tool.
ICYMI – @twitter's introduced ad groups to simplify ad management https://t.co/EL9smSHnCW #socialmediamarketing pic.twitter.com/6sQMoq3yZN

— Social Media Today (@socialmedia2day) April 25, 2016
Report multiple Tweets in a single report
On April 25, Twitter introduced the ability for users to attach multiple Tweets to a single report. Hao Tang, safety engineer, explained: "This update makes it easier for you to provide us with more information about the extent of abuse and reduces the time it takes to do so. That added context often helps us investigate issues and get them resolved faster."
Report abuse on Twitter more easily than ever. Find out how to protect yourself and others.https://t.co/1MEfTzkfFL

— Safety (@safety) April 25, 2016
Facebook
New ways to create, share, and discover Live Video
On April 6, Facebook announced several new features for Facebook Live video. They rolled out the ability for users to go live in Groups and Events, and they introduced Live Reactions, giving viewers the opportunity to react to a live broadcast in real time. Fidji SImo, product management director, explained: "Viewers can select Love, Haha, Wow, Sad, or Angry, and the reactions animate right on top of the video."
They also added the option to send an invitation to a friend to watch a live broadcast directly from the broadcast itself. They rolled out a dedicated place on Facebook's mobile app where users can discover live video. And they also released a Facebook Live Map on desktop to show users where people are broadcasting from at the moment.
Branded content tag
On April 8, Facebook announced updates to their Branded Content Policy. The updates "enable verified Pages to share branded content on Facebook." Facebook has also released a new tool to simplify the process for publishers and influencers publishing branded content, making it easy for them to tag a marketer. The marketer will be notified and given access to post-level insights. They'll also be given the option to share and boost the post. Clare Rubin, product manager, and Nick Grudin, VP of partnerships, explained in a blog post: "Publishers and influencers must use this tag for all branded content shared on Facebook… For brands and businesses, the new tool will introduce more transparency and allow them to better understand how their marketing initiatives are performing across Facebook."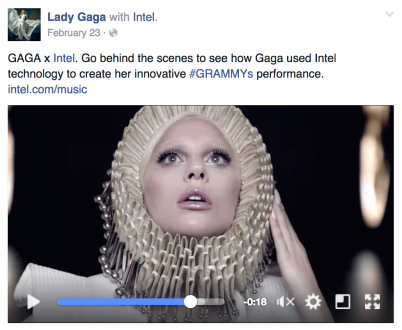 Chat bots
On April 12 at their F8 conference, Facebook launched Messenger Platform. The beta includes bots and a Send/Receive API. Chatbots on the Messenger Platform "can provide anything from automated subscription content like weather and traffic updates, to customized communications like receipts, shipping notifications, and live automated messages all by interacting directly with the people who want to get them."
The Messenger Send/Receive API will support sending and receiving text, images, and interactive rich bubbles containing multiple calls-to-action. Facebook also announced discovery tools, such as website plugins, usernames, and Messenger Codes. Find out why Messenger bots may just be your new best friends on Facebook.
Instant Articles available
As of April 12—day one of the F8 conference—Facebook opened up Instant Articles to all publishers. Instant Articles, which provide an improved article-viewing experience to Facebook mobile users, were first tested in 2015. Facebook announced they'd be opening them up in February 2016. Find out why we've decided to try Instant Articles out.
Profile Expression Kit
The first day of the F8 conference also saw the debut of Facebook's Profile Expression Kit. Aigerim Shorman explained the feature in Facebook Developer News: "The Facebook Profile Expression Kit lets people share videos they make in third-party apps directly into the Facebook profile video flow." The software development kit (SDK) is currently available to a select group of beta partners for the iOS versions of their apps: MSQRD, Boomerang for Instagram, lollicam, BeautyPlus, Cinemagraph Pro from Flixel, and Vine. Shorman explained: "Consumers can now use these apps to create fun and personality-infused profile videos with just a few taps."
New ways to share (and measure engagement)
Facebook also introduced new sharing tools on April 12. One of the new tools is quote sharing, which gives sites the ability to "build an experience that lets people share specific quotes from an article, book, etc. or that lets people highlight and share any text that resonates with them."
Another is hashtag sharing, which "lets you include a suggested, removable hashtag in the composer when people share from an app." The new tools also include the option to have the share dialogue open in an iframe so the user doesn't have to leave the content. Facebook has also expanded the Save button to external sites, improved design for embedded posts, and introduced a Sharing for Devices API. New measurement tools include sharing insights, which "gives web publishers anonymous information about the number of people discussing a particular link on Facebook, the most popular quotes being shared from it, and other trend info." They've also updated the Share Debugger.
U.S. Nielsen-designated market areas
On April 20, Facebook announced that advertisers are now able to use U.S. Nielsen-designated market areas (DMAs) through TRP Buying for Facebook and Instagram adverts. TRP Buying was originally introduced in September 2015. This will allow advertisers to "match the target market that they're reaching on Facebook to the ones that they're buying on television."
Also, advertisers can now purchase day parts (parts of the day when advertisers want their adverts to be shown). The post explained: "Day parts are available in four-hour blocks (or greater) and help advertisers reach people at the time when their message will resonate most."
Group calling in Messenger
On April 20, Facebook's VP of messaging products, David Marcus, announced the global rollout of group calling Messenger. Marcus explained: "From any group conversations, just tap on the phone icon to initiate a group call. You can then manage individual participants on the next screen." This update is available in the latest version of Messenger.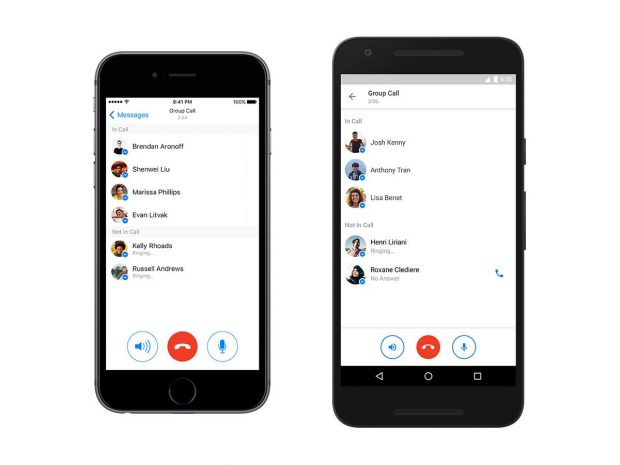 Algorithm tweak for articles
On April 21, Facebook revealed a change to the News Feed algorithm that takes viewing time into consideration. Moshe Blank, software engineer, and Jie Xu, research scientist, explained in a blog post: "We're learning that the time people choose to spend reading or watching content they clicked on from News Feed is an important signal that the story was interesting to them. We are adding another factor to News Feed ranking so that we will now predict how long you spend looking at an article in the Facebook mobile browser or an Instant Article after you have clicked through from News Feed."
They note that they'll be treating time spent reading within a threshold "so as not to accidentally treat longer articles preferentially." They've also made an update to "reduce how often people see several posts in a row from the same source in their News Feed."
Windows 10 Apps
On April 28, Facebook rolled out Windows 10 Apps for Facebook and Messenger on desktop. One click away from the Start Menu, it loads News Feed "much faster than previous Facebook desktop applications" and features desktop notifications. Users can choose to pin a Facebook Live Tile, "which shows you the latest updates from your friends, family, and Pages you follow." The app includes the latest Facebook features, such as Reactions, comment stickers, and more. The Messenger for Windows 10 app has stickers, group conversations, and GIFs. The Messenger app also includes native desktop notifications and "you can see when you have messages waiting for you with a Live Tile."
Interactive video ads
In April, AdWeek reported that Facebook is introducing interactive video campaigns. AdWeek reported: "Online rollover ads that let consumers move their mouse over a video promo to access more information about a brand have been a boon for publishers looking to make their videos a bit more interactive for customers. Now, those video formats are coming to Facebook and Instagram." A brand that tested the feature in December used it to add a button to the corner of a video. When users scrolled over it, they were given the option to take a quiz, buy products, and sign up for emails.
Instagram
Video playback on Android
On April 5, Instagram revealed changes to video playback on Android. Previously, the app had to download the whole video file to the phone storage before it could be played by the Android built-in MediaPlayer. Now that the maximum video length has been increased to 60 seconds, that system would no longer result in a smooth user experience, so Instagram changed it. They created a new streaming video cache. The changes mean that videos begin to play sooner and that they're not dependant on disk space.


Video channels in Explore
On April 14, Instagram began rolling out a new look for Explore featuring video channels. The changes include a personalized channel called "Videos You Might Like," which "collects videos from across Instagram's global community into a seamless viewing experience." There will also be "Featured" channels "filled with videos on specific topics." The changes to Explore are available in the U.S. Instagram added that they're "working to bring this to the rest of the world soon."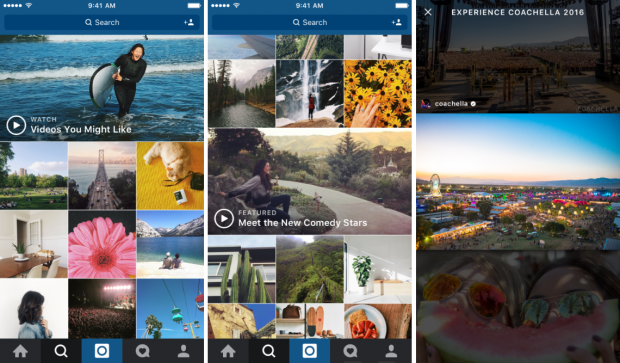 Windows 10 Mobile
On April 28, Instagram rolled out Instagram for Windows 10 Mobile. The new app has "all of the community's favorite features—including Instagram Direct, Explore, and video." It's also compatible with Live Tiles, "showing you updates right on your home screen." The app is now available in the Windows Phone Store.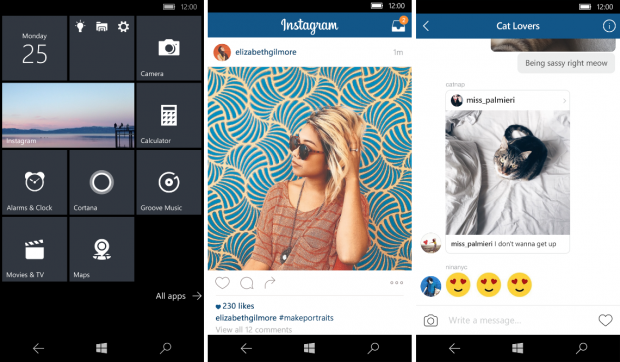 Pinterest
Promoted Pins available in the U.K.
On April 5, Pinterest announced that it's expanding Promoted Pins internationally—starting with the U.K. Pinterest is launching with partners: John Lewis, B&Q, Bloom & Wild, Nestle, Tesco, and MADE.COM. Adele Cooper shared in the announcement blog post: "The U.K. is a major market for Pinterest and is home to some of our most avid Pinners… We look forward to seeing the Promoted Pins that U.K.-based businesses create to help and inspire millions of Pinners. In the second half of 2016, we plan to open Promoted Pins up to more English-speaking markets."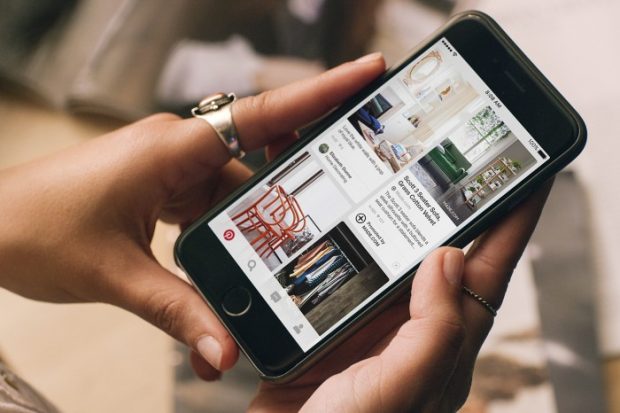 Faster app
On April 19, Pinterest released a new version of its app. They introduced a new modern look, made the app readable in 31 languages, and updated speed. Adam Barton explained in the announcement blog post: "When you open the app, your home feed now loads up to three times faster." The updates are being rolled out on iPhones and iPad first and "Android and web are next on our list… so keep your eye out for updates in the coming months."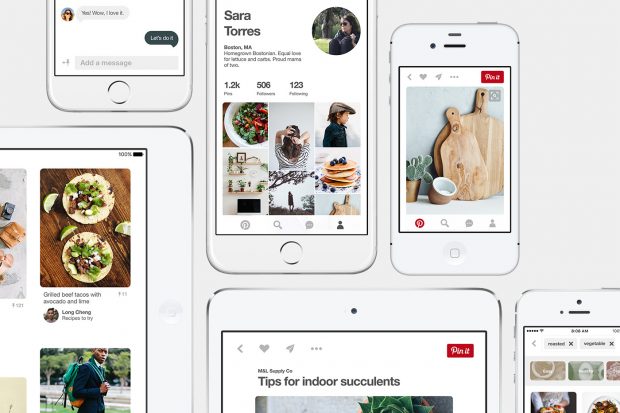 YouTube
Support for 360 degree live streams
On April 18, YouTube rolled out support for 360-degree live streaming. Neal Mohan, chief product officer, explained: "What excites me most about 360-degree storytelling is that it lets us open up the world's experiences to everyone… What were once limited experiences are now available to anyone, anywhere, at any time." YouTube also launched spatial audio for on-demand YouTube videos. Mohan explained: "Just as watching a concert in 360 degrees can give you an unmatched immersive experience, spatial audio allows you to listen along as you do in real life, where depth, distance, and intensity all play a role." Android users can test out the feature with this playlist.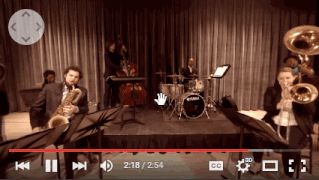 Redesigned Home feed
On April 26, YouTube introduced a redesigned Home for its app. The announcement blog post explained that Home would have "a clean and simple format that invites you to discover and enjoy." In addition to the fresh new look, YouTube has new personalized recommendations "to make it easier to discover videos you'll be excited to watch." The app's new recommendation system is based on deep neural network technology, "which means it can find patterns automatically and keep learning and improving as it goes." The new system will suggest more recent videos as well as ones from creators that users like. The updated is available on both iPhone and Android.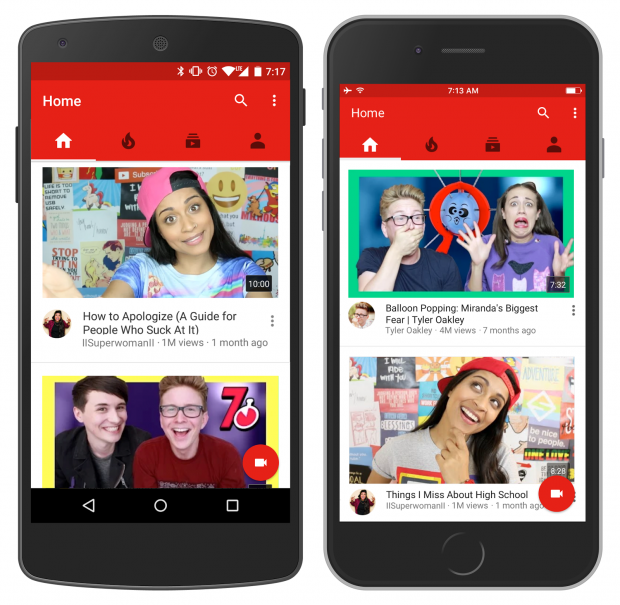 LinkedIn
Students App
On April 18, LinkedIn unveiled a new Students app. The app is "specifically tailored for soon-to-be college graduates." The app was designed to help students discover: jobs that fit their major, companies that tend to hire from their school, and career paths of recent alumni with similar degrees. It's available for iOS and Android in the U.S.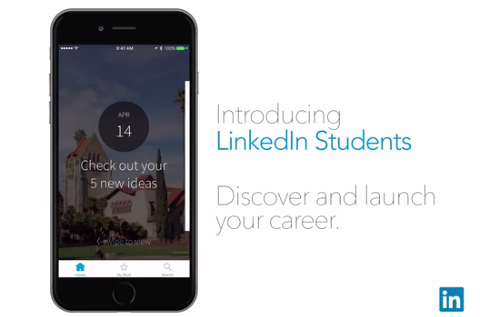 Hootsuite
Social video launch
On April 20, Hootsuite launched a new integration with YouTube and support for Facebook, Twitter, and Instagram video. Now Hootsuite users can approve, schedule, and publish native video to these four major social video platforms from one platform. Users can read, approve, delete, and ban YouTube comments. Additionally, they can access Facebook video analytics within the Hootsuite dashboard.
Snapchat
Video stickers
In an April update to the app, Snapchat added video stickers. The emoji stickers can be attached to a moving object in a video. They then move and scale in proportion to that object. Emoji stickers are available on Android and are coming soon to iOS.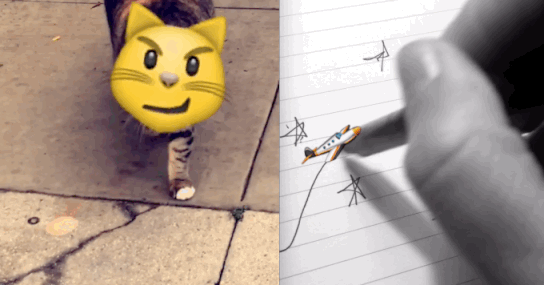 Keep up with all the latest social news by using Hootsuite to keep track of all the accounts you follow. Sign up for free today!