March is a month full of hidden delights (like candy eggs and hollow chocolate rabbits filled with jelly beans) and this month's social media news is no exception—ranging from updates that were right out in the open to ones that took a little hunting to find.
You've probably heard that Instagram's planning to test an algorithm-based timeline and that they've increased video length to 60 seconds. But did you know that Pinterest launched how-to Pins and Twitter introduced the ability to add alt text to images attached to Tweets?
Rather like the delicious chocolate eggs you've probably already devoured, this handy news roundup—featuring updates from all the biggest social networks—is meant to be consumed in one sitting.
Twitter
Explore links within Moments
On March 9, Twitter announced that it was making it easier to explore links within Moments. Andrew Fitzgerald, Moments curation team lead, explained in a blog post: "You can tap a link to a news article, blog, recipe, and more—directly from a Moment." He added: "People can now dive deeper into publisher content found in Moments, and publishers can continue telling their stories on their own websites, all while also accessing Twitter's global audience. This expands possibilities for storytelling on Twitter, while providing more context for people."

Windows 10
As of March 16, Twitter made itself available on Windows 10 mobile. They added features to make content discovery—as well as public and private sharing—easier. On Windows 10 desktop and tablets, Twitter has also added "one of the most requested features": dark theme. This is available in "Settings" under "Personalization."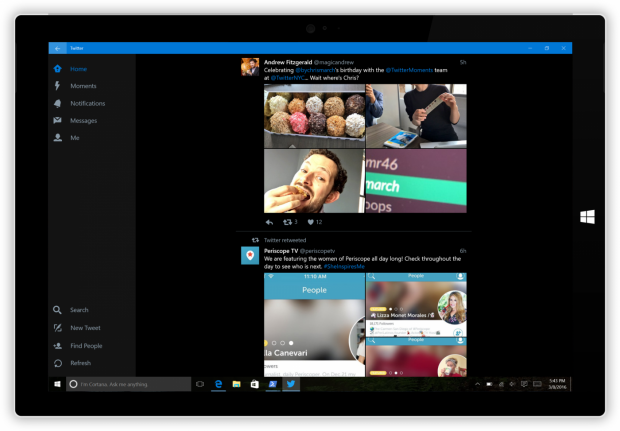 Seamless log in
On March 17, Twitter introduced a more seamless login experience. Now users that are logged into twitter.com or analytics.twitter.com no longer need to log into TweetDeck separately. In the future, Twitter will no longer support the standalone Windows app for TweetDeck. Users will still be able to visit TweetDeck on the web. The change will be rolled out "in the coming weeks."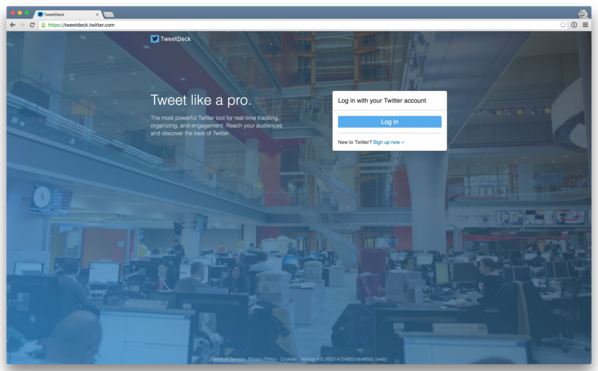 10th anniversary
Twitter celebrated its 10th anniversary on March 21. The micro-blogging platform observed the occasion by sharing a Tweet featuring memorable moments, adding heart and bird emoji to the hashtag #LoveTwitter, sending thank you emails to all users, and doing a roundup of 10 ways that Twitter changed marketing.
Starting in ?? on 3/21 and moving across the ?, we thank you for 10 incredible years.

Love, Twitter#LoveTwitterhttps://t.co/pH4WWdgK6q

— Twitter (@twitter) March 20, 2016
Accessible images
On March 29, Twitter announced they'd be offering the ability to add descriptions to images in Tweets. Now people using Twitter's iOS or Android apps can add alt text whenever they upload an image along with a Tweet. Users can enable the feature by using the compose image descriptions option in the Twitter app's accessibility settings.
Once the feature is enabled, when the user adds an image to a Tweet, each thumbnail in the composer will have an add description button. Simply tap to add alt text. These descriptions can be up to 420 characters. People who are visually impaired will have access to the the alt text descriptions through assistive technology, such as screen readers and braille displays.
Todd Kloots, staff engineer, explained: "We're excited to empower our customers and publishers to make images on Twitter accessible to the widest possible audience, so everyone can be included in the conversation and experience the biggest moments together."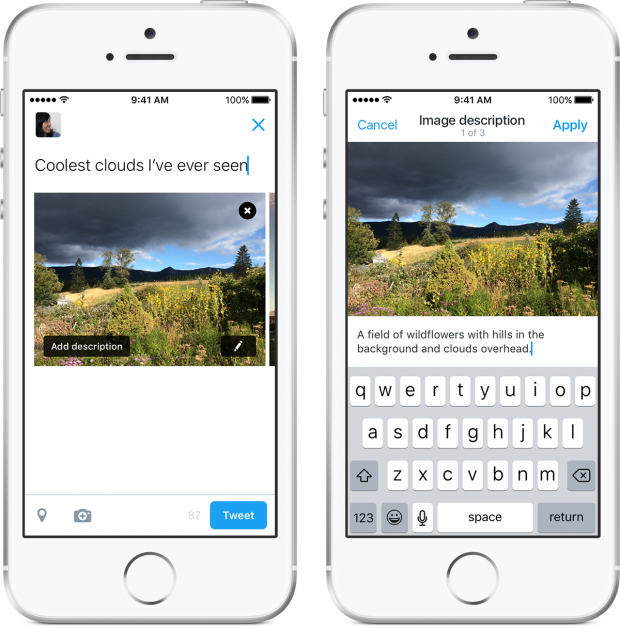 Facebook
Messenger Android Materials redesign
On March 7, Facebook began rolling out a redesigned Messenger app for Android, TechCrunch reported. The updated app has been given a Material Design-style makeover, including a bright blue navigation bar at the top of the screen, with buttons to access chat, groups, settings, and more. In place of a bottom blue bar, the Messenger app for Android now features a floating action button at the bottom-right of the screen. When selected, this button accesses common actions such as search, adding contacts, making a call, writing a message, etc.
If you're using Messenger on Android, you've been wanting a brand new material design for a bit. Any major redesign of…

Posted by David Marcus on Monday, 7 March 2016
WordPress Instant Articles plugin
Less than a month after announcing it'd be opening up Instant Articles to all publishers, Facebook introduced a new WordPress plugin for Instant Articles. In an announcement blog post Chris Ackermann, partner engineering, explained that the plugin "simplifies the process of generating and publishing Instant Articles from WordPress. Since WordPress powers 25 percent of sites online, the plugin will make Instant Articles more accessible for many publishers. The plugin includes a built-in suite of interactive tools like expanding images, native autoplay video, as well as social and interactive graphic embeds. It's open source. WordPress published an FAQ about the plugin.
Live Video notifications
In mid-March, Engadget reported that Facebook would soon roll out a feature that allows users to turn off notifications for Live Video, which launched earlier this year. Users currently receive notifications whenever a brand they follow or a friend starts a live broadcast. Facebook told Engadget: "We know people want more control over the live notifications they receive, so we're working on improving this experience. We are starting to roll out a new setting that lets people turn off all live notifications through their Notifications settings, that will be available to all people soon."
Testing Topics
In mid-March, Facebook began testing a feature that allows users to assign a "topic" to posts they upload, similar to hashtags, Marketing Land reported. So far, the ability choose a topic only applies when users edit an existing post, not when they create a new one. A Facebook spokeswoman confirmed the test to Marketing Land: "People have told us they'd like more options on Facebook to see and have conversations about specific topics they're interested in. So we're testing giving people the option to choose a topic tag for the type of post you're sharing." This feature maintains post privacy settings, according to Marketing Land.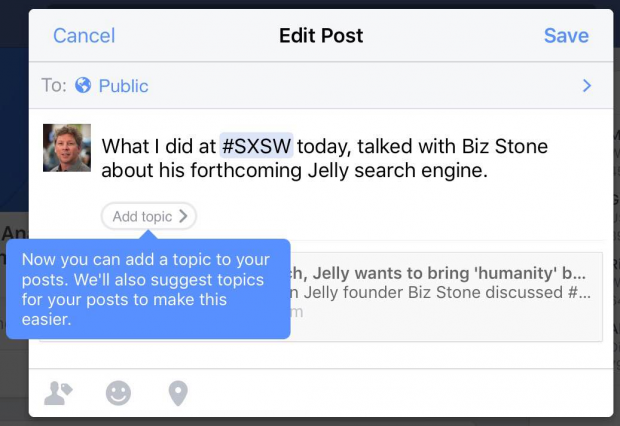 Support for video ads in Instant Articles
On March 31, Facebook introduced video ads to Instant Articles. Engadget explained: "It's a move to show that the format can be as flexible and, more importantly, as monetizable as the rest of the web." Engadget added: "Video ads are, therefore, a move on Facebook's part both to bring publishers on side and also to increase its own advertising business. It could prove to be a valuable revenue stream." Support for animated ads and 'click to play' video is available immediately. Autoplay video ads will be available in the coming weeks.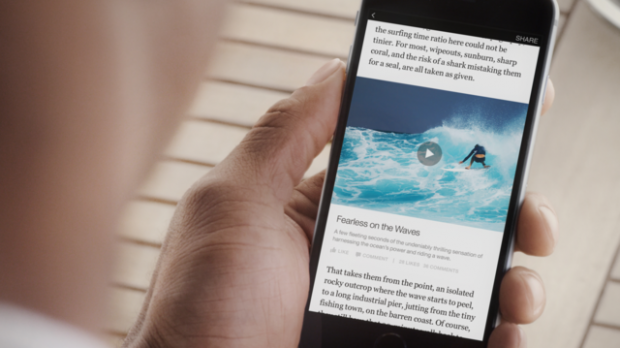 Instagram
Displays post date
Earlier this month Instagram began displaying the date when a photo or video was uploaded, Mashable reported. Previously, Instagram had informed users about upload dates using the much less precise measure of how many weeks ago a post was uploaded.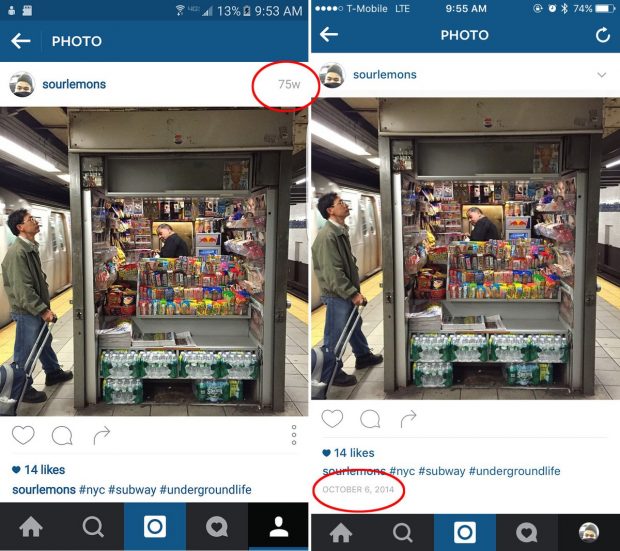 Comments
On March 4, Instagram made a small change to their code reducing the number of comments sent to users. The change optimized performance and improved the user experience, reported VentureBeat. Now Instagram shows users three comments in-stream by default. Previously the app would send up to 20 comments to users, a feature that was intended to make the "View all comments" screen load faster. But the engineering team determined that the trade off didn't make sense.
Clark Gredoña and Linji Yang explained the update in a blog post: "Media are viewed more commonly than their comments, and we should optimize for the common case." Since the change was made, user profile scrolls have gone up 2.7 percent.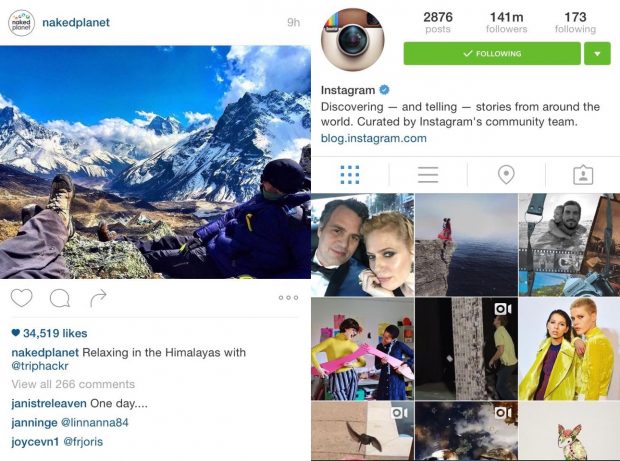 Algorithmic timeline
On March 15, Instagram announced that they'd be introducing an algorithm-based timeline. The photo-sharing platform estimates that people miss on average 70 percent of their feeds.
"As Instagram has grown, it's become harder to keep up with all the photos and videos people share," the announcement post explained. "This means you often don't see the posts you might care about the most. To improve your experience, your feed will soon be ordered to show the moments we believe you will care about the most."
Instagram says their algorithm will be based on the likelihood users will be interested in the content, their relationship with the person posting, and the timeliness of the post. The post added: "As we begin, we're focusing on optimizing the order—all the posts will still be there, just in a different order." Instagram's algorithm-based timeline will roll out "in the coming months." The Instagram for Business blog post added: "We'll let you know when this change is rolled out to our global community." In predictable fashion, many social media users are in a panic over the change.
How would you feel about Instagram switching to an algorithmic feed?

— Mashable Tech (@mashabletech) March 15, 2016
60 second videos
On March 29, Instagram announced that they'd be rolling out the ability to post 60 second videos. Just last month, the photo-sharing platform made waves when it announced that it'd be increasing video run time for ads to 60 seconds. In their announcement blog post, Instagram explained: "In the last six months, the time people spent watching video increased by more than 40 percent. And longer videos mean more diverse stories from the accounts you love." This update began rolling out on March 29. Instagram said it would be "available for everyone in the coming months." Instagram for Business also shared tips on how businesses can use video on their blog.
Multi-clip video
In the same blog post where they announced 60 second video, Instagram quietly let people know that they'd be bringing back the ability for iOS users to make videos out of multiple clips from camera roll. Instagram explains how to use the feature in Help Center. Multi-clip video became available the same week as it was announced as part of Instagram for iOS version 7.19.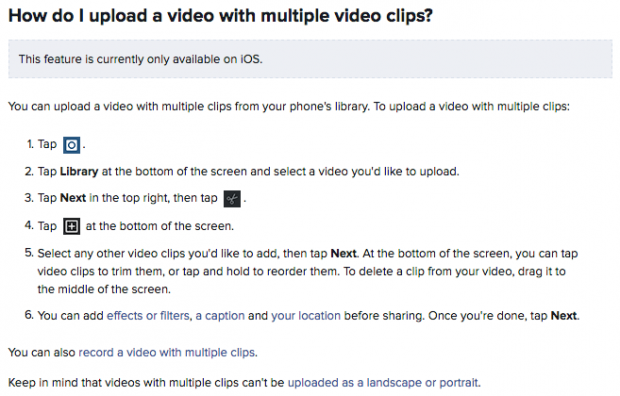 Pinterest
Ads Manager open to SMBs
On March 8, Pinterest opened the Pinterest Ads Manager to small and medium businesses in the U.S. Tim Kendall explained in a Pinterest blog post: "The Pinterest Ads Manager is a simple, do-it-yourself ads tool designed for small and mid-sized businesses. It includes a bulk editor, so businesses can manage more campaigns at once, and advanced measurement, so you can accurately track the impact of your Promoted Pins." Pinterest also rolled out new targeting options: interests, keywords, and customer database. They also enhanced conversion tracking so users can "track and optimize performance against revenue goals."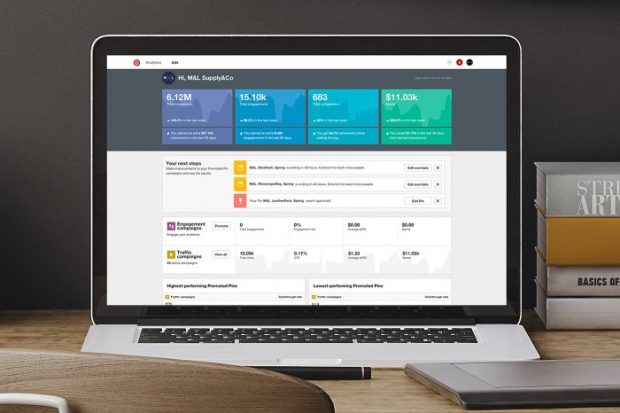 How-To Pins
On March 29, Pinterest introduced how-to Pins. The new rich Pin format includes information about what a Pin might be like to try, including materials needed and steps. Jason Costa, product manager, explained: "You'll see a snapshot of the steps right below the Pin image. You can also click or tap on any of the steps to get the full instructions and a list of supplies—without ever leaving Pinterest."
The new Pins have been launched with partners such as Brit & Co., Style Me Pretty, Greatist, Food.com, The Home Depot, and eHow. A Pinterest for Business blog post gives tips on how businesses can take advantage of how-to trends. How-to Pins rolled out on Android and web in the last week of March. Pinterest says they'll bring them to iOS "in the future."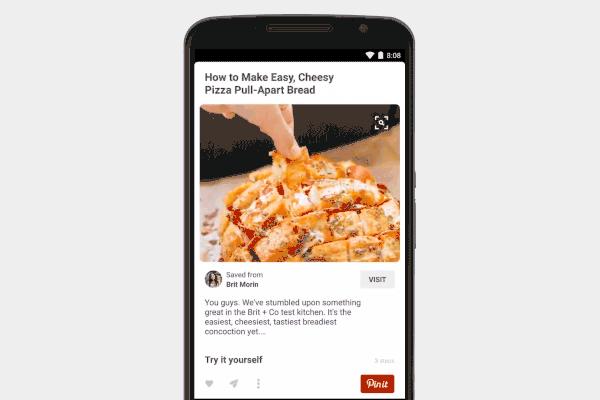 Hootsuite
ZeroFOX partnership
On March 17, Hootsuite partnered with ZeroFOX, a social media security company, to protect companies from threats on social media. With ZeroFOX for Hootsuite, users can protect accounts from brand impersonations, customer scams, fraud and malicious links; monitor accounts, hashtags, and brand assets as well as issue takedowns for malicious profiles and content; and automatically identify and remediate risks in a Hootsuite stream. Kevin Zellmer, vice president of business development at Hootsuite, explained: "Businesses can face real risks on social media, and they need solutions to help detect, respond, and resolve threats quickly and effectively. Today, we're teaming up with ZeroFOX to give our customers seamless access to a best-in-breed social media security solution and help them proactively address threats."
BIG NEWS: We have partnered up with @Hootsuite! Learn more here: https://t.co/hU0PHOG0p6 #SocialMediaSecurity pic.twitter.com/bNHDp3Kjxv

— ZeroFOX (@ZeroFOX) March 17, 2016
@Mentions
On March 22, Hootsuite launched @mentions. Now, when a user types '@' into the Hootsuite Compose message box it automatically performs a live search for Twitter and Instagram profiles and Facebook Pages. Simply select one from the drop-down list to tag that profile or Page in a message. This feature makes it easier for users to tag one another (and get the right handle) without going through the trouble of copying and pasting.

Sales Prodigy acquisition
On March 29, Hootsuite acquired Sales Prodigy, a mobile app built to help sales organizations tap into social selling opportunities. Matt Switzer, vice president of corporate development at Hootsuite, explained in a press release: "Many organizations have invested in social marketing and social support, but there's a big gap in the market for social selling solutions, and we want to address it. Companies like Palms Hotel and Marketo already use Hootsuite as part of their lead generation efforts. With the addition of Sales Prodigy, we're bolstering our platform to better align with our customers' needs for social selling." Sales Prodigy was previously part of the Hootsuite App Directory.
Hootsuite acquires @sales_prodigy to revolutionize social selling: https://t.co/jfldqYS6GP pic.twitter.com/2HaU9QG5ql

— Hootsuite (@hootsuite) March 29, 2016
Snapchat
Chat 2.0
On March 29, Snapchat introduced Chat 2.0. The ephemeral messaging platform's newly updated chat now features audio and video calls, audio and video notes (video notes are maximum 10 seconds and loop like GIFs), the option to send multiple photos at a time, the ability to send photos during an audio or video call, drawing, and over 200 stickers. In their announcement blog post, Snapchat explained: "What we love most about the new Chat is how easily you can transition between all these ways of communicating—just like you do in person." TechCrunch goes into more detail about all of the new Chat options. On the same day, Snapchat also rolled out Auto-Advance Stories. After a user finishes watching a Story, the next one will play automatically. Users can swipe to skip ahead or pull down to exit.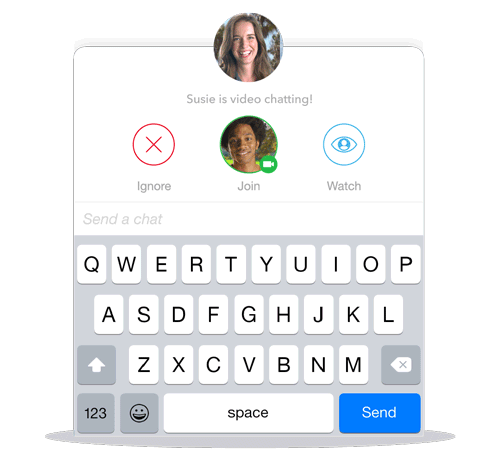 Tumblr
Replies
On March 28, Tumblr brought back Replies. The feature now lets users reply to a post multiple times, reply to their own posts, see all of a post's replies in one place, and decide who can and can't reply to their posts. Tumblr explained in their announcement blog post: "All that adds up to being able to talk about a post, right inside of a post, even as it travels from Tumblr to Tumblr. So, starting with posts created today, you'll see a new notes view to help you follow that conversation." Tumblr offers more details on Replies and notes in their help docs.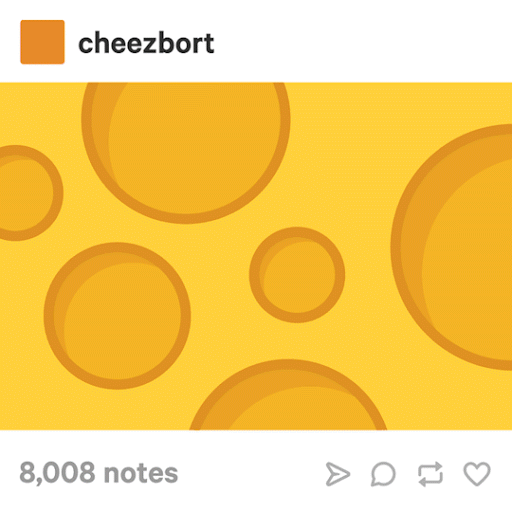 Periscope
1st anniversary
On March 26, Periscope celebrated its first anniversary. The livestreaming app marked the occasion by releasing some stats; over 200 million broadcasts have been created on Periscope and over 110 years of live video are watched every day on iOS and Android (not including time spent watching broadcasts within Twitter, on the web, or replays). In a blog post, Periscope wrote: "For everyone who joined us along the way, we hope this reaffirms that you are a part of something bigger. Thank you for making Periscope a vibrant global community—it means everything to us."

Keep up with all the latest social news by using Hootsuite to keep track of all the accounts you follow. Sign up for free today!