Top 10 Twitter Trends of the Week by Ad Age and HootSuite (USA), Volume 67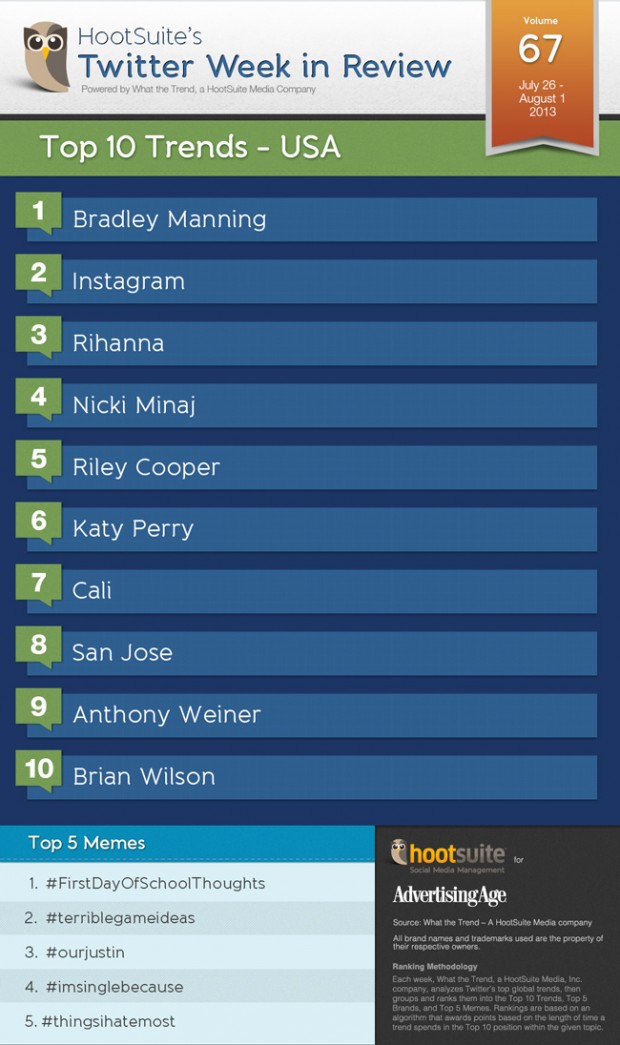 While many of this week's USA Twitter trends discussed celebrity slip-ups, false endorsements and lawsuits, our number one Twitter trend could change America forever.
#1: Bradley Manning
Bradley Manning is a US soldier who was arrested in May 2010 in Iraq on the suspicion of leaking classified US military information to WikiLeaks. After 3 years in jail, Manning stood before a judge this past week in a dramatic trial that could land him to up to 136 years in military prison. He awaits sentencing but military judge Denise Lind found him guilty on 20 offenses under the Uniform Code of Military Justice including the theft of five U.S. government databases, six violations of the Espionage Act, and one violation of the Computer Fraud and Abuse Act.
Manning wasn't, however, charged with the most serious of them all: aiding the enemy. Prof. Yochai Benkler, co-director of the Berkman Center for Internet and Society at Harvard Law School explained that by finding Manning guilty of aiding the enemy after disclosing sensitive information to the public, people would no longer be willing to put forward information and it "would severely undermine the way in which leak-based investigative journalism has worked in the tradition of [the] free press in the United States." Thousands are protesting Manning's charges, especially of espionage, saying that the young man (25-year-old) was whistleblowing information that should be known to the public. "Bradley Manning's alleged disclosures have exposed war crimes, sparked revolutions and induced democratic reforms," WikiLeak's Julian Assange said from the embassy. "He is the quintessential whistle-blower."
#2: Instagram
While Instagram naturally trends as Twitterers share their instapics, Syria's president Bashar al-Assad has news sources buzzing after he set-up an Instagram account last week. Last month the UN named the situation in Syria the worst humanitarian crisis in nearly 20 years, with tens of thousands of casualties and refugees fleeing the war-torn country. Syrian remains divided as combat continues between pro and anti-government forces.
The president's Instagram photographs include he and his wife Asma greeting citizens, shaking hands with military, hugging children and visiting the sick in hospital. Many have voiced concerns that Assad's business-as-usual Instagram account may only make matters worse.
#3: Rihanna
Now here's an interesting trend. Pop culture icon and singer Rihanna won a case in London against fashion chain Topshop, which was selling t-shirts with her image on it without her approval. Rihanna argued that because she is a global style icon, many fans will buy a product because they think she's endorsing it and because her face adds value to the product.
While the judge ruled in her favor saying that Topshop deceived its customers, Topshop doesn't see it that way. Topshop's owner, Arcadia Group Brands Ltd., argued that Rihanna won over a flawed assumption that only a celebrity could market a product bearing his or her image.
#4: Nicki Minaj
Also trending in the entertainment world, DJ Khaled proposed to pop star Nicki Minaj with a $500,000 engagement ring on MTV. But, it turns out it was a "fake" proposal meant to "bring some excitement for my fans and connect with the record," said DJ Khaled. Apparently he wanted to tap into the emotion of the record and "really spread a message." "We be so busy making these big hits and I wanted to come with a dope plan to present the next smash single besides just giving it out." Well, a fake proposal sure was a dope plan.
#5: Riley Cooper
Speaking of celebrity slip-ups, Philadelphia Eagles receiver Riley Cooper trended on Twitter for all the wrong reasons. In a video that went viral, Cooper's seen yelling a racial slur while looking agitated at a Kenny Chesney concert in Philadelphia. The team announced last Friday that Cooper has left the Eagles to undergo counseling. He told the press that he's "so ashamed and disgusted with myself… What I did was wrong and I will accept the consequences."
#6: Katy Perry
Instead of just publicly announcing the name of Katy Perry's immensely anticipated third album, she plastered it across a giant golden semi-truck. Driving around LA on Monday was Perry's golden truck with "Prism" written in massive letters. Naturally, fans went wild and chased after the truck to snap a pic. Katy Perry subsequently trended on Twitter as fans discussed "Prism," which hits the shelves on October 22.
#7: Cali
While young Californian Twitterers had their summers in Cali trending, it was actually Cali, Colombia that made a splash this week in the news. The 2013 World Games have been drawing tweets as fans discuss highlights and the traditional (and not-so-traditional) sporting events that are taking place.
#8: San Jose
Looks like bubblegum boy band One Direction visited San Jose this week and had the city trending as 1D fans tweeted out pics and hearts to show their love.
#New Louis and Harry at TMH concert in San Jose- 30.07.2013 pic.twitter.com/S63Z0194NM

— Best Song Ever (@OneDirection_UK) August 1, 2013
#9: Anthony Weiner
Trending for a few weeks in a row, is the NYC Mayor electorate candidate Anthony Weiner. After learning about his many accounts of indecent behavior (namely "sexting" with several women while in Congress and apparently even after he resigned), Weiner's spokeswoman Barbara Morgan stirred the pot even more this week. She called Weiner's ex-intern a less-formal term for promiscuous (amongst other things) in a tweet and an interview that she didn't realize was on-air. When asked if Barbara was still on his political campaign, Weiner replied "you bet." At least they're compatible.
Morgan then tweeted this image, a (sort of) mea culpa: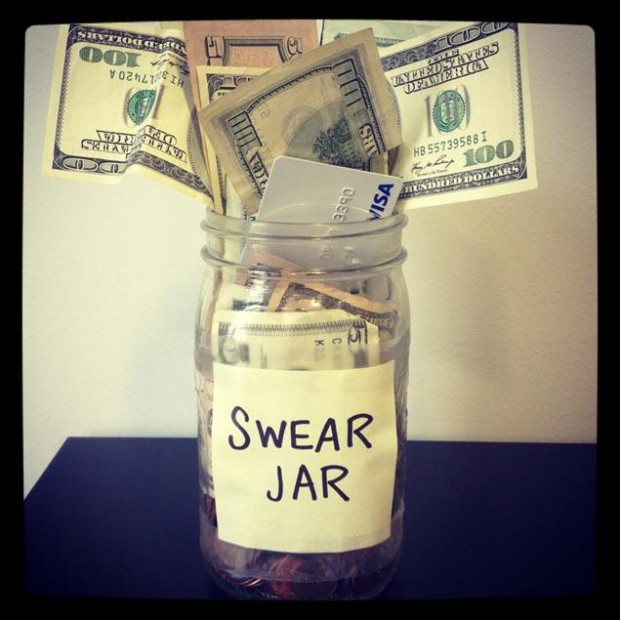 #10: Brian Wilson
While this trend really has nothing to do with American singer Brian Wilson, the pro baseball player bearing the same name does "bear" a resemblance… Ex-San Francisco Giants professional baseball player, Brian Wilson, just signed a one-year, $1m deal to play for mega-rivals the Los Angeles Dodgers this week. He spoke with paparazzi and expressed his excitement to be playing ball again. Thousands of Giants fans took to Twitter to call him a "trader" (bad spelling or play on words?) and to discuss his massive "homeless" beard.
So this is awkward. #SFGiants #Dodgers

— Brian Wilson's Beard (@BeardOfBrian) July 30, 2013
Check out what trended globally on Twitter trends.
Follow the trends, try HootSuite for your social media management.