Top 10 Global Twitter Trends of the Week ~ Volume 68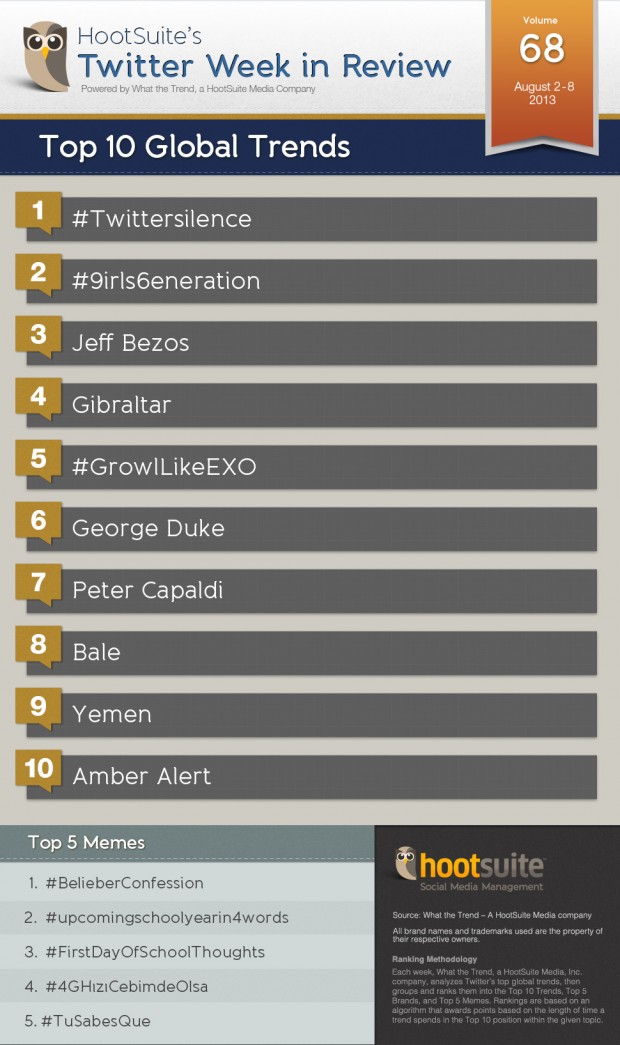 #Twittersilence
There has been an unfortunate rash of violent, sexist and abusive trolling on Twitter, and thousands around the globe are taking notice. Caitlin Moran, a well-known British feminist writer, spearheaded a symbolic day of "Twitter silence" last week in protest of threats that many high-profile UK women received after suggesting Jane Austen be on a £10 note. The debate then became a frenzy after historian Mary Beard received a tweeted bomb threat on August 6th. This sent Twitterers into a #Twittersilence to boycott the site's slow response in dealing with abusive social media trollers (the recent majority aim threats at women).
Many people are boycotting the Twitter silence (boycotting a boycott), saying that opinions and voices need to be heard, arguing that complaints about online threats to women shouldn't be silenced, but rather amplified. This is a serious issue, so we will withhold our jokes about the irony involved when a proposed Twitter silence trends in the #1 spot on Twitter. Twitter has stepped up security and is making some changes to reporting features, and some arrests have already been made for the Tweeted threats, but the problem is much bigger than any quick-fix solution.
Well-behaved women rarely make history. Silent women sit on the sidelines & let others write history for them. NO to #twittersilence .

— Michelle Malkin (@michellemalkin) August 4, 2013
#9irls6eneration
Korean bubble gum girl group Girls' Generation recently celebrated their sixth year together since their debut. Several of the girls mentioned the day on their personal social profiles, making their hashtag #9irls6eneration trend globally for the day.
Let's join 76.9M others by watching this music video:
Jeff Bezos
"Well, this is unexpected" tweeted a Washington Post reporter this week after learning the paper was sold on Monday. After four generations in the Graham family, the Washington Post newspaper was bought by Amazon.com founder and chief exec Jeff Bezos for $250 million (U.S.). This number is about one quarter of what social media sites Instagram or Tumblr sold for. That being said, this age-old giant could (clearly by the low price tag) use a fresh start and perhaps Bezos is the answer. Bezos assures that the Washington Post will have nothing to do with Amazon and will continue business-as-usual, but with a fresh face.
Despite the price tag, this is huge news. The paper has been passed down from generation to generation through the Graham family for 80 years. This sale not only represents a new era where wealthy old families no longer own everything, but also the struggle that traditional media has going into the future.
Our own CEO Ryan Holmes has already added his insights on the sale, in a post that appeared in Fortune entitled "Can Social Media Fix the Washington Post? 5 Hacks for Jeff Bezos."
Gibraltar
Tensions have strained over the last few weeks between Spain and Britain over Gibraltar. British Prime Minister David Cameron has telephoned the Spanish Prime Minister Mariano Rajoy to discuss the border controls on Gibraltar. The call followed a formal protest from Britain's ambassador to Spain over what were described as "disproportionate" border checks. Mr Cameron said Spain is committed to reducing controls at the Gibraltar border, which has seen hour-long queues in recent days. The First Minister of Gibralter, Fabian Picardo sides with Cameron saying that Spain "uses the queues whenever she wants to put pressure on Gibraltar" and described Spain's response as "poppycock."
#GrowlLikeEXO
EXO is a famous Korean Idol Music Group consisting of 12 members – their fanclub is called EXOTICS and they are pretty fanatical indeed. Growl is the group's new single. Formed in 2011 in Seoul, South Korea, Exo comprises twelve members separated into two subgroups, Exo-K and Exo-M, performing music in Korean and Mandarin, respectively. These smart boys produced two versions of Growl, one in Chinese and one in Korean. Both have several million YouTube views.
George Duke
Jazz icon George Duke, a Grammy-winning keyboardist who crossed musical boundaries to play with entertainers as diverse as Michael Jackson, Frank Zappa and Miles Davis and who became a successful producer of pop-oriented rhythm-and-blues records in the 1980s, died Monday in Los Angeles. He was 67. The cause was chronic lymphocytic Leukaemia, his family said.
Peter Capaldi
Peter Capaldi was announced as the next actor to portray The Doctor in the cult classic's next series of "Doctor Who." After the long-awaited announcement, fans of the cult show took to Twitter to talk about it. Let's pretend I made a clever Doctor Who reference here. Maybe we can fire up the Tardis and travel to some time in the future when I can think of one.
Bale
Sorry Batman, there's a new Bale grabbing headlines and trending on Twitter. Tottenham and Real Madrid have held a fresh round of talks over a proposed world record transfer deal for Gareth Bale, although the two clubs remain £18  million apart in their respective valuations. Bale has trended globally for two weeks in a row.
Amber Alert
The National Center for Missing and Exploited Children (NCMEC) issued an Amber Alert on Tuesday after James Lee DiMaggio allegedly abducted eight-year-old Ethan Anderson and 16-year-old Hannah Anderson from Boulevard, Calif. News1130 reported on Tuesday that DiMaggio may be on his way to B.C. or Texas.
Want to know what the trends scoop is for Twitterers state-side? Check our US Trends of the Week.