Top 10 International Twitter Trends of the Week, Volume 37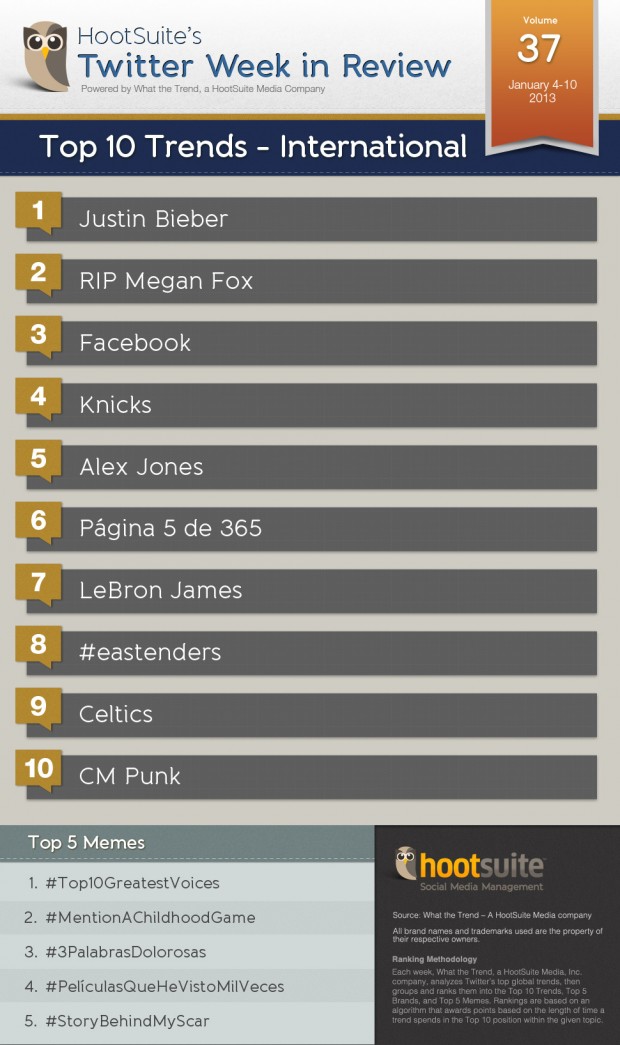 Ever Seen Justin Bieber…On Weed?
In addition to his usual barrage of fan tweets, Justin Bieber made headlines this week after TMZ released photos of him smoking marijuana. Bieber's people then blamed a rapper he was hanging out with, Lil' Twist, for being a bad influence on Justin.
RIP Megan Fox. Long Live Megan Fox. Just Not on Twitter
Megan Fox was the latest victim of Twitter death hoaxes this week. She responded by actually joining Twitter for the first time using the handle @MeganFox516. After spending 5-days on the social network and garnering 260,000 followers, she quit the Twitters.
Call Me Maybe, on My Facebook Phone?
Shares in social networking giant Facebook closed above $30 US for the first time since July on Wednesday amid speculation about an announcement next week. Many people are speculating about what the announcement might be, including a possible Facebook smartphone.
The Celtics' Anthony Wants to Take it Outside
The New York Knicks basketball team lost to the Boston Celtics in a game that saw Carmello Anthony get suspended. Anthony and Celtics star Kevin Garnett exchanged words during the game and were giving matching technical fouls. Then Anthony waited outside the Celtics locker room and bus to try and talk with Garnett after the game, earning him the suspension.
The Boston Celtics had a newsworthy week, beating the Knicks in a controversial game that saw Knicks star Carmello Anthony suspended. Kevin Garnett was accused by Anthony of trash talking his wife, though he denies it. As a result, the Celtics grab the number 9 spot.
Alex Jones or Piers Morgan? Who Would You Deport?
American talk radio host, actor and filmmaker Alex Jones, a self-described Libertarian and arguable conspiracy theorist, appeared on the Piers Morgan show on CNN this week in a widely publicized interview that saw him yell and scream over the host and not answer questions for the majority of the interview. Jones, a gun lobbyist of sorts, feels that people should be arming themselves against an increasingly armed government and accused Morgan of trying to take away people's guns. Jones actually spearheaded an effort to have Morgan deported back to the UK and mimicked his British accent in the interview.
Watch part 1 of the interview:

Página 5 de 365
Twitter users have set the goal of living and enjoying each day of 2013. Translated from Spanish this tweet means Page 5 of 365, referring to the fifth page in this years calendar. Many users will mark accomplishments each day with a similar tweet. Page 3 of 365 also trended last week.
LeBron: It's Not About the Shoes; Mostly the Knee
James LeBron James is in the news for a number of reasons. He aggravated a right knee injury in a game last week. He also has new shoes on the market and sports analysts are generally talking about the best players in 2013 heading into the playoffs, a list that inevitably included James.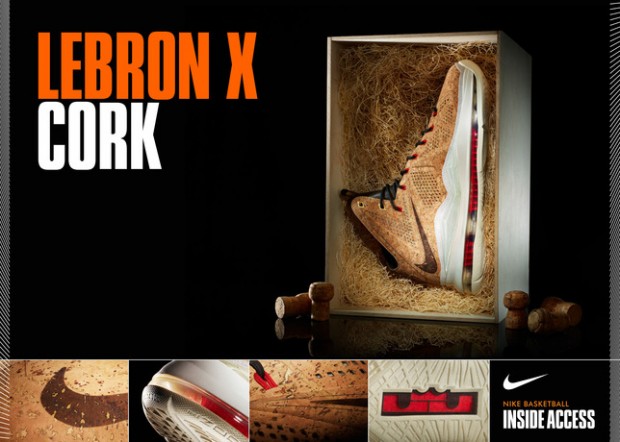 #eastenders Fans Watch their Stories, Tweet
#Eastenders is the hashtag of a British soap opera by the same name about the lives of the residents of Albert Square in East London. It has shown over 4,500 episodes since 1985.
CM Punk Wants to Smell What The Rock is Cooking
CM Punk and The Rock, two professional WWE wrestlers, had a verbal confrontation on Monday Night Raw this week. Fans seemed to enjoy the trash talk, trending it worldwide. The two wrestlers will meet in the Royal Rumble later this year.
The Rock is ready to rumble:
Join us next week for another look into the International Trends of the Week on Twitter.