Top 10 International Twitter Trends of the Week, Volume 46

This week's top International Twitter trends are far from surprising. To pass up discussing the Oscars, Google Glass and Titanic II would be like going down with the ship itself for many of our Twitterers. Let's dive in.
Oscar Buzz
#Oscars2013, need I elaborate? The 2013 Academy Awards were held on Sunday night and generated a reported 8.9 million Oscar-related tweets during the event, averaging out to over 80,000 tweets per minute (tpm = social speed). Everything from the red carpet best dressed and major faux-pas, to Seth MacFarlane's hosting job, the night's big winners, losers and trip ups were rampantly discussed on Twitter.
Big wins? Ben Affleck surfaced from the mediocre, landing himself another Oscar as Director of the Best Picture for Argo. Daniel Day-Lewis swooped at best actor for his powerful performance in Lincoln and Jennifer Lawrence won best actress for her rebellious but compassionate role in Silver Linings Playbook. Meanwhile, a personal favorite – Christoph Waltz kept the audience on the edge of their seat (as always) as best supporting actor in Django Unchained. And last but not least, sweet Anne Hathaway in her breakaway supporting role as Les Misérables' prostitute.
Google Safety Googles?
Trending for the second straight week is Google Glass. Last week Google unveiled the first demo video of its much-awaited Google Glass eyewear, dubbed the future of "wearable technology" and seen as major growth area for hardware makers in 2013 and beyond. Whether some people are slower to discover and discuss or not, people everywhere are still discussing this piece of technology.
Missed last week's Trends of the Week? Check out this video of Google co-Founder Sergey Brin's wife wearing Glass to the Oscars:
With just one quick voice command "OK Glass," you have the world at your fingertips. Create a video, text or call someone, take a photo and share it with your social networks or across Skype with your friends abroad. All this can be yours, as long as you're connected to wifi. According to one article, "getting decent battery life out of a cell-connected Google Glass would probably require that it become Google Safety Goggles, with a battery pack attached to the strap running around the back of the wearer's head." Google Safety Goggles doesn't hold the same ring, does it?
One Way Ticket to the Bottom of the North Atlantic?
Titanic II isn't a sequel block-buster film, yet. Believe it or not, it's a planned ocean liner, to be built as an exact replica of the Olympic-class RMS Titanic. Ironically, they too say it is unsinkable. Perhaps for thrill seekers wishing to tempt fate and superstition, the project was announced by whom other than extravagant Australian billionaire, Clive Palmer.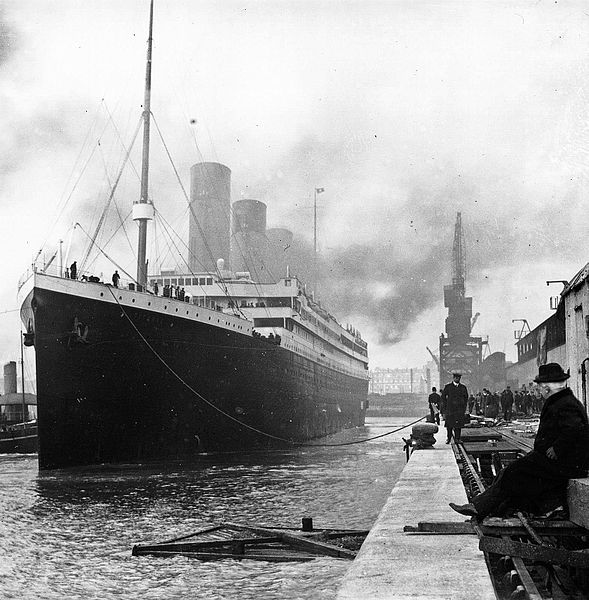 The Titanic II will be the flagship of his well-known cruise company Blue Star Line. The intended launch date is set in 2016 and the ship will set sail on the exact course from Southampton to New York that same year. If that isn't enough, why name a ship after another that sunk on its maiden voyage? Isn't ship naming is a superstitious practice? Clearly, this news has people buzzing. Would you book a ticket on Titanic II?
French Political Television
Trending internationally this week is #dpda, which stands for "Des Paroles et Des Actes" (Words and Actions), a French political television show hosted by David Pujadas. On February 21, their featured guest was the leader of the National Front party, Marine Le Pen. On the show she discussed the future of the party and its development, while tackling controversial subjects like her support for increased prison spaces and her support for gay marriage. As an important leader in France, this episode featuring Marine Le Pen received substantial Twitter discussion.
Mighty Ducks
In addition to regular Twitter chatter about various tv shows on A&E, Jimmy Kimmel Live was highly discussed this week. English singer and animal rights activist Morrissey abruptly pulled out of performing on Jimmy Kimmel in protest his fellow guests who were the duck-hunting stars of the A&E reality hit 'Duck Dynasty.' The move was widely discussed on Twitter, as was Kimmel's cheeky response tweet to Morrissey:
note to Morrissey – if you have more dumb statements to make, I invite you to make them where I do, on my show twitter.com/jimmykimmel/st…

— Jimmy Kimmel (@jimmykimmel) February 27, 2013
Silver Lining of Acting
Jennifer Lawrence won best actress at this year's Oscars for her role as a recovering sex addict in the film Silver Linings Playbook. She was widely discussed not only for her big win, but also for her small trip up on the way to the stage, a comical backstage interview and a funny encounter between her and Jack Nicholson… Let's watch it again:
Stay tuned for more fun trends next week. Not ready to get back to work? Check out this week's USA Twitter trends.