Top 10 Global Twitter Trends of the Week, Volume 61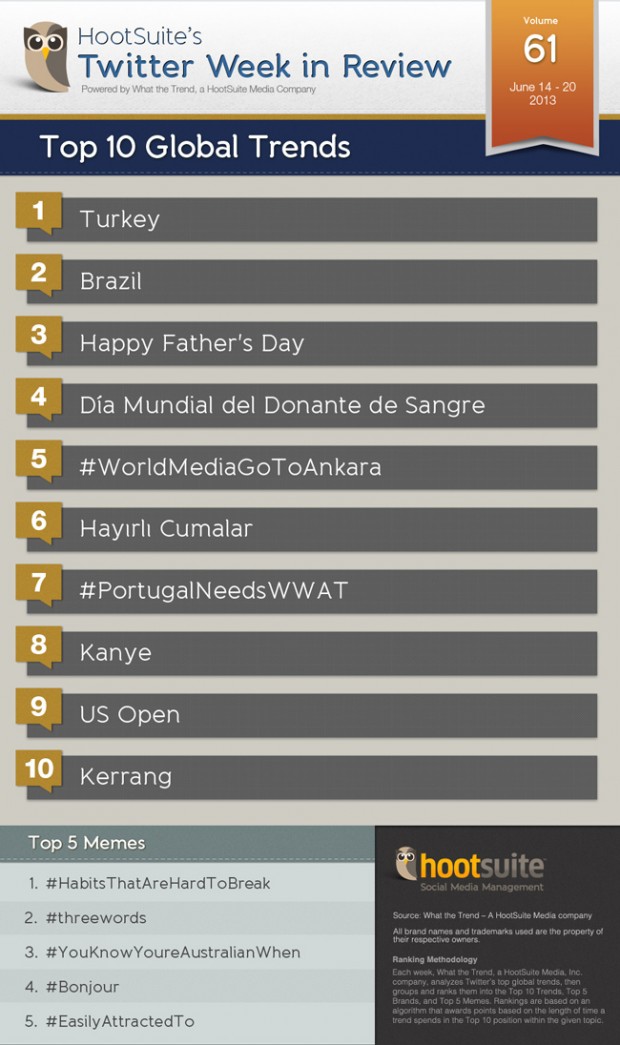 As massive country-wide protests plague Turkey and Brazil, multiple hashtags rose to the top of global Twitter trends. Social media has a history of aiding protests and unrest by providing open channels for communication with each other and the world. Here's what the people had to say this week in our global Twitter trends:
Turkey's Social Protests
The global Twittersphere was absolutely dominated by hashtags and mentions of Turkey's recent protests. The country's unrest began in late May when a small sit-in over plans for a Turkish park that included adding a shopping mall. This drew the attention of protesters with wider anti-government agendas, who say the Turkish government is too authoritarian. Over the last few weeks, tensions have been building between police and citizens, as police crackdown intensifies.
Protesters were banned from Gezi Park, but in recent news, there has been a new wave of peaceful protests in local parks throughout Istanbul. Citizens are hoping that they can take control of their public spaces and talk about what they want for their country's future. Although united in wanting change, some argue that they're not united in the changes that they want to make. BBC News says that "this is more of a social movement than a revolution driven by politics or politicians." The old ways of governing Turkey no longer suit the new generation that's coming of age.
One thing has changed during the social protests against the government: people and critics are no longer afraid to speak out against the Prime Minister on social media or in the streets. The hashtag, #WorldMediaGoToAnkara refers to people tweeting the media to go cover the story in Ankara,Turkey. Likewise, Hayırlı Cumalar, means "have a good Friday" in Turkish.
Brazil's Largest Unrest in Over Two Decades
Just like in Turkey, Brazil's country-wide protests began two weeks ago over something relatively small (bus fare increases), but has escalated out of control as wider anti-government protesters joined in to voice their concerns. Unlike Turkey, Brazil's protests are picking up in momentum and violence.
The biggest demonstration so far took place this Thursday, nicknamed the "Million Man March," as more than a million people took to the streets in over 100 cities across Brazil. In Rio, over 300,000 people marched toward the City Hall. Police drove protesters back with tear gas and explosive rounds. Demonstrators in Rio and Sao Paolo lit fires as they clashed with police. Brazil's President Dilma Rousseff held an emergency cabinet meeting this morning to discuss the country's unrest.
Father's Around the Globe
On a lighter note, Twitterers are still chatting about their dads. After two weeks trending around the globe, Father's Day makes our twitter trends list yet again. Hopefully Tweens did more to celebrate than just tweet at their dads.
Día Mundial del Donante de Sangre
Spanish for World Blood Donor Day, June 14th was its 10th annual celebration, raising awareness of the need for safe blood and to thank donors. With the slogan "Give the gift of life: donate blood," the organization focused not only on saving a life, but also helping people live longer and more productive lives. This day is celebrated around the world, with events popping up everywhere from Africa to Spanish-speaking countries (hence the hashtag).
Did you know that 65% of blood transfusions in low-income countries are given to children under five years of age? Now you do.
#PortugalNeedsWWAT
No week of Twitter trends is complete without One Direction. These pop heartthrobs recently announced their "What We Are Tour" that will visit major cities across South America, UK and Ireland. The hashtag #PortugalNeedsWWAT, clearly refers to Portuguese fans wanting the boys to come to their country.
If nothing else, they have great accents:
Jeezus
Apparently, Kanye West thinks he is Jesus. But naming his recent album "Yeezus" doesn't make him the son of God. Twitterers around the world are talking up Kanye and Yeezus. What do you think of the new album?
Want to know what people were Tweeting about stateside?  Check out this week's USA Twitter Trends.