Top 10 US Twitter Trends of the Week by Ad Age and HootSuite, Volume 64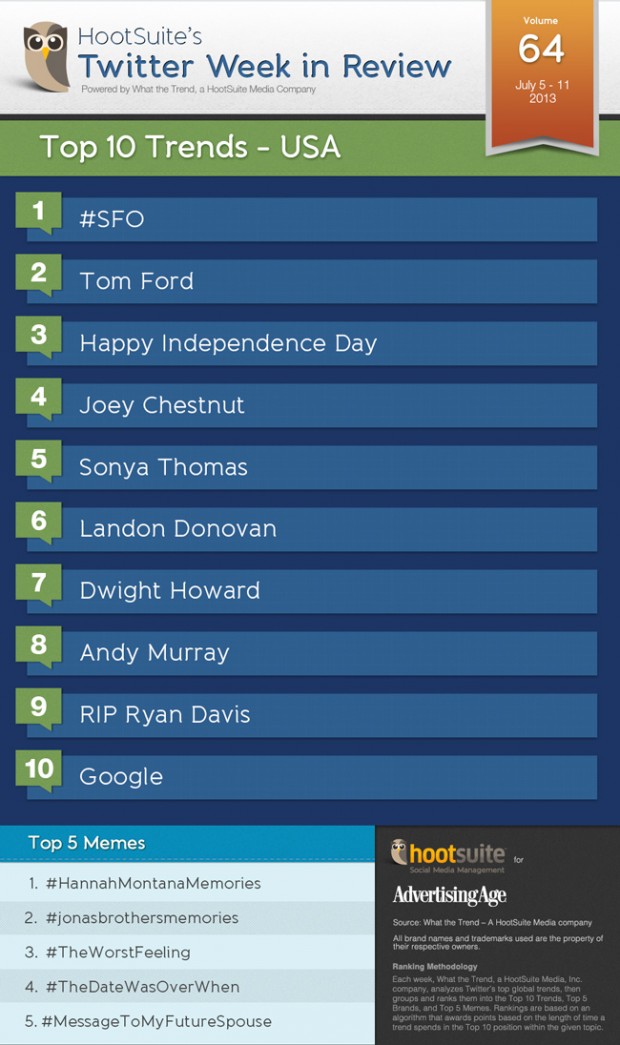 It's not everyday that a plane crash-lands and most live to tell the story. But mistakes happen, lessons are learned and heroes are made in the chaos. This week's Twitter Trends offers a snapshot into American heroism, both in disaster, sport and competition.
#1: #SFO
#SFO, which stands for San Francisco's Airport code became a Twitter trend after a plane crash-landed on the runway on Saturday. Twitterers were sending their love and support to all those involved, while amplifying the news and updates across Twitter. Asiana Airlines Flight 214 came in too low and too slow and clipped its tail-end on the airport's surrounding seawall. Sadly, two young passengers were killed in the accident and several others suffered minor injuries.
Emergency response teams first on the scene within minutes are being hailed as heroes. If not for them, the passengers may not have gotten off of the plane in time, before massive flames and black smoke ensnared. Many news sources are headlining why the flight attendants were told not to evacuate the plane right away.
But CBS News aviation consultant Capt. Chesley "Sully" Sullenberger, the pilot of the 2009 "Miracle on the Hudson" plane crash said that the flight attendants were following their training, which is "to contact the cockpit and ask for direction." It wasn't until the attendants saw fire that they were allowed to start evacuating passengers. We have recently learned that this was the first time the pilot landed in San Francisco, which is a notoriously difficult runway to land on.
#2: Tom Ford
People have been name dropping their favorite designer labels since the dawn of time. But what's special about Gucci and Tom Ford fashion house designer, Tom Ford, is that he had a song named after him by Jay Z. And this isn't the first of Jay Z's songs to rep the brand. His and Justin Timberlake's song "Suit & Tie" is about Tom Ford's suits and ties. They do look sharp in them though.
This name drop went far from unnoticed. Tom Ford said in an interview that his "favorite line is 'I don't pop Molly, I rock Tom Ford.'" "I love that he gets a 'high' from my clothes," says Tom.
#3: Happy Independence Day
Need I say more America? Happy (belated) Independence Day.
#4: Joey Chestnut
And then there's this guy… Joey 'Jaws' Chestnut broke his own world record at Nathan's Famous Fourth of July International Hot Dog Eating contest in Brooklyn, where he ate 69 hot dogs and buns in 10 minutes. When I heard about this trend, I laughed. But apparently it's a massive deal and one of the largest eating competitions in the world. You learn something new everyday.
Anyone want a hot dog?
#5: Sonya Thomas
Our next trender, oddly enough was the female winner of Nathan's Famous Fourth of July International Hot Dog Eating contest. Sonya "The Black Widow" Thomas ate 36 1/2 hotdogs in 10 minutes – just three-quarters of a hot dog over Juliet Lee. If nothing else, the photographs from this event are priceless.
#6: Landon Donovan
Landon Timothy Donovan made an impressive return to the US National soccer team with a refined eye on the goal. During a friendly match preceding the 2013 CONCACAF Gold Cup Donovan scored two solid goals, pushing the United States 6-0 against Guatemala 6-0. U.S. Coach Jurgen told press that "we're happy that Landon picked up his rhythm and is part of the group again." "Goals certainly help. For any offensive player, that's the best recipe." Since then Landon told press that "America must win the Gold Cup." Perhaps he's got a lucky charm sitting on his shoulder.
#7: Dwight Howard
Last playing for the LA Lakers NBA team, Dwight David Howard recently became a free agent. But on July 5, Howard announced on his Twitter account that he was joining the Houston Rockets. The team's growing presence in the Western Conference threats Howard's previous team, the Lakers. Howards move has caused a stir, including with his old teammate Kobe Bryant, who publicly unfollowed him on Twitter. Because of salary caps, the Rockets are expected to complete other deals before they officially sign Howard. Tweet too soon?
I've decided to become a member of the Houston Rockets. I feel its the best place for me and I am excited (cont) http://t.co/h8WK4yP3zB

— Dwight Howard (@DwightHoward) July 6, 2013
#8: Andy Murray
Andy Murray won this year's Wimbledon men's match, becoming the first British men's Wimbledon champion in 77 years. By beating the world's number 1, Novak Djokovic, Murray shock off the quarter-of-a-century bad luck streak on Britain. This match was watched around the world by millions and of course, had Twitter buzzing as Murray humbly accepted his golden trophy.
#9: RIP Ryan Davis
Ryan Davis, video game journalist, podcaster and Co-Founder of news gaming site Giant Bomb, passed away this week. His online presence and influence over a tight-knit community of gamers became evident as thousands sent their condolences across social networks.
#10: Google
Google trended for a couple of reasons this week. On Wednesday, Google released an upgrade to its popular maps Android and tablets app, dropping the location sharing feature. Then on Thursday, Google+ released a redesign update to make the +1 feature visible for friends and family. Here's our take on the upgrade.
See ya later alligators.