Top Twitter Trends of 2012
What are the secret ingredients to the top international trends? Take global news, mix it together with a dash of mega-pop culture, a hint of politics and a slice of patriotism, and you've got your trends of the year. Let's take a look at our Twitter Trends of 2012, shall we?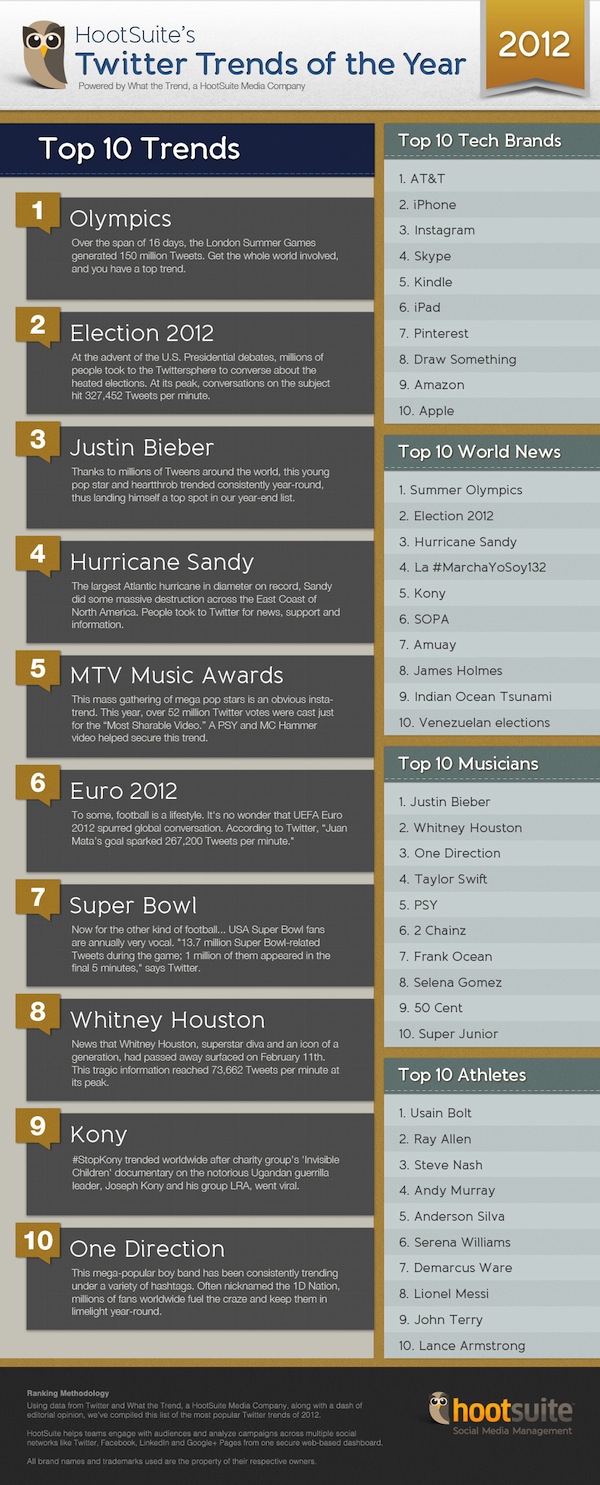 Top International Trends of 2012
Twitter dubbed this year's international trends as the 'Pulse of the Planet,' and they're exactly that. They ignite passion, craze and conversation on a global scale. During the Summer Olympics, countries battled it out like Titans and so, its subsequent twitter action is rife with patriotism. In fact, this same attribute applies to many of our trends.
Divided and United in Social
During the U.S. Presidential debates, millions of people took to social to discuss the heated elections and their political views. In fact, there was so much discussion that we created the Election Command Center to track the Elections 2012 via Twitter. The hashtags #Obama, #Forward and #Romney were flying around the Twittersphere, igniting conversations across the globe. At its peak, conversations about the election hit 327,452 Tweets per minute. Should the traditional saying, "no politics at the dinner table" apply to Twitter as well?
In a crisis, nations often act as one. Hurricane Sandy was one of those moments for the U.S. As the largest in diameter Atlantic hurricane on record swept across the East Coast of North America, people looked to Twitter for news, support and information. In the aftermath of Sandy's massive destruction, social became a channel for the world to help and send warm thoughts to those left in the dark (literally).
Top 10 Tech Brands
One topic almost guaranteed to trend amongst techies and average consumers alike, is new tech products. Upon every release of Apple products, such as the iPhone and iPad comes a major spike in Tweets that discuss the updates or product for better or worse. AT&T, one of the largest cellphone carriers in the U.S., has been named worse mobile carrier of 2012. Naturally, big tech brands will be under much public scrutiny, especially online. Likewise, brand announcements such as Skype integrating MSN users tend to spark global chatter.
So what happened to Draw Something? Social game 'Draw Something' was a mega hit for several months, sold for a million dollars at its peak and went belly up after its sale. Did it become a top Twitter trend during its reign or ruin?
Football as Religion
Not unlike the Summer Olympics, sports in which teams not only represent a country, but also its beliefs, customs and religions, tend to spark heated discussions. Football is one of those sports. This year, UEFA Euro 2012 spurred global conversation. During this final game, Spain's substitute, Juan Mata scored the final goal to beat Italy 4-0 and retain their title as champions of Europe. The goal sparked 267,200 Tweets per minute, according to Twitter stats.
And now for the other kind of football… Super Bowl trends annually and with good reason. Billions of dollars are poured into the extravaganza in advertising alone, but one look at the trends shows that fans heighten the event's promotion. "13.7 million Super Bowl-related Tweets during the game; 1 million of them appeared in the final 5 minutes," says Twitter. This does not include Madonna's halftime show in which fans Tweeted 108,077 Tweets per minute.
Popular Culture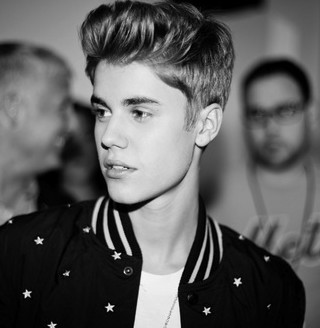 Thanks to millions of Tweens, Justin Bieber trended under all sorts of hashtags and abbreviations (OLLG?) year-round, thus landing himself a top spot in our charts. This young pop star battled it out in our 'Twitter Trends of the Week' with popular boy band, One Direction. Often nicknamed the '1D Nation,' millions of fans worldwide fuel the craze with thousands of different hashtags related to the five boys in the band. Let's not forget that along with young heartthrobs comes the onslaught of relationship rumors that stokes the trending fire.
The ultimate pop star event, MTV Music Awards is an obvious insta-trend. Not only is this annual event a mass-gathering of trending names, but also Tweens cast their votes for favorite stars via Twitter. This year, over 52 million Twitter votes were cast just for the "Most Sharable Video." Airing the super popular PSY and MC Hammer performance surely helped secure MTV as a top trend.
And then there's Whitney Houston. Need I say more? The passing of one of pop music's most beloved divas had a profound effect on her legions of fans. When news of her death hit the interwebs, the songstress was able to top the charts one last time.
Worldly Concerns
#StopKony trended after 'Invisible Children' charity group's documentary on the notorious Ugandan guerrilla leader, Joseph Kony and his militant group LRA, went viral. The Kony 2012 video, a 30 minute documentary, received 94 million YouTube views. At first, people Tweeted their opposition of Kony, but after controversial information surfaced, Tweets expressed concern over the motives of the charity founders.
Twitter has become a major avenue for breaking news and pop culture updates. This is very apparent in our Top Trends of the Year. People around the globe connect with one another on the common ground of ideas, products and people.
Rewind YouTube Style
This year, YouTube scanned through most viewed, shared, searched and remixed to create this feature of the top 10 videos for 2012:
More holiday fun:
Discover how Santa used social media to save the holidays and follow the story live with the Santa Command Center. Happy Holidays from HootSuite.
This is our take on Twitter trends of 2012; but what do you think were the biggest trends of 2012? Stay tuned for our Twitter Trends of the Week in 2013.