Why People Ignore Social Networks and How To Stay Engaged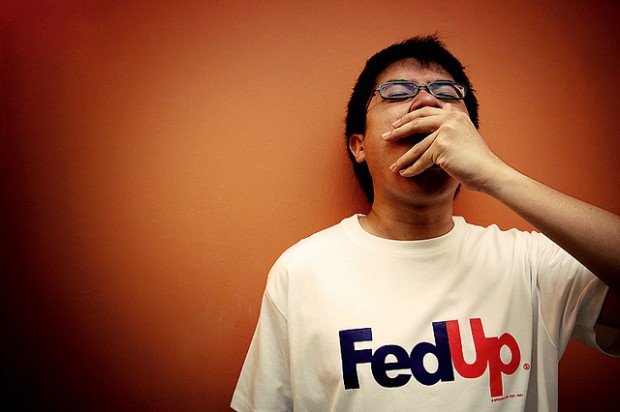 How many social networks do you use daily? With more and more social networks gaining in popularity and in value every year, it has become too much for some people to stay engaged. With that in mind, we asked our social media followers "What social network do you feel most guilty about ignoring?"
The response was very… inconclusive. Unsurprisingly, everyone has preferred social networks, for business and pleasure. As a result, our followers felt guilty about ignoring just about all of the popular networks evenly.
End of story, right? Not quite. Some of your answers did shed light on why certain networks were being ignored. We've gathered three broad reasons why you were neglecting social media offered solutions for each.
"They move too fast."
@hootsuite twitter. It's so fast moving, a day without a tweet is like a lifetime.

— Kay Murphy (@misskaymurphyxo) January 31, 2014

As you can see, Twitter specifically was singled out as being hard to keep up with, simply based on the sheer volume of Tweets rolling through hour after hour, day after day.
 Twitter is busy, that's a fact. If you follow even 100 people, you'll never be able to see every message that rolls through your news feed. But there are ways to sort through the information and find the gems that matter most to you or your business.
In HootSuite, create streams to follow user or keyword mentions to topics that matter most to you. Once there, you can further narrow the field by filtering your stream by Klout score. This will highlight Tweets by the biggest influencers on that subject, so you never miss big news or trends.
"I'm not taking full advantage."
"@hootsuite: What social network do you feel most guilty about ignoring?" I don't ignore LinkedIn, but I underutilize it.

— CRE Radio (@CREradio) January 31, 2014

This reason for ignoring social networks reappeared a few times. It's not that you're ignoring them as much as it is that you're not taking full advantage of them. When people see the potential of a network but aren't getting the utmost value out of it for whatever reason, be it a lack of time, resources or understanding, they'll tend to ignore it in favour of networks that they are utilizing in full.
Taking full advantage of a social network depends on your goals. If you want to spread awareness, you'll probably lean on the content aspects of a social network. If you want to drive leads, maybe paid social ads are your best option.
Once you've identified your goals, it's about immersing yourself in the best practices for that specific social network. HootSuite's social media coaches have created helpful guide for Facebook and LinkedIn. We've also put together white papers and guides for Google+, Twitter, Instagram and more. Dive into the available resources, learn best practices and integrate them into your existing social media strategy. It might take a bit of time, but with the right platform you should be able to commit to these networks without too much additional work.
"I Don't Get It/Not For Me."


The classic. With so many new networks emerging, it's easy to feel out of the loop. We all know that Pinterest is great for foodies and fashion, but many struggle to see value for a regular company. We know LinkedIn is more than just a resume, but we don't know how to use it.
The trick is to find the people and brands that do get it. If you're interested in getting more involved on a social network, chances are that someone is already there doing it well. Monitoring competitors is one of the smartest things you can do on social media. It allows you to see what works and what doesn't before you get involved.
Here are lists of brands doing great things on Pinterest, Vine, Twitter and Instagram Video.
Don't Feel Guilty
No matter how you answered the question "What social network do you feel most guilty about ignoring?" the best attitude to take might be the following:
"@hootsuite: What social network do you feel most guilty about ignoring?" None

— Didi N. Samuel (@didisamuel23) January 31, 2014
Social networks aren't a zero sum game. They're a commitment and they can be time-consuming, but everyone is out to accomplish different things and your efforts on each network should reflect those goals. Simplifying this process actually formed the foundation of HootSuite.
Ultimately, you shouldn't feel guilty about ignoring a social network. If it's in your best interest to use it, there are tools and resources available to help you make sure you're not wasting your time. Social networks are here to stay, so find the ones that suit you best.