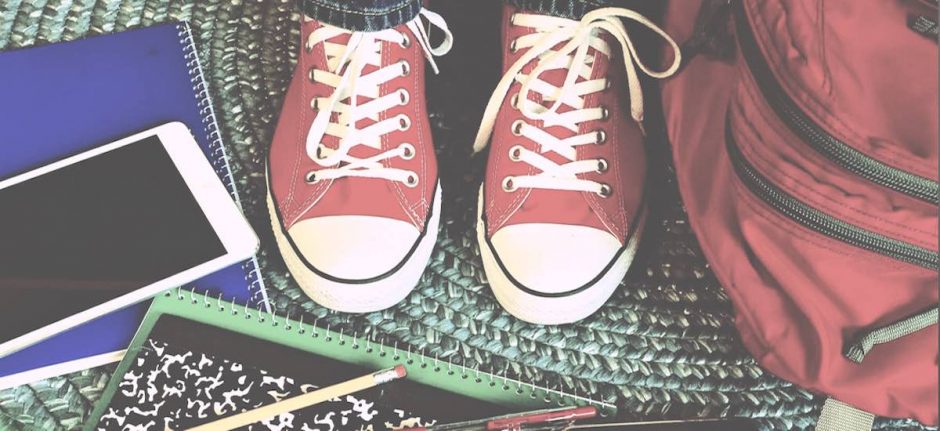 16 Facebook Accounts That Will Make You Smarter
Seeing the overwhelming response to our recent 16 Twitter Accounts That Will Make You Smarter post, it seems that so many of us are turning to social media in the quest for knowledge. While you may feel that your hours spent commenting, liking, and sharing on Facebook are mindlessly wasted, numerous studies have shown a link between social media use and boosts in intelligence and the brain's all-important grey matter.
To navigate the black hole of information available online, we've narrowed down sixteen Facebook pages and groups that will have you solving that Rubik's Cube in record time.
Bonus: Download a free guide that teaches you how to turn Facebook traffic into sales in four simple steps using Hootsuite.
1. Grammarly
Grammarly instantly checks your writing for grammar, punctuation, style, and more, and their accompanying Facebook page provides fun tips, discussions, and information to help you up your grammar game. With so many lamenting the impact of social media on language, Grammarly's page rejects these claims by offering opportunities to improve communication amongst users and fans.
Started in 2011, berlin-artparasites aims to share "compelling artwork that alters the way we live, work, play, think and feel." Liking this page will provide you with the kind of posts that make you stop your rapid scroll and take a moment to read and reflect. Most of their posts follow a format that includes an image of a piece of art along with a beautifully accompanying quote or poem that, more often than not, will hit you right in the feels as it broadens your emotional intelligence.
While this page may seem out of place, research from Hiroshima University found that students showed higher levels of concentration after viewing cute images of puppies and kittens. Performance scores increased by 44 percent (!) and subjects were able to complete the tasks at hand at a rate 12 percent faster than those who had not viewed the images. To take advantage of the power of cute on your brain, join Cool Dog Group. While a closed group, anyone who joins gets almost immediately approved, and it's definitely worth it. The group's description simply states "cool dog pics" and boy, does it deliver on that promise. Feel smarter already?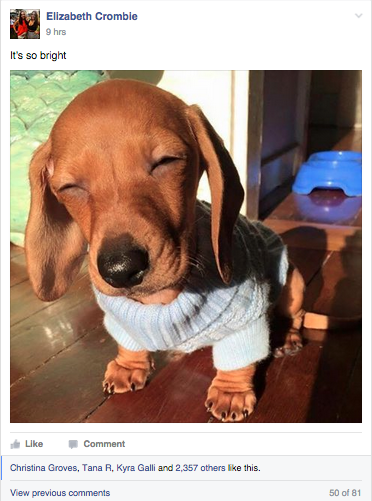 4. NASA
NASA's Facebook page aims to help people "explore our universe and discover our home planet." Fans of the page are treated to stunning shots of space, fascinating video content, contests, along with news and information about space exploration and research.
The Facebook page accompanying Science Magazine, News from Science will keep you up to date on breaking news from the science world. This includes content related to biology, genetics, medicine, evolution, animals, climate change, physics, the environment, astronomy, and policy.
6. Dave Ramsey
Part of improving overall intelligence includes having a grasp on financial and economic knowledge, and Dave Ramsey's page provides help with this often complicated subject. Host of the wildly popular Dave Ramsey radio show and author of numerous New York Times best-selling books, Ramsey offers free resources and advice for those seeking financial freedom.
7. Stuff You Missed in History Class
The official Facebook page for the wildly informative How Stuff Works podcast of the same name, hosts Holly and Tracy dive into the depths of history and share their fascinating findings. The page provides highlights of the podcast, including photographs, story links, and recaps, which are great for if you don't have the time or ability to listen to the podcast but are still looking to top off your history knowledge.
Run by a University of Alabama Engineer of the Year award winner, the Smarter Every Day is a place for those seeking lifelong learning to gather. The page shares daily videos and articles that satisfy the mission: "To teach you something new everyday!"
Bonus: Download a free guide that teaches you how to turn Facebook traffic into sales in four simple steps using Hootsuite.
Get the free guide right now!
9. Sleep Genius
As LiveScience shares, "a good night's sleep is crucial to storing knowledge learned earlier in the day," so the Sleep Genius Facebook page aims to help you boost that brainpower by providing tips and resources with the goal of improving both sleep quantity and quality. The Sleep Genius app and program was developed by experts in neuroscience, sleep, and sound, and tested to help NASA astronauts fall asleep, so their page and accompanying blog uses this authority to get you sleeping smarter.
10. Big Think
The Big Think website and associated Facebook page provides "a filter of articles, blogs, and expert videos that will help you get smarter, faster, in the 21st century knowledge economy." Aspiring to use top experts in their fields to disrupt common sense and a laissez-faire method of thought, the Big Think consistently posts images, questions, and links to articles that will challenge your current way of thinking and broaden your thought process.
As the United Nations agency for health, the World Health Organization's Facebook page compliments their key mission of "providing leadership on global health matters." The page shares breakthroughs, news, and informative resources on all things related to global health–a topic we can never know too much about.
If a photo is worth a thousand words, the World Press Photo collection is an entire library, offering access to over 50 years of photojournalism and multimedia content. The organization's mission is to "inspire understanding of the world through the highest quality in photojournalism," and their Facebook page definitely adheres to this principle. The photos and videos are usually shared with thought-provoking context and invitations for intelligent conversation, giving this page a level-up when compared to many other photojournalism social media pages.
Is it correct to assume that in photojournalism, you must do almost anything to get 'the shot'? Interesting addition to the ethics discussion by VII Photo Agency photographers.

Posted by World Press Photo on Wednesday, September 30, 2015
13. Albert Einstein
Disclaimer: This isn't actually Albert Einstein's Facebook page. However, this page is run by The Hebrew University of Jerusalem, who were gifted Einstein's image, likeness, intellectual property, and publicity rights. Dedicated to ensuring fair access to higher education while supporting scientific and medical research, the Albert Einstein page shares original content and images of his findings, as well as related present-day articles and resources that would make the man himself proud.
14. Psychology Today
Our favorite thing to talk about will always be ourselves, and the Psychology Today Facebook page is dedicated to doing just that. The page shares resources, articles, and content covering "all aspects of human behavior from the workings of the brain to the bonds between people and the larger cultural forces that drive our most intimate decisions." If you're ever wondering why we think the way we do, the Psychology Today page will help answer these big questions.
15. The Reading Room
It's common knowledge that reading can make you smarter, and The Reading Room's Facebook page will help you find that next knowledge-building book. Curating recommendations from influencers around the world such as those from The Guardian and The New York Times, The Reading Room's page also regularly shares content that booklovers and literature fans will love.
16. 9Gag
Laughter and humor has repeatedly been shown to increase intelligence, so it's in your best interest to follow and like social media pages focused on pure amusement. One of the most popular websites on the Internet, the 9Gag Facebook page shares the most popular funny images from around the web and is a great place to giggle your way to genius status.