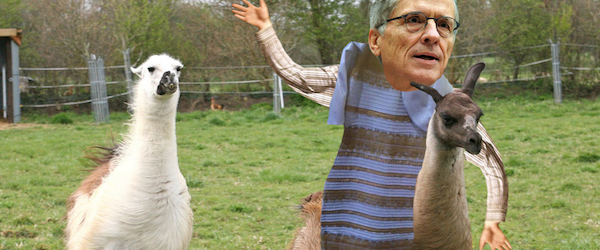 27 Dress Tweets? The Best of #BlackandBlue vs #WhiteandGold
If you don't know what the debate is over #thedress, your internet connection is down or you're in a coma. Try to wake up!
As with any huge viral internet trend, the whole of Twitter wanted in on the great debate. Here are the best tweets about #thedress, including some impressive real-time marketing from major brands.
#whiteandgold or #blackandblue? We found a way around science- you can have both! #TheDress #dressgate pic.twitter.com/5oj3ZTqOWk

— LEGO (@LEGO_Group) February 27, 2015
11m Tweets about #TheDress. Based on mentions of each color (exclusively), the winner is… http://t.co/EuXZYr9dew pic.twitter.com/yh4PZUEakH — Twitter Data (@TwitterData) February 27, 2015
IT'S A BLUE AND BLACK DRESS! ARE YOU FUCKING KIDDING ME

— Mindy Kaling (@mindykaling) February 27, 2015
And for everyone asking I see blue and black — Justin Bieber (@justinbieber) February 27, 2015
Why does everyone keep calling us Gold and White now? What's going on, Internet?! #TheDress #WhatColorsAreThisDress pic.twitter.com/Hz4xGr7DzZ

— M&M'S® Brand (@mmschocolate) February 27, 2015
Proud to be black & white, or is it white & black? #TheDress — Drinkaware.ie pic.twitter.com/Turyk9zYfc — Guinness Ireland (@GuinnessIreland) February 27, 2015
Looks like a problem when you don't use Tide Plus ColorGuard. #TheDress #DressGate pic.twitter.com/yvUudF50mt

— Tide (@tide) February 27, 2015
Doesn't matter if it's blue/black or white/gold, they still taste delicious. #thedress pic.twitter.com/Oq8srrAKnd — Dunkin' Donuts (@DunkinDonuts) February 27, 2015
Me think cookie is chocolate chip but @Elmo think it oatmeal raisin. We no can decide! Help! pic.twitter.com/KLKsqsl5ap

— Cookie Monster (@MeCookieMonster) February 27, 2015
From this day on, the world will be divided into two people. Blue & black, or white & gold. http://t.co/xJeR7GldwP pic.twitter.com/i6BwVzPzSZ — Ellen DeGeneres (@TheEllenShow) February 27, 2015
Remember when the #BackstreetBoys released their album #WhiteandGold? pic.twitter.com/8Az0UcEwP2

— Rachel J. Cogan (@RCoges) February 27, 2015
Introducing the new White and Gold Dualshock 4 pic.twitter.com/YK0yE4M3fJ — PlayStationAustralia (@PlayStationAU) February 27, 2015
If that's not White and Gold the universe is falling apart. Seriously what is happening???? — Anna Kendrick (@AnnaKendrick47) February 27, 2015
I don't understand this odd dress debate and I feel like it's a trick somehow. I'm confused and scared. PS it's OBVIOUSLY BLUE AND BLACK

— Taylor Swift (@taylorswift13) February 27, 2015
May all your Lyft rides be as golden as that dress. We're team #whiteandgold. pic.twitter.com/UH6FiWKWYB

— Lyft (@lyft) February 27, 2015
Dressed to impress, no matter the color. #TheDress pic.twitter.com/Tog2KR92oD — Nissan (@Nissan) February 27, 2015
This is why I prefer only black. #TheDress pic.twitter.com/p1X7K7lyef

— Jon Snow (@JonSnowBastrd) February 27, 2015
The debate is over. #TeamBlackAndBlue #TheDress pic.twitter.com/7lppDiYDdw — The Peanuts Movie (@PeanutsMovie) February 27, 2015
Don't let people guess what color your teeth are…#TheDress #WhatColorIsThisDress #3DWhite pic.twitter.com/RuRJTwGTc6

— 3DWhite (@3DWhite) February 27, 2015
WHAT COLORS ARE THE LLAMAS — sandrachung (@sandrogynous) February 27, 2015
Guys. I've stared at this dress for 5 minutes. Like an idiot. All I see is white and gold. And a satin bolero that shouldn't be paired w/ it

— Sarah Hyland (@Sarah_Hyland) February 27, 2015
Heavy debate, but we decided: both. What do you see? #thedress #FordMustang pic.twitter.com/M3CbQ5k10b — Ford Motor Company (@Ford) February 27, 2015
Fashionably late? #TheDress pic.twitter.com/qGVecgt4mz

— Oreo Cookie (@Oreo) February 27, 2015
Whether you're #TeamWhiteandGold or #TeamBlueandBlack — everyone is on #TeamBreadsticks. #TheDress pic.twitter.com/P04bjXgzED — Olive Garden (@olivegarden) February 27, 2015
Clearly it's copper and black. #TheDress

— Duracell (@Duracell) February 27, 2015
Truth. http://t.co/xSyWVUgC0w #TheDress pic.twitter.com/w1l6UVD0hv — Mashable (@mashable) February 27, 2015
FCC chairman Tim Wheeler riding a llama in the dress. Today in a nutshell. pic.twitter.com/ZEVCv0kveP

— Jordan Maron (@CaptainSparklez) February 27, 2015