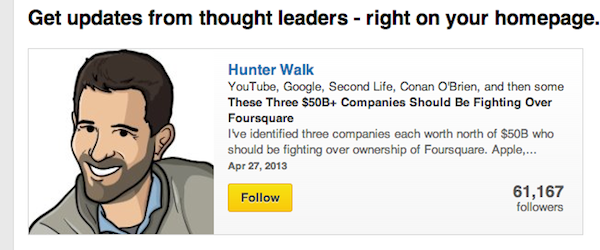 5 Influencers You Should Follow on LinkedIn (Besides Ryan Holmes)
Hootsuite CEO Ryan Holmes is an avid LinkedIn Influencer with over half a million followers. His posts focus on advice and insights around topics like leadership and management, entrepreneurialism, marketing strategy, and social media. Ryan draws from his own experiences as a serial entrepreneur and leader in social media. If you want to gain ahead-of-the-curve knowledge in tech trends and social media, or get valuable insights into being a leader and entrepreneur, you really should follow Ryan on LinkedIn.
As the Influencer blog network grows, so does the number of business leaders and thinkers whose posts are worth keeping up with. Here are 5 others you should follow:
1. Hunter Walk
Hunter Walk's resume includes stints at Late Night with Conan O'Brien, Mattel and Second Life. He's most known for his 9 plus years at Google/YouTube where he led the product team responsible for making YouTube the force it is today. He recently left Google to start a new VC firm called Homebrew.
Why you should follow him:
Walk provides interesting insights on both his past experiences in digital and what's next. Some of his most fascinating posts are part of a series he's started called "Early Employees," where he interviews people who were part of renowned tech companies from their beginnings. So far interviews have included employees from Flickr, Blogger and TechCrunch.
Walk is knowledgeable, funny and honest. His best advice for achieving overnight success? "Realize it takes thousands of overnights." If you're looking to learn more about the social web's start and find inspiration for your own endeavors, follow Walk. Follow Hunter Walk on LinkedIn
2. Dave Kerpen
Dave Kerpen is the chairman and former CEO of Likeable Media, CEO of social media startup, Likeable Local, and a NY Times Best-Selling Author for his two books, Likeable Social Media andLikable Business.
Why you should follow him:
Kerpen's posts range from marketing advice and leadership skills and to what's he learned about life from his young daughters. Kerpen is clearly passionate about what he does and is on a constant a quest to improve not only his business but himself. His goal is to help brands use social media marketing to create more "transparent, likeable" companies. He provides real insights based on past successes (and failures), sure to be helpful for any social media manager. Follow Dave Kerpen on LinkedIn
3. Beth Kanter
Beth Kanter, who has worked in the nonprofit sector for 33 years, is the author of Beth's Blog: How Nonprofits Can Use Social Media, one of most popular blogs for nonprofits. She was recognized by Business Week as one of the "Voices of Innovation for Social Media."
Why you should follow her:
While most of Kanter's content is about social media marketing for nonprofits, her advice and experience can be applied to all markets. She encourages marketers—CEOs included—to step out of their comfort zone and embrace social. Her most helpful posts cover analytics and the right way to look at your metrics, which is useful information for all social media professionals. Follow Beth Kanter on LinkedIn
4. Daniel Goleman
Dr. Daniel Goleman is an internationally known psychologist and author of the New York Times bestseller Emotional Intelligence.
Why you should follow him:
Dr. Goleman uses his background in psychology to address challenges people face in their careers. He provides advice for reducing stress, avoiding creative dead ends and handling conflict. Dr. Goleman's posts are easy to relate to and learn from regardless of your career or position. Consider his posts your weekly counseling session—minus the $200. Daniel Goleman on LinkedIn
5. Nicolas Bordas
Nicolas Bordas is the Vice President at TBWA/EUROPE, a New York City based advertising agency. He is also the President of BEING Worldwide, an international digital communications consulting company.
Why you should follow him:
Specializing in integrated marketing and online advertising, Bordas offers his LinkedIn followers practical social strategies and tactics. He asks thought-provoking questions, encouraging his readers to find the answers. Bordas, based in Paris, does business all over the world, so he is able to provide international examples of digital initiatives. This is useful for those of us in the social realm, which is truly global. Follow Nicolas Bordas on LinkedIn.
Are you following Hootsuite on LinkedIn? For more social media insight and business news follow Hootsuite on LinkedIn.
A version of this post appeared on the UberVU blog.