Astronaut Chris Hadfield Shares His Social Media Story At HootSuite HQ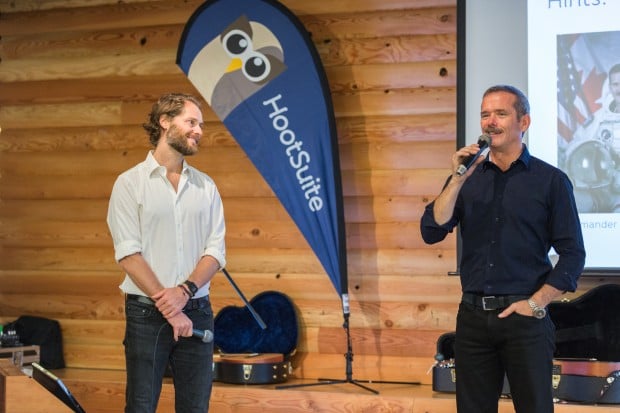 Social media allows people to connect to others across the world… and to people floating far above it.
Commander Chris Hadfield showed just how far social can go when he shared incredible images, videos and anecdotes over Twitter and other social networks while on the International Space Station. Hadfield stopped by the HootSuite office this week to tell us about his experience in space, about following his dreams and about reaching global audiences using social media.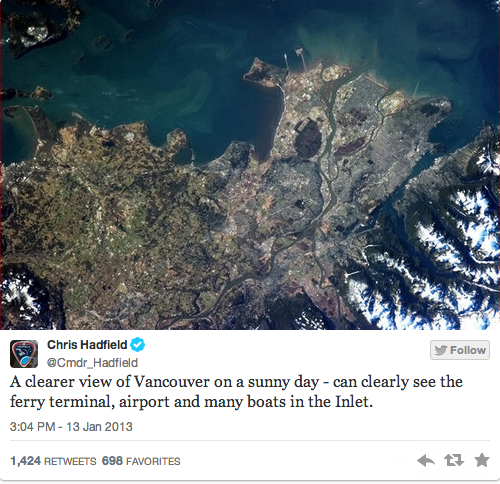 Hadfield noted the contrast between his first flight in space and his most recent trip, from the perspective of sharing. When visiting the Russian space station Mir in 1995, he described how he used a HAM radio to share his experience with random people listening on the ground. He also took photos with a regular camera, whose film was developed after he returned to earth and then turned into slides that he could share, but only in person.
Shift to the present day, and Hadfield was able to easily share photos of the earth from space on a daily basis. He offered up a few words to illustrate why each picture was interesting or what it meant to him, and to an audience of hundreds of thousands on social media.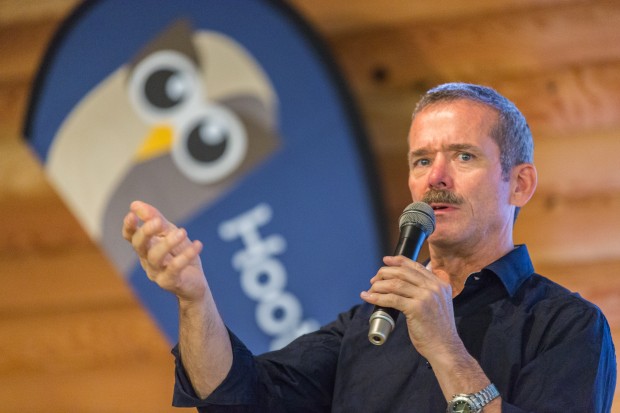 While he credits the amazing technology of Twitter and other networks for his ability to share his experience with so many people, Hadfield said that social media has a long history in space. He calls the first moon landing, during which conversations between the astronauts and supporters on earth were relayed live for the public to hear, a clear example of social media. It was a spontaneous, tense, off the cuff form of communication that captivated the world – qualities Facebook and Twitter embody today.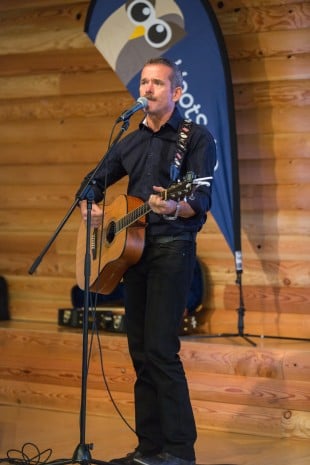 Chris Hadfield's son Evan actually ran the social media operation on behalf of his father during his time at the International Space Station – and described the process for us in a guest blog post. The younger Hadfield had a few poignant words to share about what works on social media and how companies can improve.
"Social media is all about trust," he said. "So many brands don't do social media well because they don't trust their employees to use it. My dad trusted me to do this for him, to speak on his behalf and to speak in his voice."
After the questions were answered and the staff sufficiently awed, Hadfield decided to leave us with a treat. The Commander played two songs for us: the first a Lullaby he wrote for his daughter while in space, and the second a section of Space Oddity, the David Bowie track he covered on the Space Station that went viral, attracting over 18 million hits and counting (which you can see below).
A big thanks to Chris and Evan Hadfield for stopping by and inspiring our whole team with tales of space-walking and social-talking. People in Vancouver can also catch Chris Hadfield and HootSuite CEO Ryan Holmes at the Innovators Speaker Series on November 17th.