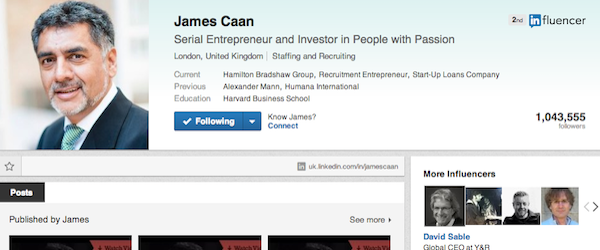 What I Learned From My First Million LinkedIn Followers
This post was written by Entrepreneur and Investor James Caan, CEO of Hamilton Bradshaw Group, HB Human Capital and Recruitment Entrepreneur. You can follow him on LinkedIn here.
During my 30 years as an entrepreneur, I have seen many revolutionary developments that have changed the way business is done. One of the biggest has undoubtedly been the evolution of the digital world. The digital media sector is a fast growing one, and unlike many other sectors, it is one where there are actually more job openings than highly skilled people. Businesses need to make full use of the digital opportunities available; because I believe there is definitely a lot more we can all be doing.
From a business perspective, social media has added a whole new dimension to the way leads are generated and customer feedback is gauged. But just as importantly, it presents an immense opportunity to market your brand.  It is no longer a 'nice to have' – I believe social media is something that is critical for every business and entrepreneur. You have the opportunity to give yourself and the company a real voice; something which in the past was only available to huge corporates with six figure marketing budgets. Blogging in particular allows you to position yourself as an expert in your sector – this is great for your personal brand and generates more business opportunities.
You may have recently seen that my LinkedIn Influencer blog reached the milestone of over 1 million followers. When I was originally asked by LinkedIn to blog for them back in October 2012, it was a huge privilege as they had handpicked 150 people, but I had no idea about the impact it would have. It was something that I really got into though; my posts are generally centred around business and career advice, which are things I am hugely passionate about. I found myself consistently blogging twice a week, which I believe is what helped with the growth in followers. Initially I would see an extra 2000-5000 followers per week, but now I'm seeing an increase of over 20,000 followers per week.
I wouldn't necessarily pass myself off as an expert in blog writing, but I do believe there are some useful tips that entrepreneurs at all levels should think about when blogging.
One of the most important things is to be insightful while keeping your message yet simple. You need to demonstrate your understanding of your industry; however remember that you will often be writing for a wider audience as well, so jargon should be kept to a minimum. It can be tempting, particularly in the business world, to fall into the trap of using terminology you would come across at a board meeting – but the internet is not a boardroom!
However I do believe in treating blogging like a business, in that you have to know your customers, which in this case are your readers. Through the comments which are left on your blogs, as well as general internet research, you should know exactly what topics your readers want to know about. Which areas are they particularly keen to understand, discuss or debate?
Being in the recruitment sector, I often write about the hiring process, both from an employer and job seeker's point of view. It very quickly became apparent to me that this was an area many people wanted tips on, especially those who were looking for their dream job or promotion. LinkedIn is essentially a careers portal, so it makes sense that career advice is a popular topic for discussion. The posts which gained the most traction were ones that provided tips on the various aspects of job hunting – from CV writing, to the application, right through to the interview scenario itself.
Blogging should certainly be a case of quality first. Being controversial and outlandish just for the sake of it is not something I would recommend. But do try to provide fresh angles and approach stories and issues from perspectives that people may not have considered.
The power of social media was really illustrated to me last year, when I launched my Recruitment Entrepreneur initiative. This was a nationwide search for people who needed capital and mentoring to start their own recruitment business.  I promoted it on social media and was absolutely stunned by the response. Over two campaigns, which lasted only three weeks each, we received interest from over 13,000 budding entrepreneurs, which is why I've opened it up once again. This not only illustrated the appetite for starting a business there is, but also the phenomenal reach of social media.
Reaching the landmark of 1 million followers on LinkedIn was really a chance for me to reflect on just how important social media is for business and I sense that we are only at the tip of the iceberg. For the current and next generation of entrepreneurs, this will certainly provide great opportunities.
James was one of our 5 non-tech CEOs using social media to drive business results. View the full list here.