How to Follow Richard Branson, Barack Obama and…Ryan Holmes on LinkedIn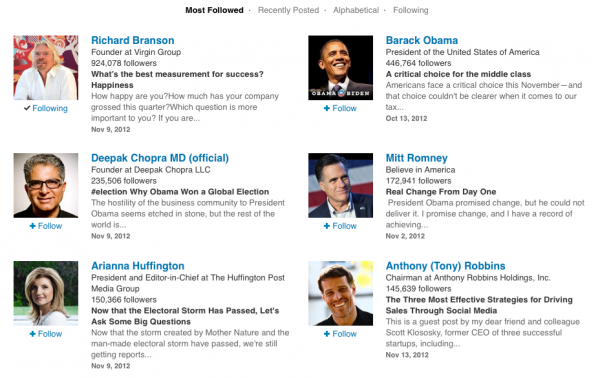 If you've ever wanted to crawl inside the mind of a very successful person, LinkedIn could be your new favorite hangout.
Last month, the professional social network launched a brand new offering that allows its members to choose from and follow 150 specially-selected influencers from around the globe. The elite group of luminaries include CEOs of top global companies, country leaders like Barack Obama, educators, industry experts and others (including HootSuite CEO Ryan Holmes), who regularly post their advice and insights for you to read, share, and comment on.
Although some called the move a "celebrity-endorsed stunt" or an attempt to catch up in popularity to social networks like Facebook, it seems the initiative is quickly gathering steam. In just the first few weeks following the launch, over 4 million people have followed these influencers, who have already collectively posted hundreds of original thought-leadership pieces. Virgin Group CEO Richard Branson alone has accumulated nearly 1 million followers. Meanwhile, a host of new contributors have also been added to the panel.
And what kinds of topics are having the biggest impact?  A recent roundup by LinkedIn staff highlighted some of the most-shared posts to date in Europe:
How can you find and follow your favorite thought-leaders on LinkedIn?
Here are 3 simple ways:

1. From the main thought-leaders page: After you've logged into your LinkedIn account, go to the 'Who To Follow' thought-leaders main page. From here, you can filter people by categories such as 'Recently Added' or 'Alphabetical' (Hint: If you leave it on the default 'Most Followed' category, Ryan Holmes will be on the first page.) Just click the '+ Follow' button under profile picture of the thought-leader you want to follow.

2. From a thought-leader's specific post: When you click into a specific story, you'll see the author's name at the right and an option to follow him or her. If you're already following him you'll see that in gray. But if you're not, it will give you the option to follow.

3. From a thought-leader's LinkedIn profile. If you end up on a thought-leader's actual LinkedIn profile page, you'll see a noticeable 'Follow' button to the right of his or her profile picture. If you are already following the person, it will say 'Following.'
It's time to start crawling. Start following some of the successful people in the world, and get exclusive access to their unique insights, knowledge, advice, in a whole new way.