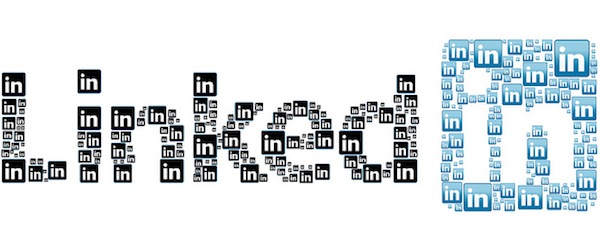 LinkedIn is one of the most important social media channels for businesses. Not only does it help provide authenticity and credibility to you and your business, it also gives you access to an audience that is actively interested and looking for new brands to engage with in a more professional setting. LinkedIn offers your small business a place where you can combine the benefits of personal branding, free marketing, an extended sales arm, and attract top talent.
Whether you are just getting started with LinkedIn or are in need of some extra advice,  today we will cover the benefits of both LinkedIn Company Pages and LinkedIn Groups, and identify their distinct differences.

Bonus: Download a free guide to discover four time-saving tools to help you grow your LinkedIn network faster. Includes one tool that lets you schedule a week's worth of LinkedIn updates in just three minutes.
LinkedIn Company Pages
What is a LinkedIn Company Page?
A Company Page helps LinkedIn members learn about your business, brand, and job opportunities. Company pages are also a great way to establish industry expertise. For example, at Hootsuite, we have grown our LinkedIn Company Page by 489% between Jan. 2014 – Jan. 2015. The growth from 17,785 – 104,733 followers was largely in part due to the valuable and timely content we published on our company page, as well as our CEO's thought leadership articles.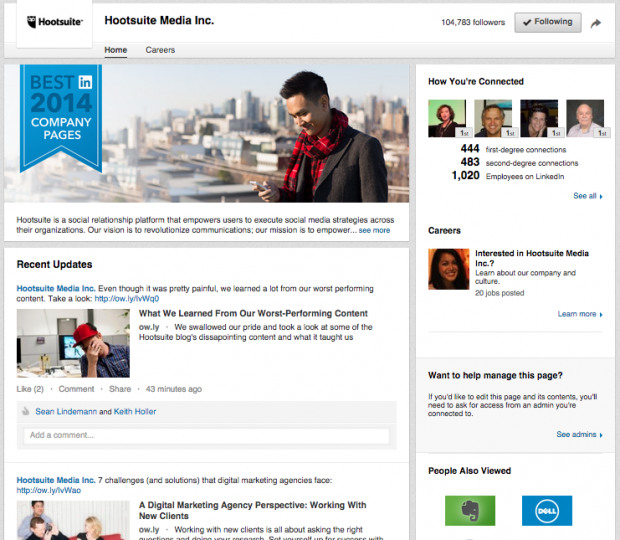 What is the benefit of a LinkedIn Company Page?
Previously, LinkedIn Company Pages were often thought as an HR landing page for your brand. Though this is still true, it's also becoming the perfect place to drive business results, raise brand awareness, promote career opportunities and educate potential customers on your products and services.
Think of your company page as a supplement to your website, it helps you drive traffic to your site and provides you an outlet to promote your products and services, and content. Your LinkedIn Company Page provides you with free marketing opportunities and enhances the credibility of your company to your audience. By improving your presence on LinkedIn Company Pages with rich content and compelling status updates you can also establish your brand as a leader in your industry.
To get you started on the right track, here are 3 tips on LinkedIn company pages:
Enhance your page with your brand's personality. You can do this by including a creative header and by filling out your company's About section. Be concise but make sure it's clear what your company does and what sets you apart from your competitors. Think of it from your customers' point of view. Ask yourself why they should be spending time reading your company profile. Within your About section, also include relevant links to your other prominent channels like website, blog, etc.
Empower your employees to connect with your company's LinkedIn Page. Your colleagues and/or employees are the best place to start growing an audience. Not only are they your biggest advocates but by adding them as followers you also tap into each of their networks, expanding your reach tremendously. Another added bonus is if they add your Company Page to their personal profiles. This automatically makes them followers, and enables them to easily share company updates.
Engage your followers through content and replying to their comments. The best way to grow your audience and keep your followers is to provide them value by posting articles or company updates on a regular basis. Make sure you are consistent in your posts as well as try posting various types of updates. From company news, thought leadership or industry expertise, keep things interesting for your audience. Try actively engaging with them as well by asking what matters to them most, or what they'd like to see.
LinkedIn Groups
What is a LinkedIn Group?
LinkedIn Groups provide a place for professionals in the same industry or with similar interests to share content, find answers, post and view jobs, make business contacts, and establish themselves as industry experts.
In order to find a group with similar interests, either use the search feature at the top of your homepage or viewing suggestions of Groups you may like. Alternatively, you can also create a new group based on whatever topic or industry you'd like.  For example, here are examples of a few Group categories that are currently on LinkedIn: Corporate, College alumni, Nonprofit, Trade organizations, Conferences, and Industry-specific.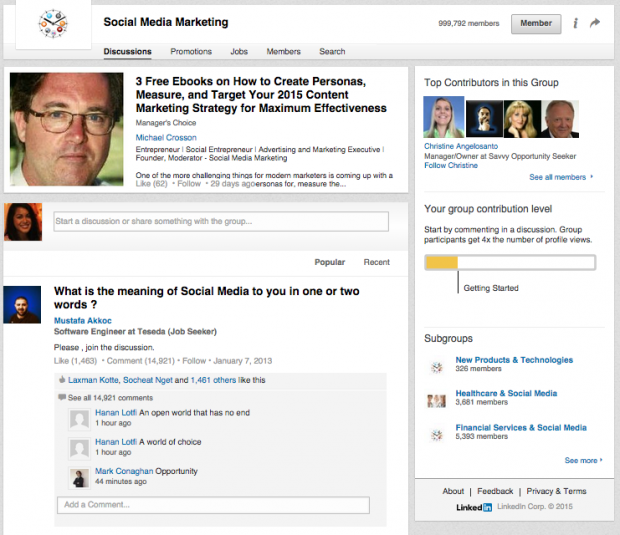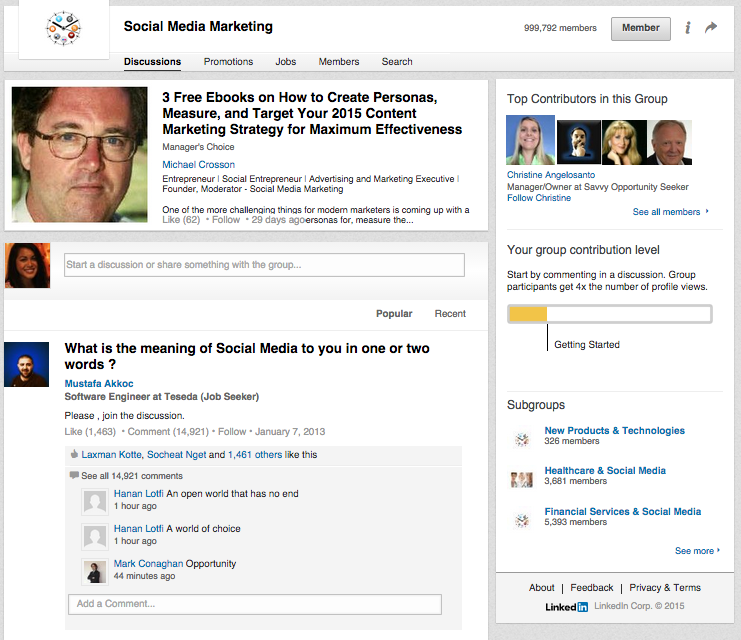 What is the benefit of a LinkedIn Group?
There are numerous benefits to joining LinkedIn Groups, no matter what industry you're in. Being an active participant in a Group can help you network with other professionals in your field, especially those outside of your immediate circle of current and present colleagues, classmates and employers. LinkedIn Groups can help you build your online reputation by sharing valuable information relevant to your industry. Participating in a Group discussion will also attract views to your profile or LinkedIn Page.
If you are a content marketer, Groups can help you get more eyes on your content, and get constructive feedback from other professionals in your field. While it's important to consider the competitive nature of many industries (and not be overly generous with sharing unreleased content or ideas), it can also be incredibly helpful to brainstorm ideas with professionals inside your industry but outside of your organization. Alternatively, when it comes to Groups unrelated to your job title, Groups can help you gain insight into your target audience. You can join Groups with audience demographics you think may be interested—for example, a different language—in your brand's product or service, and see what kind of information is deemed valuable and worthy of sharing by the participants.
With over 2 million existing Groups out there, finding the right ones for you can first seem like an impossible task. To make the task easier to tackle, we've come up with these tips to help you navigate LinkedIn Groups.
To get started with LinkedIn Groups, use these 3 tips:
Join relevant groups to your interest and profession: If you have taken the time to fill out your LinkedIn profile completely, LinkedIn will send you Group recommendations based on the skills and experience you've chosen to include. To take matters into your own hands, you can use keywords and search Groups in the directory. For example, if I want to find a group that focuses on content marketing in the Asia-Pacific region, I can type in "content marketing" and "APAC" into the search bar, and see the Content Marketing Asia LinkedIn Group. However, take note of the last posting in the group—you want to spend your valuable time on active Groups only.
Share your company's content in Groups to increase traffic to your site. Contributing to a discussion will make both your profile or Page more visible, but also can help establish you or your company as a thought leader among other participants. However, be sure to provide value and context to your post when sharing—don't just copy-and-paste the URL. If you know of a blog post or a news article from an external source that fits a discussion, share it with others. Even if the content doesn't originate from your team, it will contribute to your status among other group members.
Engage in the groups by providing your insight and commenting on other people's posts. If all you do in a Group is promote your own content, others will quickly catch on, and may dismiss the value of your content or your brand in general. To avoid this, be courteous to others—after all, there may be a lot of opportunities to learn the skills of the trade from more experienced professionals. Take note of inquiries, and don't hesitate to share your own experience.
For an in-depth dive into LinkedIn Groups, please refer to LinkedIn's resource page.
Manage your LinkedIn company page and LinkedIn groups all in one social media management tool, Hootsuite!