5 Best Practices for LinkedIn Company Pages
The number of social networks that your brand should be present on is growing exponentially. While each network serves its own purpose, there are only a handful that help shape your business profile online. Connecting over 200 million professionals globally, LinkedIn is the largest and most influential professional social network out there. LinkedIn members are influential, affluent decision makers with twice the buying power over those in Facebook and Twitter. Are you effectively showcasing your organization on this powerful network?
Not only does LinkedIn work as an HR landing page for your brand, it is also proven to drive business results and improve thought leadership "klout" of your brand's ambassadors (or CEOs). Establishing your presence on LinkedIn with rich content and compelling status updates also helps to raise brand awareness, promote career opportunities and educate potential customers on your products and services. These are our 5 best practices to marketing your business better with an effective LinkedIn Company Page.
Bonus: Download a free guide to discover four time-saving tools to help you grow your LinkedIn network faster. Includes one tool that lets you schedule a week's worth of LinkedIn updates in just three minutes.
Hootsuite's 5 Best Practices for LinkedIn Company Pages
1. Establish your Presence
If you build it – they will come, right? Like anything, start by laying solid foundations for your LinkedIn Company Page and build on top of that. Think of this as your business' virtual first impression for other brands and potential customers or employees. Invest time to ensure that your profile page is visually appealing, on-brand and professional.
Company Pages Construction Checklist:
Update your profile image and info often to keep it current and fresh

Tell your brand story in a compelling biography

Spotlight employees, customers and products

Feature your products and services to catch the eye of your target audience

Add SEO indexing to ensure maximum brand exposure when searched

Be creative
2. Attract a Following
Did you know that LinkedIn users are 8x more engaged with your brand, 3x more likely to buy your product and 2x more likely to recommend it once they've connected with you in LinkedIn? Now you do. But how do you leverage your existing communities and networks to point back to your LinkedIn Company Page?
First, leverage your biggest brand advocates: your employees. With their combined professional networks of clients, colleagues and friends, a solid follower base can be established. Next, promote your LinkedIn Company Page and its updates in your already established social networks. Adding "follow us" buttons to your sites makes following your business that much easier.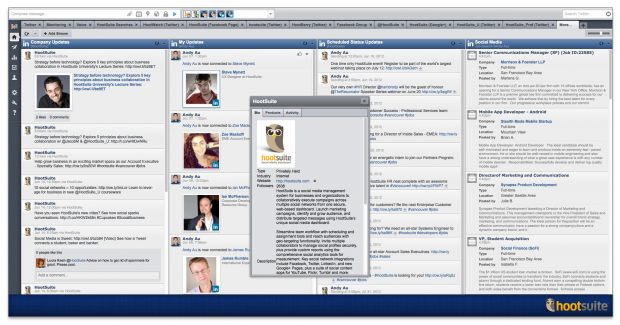 3. Engage with them
Now that you have followers, how do you effectively connect with them? Like anything social, start a conversation. Post status updates that either link to rich content, invite a conversation or includes creative and thought-provoking images, but stay on-brand and industry relevant with every post.
Did you know that LinkedIn has targeted audience status update capabilities? Switch up your LinkedIn updates based on your brand's different goals; who are you trying to reach with this post? Local businesses? Ideal customers? Potential employee candidates? Zoom in on your preferred audience and perfect your messaging for them.
Your LinkedIn Company Page is your brand's chance to share company and industry news and thought leadership articles. Likewise, asking your followers to weigh in on industry hot topics is a good way to keep the conversation fresh and interesting. 
Hootsuite's CEO Ryan Holmes, for example, weighs in on the technology industry with his frequent thought leadership articles that are specific to LinkedIn. Not only do his articles touch on interesting and hot topics, but they also build up his personal brand, establish his positioning aligned with other thought leaders, and puts him—and Hootsuite—at the forefront of the industry.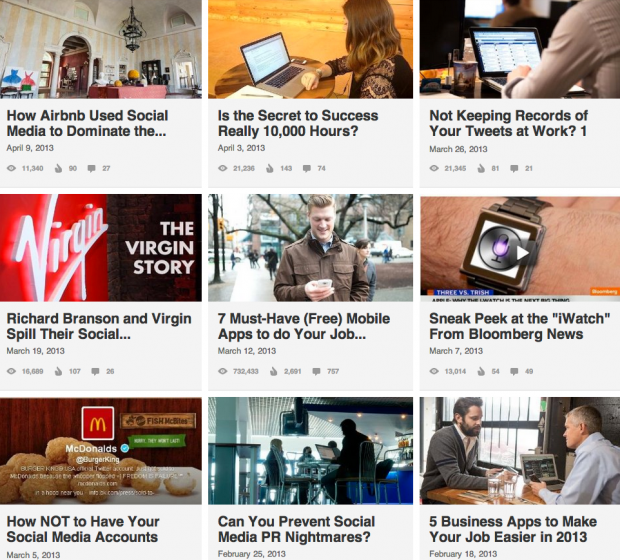 Tips for Engaging
As a network for professionals, optimal posts are most often during office hours

Keep your updates brief, professional and post once or twice a day

Rotate updates between linked posts, images and engaging comments

Get your employees involved

Ask for engagement (every once and awhile)
Note: You can only comment in LinkedIn as a user, not a Company Page. Perhaps empower an ambassador to "own" this channel for comments and interaction.
4. Amplify your Brand
Recommends, shares, likes and endorsements are your best friends in this network. Imagine for a moment, that I'm a customer and my trusted friend just endorsed your brand or brand's content in LinkedIn. Not only will this action show up on my feed and will point back to your LinkedIn Company Page, but also my perception of your brand is now more favorable than before. Each endorsement and recommendation of products, services and content amplifies your brand across LinkedIn. In turn, you've just created either a good first impression or a lasting relationship (ie potential customer or brand advocate). 
Going beyond LinkedIn, Hootsuite is a great tool to help amplify your brand's updates, content and even LinkedIn Company Page itself with cross promotion. Not only can you monitor your LinkedIn profile within the dashboard, but you can also share content from any social network onto your Company Page and vice versa, by leveraging other networks to amplify your LinkedIn content. Why not get your employees or brand advocates involved in the sharing and liking? 
5. Analyze and Perfect
What are your short and long term goals for your LinkedIn Company Page and how are you going to get there? Measuring your success depends on the ability to track performance and optimize your resources and content.
Your post and updates' "Engagement Rate" is an important Key Performance Indicator (KPI) for LinkedIn. Use LinkedIn to discover your ratio of clicks, "likes", comments and shares against the total impressions of each update. Diving deeper into analytics, post and schedule updates right from the Hootsuite dashboard and use our analytics tools to measure your entire social media campaign's success.
Hootsuite's LinkedIn Analytics Tools (Pro & Enterprise)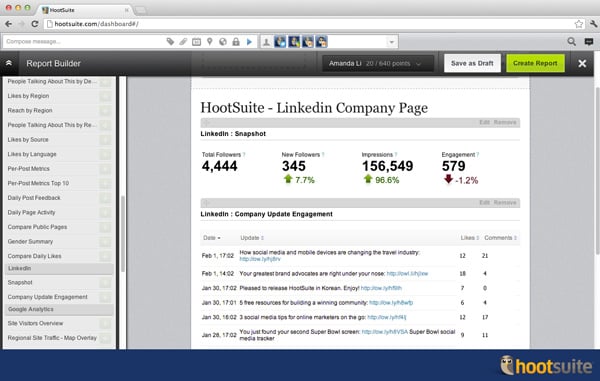 Create custom reports right in your dashboard to measure and adjust your LinkedIn efforts. Our analytics tools allow you to measure your Company Page's engagement with likes and comments, as well as providing an in-depth snapshot, capturing increases or decreases in followers, impressions and engagement. Learn more about managing your Page from Hootsuite.
Going beyond this, add shortened owl.y links to your Company Page updates to measure lead generation and follower conversion from each link. Use our owl.y individual URL stats to understand the number of clicks on your links. Use Hootsuite's custom URL parameters when sharing links to LinkedIn to understand how each click-through behaved on your website through your web analytics platform. Here's our guide to how it works with Google Analytics but you can see how it works with any website analytics platform.
Set engagement targets and goals and watch them come into fruition with analytics.
One last note: Listen to your following – Rinse and repeat.
Follow Hootsuite on LinkedIn for company and product updates, industry news and career opportunities!