#MyDash: Whitecaps FC of Major League Soccer
The Vancouver Whitecaps FC are a force to be reckoned with on the pitch, but so too are they elite on the playing field that is social media.
The social media "team behind the team" need to be as quick as the players, and keep their heads up to watch the play unfold (online, as it were). On networks like Facebook, Twitter, Instagram and YouTube, the Whitecaps staff will already take you with the bus, into the locker room and onto the practice pitch; now they are taking you inside their HootSuite dashboard, and sharing some of the secrets in their social media playbook.
We spoke with Adam Rootman, the Whitecaps' Digital Media Manager, about how the team stays competitive on social media using the HootSuite dashboard. What we discovered is that match-days are as big for the social team as they are for players and fans.
Jordan Behan, HootSuite: What is the primary goal for the club's social media efforts?
Adam Rootman, Whitecaps FC: The primary goal of our social media channels would be engagement with our brand. Ultimately, with increased engagement with our brand, we gain more fans and hopefully that leads to a full BC Place for every home match.
JB: What ideas have you had about how to increase your reach on social networks?
AR: We've really embraced the "takeover" (where a fan or player takes over the team's social accounts for a day, or a roadtrip) this year. Fans really appreciate seeing things unfold from someone else's perspective. Handing over our feed to fans and players, on the road and at home has given us content that staff just couldn't get.
JB: How large is your social team? Is it bigger on match day?
AR: We have a full time social media manager, Shaina Walker, who is the primary voice of the organization and the main listener on social. There are however a host of individuals that contribute ideas and help out with execution. There are four of us that meet on a weekly basis to plan the upcoming week. Often those meetings get quite lively, with lots of wacky ideas thrown around until we can whittle them down to something appropriate to push out on our channels. Plus, our videographer often cuts/shoots pieces that are solely for social. On match day we generally have two people on social – one person running our regular feed and one person running a second feed that's more of a clinical play-by-play.
JB: What unique things have you done with your HootSuite dashboard that our readers might find interesting?
AR: We  have a stream to follow our competition both in the local market (Vancouver Canucks, BC Lions) and whatever MLS team we are facing next. We also follow all of our players and ReTweet the best of their messages, both on match day and on off days. We like to be first responders because we find that we get the best results when we our responses are timely.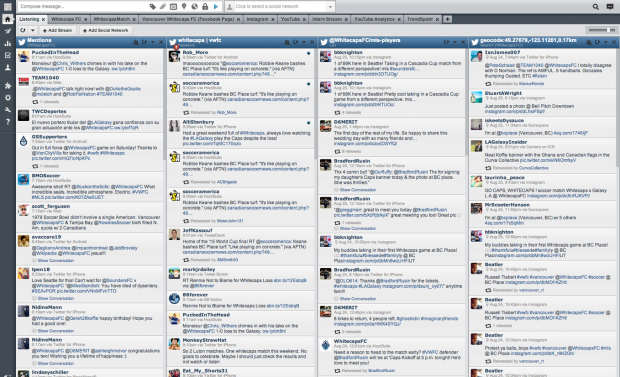 JB: You have been very keen on social video (YouTube, Vine and Instagram) for a while. How important is it to your strategy, and how has it worked for you so far?
AR: Video is key for our strategy moving forward. We find that any tweet with a video attached often gets the most shares. Video is such a great way to tell a quick story and so easy for the fan to ingest on mobile. After every match, our videographer cuts individuals highlights of the plays of game and then we push those out through the week to build excitement to the next match.
JB: What advice do you have for other sports clubs that would like to emulate your successes as a social organization?
AR: I'd say the biggest advice that I can give is to take some risks. We were very reluctant at one point to let anyone other than core staff near our social feeds. However, we have huge success handing over our Twitter/Instagram feeds to players and fans and for the most part nothing bad has really happened. The risk also applies to messaging. We try to teeter on the edge a bit. We don't want to offend, but at the same time we don't want to be vanilla, because that's just boring and nobody wants that. We make an effort for our feed to be fun, playful and little bit cheeky here and there.
JB: This seems to be a good time to share an example. While we were setting up this interview, this happened:
@VanCanucks Ever wonder what makes all the noise in @bcplace? http://t.co/ihHC2AKUU0

— Vancouver Whitecaps (@WhitecapsFC) August 21, 2013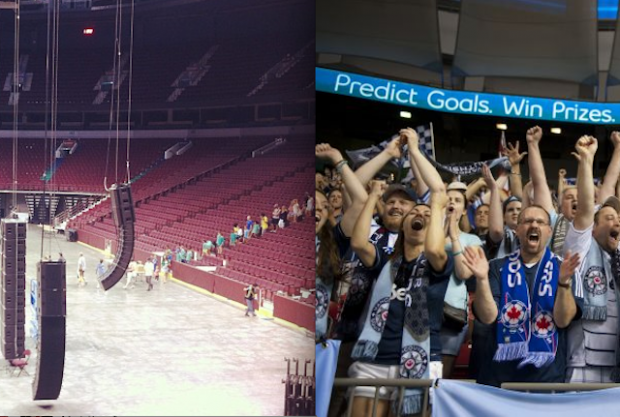 AR: Credit Shaina Walker, our Fan Development and Social Media Manager with that stroke of brilliance.
JB: Well played. I'm a Canucks fan, but that's funny stuff. Tell me about a "big win" that you may have had with social media.
AR: We had two guest Instagrammers a little while back who are well known in the Instagram community Scott Rankin (@othellonine) and Tina Albrecht (@bittadesign). They did a great job covering one of our matches and then the following day we were put on Instagram's suggested user list for a week. Our number of followers grew by 15,000 that week.
JB: That's impressive growth! How important are the supporters clubs and loyal fans to your social media efforts?
AR: Our supporter clubs are hugely important to our efforts. We've have a really loyal following and having them to amplify our message to the greater fan base is just fantastic.
JB: Adam, thank you very much for meeting with me and sharing some of your secrets. I like the look of your dashboard too! It's blue, it's white. It's… well, it's dynamite.
Have you tried HootSuite? Try it now free, or try a free upgrade to HootSuite Pro for 30 days.