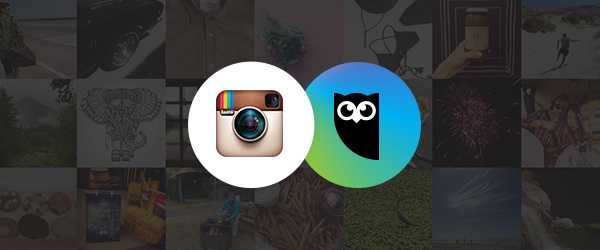 Welcome to the Hootsuite Dashboard, Instagram!
We are so freaking excited and we just can't filter it! Instagram, the "King of Social Engagement," the image behemoth, and the social network requested by more of our users than any other, is now integrated with Hootsuite! Insert all of the happiest emojis!
This is the moment we've been waiting for: SCHEDULING Instagram posts is now a reality! Assigning messages to team members is here! The Instagram functionality you need—plus a few extra bells and whistles—is available right inside Hootsuite. Now anyone can manage their Instagram presence alongside the rest of their social media activities.
With Instagram via Hootsuite, you can push your latest photo to Instagram; schedule your next one; find, like, and comment on photos; mention or engage with followers and commenters; and cross-promote your Instagram activities on Facebook, Twitter, and many other social networks—all from the same screen.
Our native integration expands on the monitoring and engagement functionality that's been possible through our app ecosystem since 2012, adding the features you need to fully manage your Instagram campaigns through the dashboard: scheduling, publishing, and collaboration. This is a game-changer for marketers, content creators, and social media managers.
This native integration allows Hootsuite users to:
Schedule and publish Instagram content
Monitor and engage with Instagram audiences
Securely share access to Instagram accounts across teams
Create team workflows, including assignments and approvals for Instagram
All of these features will help you save valuable time managing Instagram for business. You could, for example, schedule your entire week's worth of photos on Sunday, and then check in periodically throughout the week for engagement. You can also hand-off Instagram responsibilities to a colleague, but still get final approval before anything gets posted.
This integration will also make you a more efficient social media manager. You will be able to track all aspects of a social media campaign from one place, within your Hootsuite dashboard. If you launch a new product, you can respond to comments and engage users on Instagram from the same window you're using to engage followers on Twitter and Facebook.
No more treating Instagram as an afterthought in your social media strategy. Everything you need to become a leader on today's most popular photo app is now accessible and easy to use.
So, what's your next photo going to be?
This top-requested feature will be rolling out to all users throughout the day on August 5, 2015. Find out how to add your Instagram account with our helpful Instagram via Hootsuite how-to guide.