Social Media Helps Singapore Capitalize on #F1NightRace
One of this year's top Formula 1 drivers, Lewis Hamilton, became the leading championship contender after winning the Singapore Grand Prix last weekend, but the island nation's tourism businesses may also share in the spoils following the race. The annual Formula 1 event offers a chance to leverage global coverage on social media to increase tourism.
Singapore's tourism industry had a slow start this year according to Reuters, as a result of a slight decrease in the number of Chinese visitors coming into the country. But social media buzz from race weekend could give Singapore a chance to recover from the recent slump.
Organizers packed the race weekend with buzzworthy events to create online conversations. As usual, several high-profile pop stars headlined concerts, including Robbie Williams, Jennifer Lopez and John Legend. Several conferences were scheduled to coincide with the weekend, Reuters noted.
Thank you for coming out #Singapore!!! 60K strong!!! Amazing night. @F1 Congrats @LewisHamilton. #SingaporeGP pic.twitter.com/rOjdjr1gom

— Jennifer Lopez (@JLo) September 21, 2014
Jennifer Lopez sent out a photo of her concert—and congratulations to race winner Hamilton—on her Twitter and Instagram accounts, which have nearly 35 million followers combined.
Singapore, we're here! Excited to perform for F1 tomorrow!

— John Legend (@johnlegend) September 20, 2014
John Legend did the same for his concert, sending several Tweets and Instagram photos throughout the day to his nearly seven million followers. But it wasn't just the superstar visitors talking about the event on social media. Singapore's public figures also took to their accounts to tout the event and the country. President Dr. Tony Tan shared photos from the Ferrari Charity Challenge and the race night on his Facebook.
Another exciting #SingaporeGP this year! Congrats to @LewisHamilton for a spectacular win. http://t.co/Pe1KJxLMiN pic.twitter.com/twiRn0y4vM — Lee Hsien Loong (@leehsienloong) September 22, 2014
Singapore's Prime Minister Lee Hsien Loong tweeted his congratulations to Hamilton along with a photo of himself peering out over the race track.
YourSingapore, a project from Singapore's Tourism Board, slathered its social media accounts with behind-the-scenes pictures and showed off the country's landmarks on race weekend using the hashtag #OneStopNonStop.
Even some brands joined in on the hype, reported Marketing-Interactive.com, including BreadTalk and Toast Box.
Gear up for something hot that Singapore loves! #Flosss1 #FlosssBun #F1 #SingaporeGrandPrix pic.twitter.com/AK35BhyANS

— BreadTalk (@sgbreadtalk) September 20, 2014
From all these profiles, Formula One fans had a plethora of hashtags to follow or post with: #SingaporeGP, #SingaporeGrandPrix, #SingaporeNightRace, #SingaporeF1… All helping the term Singapore trend along with Formula One.
Social media usage in the area increased by nearly 200 per cent during the race weekend, according to one company's analysis.
Hootsuite's statistics show Singapore was mentioned about 211,000 times across social media between September 16 and 22, with the peak on race day. Twelve per cent of the online conversation came out of Singapore itself and the rest from across the world, including 16 per cent from the United Kingdom and 15 per cent from the U.S.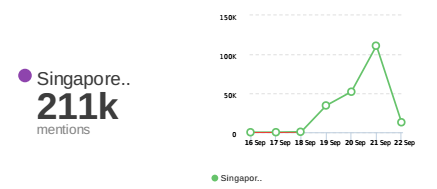 There are, of course, other factors when it comes to the country's tourism numbers. But the stats show that September's race sparked a worldwide conversation and spotlight on the country and what it has to offer.