Cricket enjoys the second largest fan base of any sport in the world and nowhere is that passion more evident than on social media. In fact, the Indian Premiere League (IPL) is one the first leagues to ever broadcast matches live via YouTube. So it comes as no surprise that social media has become the new playground for cricket's massive community of fans. If the sizzling social stats from the start of the IPL are any indication, the flourishing online community is set to grow faster than Dhoni sprinting between the wickets.
VIVO #IPL 2016: Captains sign MCC Spirit of Cricket https://t.co/qaYY6pvdCr pic.twitter.com/yh313qPE9i

— IndianPremierLeague (@IPL) April 9, 2016
The recent 2016 World Twenty20 saw record-breaking action on social media—close to 9 million Tweets, an increase of 122 percent in Tweets-per-match from the 2015 IPL campaign. Social media is nearly as fierce a battleground as the cricket oval itself.
The official IPL website has a 'Social' tab which captures all online conversations including a leaderboard for Tweets and mentions related to the tournament and each IPL team. Here are the leading teams as of Tuesday, May 10.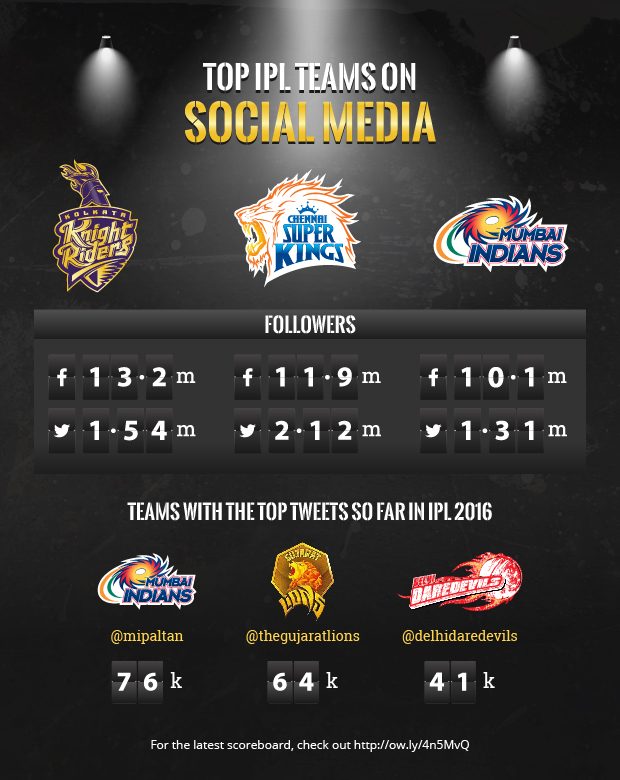 Whether you're a fan of cricket or not, here are three ways the cricket community is using social media.
1. Showing support and solidarity
#ProfileForPeace was a brilliant social media campaign started by citizens of India and Pakistan to urge their governments to engage in peace talks after a terrorist attack in March 2016. The campaign went viral during the T20 Cricket World Cup held in the same month.
Using Facebook's Profile Picture Frames, Indian and Pakistani cricket fans expressed support for one another on Facebook by overlaying the opposing team's colors on their profile photos—a pretty big deal for these passionate cricket fans. The decidedly peaceful color block swap on Facebook witnessed 22 million interactions between users showcasing support for their rival teams using the hashtag #ProfilesForPeace.
2. Focusing on mobile to drive engagement
The IPL 2016 mobile app has a feature to encourage cricket fans to show the world who they're supporting. It prompts users to take a selfie and pick their favourite team from a list. It then creates a frame with the user's chosen team colors and logo. As all well-designed apps go, it has an option to let users tweet out the #IPLSelfie.
.@KKRiders' Superman – @Russell12A poses for #IPLselfie. Get yours at https://t.co/KV4UWxcanK #KKRvKXIP pic.twitter.com/EwFQ3ct9q6

— IndianPremierLeague (@IPL) May 4, 2016
The appeal of IPL has been growing over the years with entertainers like Jacqueline Fernandez, Yo Yo Honey Singh, and Major Lazer marking the IPL season opener. IPL is also where cricket and Bollywood meet and the latter's star power has helped build interest in the campaign as celebrities and cricketers share their #IPLSelfies on Twitter.
Tips to keep in mind when planning mobile
Design a mobile friendly website and blog. Try using responsive design.
Tailor your content to specific platforms. Use more images and video for mobile. Make sure your images are high resolution for high definition mobile screens.
3. Leveraging the popularity of social video
The #MaukaMauka campaign created for the ICC Cricket World Cup last year was one of the most ingenious cricket ad campaigns to ever hit social media. It featured a collection of videos of cricket fans playing against the Indian team. Soon after debuting on YouTube, the campaign went viral. The first video in the series received over 2 million views in only three weeks. Social media was flooded with memes and some enthusiastic fans even created response videos. The popularity of the campaign continues in 2016 with this new video which was created for the T20 World cup in 2016.
Video is a big part of IPL 2016 as well. The tournament's association with the film and entertainment industry creates the perfect opportunity for quality video content and production. While the IPL 2016 website houses a variety of long format videos ranging from match highlights to interviews, Facebook and Instagram seem to be its preferred medium for shorter videos, most of which average 15 to 20 seconds.
Best practices for using social video
Social media favors shorter videos. If you have a long video, try creating shorter versions for each platform.
Embed social share buttons in your videos. Give users the option to share content easily with their networks.
Make sure your brand is visible in the first three seconds of the video.
Use eye-catching imagery for the thumbnail.
Don't insert your call-to-action only at the end of the video. Add annotations like speech bubbles and pop-ups with clickable links within the first few seconds.
Hootsuite makes it easy for you to add video to your marketing mix. Using Hootsuite you can upload, schedule, publish, promote, and monitor your videos.