Chinese Social Media 101 ~ A Glimpse Beyond the Great Wall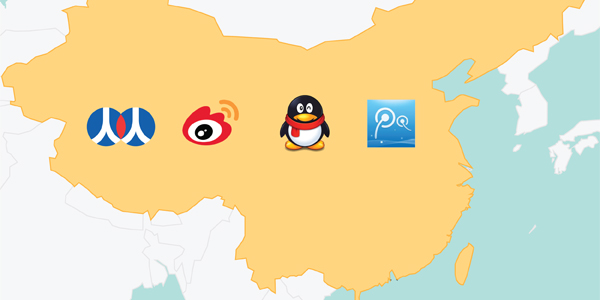 Did you hear the great news? On October 8, HootSuite launched a bunch of new stuff for Chinese users! In addition to translating the HootSuite into Traditional Chinese (with Simplified Chinese on the way), we also added Sina Weibo integration. This may have left a few people wondering, what is this Weibo thing anyways?
We have decided to put together the following primer on Chinese social media for those of you who are interested in getting to know it a bit better.
The State of Social Media in China
Chinese internet users can't all be lumped together; their culture is diverse in history, location and language. Aside from Mainland China, Hong Kong and Taiwan, there are large Chinese speaking populations around the world. There's tons of social networks for Chinese speakers, but we're  focusing on the largest and most popular.
Many people in the West know that China filters the internet. As such, social media sites we use heavily like Facebook, Twitter and even YouTube, are blocked. What's surprising though is the usage of social media among Chinese internet users.
There are 514 million internet users in China and an estimated 54% use social media. This means that China leads the world in total amount of social media users – these users are spending their time on a few massive sites.
Chinese Social Media Giants
1. QQ and Qzone

Starting out as something similar to MSN Messenger, QQ has grown into much more. QQ and Qzone offer instant messaging, social profiles and posting, as well as a host of other services that have garnered them over 700 million users as of September 2011.

2. Sina Weibo

Weibo, which means micro-blogging, exploded in popularity over the last several years. Leading the Weibo charge is popular site Sina Weibo. With over 300 million users in 2011, it is one of the largest social networks in the world. 
Many people think of Sina Weibo as the Chinese equivalent of Twitter, but in use, it is actually more like the Chinese lovechild of Twitter and Facebook. Like Twitter, you can send out short messages (and with Chinese, a 140 character limit lets you say a LOT), use replies and mentions. Like Facebook, you can comment on posts, like them and add lots of media-rich content.
3. Renren
Popular amongst the college crowd, Renren looks, feels and functions much like Facebook. In their pre-IPO release, Renren estimated 31 million active users. As these tend to be among the more educated and wealthy of China, many view the network as significant despite the lower numbers relative to networks like QQ and Sina Weibo.

4. Tencent Weibo

The second largest Weibo service, Tencent Weibo is operated by QQ. Tencent tends to feel much more like Twitter than Sina, with a cleaner layout and a larger focus on user experience.
Though presently smaller than Sina, both in users and traffic, many people are waiting to see which service wins out in the long run as Tencent can tap into the massive QQ user base.

Dipping Your Feet in the Ocean

The growth, engagement and total number of users in Chinese social networks make it a compelling place to be. As in the Western world, people in China are finding themselves juggling multiple social networks. Consumer brands and businesses are also using these platforms to connect with users.
HootSuite plans on continuing to expand our support for Chinese social networks, allowing users who straddle Western and Chinese networks to easily use them all.  

What's your experience with Chinese social media?
We're working on what we think you'll like, but we want to know what you would like. How can HootSuite help you? Want a particular app or feature added? Let us know.

Share your opinion:

Comment on this post by leaving a message below
Join the conversation on HootSuite Weibo page
Follow us on @HootSuite_CN and send us a tweet
Use our Feedback page, where you see current suggestions and leave new ones