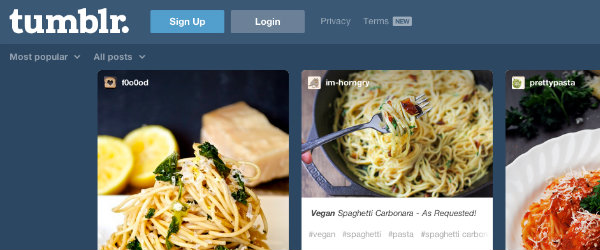 Getting Started Guide: Tumblr for Small Businesses
Tumblr is one of the fastest-growing social networks, with users spending more time per visit than they do on Facebook. On the outside, Tumblr is an easy and free way to host your company blog, with hundreds of clean and beautiful themes to choose from. But on the inside, Tumblr is a viral social network that allows you to find blogs you love, follow them, and view their content as a syndicated feed in your dashboard. So how can a small business leverage the virality of Tumblr? Here are the things you'll need to know to get started on Tumblr:
Get to know your audience
Like every social network, in order to get the most out of Tumblr it's important to understand your audience. Tumblr is home to active, devoted communities who share and converse about things they're passionate about; from design to librarians to Hello Kitty Nail Art, there's a community relevant to every business.
Invest time in finding blogs to follow that relate to your business, so you can find the communities that are relevant to your product. For example, if you're an Etsy shop like ModernGirlBlitz, you can follow other craft blogs, style blogs, and the personal blogs of customers so you can see what kind of content they enjoy.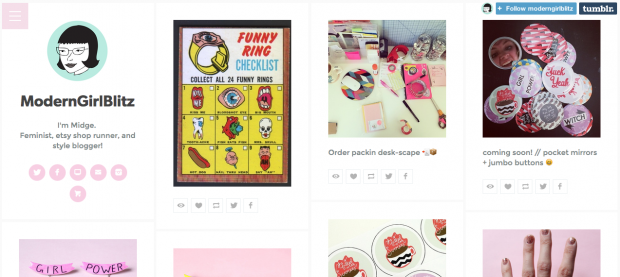 Reblog your heart out
One of the best things about Tumblr is that your content doesn't have to all be original—in fact, curating content and "reblogging" other users is recommended to help grow your community! Tumblr users are following other blogs, liking their posts, and sharing it with their followers, which provides an opportunity for businesses to attract a new community and get more eyeballs on their content. With the click of the "reblog" button, Tumblr users can share your content with their followers while maintaining attribution, which allows your posts to quickly spread across the network to reach a whole new audience.
What makes Tumblr unique as a blogging platform is the ability to have a two-way conversation with existing and potential customers, instead of just creating a post and hoping people comment on it. Every time you create a post on Tumblr, whether it's a single photo or a long text post, it becomes a part of Tumblr's community.
If you want to find success on Tumblr, you'll need to engage with the members of the community, just like you would on any other social network. Following other blogs and liking and reblogging posts is key to building a good Tumblr reputation, which encourages other users to reblog your content and helps your business easily gain exposure and customers.
Think visually
The most popular type of content that gets reblogged is visual, so posting high quality images, GIFs, or videos is key to having your posts spread across the network. You're more likely to get noticed by sharing more content, so instead of creating one photoset with 7 images, think about creating and scheduling multiple posts with 1 or 2 images. Tumblr is full of the creative people, so try new things and think outside the box about how you can tell your brand's story through an image.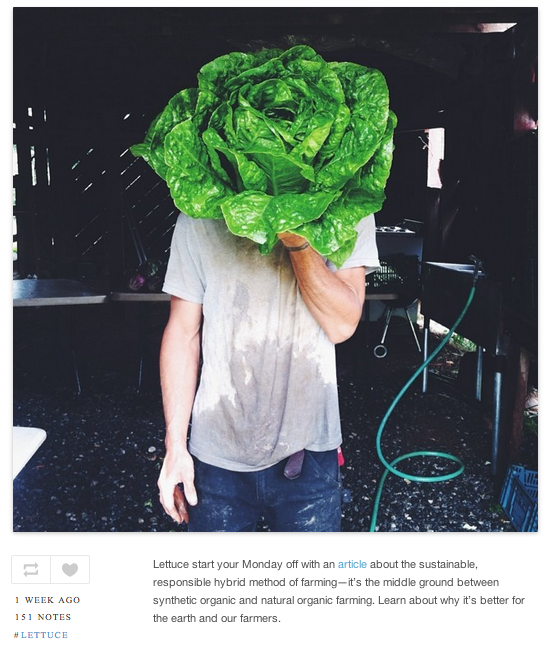 Use Tags
Users can also browse through different categories to discover new content that is relevant to their interests, giving small businesses an opportunity to attract new customers.  Adding tags to your post is the easiest way to have other users find and share your content, so don't be shy about tagging search terms relevant to your business. For example, if you're a small business that sells your own tomato sauce and make a post about "spaghetti," you can add additional related tags like "pasta," "food," "meatballs," "carbonara," etc. To know the right tags to use, monitor Tumblr's Spotlight section, where you can find the top and trending blogs for different categories that your business would fit in, like Food & Drink. You can then follow influencers and competitors to see what tags they're using and add these to your posts.
Learn the lingo
Tumblr has created it's own version of "internet speak," so be sure to familiarize yourself with the social network's language that includes Submit, Ask, and Radar. When users want to contribute to your blog, they can "Submit" a post, or send you a question through your "Ask" box. The right hand side of your dashboard shows one curated post that is promoted to all Tumblr users, which is called "Radar."  Finally, your Tumblr experience isn't complete until you learn how to GIF!
Want to manage your new Tumblr alongside your other social media accounts? Download the Tumblr App from the Hootsuite App Directory!