Isn't it the dream to have a faithful sidekick to do your bidding? (In a totally non-evil way, of course?) Using social media automation tools like chatbots to handle your Instagram messages is one of the best ways to successfully handle customer service and sales. After all, even the most hardcore entrepreneurs and social media managers can't be online 24/7 (nor should we—don't forget about taking a silly little walk for your silly little mental health).
As more and more conversations—social, business and otherwise—are taking place online, automated messaging platforms are growing in popularity. Read on for the ultimate guide to using Instagram chatbots for your business.
Bonus: Learn how to sell more products on social media with our free Social Commerce 101 guide. Delight your customers and improve conversion rates.
What is an Instagram chatbot?
An Instagram chatbot is a messaging system that addresses human inquiries using automated responses. Chatbots use artificial intelligence to communicate with people. They're the ultimate system for automatic replies: they can answer questions, make recommendations, and even refer customers to a real human if they get stuck.
Instagram chatbots are different than the trashy, troll-y Instagram bots you know and don't love. What's the difference, exactly?
Instagram bots are often fake, computer-generated accounts that are used to to make it appear as though someone has more likes, followers or comments than they actually do. They masquerade as real people, but they're not particularly good at it. Bots will often tag random accounts in comments, send you vague Instagram DMs, or try to scam or phish you out of money.
Instagram chatbots don't pretend to be real people (honesty is the best policy, after all). They act as a go-between communicating from a brand to a consumer in real time. Chatbots are integrated into a brand's actual Instagram account—they're not some weird separate account with 4 followers and 0 photos trying to get you to buy stuff.
To put it bluntly: chatbots are a legit customer service tool, while bots are annoying at best (and total scams at worst).
The business benefits of using Instagram chatbots
Before we get started on biz benefits, here's a few relevant Instagram stats that will set the stage:
In other words, commerce through Instagram is a huge opportunity for any brand: Instagram users are super down to shop. And just like Instagram Stories, posts and ads can engage potential customers in public, chatbots can help convert interest into sales in private.
Here are other ways Instagram chatbots for business can help your team.
Save time
For humans, responding to Instagram DMs takes time. But for robots, it's instant. When you use an Instagram chatbot, any direct message you receive will be replied to automatically. All the time you spend reading through DMs and replying to customer inquiries can be put to better use: brainstorming new marketing campaigns, building financial reports, taking a well-deserved potato chip break.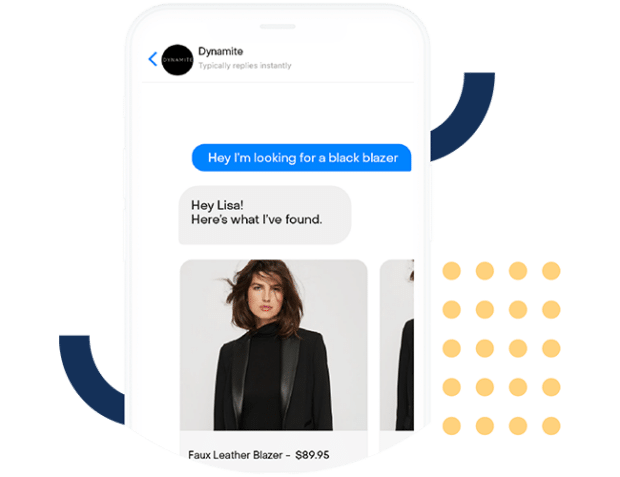 Automate lead generation and sales
Using an Instagram chatbot is like having a lightning-fast employee of the month (one that's weirdly competitive about having the highest sales stats, but that's cool, you don't have to hang with them at the office holiday party).
Instagram chatbots can recommend products directly to your customers within the chat, leading to faster and more streamlined sales.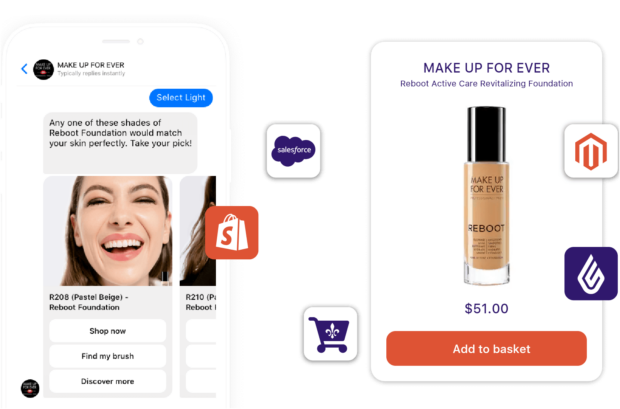 After using social media chatbot Heyday for six months, cosmetics brand Make Up For Ever saw a 20% increase in online sales and a 30% conversion rate on personalized product recommendations.
Learn more about your customers
Instagram chatbots keep track of the kinds of questions your customers are asking, which makes them a valuable source for insights into your consumer audience.
For example, if you find hundreds of people have the same specific question about your return policy, it might be time to revisit the wording of said policy. Or, if your chatbot is recommending the same product to multiple customers and converting the conversation into sales, it might be time to check your inventory and make sure you have enough supply to meet the demand.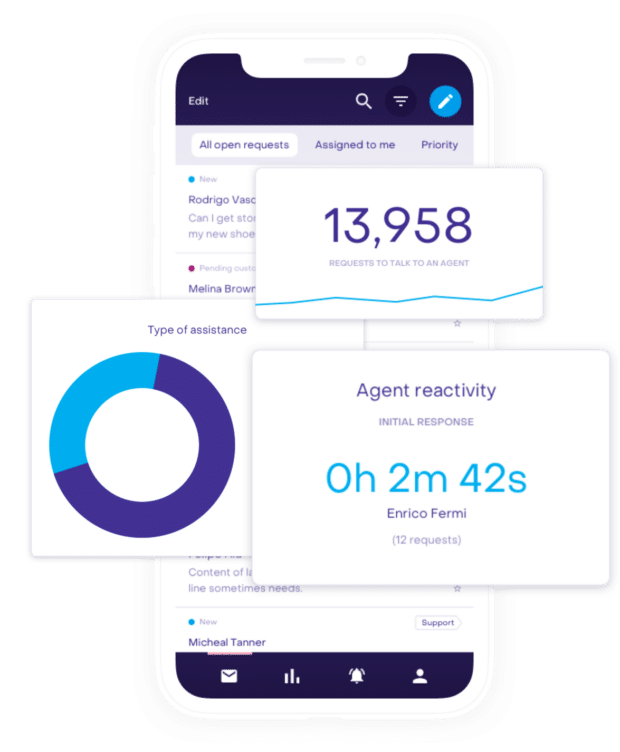 Of course, this is all information you would get if you answered customer inquiries yourself—but having a chatbot automatically manage your statistics saves precious time.
Provide fast and accurate responses
We've been over the time-saving benefit for businesses, but hey, it's not all about you. Chatbots also save time for your customers. There's no 9-to-5 for bots, so potential consumers can ask a question at any time, day or night, and it will be answered immediately.
Speaking of night—you ever groggily reply to a DM and wake up thinking, What the heck was I saying? Bots also help to prevent you using your Instagram messenger as a personal dream journal. Work stays within the boundaries of work hours, and you won't have any embarrassing typos.
Answer messages in multiple languages
Being able to communicate in multiple languages is integral when your business has (or wants!) a diverse consumer base. 80% of shoppers are more likely to make a purchase when they have a personalized in-person or eCommerce retail experience, and a big part of that personalization is speaking the same language as your customers.
There's multiple ways you can go about setting up a multilingual chatbot. If you've made one yourself, you can translate answers into multiple languages. Or (if you're not an all-star computer genius and also language wizard—few of us are) you can use platforms that have a multilingual chatbot built-in to their system.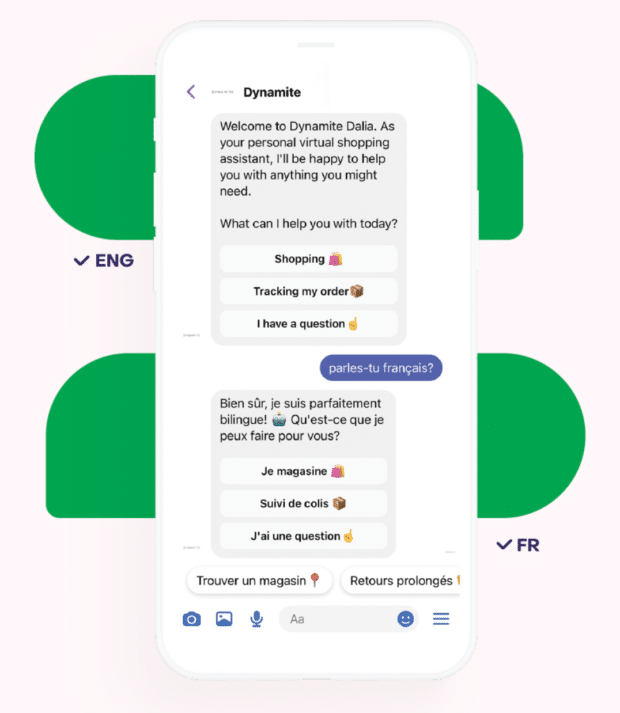 Heyday AI's chatbot is automatically bilingual (in English and French, because we're based in Canada, eh) and other languages can be added upon request.
Build a good reputation for your brand
In dating and in business, no one likes to be ghosted. Leaving your customers hanging is a bad look for your brand, and Instagram chatbots help to make sure that folks who message you feel taken care of. Advertising and marketing are awesome tools, of course, but nothing hits a consumer's heart quite like a recommendation from a trusted friend. Using a chatbot's prompt responses will improve your customers' experience with your brand, and make them more likely to talk you up or buy from you again.
The dos and don'ts of using Instagram chatbots
DO let human agents handle complicated inquiries
As every sci-fi film has taught us, robots aren't perfect. While Instagram chatbots are useful for common customer questions, they're not a guaranteed automatic answer to everything.
High-quality chatbot programs will always have an option to pass an inquiry on to a human if the request is too complex for the bot to handle. So do make sure you're still keeping an eye on those notifications—every once in a while, your robot BFF is going to need some support.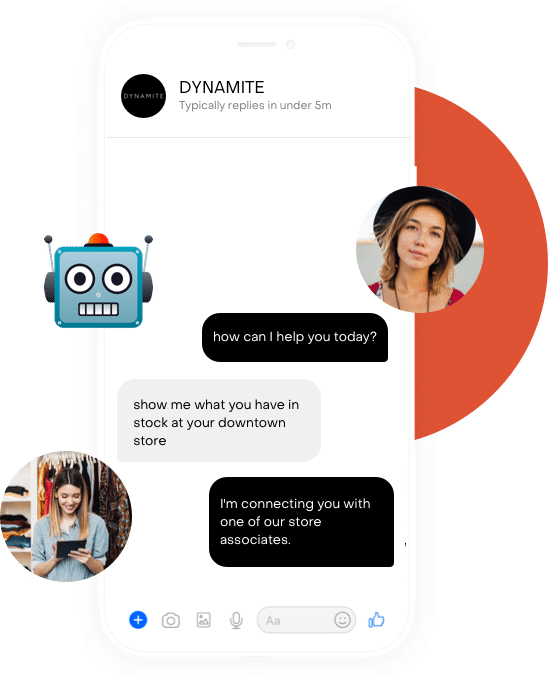 DON'T spam
Using an Instagram chatbot, you can send personalized product offers or special deals to your customers—which is great, in moderation. If you're sliding into DMs too much, or replying to customer inquiries with messages that seem inhuman and sales-y, you're likely to get yourself blocked. We've done experiments on buying fake Instagram followers (spoiler: not worth it) with the moral of the story basically being that the 'gram doesn't like bots that act like bots.
Many of the same rules apply here: humans don't like that, either, so refrain from spamming your followers with too many messages.
DO research platforms before buying
Google "Instagram chatbot" and you'll land on over 28 million results. As the need for automated messenger systems grows, so does the supply, but not all chatbots are created equal.
When you're researching tools to help with your social media management, look for case studies, customer reviews, and other evidence that the platform is high-quality. If the platform gives examples of companies that use its services, try messaging those companies yourself to see how good the chatbot really is.
Because direct messages are such a good tool for customer service, you want to make sure that you're handing over the reins to a platform you trust. The last thing you want is a sketchy chatbot sending weird messages to your potential customers—after all, bot or no bot, you're still responsible for the actions of your brand.
DON'T forget to monitor your bot's activity
This might be obvious, but we think it's still worth mentioning—the purpose of an Instagram chatbot is to make your DMs easier to manage and to save you time, not to erase the need for you to check your DMs all together. Remember to check in on your bot and make sure it's functioning the way you need it to.
Also, as previously mentioned, good quality chatbots can offer valuable insights into your brand and customer relationships—use those insights just as you would use Instagram insights to improve your marketing strategy.
In other words: don't ignore your bot! Like a rice cooker or an outdoor cat, they're pretty self-sufficient, but you can't forget about them altogether.
Want to learn more about the best practices for conversational AI? We got you.
Instagram chatbot examples
Here's a few examples of chatbot conversations from Heyday, a conversational AI platform that added Instagram integration in 2021.These examples are from Facebook Messenger, but Heyday works the same for Instagram pages and Facebook pages.
Example 1: Recommending products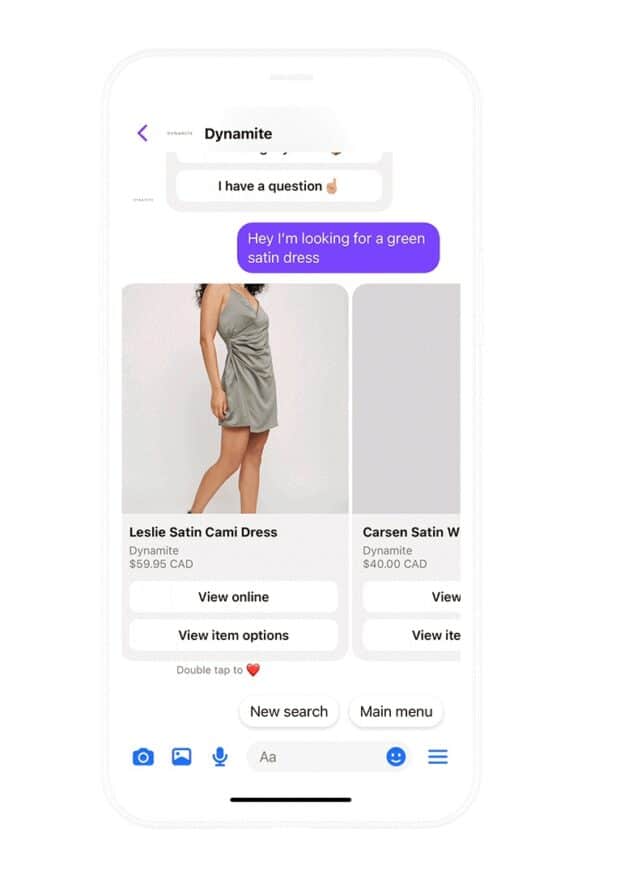 In this conversation, the chatbot answers a specific customer inquiry with links directly to suggested products. Clothing brand Dynamite saw a 29% increase in customers on chat after incorporating a bot into their customer service strategy.
Example 2: Answering FAQs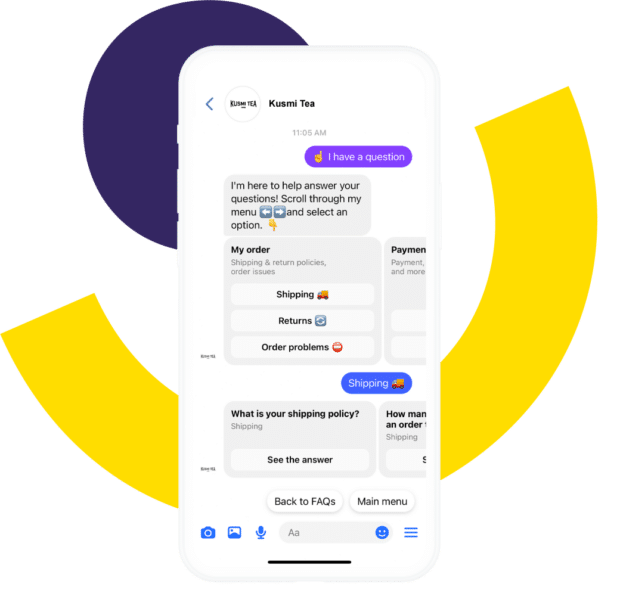 This chatbot has all of Kusmi Tea's frequently asked questions programmed in, so when a potential customer asks about shipping, the bot has the answers ready to go. Using this system, the company chatbot started over 8,500 conversations with customers (and had a 94% automation rate) in three months, and cut their overall response time from 10 hours to an average of 3.5 hours.
Example 3: Orienting new customers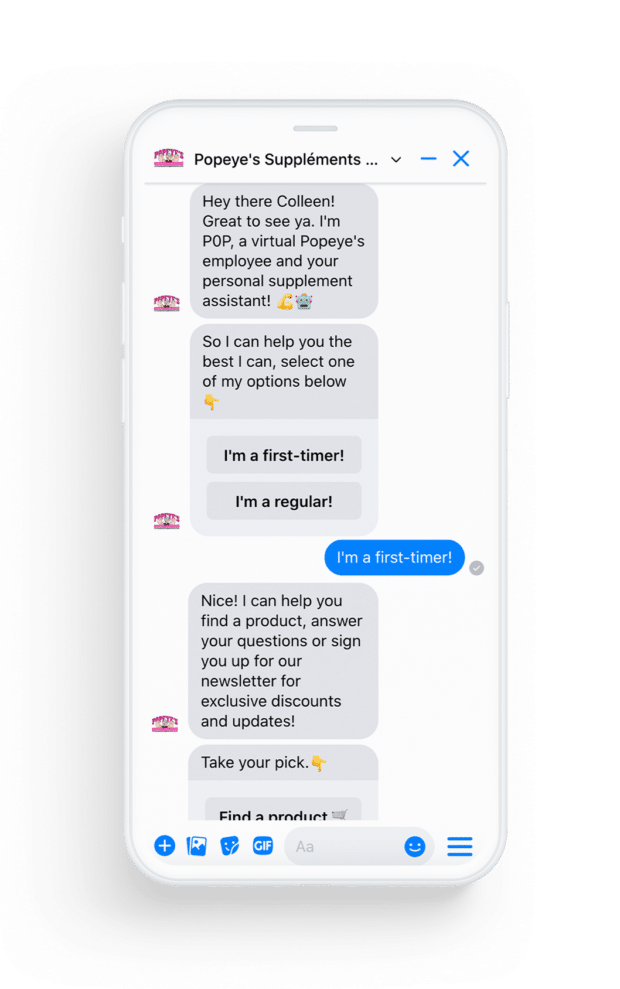 Popeye's Supplements' chatbot has an option for first-timers to learn more about the brand, and promotes the company's newsletter within the chat.
Instagram chatbot for retailers
You've probably noticed in this post that we're a little crazy about Heyday–the conversational AI platform that joined the Hootsuite team in August 2021. Heyday's one of the best tools out there for smart social commerce, and the platform has everything you need for converting customers at scale. Here are a few highlights:
All of your conversations are in the same place.
Whether it's AI-generated or human-typed, Heyday streamlines all your messages into one inbox. (So no more digging for that one Insta DM—or was it a Facebook message, or email…)
The chatbot makes personalized product recommendations.
The smart technology can gather keywords from inquiries and use them to recommend the perfect product for your customers.
Online customers can be connected with in-person sales staff.
Heyday's hybrid approach isn't just about bots—it's human people working with tech. The chatbot can hook up an online customer with an in-person retail manager remotely via live chat and video calls.
Huge surges in business can be managed easily.
If your brand is blowing up, consider making a chatbot your next hire. Mercy Handi's hand sanitizing gel saw an enormous increase in sales in 2020 (because, well, you know). Think an 817% growth in global sales. They used Heyday's chatbots for FAQ automation to help deal with the influx in business, which took a lot of pressure off their customer support team.
There's 20 integrations (and counting).
Heyday has all the major integrations that make buying online easy (Shopify, Google Business Manager, Magento, Prestashop, Salesforce, and more). That means customers can add items to their online cart directly within the chat. Easy money.
Engage with shoppers on Instagram and turn customer conversations into sales with Heyday, our dedicated conversational AI tool for retailers. Deliver 5-star customer experiences — at scale.
Turn customer service conversations into sales with Heyday. Improve response times and sell more products. See it in action.
Free Demo