Social media presents a plethora of possibilities to brands. It offers them a way to interact at a more personal level with global audiences. Retail brands, in particular, use social media quite heavily for a variety of purposes.
In addition to publicizing things like discounts and new collections, they can gain insights into what concerns their target audience has. This information is key for tailoring future campaigns and product innovations to engage audiences better.
According to a study by Pew Research Center, more than 90 percent of brands have a presence on more than one social network.
Almost all brands studied had a presence on Facebook. While quantifying the return on investment of social has puzzled marketers for a while now, it definitely has a bearing on consumers' purchasing decisions. Social media affects several facets of how a brand is perceived.
Retail brands up their social media game to match the rich dividends that are up for grabs. The strategies that top retail brands use on social media to gain engagement offer valuable takeaways for any brand that aspires to a vibrant social presence.
I analyzed the performance of some of the top retail brands on Facebook in 2016. These include Wal-Mart, CVS, Walgreens, Home Depot, Target, Costco, Lowe's, Amazon, TJ-Maxx, and Macy's.
This post details some of the main trends that I identified.
Retail social media trends
Focus on quality, not volume
The frequency at which brands post on Facebook has fallen significantly. Compared to the previous year, there was a 34.18 percent drop in the volume of posts published by the brands studied here in 2016.
Of these, Amazon published the most last year, while Target had the least number of posts. Take a look at the number of posts published by each of these brands in the chart below.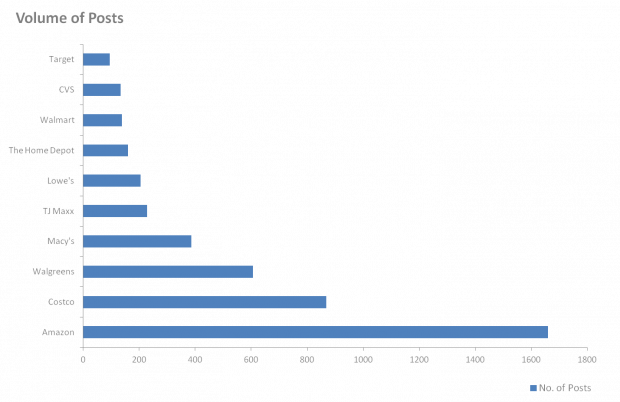 It is evident that social media marketers are opting for quality and targeted messaging instead of volume. It is important that brands look at not just the optimum frequency of posting, but what kinds of posts perform best.
Targeted messaging that engages your ideal customer should be your priority. Ensure that your message reaches your target audience without compromising on quality instead of a spray and pray approach.
Visuals make your content more engaging
Images can get you 2.3 times more engagement than posts without pictures. It could be for that reason that the lion's share of the content published by these brands were photos.
The number of videos published by the retail brands studied here has gone up considerably compared to the previous year. In 2015, videos comprised 12.34 percent of the total content published. This went up to 27.23 percent in 2016.
Facebook has so far encouraged this shift to video content creation by brands. Studies have demonstrated how videos bring in better engagement than other content types. Further, the Facebook algorithm grants better reach for organic videos compared to other non-promoted content types. This does not mean that marketers could produce more video content and forget about promotion.
The chart below shows the split of content along with the paid efforts that went behind each type.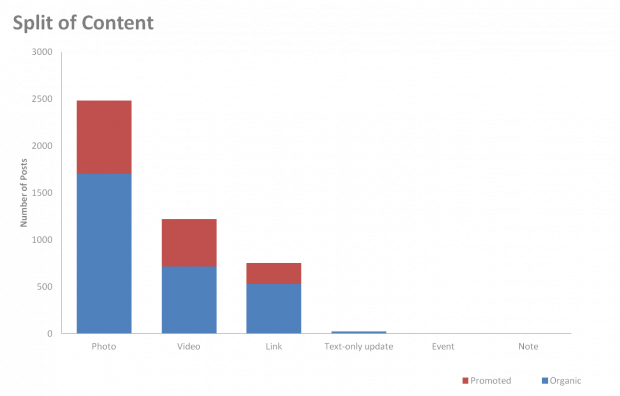 More than 40 percent of all videos were promoted and 30 percent of all photos and links were backed by paid efforts. This trend is not an anomaly since marketers are embracing paid posts on Facebook for better reach.
It also comes with the ability to see your content through to people who have a specific interest, belong to a particular demographic group etc. This is very relevant for retail chains which house a variety of products.
If you look at the chart below, you will be able to see the returns offered by promoted content in terms of engagement.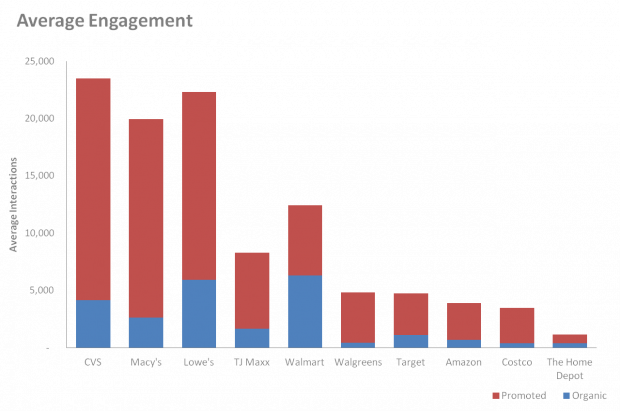 That said, it is not practical for brands to promote all their content. Marketers need to publish quality content that is highly relevant to their audience and promote wisely. If you are running a new campaign, you can concentrate your paid efforts around that. Same goes for contests, limited time offers, and sales.
Photos most liked, videos most shared
According to our data at Unmetric, videos on average get more shares than any other type of content. Each video gets around 566 shares while a photo can get 287 shares. However, while a typical photo gets as many as 3,332 likes, videos receive barely over 2,000 likes.
Social media marketers can benefit greatly from creating quality video content. By capitalizing on shares, these posts can get good reach even without paid efforts.
Watch for trends and double down on what performs best
While top-down statistics are helpful to identify larger trends in the social media landscape of an industry or region, a closer look at top performing posts is also essential. This yields inputs on how you can position your content and the content strategy that best resonates with your audience.
Amazon has the most engaging Post within the group.
The online retail giant logged 4.4 million views, 52,000 reactions and close to 69,000 shares with this video. They wowed their audience with a glimpse into a supermarket in the future where you need not check out the items you purchase.
An app would automatically do that for you, as you shop. Social media audiences love it when brands share their innovative plans for the future, especially if it looks as awesome as this video.
Common types of popular content in retail
DIY guides and recipes
In 2016, all the brands I've included in this article published 4,484 posts in all. Of these, 53 posts mention DIY, 41 are recipes, and 77 are project ideas.
What is even more impressive is that these three kinds of content got more likes, shares, and comments on average than any other type of content. While DIY, recipes and project ideas could rope in 4,296 likes, 476 comments, and 690 shares, other content could only muster 2,602 likes, 201 comments, and 329 shares.
CVS Pharmacy's post was among the most engaging in this category.
Check out other such highly engaging posts by Lowe's, Target, and Costco.
The key takeaway here? Stay on top of the content trends in your industry. Look for content types and formats that are bringing in engagement in your sector and region.
Corporate social responsibility (CSR) initiatives
Brands that use videos to let their customers know about the CSR initiatives they carry out or invite them to be part of such events get a lot of engagement too. One of the most engaging posts in this vein was Walmart's Greenlight a Vet.
For Veteran's Day, the retail chain requested people put green lights on their porch as a mark of respect for vets. A portion of the proceeds from the sale of these lights would go to four military service organizations.
Walmart used live video so that social media audiences could demonstrate their show of support to this initiative live. It received close to 4,500 comments, mostly from people who had a veteran in their family.
Macy's made a similar move by pledging some of the proceeds from Ideology merchandise to the American Heart Association's "Go Red for Women" campaign. And T.J. Maxx ran a campaign aimed at making women realize how remarkable they are.
As part of the research, they found that only 19 percent of women considered themselves and what they did remarkable. An ad that was part of the campaign won a lot of love on Facebook.
Comments poured in from people who showed support for Lily and other children with Down's syndrome.
Engagement and customer service is key
Brands usually prefer Twitter over Facebook for addressing customer service requests; several brands maintain customer service handles separate from their corporate Twitter handle exclusively for this purpose. However, the retail brands studied here had respectable reply rates on Facebook too. On average these brands responded to 39.39 percent of all user posts.
Take a look at the time that these brands took to reply to a user post on average and the percentage of user posts responded to below.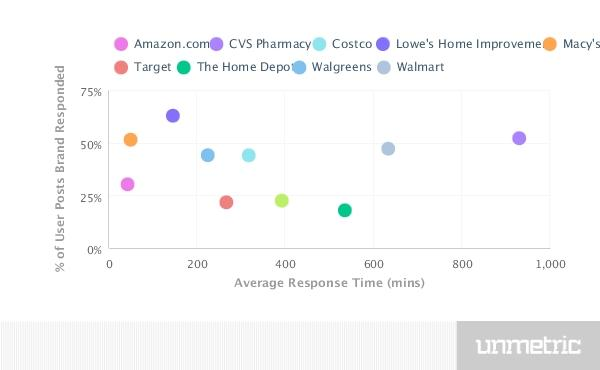 Amazon's quick response time and moderate response rate looks even more commendable when you take into account that they received over 75,000 user posts during the period. A decent response rate and quick response time goes a long way in making consumers feel that the brand cares for them.
Benchmark your performance against competitors and aspirational brands to identify content opportunities and strategies that you might be missing out on.
How retail brands can be successful on social
Social media marketing cannot be limited to posting to a social channel. It requires constant measurement and planning before and after posting. Brands can excel on social media only with data-backed insights.
Monitor how well your posts perform. The metrics you look at should give you a clear picture of where you stand vis-à-vis your social media goals.
It is essential that brands have a clear picture of the broader social media landscape. By considering their own unique strengths and social media ambitions, they must find a space where they can get through to their target consumers.
Whether you're a retail brand or simply drawing inspiration from one, Hootsuite can help you manage your social media presence. Schedule posts, engage with followers, and track the success of your efforts. Try it free today.