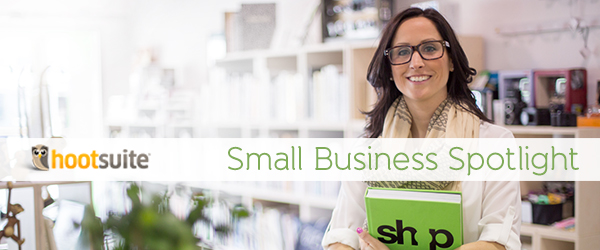 Material Results: Bringing Science to Social, Polymer Solutions Grows Followers by 375%

When Caitlyn Scaggs started in her role as Director of Communications and Marketing at Polymer Solutions, she was the only person in the Marketing department. In an effort to reach more potential clients and expand business beyond their local community, one of her requirements was to get the social media program up and running. "The company had been told we needed [social media]," says Scaggs, "but no one understood why or how it could be relevant to a B2B technology-based company."
Polymer Solutions is an independent testing company that investigates the chemical composition, durability and safety of a variety of materials. They have tested everything from medical devices to consumer packaging, bath toys to bowling balls. Scaggs soon discovered that social media could not only be used to attract and engage with customers, but with potential employees as well. Through social media, Scaggs shares Polymer's story, attracts the best and brightest potential recruits, demonstrates thought leadership, and builds relationships with new suppliers and business partners.
With her structured approach, Scaggs reflects the culture of the lab. That structure also led her to HootSuite, which helps her stay organized. "I tackle social media with a scientific approach, using data to back up decisions. That's where HootSuite really comes into play," she says.
Keeping Content on Schedule
When Scaggs added a member to her marketing team, it was important that she be able to collaborate on social activities. With HootSuite Teams, she is able to assign tasks and prevent outreach overlap, while maintaining control over content through permission settings. Using HootSuite's scheduling options, Scaggs is able to plan her daily posts on Twitter, Facebook and LinkedIn in advance, enabling her to spend more time engaging in conversations with potential customers.
Though the type of content Polymer shares is varied, it is all supported by Scaggs' social strategy. She posts videos, images and links on the company's social networks that drive traffic to Polymer's blog, which often features articles explaining the science behind everyday life. This highly sharable content has helped Polymer connect with potential customers and employees alike. To maximize the reach of each blog article, Scaggs structures each post to appeal to different target audiences, from scientists to media personnel. Scaggs injects humor and a playful personality into her social strategy to connect with the often engaging communities found on social media.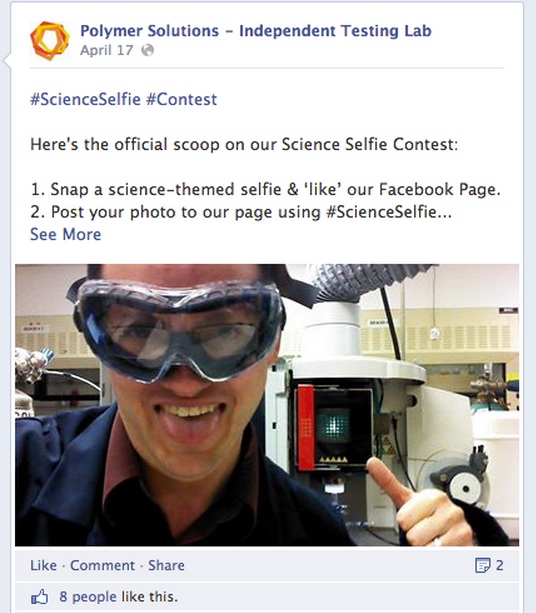 Polymer Solutions uses hashtags to encourage engagement, such as this #scienceselfie contest.
An Analytical Approach
Scaggs uses HootSuite's analytics tools to monitor follower growth. She reviews click rates to understand which topics her audience cares about and wants to engage with. She uses Twitter Lists to monitor local businesses—which Polymer likes to support—and others who share interesting, relevant content she can re-tweet to her followers. But Scaggs says HootSuite is most useful in helping with time management. "I would say at the highest level that HootSuite allows me to stay engaged with our social media strategy throughout my entire day, while still being able to work on my other job responsibilities."
Since implementing HootSuite in July, 2012, the company's Twitter following has grown 375%. "To me HootSuite is a must have," Scaggs says. "To have a really integrated social media program does take a lot of effort, but a program like HootSuite makes it more streamlined, more efficient. It is really an all-encompassing tool that gets you the information you need, and has the resources you need to get it done effectively."
Getting Measurable Results Using HootSuite
Polymer's scientific approach to social has helped in many ways, including generating new business leads. By monitoring conversations related to a tradeshow through HootSuite's keyword search stream functionality, Scaggs was able to connect with a potential client. This social connection led to an in-person relationship and potential business partner. Polymer has also gained media attention through its social activities. After posting about an upcoming expansion, the company connected with a media person, which led a front-page article in the local newspaper.
One of the biggest impacts social media has had for Polymer Solutions has been the ability to foster an internal culture of sharing and celebrating their work. Scaggs' methodical approach to social media has helped motivate her scientist colleagues to contribute. "I have managed to get incredible buy-in from the people I work with, who support what I do and give great content to share," says Scaggs.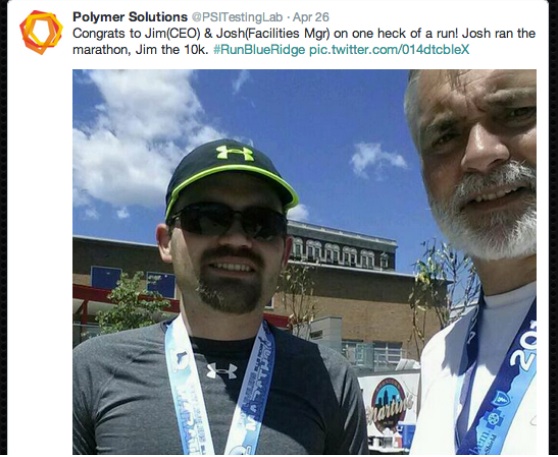 Polymer Solutions social networks regularly feature updates from and about their employees.
"As we grow, my job becomes harder because I am marketing a company that's bigger than it was when I started," Scaggs adds. "HootSuite is going to be even more of a necessary tool to help me efficiently manage social media while still meeting all my other requirements for the day."
To get your business up and running on social media, check out our Small Business Bundle. It's tailored to save you time and help you grow your business.
Save time and grow your business with the HootSuite Small Business Bundle. Sign up today.