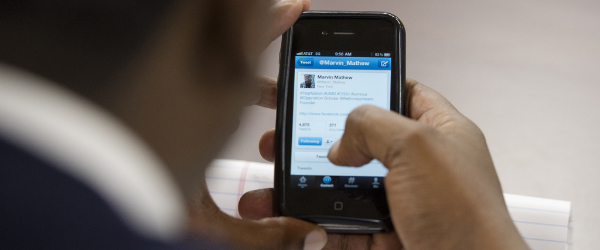 7 Social Media Challenges And Business Opportunities For Social Media Managers
In recent years, social media has emerged as a powerful new marketing tool. It continues to be an integral part of marketing strategies across various industries, but as it is still relatively new, the learning curve is steep. As social media and social media marketing evolves, knowledge of the field is gained by marketing professionals largely through trial and error.
We understand it can be overwhelming, frustrating and often confusing to navigate the world of social media management, and we know there's an ample amount of social media challenges small businesses face everyday. To help you out, we have put a list of social media challenges together, along with ways to overcome these challenges.
7 Social Media Challenges and How To Turn Them Into Business Opportunities
Jump to challenge:
Challenge #1: I don't have enough time to manage social media
Managing social media doesn't have to be completely time-consuming. There are numerous ways to efficiently manage whatever you do on social. Once you have these methods established, the time usually spent on social media management can now be used to listen to your customers more effectively and to work on other aspects of your business.
Tip #1: Plan ahead and use Scheduling
When planning and executing your social media strategy, it helps to save time by scheduling pre-planned content. This not only helps to build an audience, it also prevents you from inundating your follower's feed with too much or not enough information. Scheduling helps you maintain a steady flow of content being published throughout the day.  Another advantage to scheduling your posts is that you still can continue to share news, updates, and content in the event that you are busy or away from the office.
Tip #2  Use AutoSchedule
In addition to regular scheduling covered in the above tip, you can also use AutoSchedule. AutoSchedule determines the optimal time to reach your audience and posts for you.
Extra Reading: Download our Saving Time Guide for more time saving tips
Challenge #2: When is the best time to tweet?
Knowing the best time to tweet allows you to increase reach of your Tweets and increase engagement. To find out the best time to tweet, getting to know your audience's social media behavior will help.
Tip #1: Your geographic location matters
When discovering the best time to tweet, make sure you factor in both your  own geographic location and the location of the customers you are targeting. Tweeting at 9 am Vancouver, Canada time won't necessarily render the same results if your customer base is in São Paulo, Brazil.
Tip #2: Use the right tool
For small businesses, the best times to tweet can be found using various tools. Here are three to get you started in discovering the best time to tweet for your business:
SocialBro, Hootsuite Autoschedule, Hootsuite Analytic Reports.
Tip #3: Make sure you engage on social media
Knowing when the best time to tweet for your company's Twitter handle starts with social media engagement. In other words, if you are taking the time to tweet, take the time to engage with your followers as well. Initiate conversations, provide value to your audience by sending them tips and take note on the times of day your audience responds the most.
Extra Reading: For more information about the best time to tweet, check out this blog post.
Challenge #3: How do I create a social media marketing plan for my business?
If you are trying to set up your business for success on social media, setting up a social media marketing plan is essential.
Tip #1: Clarify Your Business' Social Media Goals
The most important part of your social media marketing plan is defining clear goals. All decisions are informed by these, so without clearly defined goals, your marketing plan will also be scattered and/or ineffective. To prevent this from happening, start by writing down at least three social media goals for your business. Make sure each goal is specific, realistic and measurable.
Tip #2: Audit Your Current Social Media Status
Once you have established your goals, conduct a search for both officially sanctioned and unauthorized pages representing your company.  These range from fan sites, fake sites posing as your company, or your official brand sites. Figure out how many followers you have, how many visitors you get to the sites and whether everything is up to date. Remove all spam and unimportant content.
Tip #3: Develop Your Content Strategy
The previous two tips should now create a framework for you to develop a comprehensive content strategy for your marketing plan. Within your content strategy, you should include what type of content you intend to post, how often you will post content, who your target audience is, who will create the content, and how you will promote the content.
Tip #4: Use Analytics to Track Progress
Once your social media marketing plan has been implemented, it's now time to check the appropriate metrics and see how your content is performing. Find out when your fans are online, how many are seeing your posts, who's sharing or responding, and who's viewing and engaging with your web pages. To help you out, Hootsuite Pro offers advanced analytics and reporting, including Facebook Insights and Google Analytics.
Tip #5: Adjust Your Strategy as Needed
Once you've analyzed your current campaign, resolve to do more of what is working and revise things that are not working. Re-write your content strategy based on your analysis to reflect your new understanding. You will need to keep developing your strategy and content, and use analytics to guide your next steps throughout your social media campaign.
Extra Reading: For more help on creating a social media strategy, download our 5 Step Guide to Creating a Social Media Strategy
Challenge #4 : What is social media engagement? And how do I know if I am doing it right?
People are more likely to recommend a business that engages with them on social media compared to a company that has no social media presence. That being said, many companies overlook proper social media engagement and miss a major business opportunity.
Tip #1: Proactive Social Media Engagement Can Go A Long Way
To take your engagement a step further, be proactive, listen and respond. Don't let interaction with your audience be a passive experience. Reach out to your audience instead of waiting for them to reach out to you. Find those who are mentioning your business and thank them for their time; you can also offer them your take on industry news, as well as share tips or special offers.
Tip #2: Include Social Media Monitoring In Your Social Media Strategy
Social media monitoring, also known as social listening, involves monitoring what people are saying on social media about your business and the issues that affect it. Seen by us as one of the biggest missed opportunities for businesses today, social listening allows you to not only identify opportunities as they happen but also gain invaluable insight into your customers, competitors, and industry influencers. Effective social listening will help you build strong relationships with your customers, keep you one step ahead of your competition, as well as give you insight on how your social media engagement is performing.
Tip #3: Retain Existing Followers and Clients Through Social Media Engagement
As long as you share content that is valuable, your business will attract new followers on social media. The magic, though, is in retention. Neglecting to retain existing followers is also a missed opportunity. It's simple—the more effort you put into your social media engagement, the more reward your business will receive. Take the time to reach out to your existing followers. Thank them for listening and ensure that if they have questions, you answer them promptly.
Extra Reading: For more industry tips on social media engagement, read this blog post
Challenge #5: Do I need to spend money on Facebook and Twitter ads?
Facebook and Twitter have become daily destinations for millions of consumers. As a result, businesses are taking advantage of this, and have started to launch ad campaigns on both platforms. As social media advertising is fairly new, it can be a complex process that requires effective planning, testing, and measuring. Below are a few tips to help you navigate both Facebook and Twitter Ads.
Facebook Advertising Best Practices
Determine your objectives before you start
Similar to goal setting for your social media marketing plan, determine your objectives before you start your ad campaign.
Get granular with your audience targeting
The nature of Facebook ads allows you to target specific people that you consider quality leads. Facebook will also use your email list to find people that they deem as probable customers. This will then help to inform your messaging so you can tailor your content specifically to that group of individuals.
Rotate your ads regularly
Prevent ad fatigue with your customers by regularly rotating your ads every 3 to 5 days. This helps you keep your content fresh and engaging, and prevents people from becoming bored of your ads.
Twitter Advertising Best Practices
Test your content organically first
It's simple: if your ads have great content in them, they cause tons of people to click your Tweet, and your Twitter ads become cheaper.  In more complicated terms, "Twitter rewards advertisers who create compelling content by lowering their cost per engagement (CPE) based on the click through rate of the Tweet."
Understand Tweet differences, and know when to use hashtags.
Depending on what you are trying to achieve with Twitter ads, hashtags make a huge difference in the response rate you are looking for. For example, if you're looking for a direct response or conversions, don't use hashtags.
Refresh your Tweets
As with Facebook ads, Twitter ads also need to be refreshed every 2-3 days. Aside from preventing ad fatigue for your audience, Twitter will actually shut down your ads after a set period of time to try and prevent content from going stale.
Don't "Automatically promote"
Don't assume that all the content you publish is an effective ad. Rather, measure which Tweets resonate the most with your audience and craft your ads based on these observations.
Extra Reading: For a granular dive into Facebook and Twitter ads, read this blog post.
Challenge #6: Should I outsource my social media management?
The decision to manage social media internally or to outsource this job, should be weighed carefully. As social media essentially shapes how your company is received, there are a few details to consider before making such a decision for your company. Instead of tips in this section, we have outlined the pros and cons to outsourcing your social media management.
The Cons
1) Losing Authenticity
If you decide to outsource your social media management, your business is at risk of losing the authenticity that you once built. Authentic voice, tone and style aren't easy things to replicate.
2) Slower Response Rate
Outsourcing also creates a wall between yourself and your audience. Previously, your customers had a direct line to your business if there was something wrong. Now if they contact you on social, they have to go through your agency or consultant in order to get your help in handling their concern.
3) Another Layer of Complexity
Often, keeping things simple is the best way to keep a handle on your marketing efforts. By outsourcing your social media management, it adds a layer between you and your social accounts, and prevents you from running an agile marketing plan.
The Pros
1) More Time For Your Business
The most obvious advantage of outsourcing your social media management is the time it saves you. These extra minutes leave you time to focus on other aspects of your company.
2) Valuable Expertise
If you outsource your social media management to an agency or marketing professional the expertise knowledge they bring to the table can be invaluable.
3) It helps you scale
If don't have the capacity to manage your own social media, outsourcing provides you with instant access to manpower. The best part is you can still stay in the loop with a tool like Hootsuite, which allows agencies and business to collaborate.
Extra Reading: Read about when you should outsource your social media management here.
Challenge #7: There are so many social networks out there—how do I know which one to use?
Knowing the purpose of the social networks you own allows you to know exactly what to post to each.  With this in mind, the following is an overview of the main social networks. Once you understand what the playing field is like, you can choose which specific networks you would like to focus your attention on.
Facebook
Facebook has over 1.3 billion users. Facebook users come from every demographic, using the popular network to share content with their family, friends and coworkers. Facebook also has a specific place for businesses called Pages. Facebook Pages can can help create awareness, generate excitement for campaigns, and keep the conversation going with your customers. You can also use your Facebook Page as a hub for you customers. Often Facebook pages are also uses as an avenue for customer service or product feedback.
Twitter
Twitter is an open social network with over 232 million users. People converse in short messages (Tweets) of 140 characters or less. Whether sharing breaking news, posting updates about their company, or following their favourite celebrities, people are using Twitter to connect with individuals and brands. Twitter profiles are exactly the same for everyone, meaning there aren't separate pages for businesses. Keeping in mind the mere fact that the network's approach to social media as a whole is a test in brevity, your Twitter profile also should be kept clear and simple. Use Twitter as a place where you can build relationships with your audience, share content and make professional connections. Don't just use Twitter as a sales platform; rather, share valuable stories and use it a place where customers can connect with you directly.
Google+
Google+ is a fast growing social network with over 300 million active users. The majority of users are young professionals, but this is changing as more businesses are using Google+ Pages as a way to market their brand. Because Google+ profiles have a role in Google search results of your name or brand, it is important to make sure your company has a solid presence on Google+. This way you can leverage Google+ Pages to enhance your discoverability on Google. Also, Google+ is a part of the Google family, use their other tools like Google Hangouts as a video chat forum to connect directly with your customers, coworkers, or new connections.
LinkedIn
LinkedIn is known as a professional network, with over 250 million members. Individual professionals use LinkedIn to grow their network and explore career opportunities, while brands and businesses can expand their online presence through LinkedIn Company Pages. If you business has a LinkedIn Company Page, your customers can follow you and stay up to date with your latest news, product updates and/or industry best practices. Use a LinkedIn Page to connect with the largest online network of job seekers, employees, potential customers, and partners. LinkedIn is also a great place to establish your brand's industry expertise.
Pinterest
With over 70 million users and over 2.5 billion monthly page views, Pinterest provides significant value to businesses looking for a simple tool that engages customers effectively. A highly visual platform, Pinterest allows you to organize images and videos into personalized visual collections, known as Pinboards. You can also browse through public pins and follow boards created by other users. One effective way to use Pinterest, is to host user-generated content contests. For example, with photo-pinning contests, get your followers to pin photos showcasing creative uses your products. This not only creates direct connections between you and specific customers, it also encourages them to focus on using your product.
Extra reading: For a deeper dive, read our post, How to Set up Facebook, Twitter and Every Other Major Social Media Profile
Take these social media challenges and succeed in social media management with Hootsuite Pro.
Sign up for a 30-day trial today!