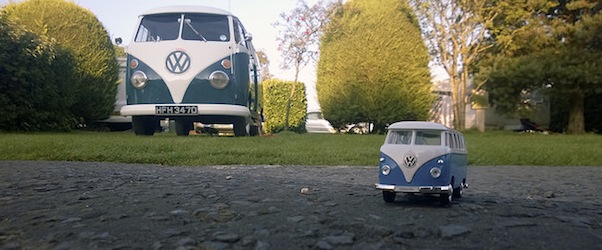 Major Marketing Campaigns you can Mimic for Your Small Business
Earlier this year on the Hootsuite blog we took a look at some of the most successful marketing campaigns of the last decade. These were campaigns like Old Spice's "The Man Your Man Could Smell Like" and West Jet's "Real-Time Giving," massive marketing efforts that hit the nail on the head. They were memorable, showed the brands understood their audiences, and played to people's emotions. As a result, they resonated spectacularly with social media users and were shared across the world.
And you're sitting there, with your four… maybe even three-figure budget, going, "how the hell do I compete?"
We're not all West Jet or Old Spice. We don't all have massive marketing budgets or extensive resources to help us 'go viral.' And yet, social media is a great equalizer. No matter the size of your business, you can create campaigns that make an impact online. By taking inspiration from the viral campaigns of big brands, your small business can use social media to drive awareness and get people in the door.
Here are some successful marketing campaigns from big brands, and how you can mimic them for your own business.
Always' "Like a Girl," Budweiser's "Friends are Waiting"
When Always launched it's "#LikeAGirl" video in 2014, it was almost the crescendo of a growing movement: brands latching onto a cause. Always created an ad which set out to destroy the cliche that doing things 'like a girl' meant doing them poorly, or generally not trying your best. They succeeded. The ad earned over 59 million YouTube views, 200,000 YouTube likes and 350,000 Facebook shares.
One of the most popular commercials of 2014 was Budweiser's "Friends are Waiting." The ad encouraged people to drink responsibly, by reminding them that they had friends waiting for them to get home safe. The friend in the ad was, naturally, a dog, which helped the video blow up on social media. Over 23 million YouTube views, over 60,000 likes, and approximately 120,000 Facebook shares cemented this as a massive success.

Always is working to become synonymous with women's empowerment. Budweiser is promoting safe drinking habits. Somewhere out there is a cause that your brand can align with. But can you really make an impact without spending tons of money on high-production ads?
Of course you can.
Align yourself with a cause that matters to you
Look at the ice-bucket challenge. Countless small-businesses participated in this popular Facebook trend, and helped raise money for the worthy cause of ALS research. This was a cause that businesses of any level could (and did) support, while creating engagement around their brands on social media.
On a different vein, how many businesses chose to celebrate the American Supreme Court's decision to legalize gay marriage in all 50 states? Hootsuite, Starbucks and Spotify were among the brands that, very simply, tweeted out rainbow versions of our logos with the hashtag #lovewins. This type of content is well within the reach of a small business, with very low effort.
To mimic these successful campaigns, first find a cause or a message that your business believes in. This is important: don't just support it for an easy marketing win. Actually choose something that matters to you and throw your company behind the cause.
Then, draw inspiration from the ads above. Both ads put products to the side in favor of a specific message. For your small business this might seem counterintuitive, but put your product to the side and go head on into the message. People will share your content because they support your cause, brand awareness will follow naturally. You don't want to look like the only reason you're supporting a cause is for the publicity.
Maybe you can't create a commercial on par with Budweiser, but you can use video to highlight your message. You might just want to do something simple, like filming your team shaving for Movember. Or maybe it is a little more emotional, like filming someone at your organization who is really passionate about the cause and wants to share that passion. If you're worried about creating something for YouTube, consider how you might use Vine or Instagram, networks on which lower production value is expected. These apps make video accessible to businesses of all sizes.
Finally, play to people's emotions. This is good advice for any social media campaign, since emotional reactions have been shown to increase "social transmission," a fancy way of saying more shares. Both the Budweiser and Always ads played on our emotions, which made them far more effective. When you choose to support a cause, there's a natural emotional element behind that decision: empathy, pain, happiness, pride. Hone in on what it is and make it central to your content.
Ideas for small business campaigns
Fun Instagram videos thanking people who donate to your in-store fundraiser
Having your CEO act out embarrassing dares in Facebook videos for every $100 donated to a local charity
Changing your social media profile photos to highlight a specific cause
Encouraging staff to participate in hashtag movements like #ILookLikeAnEngineer and #YesAllWomen
Oreo "Snack Hacks," General Electric's Vine Account
In 2014 Oreo launched an online series called "Snack Hacks." It's exactly what you would imagine: different ways to creatively use Oreos in food that you might not know about. These videos started off simple, with six-second clips on Vine. The public's response was great and, after thousands of shares, Oreo decided to continue the series on YouTube. When the YouTube audience responded as well—we're talking between 70,000 and 100,000 views on most videos—they started to invest more in the series, recruiting renowned chefs like Michael Voltaggio and Roy Choi to make meals incorporating Oreos.

When Vine emerged in 2013, one of the first brands to hop on board was General Electric. But they didn't just hop on board, they essentially drove the bus. GE became the absolute face of brands on Vine, until shifting all of their focus to Instagram this past January. The focus of those videos? Teaching people about science. With the help of personalities like Bill Nye the Science Guy, and using hashtags like #6secondscience, #emojiscience and #thenextfrontier, they were able to make science fun for a user base that wasn't always so open to branded content. The gamble paid off, and over a two year period they attracted over 111,000 Vine followers. Their videos have been looped over 25 million times.

So what can small businesses take away from these campaigns? The fact that educational content can be both cheap and extremely effective.
Create educational content
You're probably better at your job than people who don't have your job, right? That means that all of us have something to teach the outside world. Whether you own a cafe and can show people how to make a mean espresso, or you're an accountant who can share tax tips, you probably have insights that some of your social media followers would find interesting.
Not convinced?
Death is a topic that people tend to shy away from, so you can imagine how promoting funeral services on social media might present a challenge. Still, mortician and entrepreneur Caitlin Doughty found a way. She started the popular YouTube channel, Ask a Mortician, which to date has over 48,000 fans.
Caitlin's videos cover topics such as 'Talk to your children about death,' and 'Pet Death'. She even produced a show where she talks to a drag queen about death, covering topics such as "When you die, who can you trust to do your makeup?"
If a mortician can do it, so can you. To mimic the great campaigns from Oreo and General Electric, consider the qualities they share.
First, both of these social media campaigns use Vine videos, which max out at six seconds. No one wants to feel like they're back in high school, so if you're going to go with educational content make sure you keep them short. If you can teach someone something in six seconds, they'll probably remember it and remember your business. They're also probably way more likely to share it.
Teaching doesn't have to mean boring. Oreo was literally teaching people different ways to eat a cookie. General Electric, who you'd think might make boring videos, got Bill Nye to make rockets with alcohol and a lighter. Don't fall back on boring lessons. Consider ways to make them more interesting and compelling enough to share.
Finally, visuals are essential to strong educational content. Oreo and GE both used video, but you can also using compelling images. Infographics, or even gifs that walk people through a certain process or task often do well on social. Images transit messages faster, are easier to remember, and are more effective at getting the point across. Plus, social media messages with images are more widely shared anyways.
Ideas for small business campaigns:
Like Caitlin Doughty, create an "Ask an X" Facebook video campaign (X being your profession)
Create a timelapse video of your product being made with Hyperlapse for Instagram
Host an "Ask Me Anything" session on Twitter or reddit with one of your company's experts
Create interactive FAQs about your business and share them regularly to social networks
New Castle's "Band of Brands," Buick's "Pinboard to Dashboard"
Super Bowl ads are notoriously expensive… like $4.5 million for 30 seconds expensive. They're so expensive that brewer New Castle decided to pair up with a few other brands for a combined advertisement. By a few, I mean 37. New Castle asked brands to pitch in for airtime, and they fit all of them in their Super Bowl ad in different ways. Over 400 brands pitched them, creating buzz before the ad ever launch, and they settled on 37, all of whom would end up promoting that commercial. The Band of Brands ad was chaotic and confusing, but also different and compelling. It ended up only airing on TV in one small market (Palm Springs), but garnered 2.3 billion impressions and 33 million views across seven pieces of related content.
To promote its Encore luxury car on social media, Buick turned to the growing practice of influencer marketing. They reached out to nine prominent Pinterest influencers, everyone from food bloggers to fashion designers, and asked them to create Pinterest boards reflecting their personal tastes and passions. They would look through the boards in question and use one of them as inspiration for a custom car—hence the name "Pinboard to Dashboard." Buick ended up choosing a board by designer and entertainer Michael Wurm Jr., who has 3.3 million followers on Pinterest, and brought his car to life.

Your business can't afford a Super Bowl commercial; not even with the help of 37 friends. Nor can you create a custom car to entertain your followers. So how can you mimic these campaigns on your own social networks? By looking to others for help.
Capitalize on the networks of others
Both the New Castle and Buick campaigns used other people to grow the potential reach of their content. A small business can easily use the same principle on a smaller scale. You simply need to identify friendly brands who might be willing to work with you on a campaign, or local influencers who work within your budget.
To successfully capitalize on the networks of other people or brands, you first need to find influencers that are a fit for your own brand. New Castle said they chose 'scrappy brands' they considered to be on a similar level as them. Buick went for people that clearly had a great design sense, since they were going to use these people to design a car. Don't just choose someone who has a lot of followers. Choose someone who has a lot of followers and who fits with your brand. A local food blogger is a great fit for your restaurant, but may not be a great candidate for the local garage you manage. Their networks are only valuable if they might actually be interested in whatever it is you're selling.
Share the creative control. Buick let the influencers create boards of their own. They didn't censor the boards or force these people to ask for approval. If you expect to capitalize on the network of someone else, they need to be given the creative freedom to do exactly what earned them a following in the first place. It might feel scary, but sharing creative control is the only way to really appeal to that network. Doing so helps your brand be greeted by a friendly face rather than skeptical stares.
Influencer campaigns aren't a one-way street: they will also benefit from your campaign. That might feel uncomfortable but it shouldn't scare you off. Don't be worried about their brand earning more attention from the social media campaign than yours, and don't stress out about whose product is more prominent. I don't remember all 38 brands in the New Castle ad, but I remember some of them, and I'm sure that other people remember different ones than me. Someone, somewhere is going to remember you. Have faith.
Last but not least, ask your partners to promote the campaign. If you turn to a local Instagrammer and let them take over your business account, make sure they let their followers know. If you're hosting a joint Twitter chat with a friendly brand, make sure they're promoting it as much as your are. A combined promotional strategy will always make the greatest impact.
Ideas for small business campaigns
Trade Twitter accounts for a day with a friendly business, exposing your product to each other's followers
Plan a funny back and forth Twitter conversation with another local brand
Offer a local Instagram influencer free access to your business for a day, no restrictions
Keep an eye out for local brands succeeding on social media, and casually reply to their messages or comment on their Page
Did you find these campaigns inspiring? Check out more great campaigns from some of the biggest brands in the world.